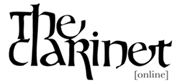 Originally published in The Clarinet 49/1 (December 2021). Printed copies of The Clarinet are available for ICA members.
---
Audio Notes
by Kip Franklin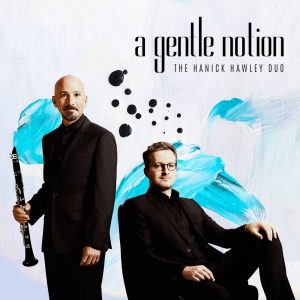 A Gentle Notion. The Hanick Hawley Duo: Richie Hawley, clarinet; Conor Hanick, piano. A. Copland: Clarinet Sonata; J. Higdon: A Gentle Notion and Clarinet Sonata; J. Tower: Wings; P. Jalbert: Clarinet Sonata. Il Pirata Records, 2021. Total Time: 66:13.
A new album by Richie Hawley and Conor Hanick features several delightful new works paired with contemporary standards in the repertoire. The concept for the album began as a track listing scribbled on the blank side of a receipt in a New York City restaurant, the goal being to give attention to music for clarinet and piano by modern American composers and to commission new works for the medium. The duo have accomplished that goal handily and have produced an album that is simultaneously retrospective and forward-looking.
Copland's Clarinet Sonata (his own transcription of his Violin Sonata) is the album's initiating work. The impeccable balance and sensitivity of the performers is immediately palpable within the opening seconds of the first movement. Hawley's tone is utter purity and refinement, and Hanick's playing is deep and fully voiced. They orbit one another in perfect rhythmic and melodic counterpoint, delivering an interpretation imbued with the bittersweet lyricism for which Copland is known. Hawley is fleet-footed in his upper register articulation. The second movement is plaintive and pastoral. Hanick's undulating lines glide elegantly underneath Hawley's pensive, brooding melodic line. Hawley's upper register is intimately tender without any inkling of force or harshness. The "Allegro giusto" percolates with jaunty energy and verve, and the rapid technical passagework is well intertwined and swirls with vigor. Hawley's playing is affable and charismatic; his intonation and response across wide intervallic leaps is pristine. Taken as a whole, the interpretation Hawley and Hanick weave is graceful
and nostalgic.
The album's eponymous work, Jennifer Higdon's A Gentle Notion, is brief but heartfelt. Here, Hawley's chalumeau register speaks with a solid, rich clarity. The pitch in his throat-tone range is remarkably accurate and resonant. Hanick and Hawley seem uniquely connected in this work – their playing is practically conversational. Each attack is delicate and both players move in complete rhythmic synchronicity.
Hawley's technical control and tonal facility are ardently showcased in Tower's Wings. He expertly achieves the various gradients of timbre that make the work effective. The manner in which he can manipulate and shade a single sustained pitch is astounding. The ease of his intervallic connections is eloquent and the oscillating technique in the altissimo sizzles with blistering fury. He readily conveys the terraced dynamics and compound melodic lines in the piece, and carves out a clear and perceivable architecture amidst its harmonic and formal complexities. Hawley's playing is powerful and poignant, showcasing nuance of articulation and finesse of tone.
Higdon's Clarinet Sonata (adapted from her Viola Sonata) opens with Hanick's delicate touch producing spacious, ethereal sonorities. Those familiar with Higdon's Blue Cathedral will hear similarities in the opening movement, "Calmly." Higdon's harmonic language is deep and complex, and Hawley and Hanick achieve an ensemble blend that gives the illusion of a single hybridized instrument. They exude ensemble precision, and Hawley's soliloquy passages are well paced and evocative. Their collective energy builds to a boisterous, suspenseful climax, and the denouement is meditative and peacefully conveyed. "Declamatory," the sonata's second and final movement, is bold and forceful, featuring spry syncopations and spotless articulations. Hawley communicates a jovial, blithe spirit, and tackles difficult register leaps and rapid passagework with poise and nonchalance. Hanick's elegant voicing yields solo chordal passages that are sensitive and refined. The duo's immaculate intonation and blend, rhythmic precision and perfect pacing unite in this emotive and impassioned interpretation.
The shining star on this album is Pierre Jalbert's Clarinet Sonata, a work written specifically for Hawley and Hanick. The opening movement, "Dramatic and driving," is exactly as expected. Hawley is in his element as he combines wild flutter tonguing with crisp, incisive articulations.
Driven by Hanick's muted-string ostinato, the energy of the movement is unrelenting; it burns with a boisterous energy. "Timeless, mysterious" offers intriguing nuances of timbre, with Hawley again displaying his consummate ability to manipulate sound by way of timbral trills, portamento and glissando. His soft playing in the upper register is robust and full. Together with Hanick, he creates an icy, infinitely-reverberating soundscape. Hawley's longevity of phrase builds in elements of suspense and longing to the movement. His melodic line is even and unblemished. Ricocheting rhythms feature heavily in the final movement, "Presto agitato." Frenetic, frenzied and bouncing-off-the-walls, the character here recalls the style of Muczynski fused with Reich and Albright while still maintaining Jalbert's unique signature. Hawley's facility of register is again apparent as he fluidly and flawlessly scampers from chalumeau to altissimo. Hanick's rhythmic drive is vivacious and energetic, and he once again exhibits his control of piano timbre by proficiently playing on muted strings with harmonics. The movement bubbles with animated, ever-changing vitality. A brief but intense cadenza by Hawley portends the movement's conclusion, which rollicks with effervescence and brings the work to a broiling finish.
Beyond the album's enjoyable program, listeners will be struck by its crystal clear recording quality. The presence and balance of both players is such that one feels as if they are in the front row of the audience. A Gentle Notion is refreshingly invigorating. The works by Higdon and Jalbert are ripe additions to the repertoire, and the Hanick Hawley Duo delivers an inaugural recording of these pieces that is engaging, effective and endearing.
---