Originally published in The Clarinet 48/2 (March 2021). Printed copies of The Clarinet are available for ICA members.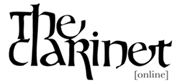 ---
Audio Notes: March 2021
by Kip Franklin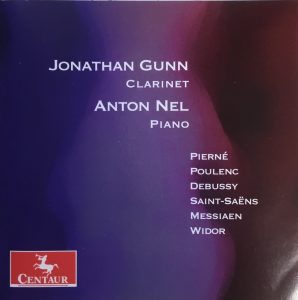 Jonathan Gunn, clarinet; Anton Nel, piano. G. Pierné: Canzonetta; F. Poulenc: Sonata for Clarinet and Piano; C. Debussy: Première Rhapsodie; C. Saint-Saëns: Sonata for Clarinet and Piano; O. Messiaen: Abîme des Oiseaux from Quatuor pour la fin du temps; C. Widor: Introduction et Rondo. Centaur Records, CRC 3774. Total Time: 61:08.
A recently-released album by Jonathan Gunn, assistant professor of clarinet at the University of Texas at Austin, features standard and well-known works from the French canon. Although all these works are familiar to clarinetists, this recording offers refreshing and invigorating interpretations.
Gunn's execution of Pierné's Canzonetta is nothing short of elegant. His playing exudes a coy capriciousness that is equal parts attractive and enticing. His tempo is perhaps more conservative than other recordings of this work, but that is one of the recording's most commendable attributes; in doing so Gunn proves to be a master manipulator of color and cadence. In Gunn's deft hands, this short and simple work conveys a depth and charm that is admirable and praiseworthy.
Gunn effectively achieves stark contrasts between the vaudevillian and somber characters in the first movement of Poulenc's Sonata for Clarinet and Piano. The resonance of his throat tones is impeccable and robust, lending a truly doleful hue to the melodic lines. The opening of the second movement is strikingly haunting; Gunn demonstrates such proficiency of response that he is able to completely control the evolution of his sound from pure silence. The languid, melancholic lines are executed seamlessly with a quiet, unyielding intensity from Gunn. His articulation, upper-register response and technique are clean and unblemished in the fiery final movement. Anton Nel's playing in this work, both in the brief solo passages and in the accompanimental sections, is laudable and efficient, augmenting and enhancing the expertness of the joint interpretation.
Debussy's Première Rhapsodie is performed with poise and intricacy. Gunn's tone is sweet and maintains a solid, focused core at both the loud and soft dynamics. It floats gracefully above Nel's dutifully-executed textures and colors, resulting in a tightly-woven sonic reverie. The notoriously difficult and awkward passagework is rendered with fluidity, delicacy and tranquility. Gunn's playing in the scherzando is amabile and unassuming; his execution of the articulations and technical dexterity are as light and sinuous as the brushstrokes of an impressionist painter.
Gunn's performance of Saint-Saëns's Sonata for Clarinet and Piano is equal parts innocent and dramatic. The flowing lines of the first movement percolate with vocal lyricism and clear, well-defined phrase architecture. Gunn's management of tempo and rubato in the second movement make for a refreshing and delightful rendition. The third movement showcases Gunn's power of sustain and complete control of his core sound. The loudest playing in the low register is deep and rich without any hint of spreading or coarseness. Similarly the softer playing in the upper register is ethereal and resolute without being thin or pinched. The alla breve feel of the final movement is clearly perceived. Gunn decorates the underlying rhythmic pulse with rapid filigree that is coiled and refined before doubling back to the opening lyricism of the first movement.
In listening to Gunn's recording of Messiaen's Abîme des oiseaux, it seems as if all of the previous works were somehow a preview to this track. All of the commendable elements one can perceive in Gunn's playing are concentrated and amalgamated here. Of particular mention again is the resonance in the throat tone range that Gunn is able to achieve coupled with the seamless navigation between the first and third partials. The sustained F#'s emerge from nothingness and evolve into a full-bodied and intense tone. Every detail of this taxing and strenuous work is expertly handled. Gunn is entirely in command of all facets of his playing in this piece.
Widor's Introduction et Rondo offers a poignant and satisfying conclusion to the album. The opening is spacious and improvisatory, allowing both Gunn and Nel opportunities to display their talent and whim. Throughout the work Gunn again showcases his craftmanship of cadence and color, intertwining diaphanous flourishes with firm rhythm and pointed articulations.
Gunn's playing throughout the album is of the highest level of clarity and purity. Every phrase contains whittled perfection. The album is enthusiastically recommended for all levels and specializations of players.
---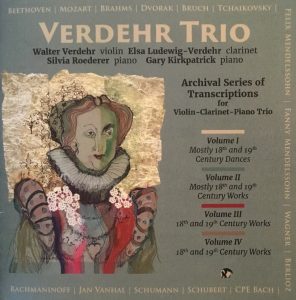 Archival Series of Transcriptions for Violin, Clarinet and Piano. The Verdehr Trio: Elsa Ludwig-Verdehr, clarinet; Walter Verdehr, violin; Silvia Roederer, piano; Gary Kirkpatrick, piano. J.J. Werner: Suite Francaise; W.A. Mozart: Dance Suite, Divertimento K. 240a, and German Dance; A. Dvorak: Three Slavonic Dances and Romanza, Op. 11; E. Grieg: A Set of Norwegian Dances; M. Bruch: from Eight Pieces, Op. 83 Nos. 1, 2, 3, 5; J. Brahms: Three Hungarian Dances; L.V. Beethoven: Andante and Allegretto from "Creatures of Prometheus," Op. 43 and Trio, Op. 38, No. 14; P. Tchaikovsky: Entr'acte from "Sleeping Beauty"; H. Berlioz: Rêverie et Caprice; P. Dickinson: Bach in Blue; K. Szymanowski: Chant de Roxane; D. Constantinides: Hellenic Musings; J. Vanhal: Trio, Op. 120, No. 1 and No. 2; R. Schumann: Märchenerzählungen, Op. 132; Fanny Mendelssohn: Three Pieces; Felix Mendelssohn: Concert Piece No. 1, Op. 113; F. Schubert: Fantasy, Op. 103; C.P.E. Bach: Trio, No. 3; S. Rachmaninoff: Vocalise; R. Wagner: Siegfried Idyll; F. Mendelssohn: Concert Piece No. 2, Op. 114. Blue Griffin Recording, BGR 557. Total Time: 71:31 (Volume 1), 65:52 (Volume 2), 77:54 (Volume 3), 71:34 (Volume 4).
In a career spanning several decades, the Verdehr Trio has commissioned over 200 works for clarinet, violin and piano and produced over 25 albums and eight DVDs as part of their Making of a Medium Series. This latest four-volume release is the first of a final series of albums. Featuring archived recordings from between 1979 and 2012, these albums contain transcriptions and arrangements from the 18th and 19th centuries.
Volume 1 is dedicated solely to dances. Jean-Jacques Werner's Suite Francaise: 17th-Century Airs and Dances is a charming and eclectic work. This opening work exemplifies all the elements for which the Verdehr Trio is known: exquisite individual dexterity, honed ensemble blend and totally unified interpretation. Armand Russell's transcription of dances by Mozart comprise the Dance Suite and include a march, two minuets and three lively contredanses that embody all the wit and humor of the composer's operatic classical style. The concentrated adroitness of the music of this work make it one of the highlights of the album. In their arrangement of Dvořák's Slavonic Dances, the Verdehr Trio conveys the full gamut of expression, from childlike jubilance to forlorn melancholy to tempestuous bustle. Taken from Greig's Slåtter, Russell's arrangement of A Set of Norwegian Folk Dances offers a contrast in harmonic and stylistic language that is adeptly performed by the trio. The first and third of Max Bruch's iconic Eight Pieces ensue, with No. 3 being the true highlight of the volume. The initial melodic disparities between the clarinet and violin eventually yield to a harmonious rendezvous saturated with all of the indulgences of late Romanticism. Brahms's Three Hungarian Dances, with their fast tempi and spiccato articulations, deliver a thrilling conclusion to volume one.
In the opening to Volume 2, Elsa Verdehr displays her dramatic command of the clarinet, being at times the lyrical soloist and others the technical undercurrent of Beethoven's Andante and Allegretto from "Creatures of Prometheus" and Dvořák's Romanza, Op. 11. Walter Verdehr's playing in the Dvořák is particularly rhapsodic and compelling. Two more arrangements by Russell follow: the first is a delightful Mozart divertimento and the second the Entr'acte from Tchaikovsky's Sleeping Beauty in which Walter Verdehr showcases mastery of the stratospheric range of the violin. Another pair of Bruch's Eight Pieces, this time Nos. 2 and 5, follows; the Trio's performance of the Romanian Melody is especially emotive and hauntingly bittersweet. Walter Verdehr's artistry is again brought to the fore in Berlioz's Rêverie et Caprice and supplemented with heroic interjections and embracing accompaniments from Elsa. Bach in Blue offers an interesting soundscape in which the Verdehrs' blues-inflected melodies orbit around pianist Silvia Roederer playing Bach's Prelude No.1 from the Well-Tempered Clavier; the result is a sonic tapestry that is equal parts witty and plaintive. Karol Szymanowski's Chant de Roxane is infused with harmonic and timbral exoticism that creates a meditative and tranquil atmosphere. Hellenic Musings, volume two's final work, is comprised of two movements: the first one rather songlike and the final one perky and nimble.
Volumes 3 and 4 of the set consist entirely of live-performance recordings. The liner notes reference the antiquated technology used in some of these recording's qualities, but this is a narrow concern. The caliber and quality of playing far outweighs any issue related to recording technology.
Both albums open with works by Jan Vanhal that are permeated with galant style. Schumann's Märchenerzählungen forms the centerpiece for volume three and Schubert's Fantasy in F Minor, Op. 103, is the cornerstone work of volume four. Both performances exhibit the depth of high German Romanticism and are skillfully handled by the performers. These last volumes include works by Felix and Fanny Mendelssohn. Russell's arrangement of Fanny's Three Pieces is performed with grace and ardor, and in Felix's Concert Pieces Nos. 1 and 2, both Verdehrs play with zealous passion and fury. Volume three includes Beethoven's Trio, Op. 38, which is arranged for clarinet, cello and piano from his Sextet, Op. 20. Here the Verdehrs fashion their own arrangement for clarinet, violin and piano that is remarkably effective and fulfilling. Their playing in C.P.E. Bach's Trio in G Major is blithe and cheery. Rachmaninov's famous Vocalise is performed with prodigious sentimentality, first by Elsa and echoed by Walter. Wagner's Siegfried Idyll, arranged by Michael Zearlott, is a synthesis of
rich, chromatically-evolving harmonies that the trio performs with depth and conviction. The entire album set concludes with a rollicking German dance by Mozart which offers a lighthearted and spirited denouement.
Obviously anything bearing the name of the Verdehr Trio is expected to be of extraordinary quality. However, the comprehensiveness and eclecticism of these four volumes is of the highest possible distinction. The performers function in perfect synchronicity with one another, with impeccable accuracy and ensemble blend. Armand Russell should be commended as well for his expert and valuable arrangements. Meticulously constructed, extensive liner notes add to the album's pedagogical value. These artists have done an incredible service by providing reputable recordings of these valuable works. They are a must-have set for anyone's collection.