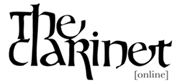 Originally published in The Clarinet 49/1 (December 2021). Printed copies of The Clarinet are available for ICA members.
---
Recordings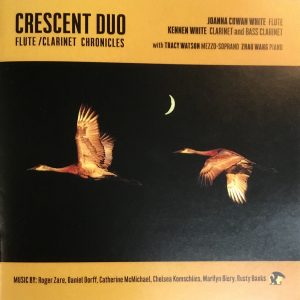 Flute/Clarinet Chronicles. Crescent Duo: Joanna White, flute; Kennen White, clarinet/bass clarinet; Tracy Watson, mezzo-soprano; Zhao Wang, piano; Robert Fanning, narrator. C. Komschlies: Steam, Book of Spells; D. Dorff: Two Cats; R. Banks: Taxonomy; C. McMichael: Dog Chronicles; M. Berry: Ice Music; R. Zare: (Re)Inventions, Zodiacal Light. Blue Griffin Recordings, BRG 543. Total Time: 47:10 (disc 1); 40:47 (disc 2).
Crescent Duo's Flute/Clarinet Chronicles is a potpourri of diverse literature in a two-disc set. Joanna Cowan White and Kennen White's fourth duo album begins with Steam, a steampunk fantasy world by Chelsea Komschlies. The whimsical fourth movement "Flying Machine" is particularly attractive and exhibits both performers' tonal warmth and masterful blending of timbres. The flowing arpeggiation and soaring melodies that interlace each other are performed with virtuosity and a lightness that captures the imagery of flight.
Daniel Dorff's Two Cats, composed for the Dutchess County SPCA's annual fundraising gala, is a two-movement character piece about cats Hootie and Tiki. "Hootie" has a sonorous and lyrical tranquility, which suits the Crescent Duo's warm expressiveness. "Tiki" is a graceful scherzo in which articulated passages are executed brilliantly and dynamic shadings are expertly done.
A continuation on the animal theme, the four movements of Taxonomy by Rusty Banks explore characteristics of a particular snake genus. The first, "Elaphe" is perhaps the most compelling because of its unique composition. Like the rat snake in its ability to blur the patterns on its back by quick movement, the clarinet begins a pattern alone that is later obscured or "blurred" by heterophonic flute gestures. The winding patterns created are augmented by the attention to timbral detail by the performers. The covered, diffused sound that Kennen achieves to weave in and out of the flute timbre is superb and satisfying.
Chelsea Komschlies's Book of Spells takes the listener back to the fanciful. Dark and moody melodies in the bass clarinet are complimented by melancholy whispers of the flute that culminate in a round dance in the third movement, "Summon the Dead." The contrasting last movement, "To Command Fire," opens with a bubbling brilliance that is interrupted by a jaunty "buffa-like" character in the chalumeau. In particular, Kennen and Joanna's finesse between the capricious styles of light staccato and floating lyric passages is effective and effortless.
Dog Chronicles for flute, clarinet, soprano, and piano, by Catherine McMichael, is a sonic testament to the role that dogs play in our lives. The movement "The Dog's Book of Virtues" is especially striking. There is a sensitive partnership between all performers that allows the listener to enjoy the clever, witty and sometimes sentimental text sung beautifully by mezzo-soprano Tracy Watson.
Marilyn Biery's Ice Music for flute, clarinet, mezzo-soprano and piano was inspired by poet Terry Blackhawk's poem of the same name. The piece begins with whispering trills and flutter-tonguing that reminds me of falling snowflakes. The work gradually gives way to a more aggressive and passionate middle section. A lilting underpinning in the piano yields to a pastoral melody in the flute and clarinet. In general, the flow is effortless in the connection between the contrasting sections and the way in which the music
is delivered.
The last two pieces on this disc are Roger Zare's (Re)Inventions and Zodiacal Light. (Re)Inventions is a series of duos in the form of Baroque inventions using 21st-century compositional techniques. The first movement, "Lively," is a tight eighth-note canon that is quite technical. This performance exhibits control and finesse. As the music becomes more raucous, the lightness of the canon is never lost.
Zodiacal Light for flute, clarinet, and piano is a three-movement work based on the awe-inspiring events that light up the night sky. "Aurora Borealis" is colorful and highlights a wonderful brightness between the flute and clarinet in the altissimo. In "False Dawn" Kennen's clarinet sound rings with beautiful clarity in the opening and his color changes are impressive once Joanna's searching melody joins. Joanna and Kennen's expressive phrasing shine and Zhao Wang's expertise is demonstrated in this movement especially. Wang's sensitivity and support are first-rate. "Leonids" is a tour-de-force where all players demonstrate excellent style, dexterity, rhythm and finesse. This movement was inspired by Zare's love for astronomy and his memory of watching the Leonid meteor shower. The bright meteors are represented with driving pulse and excitement, and the instruments exchange motives frequently in this energetic work that ends in a flourish.
The engineering of this recording is excellent, and the liner notes are informative and copious. They give context and comprehensive information for any performer or listener interested in these exciting works for flute and clarinet. This album is a whimsical and delightful addition for any music lover to add to their library.
– Anna Roach
---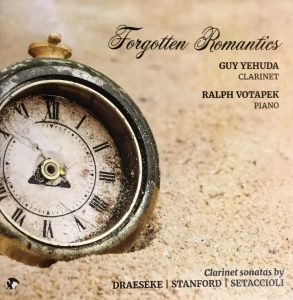 Forgotten Romantics. Guy Yehuda, clarinet; Ralph Votapek, piano. F. Draeseke: Sonata in B–flat Major for Clarinet and Piano, Op. 38; C.V. Stanford: Sonata, Op. 129; G. Setaccioli: Clarinet Sonata, Op. 31. Blue Griffin Recordings, BGR 495. Total Time: 64:04.
This delightful collection of pieces for clarinet and piano from the Romantic era is a welcome treat after a long and serious year. Clarinetist Guy Yehuda and pianist Ralph Votapek join forces on this album to give the listener several lovely and lesser-known clarinet options to Brahms and Schumann. This recording will be a welcome addition to the collections of both clarinetists and the general public.
The CD moves chronologically through three Romantic pieces for clarinet and piano and is perfect to listen to as a thoroughly-conceived album. It is fascinating to hear the added lushness and depth as the pieces move from the late 1880s into the early 20th century and to tie these works in with their proper historical context. Though Draeseke was a supposed member of the "New German School," idolizing Liszt and Wagner, his writing in the Clarinet Sonata is rather tame and simple. By the time listeners get to Setaccioli's Sonata, they have the feeling that time has passed and they are indeed in a different era. This experience is possible due to Yehuda and Votapek's adherence to appropriate stylistic elements, which they seamlessly integrate into rapturous and effortless musical moments.
Yehuda is a master in this idiom, weaving the melody around the lovely harmonic twists in the music. He is well versed in the art of the subtle inflection, creating organic vocal lines at every turn. He truly takes the listener with him on his journey of story-telling in this interpretation of Felix Draeseke's Sonata in B–flat Major, Op. 38, written in 1887. He does this all without becoming staid or self-important in his interpretation, which often can become the case in realizing music of this era.
Yehuda's mellifluous playing is again on full display in Charles Villiers Stanford's Sonata, Op. 129, written in 1911. His sweet tone is so controlled through the different registers that the listener feels like they are listening to the human voice. As in the Draeseke, Votapek and Yehuda put the music first and resist succumbing to theatrics to make their point, instead sticking to sensitive and appropriate turns of phrase. They both play without unnecessary ego, as if they are simply having a conversation between two friends. This elegant yet profound interpretation lends itself well to Stanford's tonal and playful writing.
Finally, Giacomo Setaccioli's Sonata, Op. 31, from 1921 feels like the culmination of this time period, with sweeping and grand statements cascading into rippling resolutions. Yehuda's sound is so pure that the listener is aware of his every deft innuendo. Each note has a purpose and is the beneficiary of his innate knowledge of phrasing and technical command of the clarinet. Even the smallest gestures receive support and consideration without weighing down the buoyancy of his playing.
Ralph Votapek's performance on the piano is a strong collaboration for Yehuda's technical and musical prowess through this CD. As can be imagined in an album of clarinet music from this era, the music rests on undulating changes in tempo and rubato. The players are completely in sync throughout, combining the highest level of nuance with the vivid storytelling of the composers. Forgotten Romantics is a must-hear for any aficionado of music from this time period.
– Stephanie Zelnick
---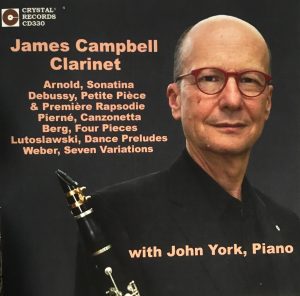 James Campbell: Clarinet. James Campbell, clarinet; John York, piano. M. Arnold: Sonatina, Op. 29; C. Debussy: Petite Pièce, Première Rhapsodie; G. Pierné: Canzonetta; A. Berg: Four Pieces for Clarinet and Piano, Op. 5; W. Lutoslawski: Five Dance Preludes; P. JeanJean: Carnival of Venice: C.M. von Weber: Seven Variations on a Theme from Silvana, Op. 33. Crystal Records, CR 330. Total Time: 57:00.
James Campbell's honors and awards are too numerous to mention them all. He has performed as a soloist and chamber musician in over 35 countries with over 60 orchestras. He has toured with over 35 string quartets, been named Canada's Artist of the Year, been awarded numerous distinctions including the Queen's Gold, the Diamond Jubilee Medal, an honorary Doctor of Law and Canada's highest honor, the Order of Canada. He has been artistic director of the Festival of the Sound in Ontario since 1985 and was professor of music at Indiana University from 1988 to 2019. He is a Conn-Selmer artist and regularly gives master classes worldwide.
Pianist John York is a winner of the International Debussy Prize and has been soloist with numerous orchestras. For 33 years he was professor of piano at the Guildhall School of Music and Drama in London and was head of keyboard at St. Paul's Girl's School in London for 20 years. His many recordings include a substantial portion of the cello and piano repertory with cellist Raphael Wallifisch.
This CD was compiled at the request of Peter Christ of Crystal Records, who asked for Campbell and York to make an album using the material from four recordings that the duo made between 1973 and 1980. Some of the most cherished clarinet solos are masterfully recorded by Campbell and York.
An early work of Malcolm Arnold, Sonatina, is characteristic in the colorful vitality of the outer movements and the attractive lyricism of the middle slow movement. It is superbly played by Campbell and York. The complex subtleties and technical obstacles of Debussy's Première Rhapsodie are only part of the immense challenges for any clarinetist. Campbell performs this work with unreserved ease, capturing the many nuances with his refined tone and superior technical facility. The ever-popular Petite Pièce is charming and an enjoyable addition to this CD. The Canzonetta by Gabriel Pierné embodies the charm and grace of French culture of the late 19th century. Campbell and York perform this lyrical and flourishing work with verve and panache. Berg's Vier Stucke utilizes the clarinet's wide range and rich timbral quality most effectively. This work is multihued and the mixture of timbres between the piano and clarinet is thoroughly illustrated by the expert collaboration of the duo.
The delightful folk-inspired Dance Preludes by Lutoslawski is wonderfully executed in an undeniably exciting rendition. These charming movements provide a variety of contrasts in rhythm, tonal color and character. There have always been composers who earned their place in history by bestowing works of great technical brilliance, especially during the time when musical soirées were presented by musical virtuosi in the mid-to-late 19th century. Paul JeanJean's Variations on Carnival of Venice, was first published in 1900 and fits into this category. Campbell does not disappoint, playing this showpiece effortlessly. One of the most prominent composers of clarinet music during the Romantic period was Carl Maria von Weber. The Seven Variations on a Theme of Silvana, Op. 33, was written in 1811 for the prominent clarinetist Heinrich Baermann. Known for his operatic writing, Weber also produced many wonderful operas, and the melody for this theme and variations was taken from his opera Silvana. This is probably the least known of the works on this CD, but it is a welcome addition.
Needless to say, James Campbell's mastery of the clarinet is second to none. The collaboration of these two virtuosi makes this CD a must for every clarinetist's library.
– Lori Ardovino
---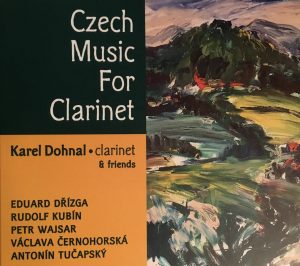 Czech Music for Clarinet. Karel Dohnal, clarinet; Pavla Vykopalová, soprano; Eliška Novotná, piano; Lukáš Michel, piano; Benda Quartet. E. Drízga: Sonata for Clarinet and Piano; R. Kubín: Humoresques; P. Wajsar: Birdie Pranks; V. Černohorská: Rondo; A. Tučapsky: Love and Sorrow. RadioServis, CR 1073-2. Total Time: 58:08.
Czech Music for Clarinet includes works by composers Eduard Drízga, Rudolf Kubín, Petr Wajsar, Václava Černohorská and Antonin Tučapsky. Clarinetist Karel Dohnal is a graduate of the Ostrava Conservatoire, Prague's Academy of Music, Guildhall School of Music and Drama in London, Universität der Künste Berlin and Rimsky-Korsakov State Conservatory in Saint Petersburg. He currently teaches at the Faculty of Fine Arts of the Ostrava University.
The Sonata by Eduard Drízga is influenced by the music of Jolivet and Shostakovich yet representative of Drízga's style and status as a major Czech composer. He revised and reduced the version of this work and personally asked Karel Dohnal to perform this version. Pianist Lukáš Michel and Dohnal open this album with an exciting and emotional performance of this work.
Humoresques by Rudolf Kubín is a set of miniatures related to those of Dvorák. The five movements are titled "In the Train," "Evening Bells," Cinematograph," "Modern Love" and "Clown." Performed by Dohnal and the Benda Quartet, the use of colors and characters gives delightful life to these pieces.
Petr Wajsar's Birdie Pranks for solo clarinet was a collaboration between the composer and Dohnal. Birdie Pranks employs a variety of techniques and characters as well as humor, all brilliantly depicted in Dohnal's performance. The five movements are "Thrush Blackbird," "Melodious Cuckoo," "Common Buzzard," "Black Woodpecker" and "Chicken."
Václava Černohorská's Rondo for Clarinet and Piano was written while she was a student at the Ostrava Conservatory with the inspiration of her grandfather Jindrich, who himself was an amateur clarinetist. A pianist herself, Černohorská and Dohnal premiered the work together. Dohnal's exciting performance is masterfully partnered in this recording by pianist Lukáš Michel.
Love and Sorrow by Antonin Tučapsky is based on Moravian folk songs. The five movements are charming and spirited: "My Lad," "How I Miss You," "Oh Yesterday," "Mother Dear Mother," "Hey A Young Swallow Fast She Flew" and "If only I Knew." Pavla Vykopalová's voice intertwined with Dohnal's elegant sound and Eliška Novotná's magnificent piano collaboration deliver a marvelous conclusion to this impressive album.
The journey through this recording is a delight for the listener. The liner notes by Lukáš Herink give a rich background to each composer and work. Karel Dohnal and his collaborators have presented a superior album all clarinetists should explore and furthermore consider programming these selections for performance worldwide.
– Julianne Kirk Doyle
---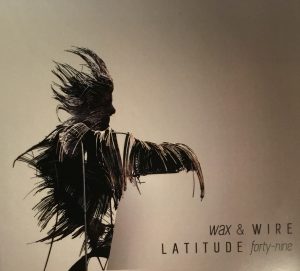 Wax and Wire. Latitude 49. G. Smith: Number Nine; V. Cuong: Wax and Wire; S.K. Snider: Thread and Fray, You Are Free; A. Socolofsky: a sense of who; C. Sies: these (were) used to harm. Latitude49music.com. Total Time: 55:00.
The highly versatile mixed-chamber music ensemble, Latitude 49, has been playing together since 2012 and has already presented over 60 world premieres. Fans have been waiting patiently for the second album release of Wax and Wire incorporating some of the ensemble's most all-time beloved works. This dynamic album features a perfectly-timed release answering the demand of what is expected of contemporary chamber ensembles. The album contains compositions by living composers specifically created for Latitude 49's unique instrumentation, which consists of violin, cello, saxophone, clarinet, piano and percussion. Andy Hudson, assistant professor of clarinet at the University of North Carolina Greensboro, is the ensemble's clarinetist. The works utilize a diverse array of complex contemporary compositional musical idioms and performance practices that push the players to their limits. This album was well worth the wait.
The first track on the album, Number 9 by Gabriella Smith, is fittingly titled as it is an advanced musique concrète work based on The Beatles' controversial track "Revolution 9" from The White Album. Smith creates a sound collage with the unique timbres and extended techniques possible of Latitude 49's instrumentation that seemingly transcends the listener into a psychedelic experience. There is significant layering, looping and repetition of parts throughout the ensemble. The winds create beautifully haunting sounds by using controlled glissandos and a variety of well-placed screaming multiphonics. Subtle panning is used throughout to help feel the full intensity of the wailing sirens, drones, and layering.
The second track, Wax and Wire by Viet Cuong, is a vividly wild ride of microtonal scales and glissandi. Andy Hudson has shown his extraordinary technical abilities throughout this work by mastering the microtonal scale and being able to delicately finesse it or blast through it in perfect unison with other members of the ensemble. From beginning to end, this piece has forward motion and will invigorate the listener. The third track Thread and Fray, a tonal trio for viola, bass clarinet and marimba by Sarah Kirkland Snider, offers a slower pace than the previous works. This piece opens with a unison melody that is then traded, fragmented and passed around the ensemble using a variety of canonical compositional techniques. Contrasting from the last work, it showcases the strong lyrical and melodic playing styles in the middle-register instruments.
The fourth track on the album, a sense of who by Annika Socolofsky, was originally written for the 2015 Bang on a Can Summer Festival and was later arranged for Latitude 49. This work uses live voice, prerecorded voice and electronic sounds combined with acoustic instruments. The piece is written to express the journey a person goes through to find their place within the community. Evan Chambers sings using traditional folk-style melodies and allows the electronic and acoustic instruments to wax and wane around him. a sense of who will meditatively transform the listener from beginning to end with its shimmering beauty, introspection and wonderment.
The penultimate track, these (were) used to harm by Chris Sies is designed to showcase power electronics and death metal genres using contemporary compositional elements and acoustic instruments. The composer was inspired to write the piece after reading the July 4, 2016, New Yorker article by Alex Ross titled "When Music is Violence." The article discusses instances when music and sound have been used in war or as a weapon of torture and gives musical examples that Sies incorporated into his piece. these (were) used to harm is an abounding acoustical and timbral journey that really rocks. Get ready to turn up the volume and possibly headbang a little. The final track on the album, You Are Free by Sarah Kirkland Snider, is a wonderfully calming and lush neoromantic work with obvious Arvo Pärt influences. This work and its calming, undulating flow is a beautiful close, leaving the listener calm and centered.
This album is a wonderfully diverse compilation of contemporary musical styles using Latitude 49's instrumentation to its fullest capacity. Andy Hudson has clearly showcased his superb extended technical abilities with the clarinet. The album presents a true balance between soothing contemplative works contrasted with aggressive compositional styles. Contemporary music fans will want to listen to Wax and Wire on repeat.
– Natalie Szabo
---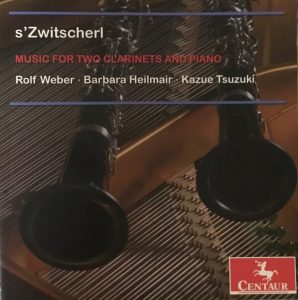 s'Zwitscherl: Music for Two Clarinets and Piano. Rolf Weber, clarinet; Barbara Heilmair, clarinet/bass clarinet; Kazue Tsuzuki, piano. C. Camilleri: Divertimento No. 1 for Two Clarinets and Piano; I. Müller: Duo Concertante, Op. 23; C. Baermann: Duo Concertant, Op. 33; A. Leroy and E. Jancourt: Duo on Bellini's "La Sonnambula"; F. Holzcamp: Musica Masonica, Orfeo e Eurydice; F. Cibulka: s'Zwitscherl für Zwei. Centaur Records, CRC 3837. Total Time: 66:04.
Ensemble s'Zwitscherl's unique self-titled recording is performed by Barbara Heilmair, Rolf Weber and Lazue Tsuzuki and features works for two clarinets and piano. Original works by Camilleri, Müller and C. Baermann are followed by arranged works of Leroy/Jancourt, Holzkamp and Cibulka for the trio. Swiss clarinetist Rolf Weber, principal clarinet in the Bavarian Gärtnerplatz in Munich, and German clarinetist Barbara Heilmair, professor of clarinet at Portland State University, began collaborating with Japanese pianist Kazue Tsuzuki, professor at the Hochschule für Musik in Munich, in 2015. Their international point of view is very musical and expressive with well-executed ensemble playing.
Interestingly, Weber plays a German Oehler-system clarinet while Heilmair plays a French Boehm-system clarinet. Heilmair's recent article in The Clarinet 48/2 (March 2021), "Collaboration with Boehm and Oehler Clarinets," provides a good discussion of the challenges and intonation differences between the two clarinets. While listening to the CD I was never quite sure who played what part but on occasion my "clarinet ears" would identify a German or French timbre. Heilmair and Weber alternated who played first and second throughout the CD. Their musically interesting and colorful performances feature full, singing tone qualities, good blend and mostly excellent intonation.
The Camilleri Divertimento is played with spirit and flair, with all three performers exhibiting fluidity, exceptional blend, excellent dovetailing within the thematic interplay and good balance. This work, dedicated to Manuel de Falla, would be a fun, flashy recital opener.
Iwan Muller's Duo Concertante, Op. 23, in E-flat is set in three sections and the ensemble is beautifully in sync in their musical presentation. The opening features lovely solos from both clarinetists, although there were slight tonal differences and the second clarinet sounded quieter and a bit more distant than the first. The cadenza is truly outstanding while the faster section sounds a bit careful. The Allegro molto features dynamic piano playing from Tsuzuki.
Carl Baermann, son of Heinrich Baermann, is of course a well-known name to clarinetists. The Duo Concertant, Op. 33, like Müller's work, follows the pattern of grand 19th-century concert pieces. The melodramatic opening is played with great feeling and panache and the following theme and variations are musically excellent as well. Articulations are unclear in the second clarinet in the second variation, but the difficult third variation leaps for the first clarinet are well executed. The rondo was laid-back and enjoyable.
The duo on Bellini's La Sonnambula, written in the 19th century by Parisian musicians Leroy and Jancourt, was nicely arranged for Ensemble s'Zwitscherl by Rolf Weber in 2018. This work provides ample opportunity for both clarinetists to shine in various operatic melodies, and Weber's arrangement "highlights elements of dialoguing and harmonious interplay between the two soloists." Although there are slight timbral differences in the first section, the theme and variations are extremely well played especially in the second section. The Andante and Allegro Brillante were excellent with some slight sharpness in the first clarinet.
Two works follow by contemporary German composer Holzkamp. His Musica Masonica was written for a Masonic lodge celebration in 2011, and he rearranged the work for the trio in 2018. This work features Heilmair's lovely bass clarinet playing, Weber's soulful phrasing and Tsuzuki's crisp piano playing. Orfeo e Euridyce is rearranged for two clarinets. Both works are lush with tight-knit harmonies that are performed with outstanding intonation. The musical expression and blend are excellent throughout both pieces and I was sorry they were not more substantial works.
The last work by Austrian composer Franz Cibulka, s'Zwitscherl Fur Zwei, was arranged for the trio in 2015. The liner notes state that the work was "originally a solo piece for clarinet with piano or accordion, [and] the composition describes a small songbird expressing a variety of moods." Ensemble s'Zwitscherl lives up to the bird's nickname in this lush, expressive and emotionally satisfying work.
Overall this disc features a variety of styles for clarinet duo with piano. The small discrepancies in intonation do not detract from the enjoyment of this album. It would be especially valuable to clarinetists seeking to explore new music for the duo with piano medium.
– Karen Danessa
---