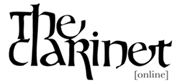 Originally published in The Clarinet 48/4 (September 2021). Printed copies of The Clarinet are available for ICA members.
---
Audio Notes
by Kip Franklin
Historically, artists have responded to turbulent, world-altering events by producing high-caliber work. Picasso's Guernica was his response to the bombing of the eponymous town. John Corigliano's Symphony No. 1 was written in memoriam for his friends lost to the AIDS epidemic.
Each work produced as a response to tragedy is a personal statement that seeks to memorialize the event and to find collective resolve in order to move forward. This column's albums are products of responses to two such important global events: the recent COVID-19 pandemic and World War II.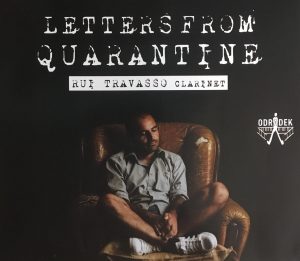 Letters from Quarantine. Rui Travasso, clarinet. H. Tomasi: Sonata Attique; G. Jacob: Five Pieces for Solo Clarinet; R. Escher: Sonata for Clarinet Solo; E. Von Koch: Monolog No. 3; B. Kovács: Hommage á M. de Falla; H. Ødegaard: Antiphona V, "Ave Maria"; S. Azevedo: Sonata para Clarinete Solo; G. Mattaliano: Zeta World. Odradek Records, ODRCD 411. Total Time: 51:55.
In an album that reflects the sudden isolation experienced by the recent COVID-19 lockdowns, Rui Travasso's Letters from Quarantine is comprised entirely of works for solo clarinet.
Travasso's articulation is perky and vibrant throughout Tomasi's Sonata Attique. The first movement is infused with rhythmic intensity and vivacity. The second movement, "Lent," showcases his dark, rich chalumeau and his well-focused soft playing; meditative passages are interspersed with high-energy, frenetic episodes and Travasso strikes a perfect balance between the two. The variety of tone colors he achieves in the work's final movement are spectacular. His altissimo playing sings with full resonance and opulence.
The many contrasting characters and styles present in Gordon Jacob's Five Pieces for Solo Clarinet are expertly and effectively communicated. Travasso's broad, viscous playing in the "Preamble" gives way to a frolicsome "Waltz." The "Homage to J.S.B." is especially enjoyable owing to Travasso's bouncy and crisp articulation and the musical architecture in "Soliloquy" is clear. In "Scherzo and Trio," Travasso's technique simmers with passion and gusto.
His keen command of sound features prominently in Escher's Sonata for Clarinet Solo. His ability to spin and shade a single sustained tone is stirring and engaging. Whirring flutter tonguing and technical precision combine in the efficacious "Vivo." Travasso's musical artistry is laid bare as each note of every phrase is performed with purpose and planning. His interpretation of this work is especially gratifying.
Travasso's performance of von Koch's Monolog No. 3 is delicate and sinuous. The rapid technique of the "Allegro vivace" is seamless and agile. He performs Hommage á M. de Falla with utmost panache, fanfare-like dynamism and popping accents.
Recalling the coloristic sensitivities of Escher's Sonata, Ødegaard's Antiphona V "Ave Maria" showcases Travasso's deft artistic inclinations. Subtleties and nuances of timbre, articulation and dynamic are exploited to their fullest extent. The variety of juxtaposed distinct characters seemingly poses no difficulties for him as he renders a charming and charismatic version of this composition.
Azevedo's Sonata para Clarinete Solo is an gymnastic work that Travasso tackles with poise and aplomb. The wild registral extremes of the opening movement are balanced against a steady, melodic bolero in "In a Not Quite So Relaxed Mood." The work's final movement is rhythmically incisive and demonstrates Travasso's acrobatic abilities on the instrument. Zeta World, the album's final track, synthesizes all of the fine aspects of Travasso's playing from the disc into a single, action-packed bouillon cube of a piece. The rapid technical passagework and syncopated incisiveness broils under Travasso's hands. Overall the album is quite diverse and extremely well done. Travasso also provides excellent and informative liner notes that would be useful in preparing any of the works contained on the album.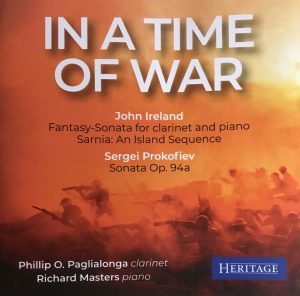 In a Time of War. Phillip O. Paglialonga, clarinet; Richard Masters, piano. J. Ireland: Fantasy-Sonata for Clarinet and Piano; Sarnia: An Island Sequence; S. Prokofiev (trans. Kennan): Sonata, Op. 94a. Heritage Records, HTGCD 173. Total Time: 59:38.
In a Time of War presents works by two composers on opposite geographic sides of the European continent: John Ireland and Sergei Prokofiev. Ireland's Fantasy-Sonata and Prokofiev's Sonata, Op. 94 were both written in 1943 near the height of the European conflict, but each work showcases a remarkably different character. On the English side of the conflict, Ireland was forced to evacuate his retreat in the Channel Islands in 1940 and his works surrounding that time period are more melancholic and doleful. On the Soviet side, Prokofiev's work is much more boisterous and proclamatory and is grounded in stable harmonic and formal structures. Although these composers have different compositional styles and impetuses, clarinetist Phillip Paglialonga and pianist Richard Masters cohesively unite them on a single album.
Paglialonga's clear, cantabile tone sparkles throughout Ireland's Fantasy-Sonata; his upper register control and facility are especially notable. His softer dynamics speak with utmost clarity and the projection in the throat tone register is hearty and robust. Coupled with the fluid, undulating harmonies provided by Masters, Paglialonga's playing imparts airs of nostalgia and sentimentality. His interpretation is refined, well-tempered and rhapsodic. His melodies soar with great zeal. The last quarter of the fantasia sizzles with Paglialonga's incisive articulation and well-focused altissimo.
Ireland's Sarnia: An Island Sequence for solo piano pairs nicely with the Fantasy-Sonata. Masters performs each of the work's three movements with poignancy and delicacy. The work hybridizes the styles of Stanford, Chopin and Scriabin, and Masters delivers a performance that is highly effective and enjoyable.
Prokofiev's Sonata, Op. 94a, originally for flute, is presented here in a transcription by Kent Kennan. In the first movement, Paglialonga's opening melody wafts and ebbs atop Masters's accompaniment with unblemished connections across the partials. In contrast, his articulation in the development section is crisp and decisive, and the ornamental figurations throughout Paglialonga's playing are clean and unhurried, resulting in an interpretation that is relaxed and calm. These elements dominate in the "Scherzo" where Paglialonga's sharp tonguing is homogeneous, rhythmic and nimble across all registers. The hemiolas are clear and bold, contrasting with Paglialonga and Masters's introspective alla breve. The slow movement again features Paglialonga's sinuous melodic playing, which is fluid and responsive and yields coiling, flowing phrases. Particularly in the quieter passages, his mastery of tonal color is fully on display; it is as if each phrase evolves over different gradients and hues of soft. The final movement is boisterous and uninhibited. Jovial interplay between Paglialonga and Masters begets rhythmic synchronicity and perfectly-balanced ensemble. The coda possesses broiling technique and ebullient spirit.
The pairing of works on this album is well-balanced, complementary chemistry. Paglialonga and Masters are a perfectly-matched pair who artistically and poignantly convey these temporally-united pieces. Clarinetists in particular will enjoy Paglialonga's clean and spotless playing, and Masters's rendition of Sarnia: An Island Sequence is enjoyable for all.
Both of these albums are highly recommended!