ClarinetFest® Day 4
Stephen Williamson Masterclass
by Kelsey Pequin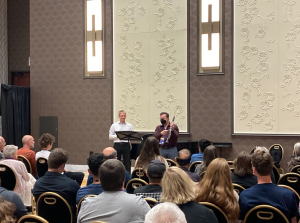 Stephen Williamson Masterclass took place Saturday, July 2 at 1pm. 
In this masterclass Stephen Williamson, principal clarinet of the Chicago Symphony Orchestra, worked with talented clarinetists on two works from standard clarinet repertoire.
Christopher Hibbard performed André Messager's Solo de Concours. Williamson spoke about hand position, how to adjust the thumb rest for ergonomic playing, and practice techniques for smoothing out runs. Williamson worked with Jisu Kang on the exposition of W.A. Mozart's Clarinet Concerto. He discussed how a clarinetist might approach the performance of this concerto differently depending on the performance context: with an orchestra, on a recital, or in an audition. He offered advice on phrasing and intonation. Most notably, he advised to use forked F-sharp at every opportunity to aid in intonation and resonance. 
Williamson's teaching was insightful, precise, and articulate. Had developed a lovely rapport with both the students and the audience. One of the best quotes of the masterclass was: ""It doesn't have to be fast, it just has to make sense."