ClarinetFest® Day 3
Joshua & Stefanie Gardner Masterclass
by Kelsey Pequin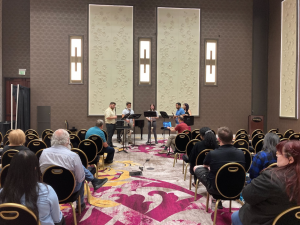 Joshua & Stefanie Gardner Masterclass took placeo on Friday, July 1 at 2:30pm. 
Joshua Gardner, Clinical Associate Professor of Clarinet at Arizona State University, joins together with his wife Stefanie Gardner, Residential Faculty of Clarinet at Glendale Community College, to present a tag-team masterclass.
Alexandra Mendoza Gomez performed Willson Osborne's Rhapsody for solo clarinet. Drs. Gardner discussed fundamentals of support, pacing, and creating effective climaxes using increased air intensity. Rick Farrarelli and Lindsay Hutchinson performed Bach's Toccata and Fugue, transcribed for two bass clarinets by Jon Russell. Drs. Gardner addressed intonation, pacing, and effecting drama through extreme dynamic contrast. The *Audible noise* quartet, comprised of Dahré Miller (E-flat clarinet), John Harden (B-flat clarinet), Thomas Sanders (basset clarinet), Michael Robinson (bass clarinet), performed an excerpt of Sarah Triggs' Queer Language, which was performed by the group later in the conference. Drs. Gardner spoke about matching articulation, ensemble communication, listening, and slap tonguing.