ClarinetFest® 2023 in Review
---
ClarinetFest® 2023 Day 2
Getting the Most Out of Your Degree
by Sarah Manasreh
---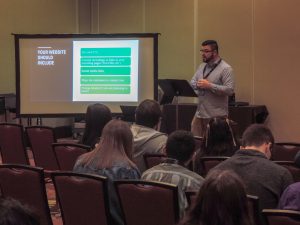 ClarinetFest® 2023 featured many new and exciting presentations and lectures that targeted the broad spectrum of interests of a large and diverse group of clarinetists. There was really something for everyone at this conference! One of these unique and exciting lectures was hosted by the ICA's College and Pre-Professional Engagement Committee, chaired by Vanessa Davis. Titled "Getting the Most out of Your Degree" and spread over two days, members of the committee spoke about the many routes of success aspiring professional clarinetists could take.
The first lecture, held at 11:30 in the Salon A of the Marriott, focused on three topics students might consider: chamber music, entrepreneurship, and auditions.
Beginning with Dr. Tony Costa and chamber music, the engaged audience heard the many thoughtful ways chamber music can be worked into a career. He began by sharing that chamber music is an incredible way to add depth to your career, supplement your income, collaborate with composers, and can be easily added to teaching and professional large ensemble work. Through the breadth and depth of his chamber music experiences, we learned that chamber music often gets started in unconventional groups and that the clarinet can be involved in such a variety of chamber group settings. This section of the lecture closed with some of the challenges students may face continuing chamber music out of the academic environment. However, these challenges were presented with genuine optimism and thoughtful solutions.
Next, the audience warmly welcomed Mr. Roddy Terrell who explored entrepreneurship in music. His message centered around finding ways differentiate yourself in the performing and teaching markets. Mr. Terrell covered everything from website building to networking and social media to taxes. He advised the participants to think of details such as google key word searches, keeping current recordings on your website, and balancing free offerings to build business. His portion of the presentation was full of pertinent anecdotes and extremely helpful advice.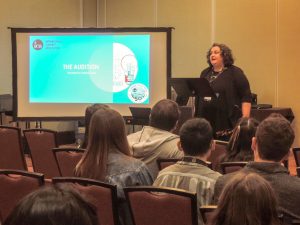 Closing out this informative session was Dr. Vanessa Davis who spoke on the audition taking process. Breaking the auditions into three kinds, graduate, teaching jobs, and performance auditions, she examined the different ways that clarinetists can prepare. Dr. Davis cautioned the audience that being critical of the kinds of auditions we spend our time on is important. Building our CVs is imperative, but only when the experiences are quality. She warmly reminded us that we should only take as many auditions as we can handle mentally, emotionally, and financially, that we should find joy even if that means not taking the job, and that there is a place for all of us.
---