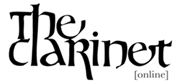 ---
---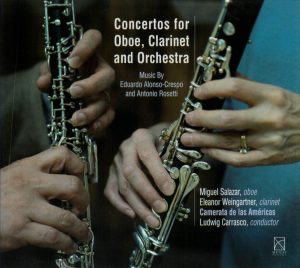 Concertos for Oboe, Clarinet and Orchestra. Miguel Salazar, oboe; Eleanor Weingartner, clarinet; Camerata de las Américas, Ludwig Carrasco, conductor. E. Alonso-Crespo: Double Concerto for Oboe, Clarinet and Orchestra, Op. 29; A. Rosetti: Concerto No. 3 in C Major for Oboe, C31; Concerto in Eb Major for Clarinet, C62. Urtext Digital Classics, JBCC314. Total Time: 70:00.
Oboist Miguel Salazar and clarinetist Eleanor Weingartner's impressive new album, Concertos for Oboe, Clarinet and Orchestra, features each as a soloist in concerti by Antonio Rosetti and together in Eduardo Alonso-Crespo's Double Concerto for Oboe, Clarinet and Orchestra, Op. 29 with the Camerata de las Américas. Both are principal players in Mexico's National Symphony Orchestra.
Argentinian composer Alonso-Crespo's highly accessible double concerto is the album's highlight. It showcases each musician and is filled with catchy melodies and vibrant colors. The informative liner notes reveal that Alonso-Crespo wrote the concerto in 2012 for the performers. Salazar and Weingartner play brilliantly, responding to each other with great style and sensitivity. They trade melodies effortlessly. The second movement is stunning with its gorgeous harmonies and the juxtaposition of moving and sustained lines. Listen closely for the rhythmic third movement's lyricism and distinctive conclusion.
Salazar presents a committed performance of Rosetti's Concerto No. 3 in C Major for Oboe, C31. He plays with beautiful tone and excellent style. Intonation was good overall except for a few spots in the cadenza. Salazar gives the second movement's long lines a lovely vocal quality and expertly navigates the bubbly arpeggiations. The third movement is stately and controlled.
Rosetti's Concerto in Eb Major for Clarinet, C62 pairs perfectly with the oboe concerto. In fact, the first movement's repeated articulated pattern recalls a similar gesture at the opening of the oboe concerto. Weingartner's thoughtful phrasing, exceptional technique and clarity of articulation are notable in this polished performance. The cadenzas are whimsical and well-paced, and the beautiful dialogue in the second movement between the clarinet and orchestra is exquisite. There are a few intonation inconsistencies in the orchestra, but the orchestral parts were otherwise well-played.
This album is successful in showcasing commendable performances of some lesser-known works. Bravo to the performers!
– Justin Stanley
---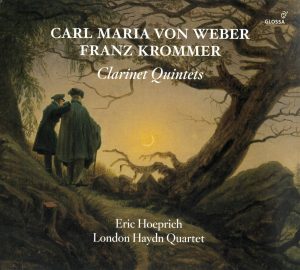 Carl Maria von Weber/Franz Krommer Clarinet Quintets. Eric Hoeprich, clarinet; London Haydn Quartet: Catherine Manson, violin; Michael Gurevich, violin, viola; John Crockatt, viola; Jonathan Manson, violoncello. C. M. von Weber: Clarinet Quintet in Bb Major, Op. 34; H. Baermann: Adagio; F. Krommer: Clarinet Quintet in Bb Major, Op. 95. Glossa, GCD 920610. Total Time: 64:00.
For more than twenty-five years, Eric Hoeprich has been widely regarded as one of the foremost players of historical clarinets. He is also a first-rate musician, as amply demonstrated on his latest CD of clarinet quintets by Weber, Baermann, and Krommer. Although the Weber has been recorded beautifully many times (including by Hoeprich himself, with the Ensemble Les Adieux), this new disc is very welcome for the insights it offers into Weber's sound world from both the clarinetist and the string quartet. Hoeprich, a clarinet collector and maker, has recorded on a replica of an original Griessling & Schlott 12-key instrument from his collection—similar to the instrument, by the same Berlin maker, that Heinrich Baermann is known to have used in performance. The sound is dark and fluid in quality. The wonderful London Haydn Quartet plays with very little vibrato, according to the practice of Weber's time, and the result is a fabulous blend of clarinet and quartet. The performers have obviously thought a great deal about balance; I was delighted to hear inner voices emerge with important contrapuntal lines that I have never heard brought out in other performances. Above all, Hoeprich has a sense of musical rhetoric that reaches beyond virtuosity (though he certainly has that), to true communication through timing and phrasing. In his liner notes Hoeprich quotes Weber as having said of Baermann that he was one who "feels the true life and fire music, and to whom music has become speech." I found myself thinking the same of Hoeprich's own performance on this disc.
Weber's Quintet is a work that most clarinetists know well; the Krommer perhaps less so. Although not a masterpiece at the level of the Weber, it is nonetheless a very fine work that deserves a wider hearing. Rather than the typical string quartet, it uses the somewhat unusual combination of one violin, two violas, and cello. In some ways it delivers exactly what one expects of chamber music from the early nineteenth century: an extensive first movement including a bit of counterpoint in the "learned" manner, a lyrical slow movement, a scherzo-like third movement and a rondo finale, all in a style that retains a fair proportion of Classicism mixed with touches of Romanticism. Yet it also contains some remarkable surprises. The slow movement is strikingly beautiful, and the scherzo and rondo movements include minor-mode episodes that inject a true element of drama. As with the Weber, it is clear that Hoeprich and the quartet have really thought about the work, and their recording brings to the fore its best features. The performance is full of vibrancy and energy.
Between these two large works on the CD is a shorter bagatelle, Baermann's famous "Adagio" from his Quintet in E-flat Major. It is a pleasure to hear this work with string quartet, rather than the more usual piano reduction with which it is often performed; the presence of strings elevates the tone of the work to a higher level of expression than mere sentimentalism.
The recording quality of this disc is excellent, and the liner notes (written in an accessible style by Hoeprich himself) provide the listener not only with information about the works, but also about the scores, the clarinet used on the recording and its relation to the ones Baermann played and questions of performance practice. In sum, this is an exquisite recording that will be enjoyed by all clarinetists, not just those interested in the historical clarinet.
– Jane Ellsworth
---
Trio Dell'Arcimboldo: Works for Clarinet Trio. Eric Hoeprich, clarinet; Luca Lucchetta, clarinet; Rocco Carbonara, clarinet. Anonimus: Aria for Two Baroque Clarinets and Basso; C. Graupner: Overture à Three Chalumeaux, GWV 443; G. Gherardeschi: Ten Sonatas for Clarinet Trio; J. J. Bouffil: Trio, Op. 7; "Allegretto" from Trio, Op. 8; J. F. Hummel: Trio no. 2 in B Flat Minor. Limen Music, CPLT117C117. Total Time: 67:10.
In 2019 the Arcimboldo Trio released their first album, Works for Clarinet Trio. This album featuring the compositions of Graupner, Gherardeschi, Bouffil and Hummel contains historically flawless performances highlighting the use of period and replica instruments. The clarinetists performing on this album likely don't need much of an introduction for this readership. Eric Hoeprich, Luca Lucchetta and Rocco Carbonara have come together to perform this wide-ranging set of historically accurate pieces.
The works included on the album move chronologically starting with the first piece stemming from the early 18th century. This lively opening work is labelled as an anonymous Aria and is performed using baroque clarinets and basso. It is a joyous piece that welcomes the listener in the most delightful sense. The second piece composed in 1741, Overture à 3 Chalumeaux by Graupner, is performed using traditional chalumeaux and features seven short movements which follow dance styles common to the baroque era. The third piece from 1792 is performed on classical clarinets and is considered the world premiere recording of Ten Sonatas for Clarinet Trio by Gherardeschi. Although this work has been performed live for decades, this is the first complete recording featuring all ten sonatas. The penultimate work by Bouffil may be the most widely known piece on the album, however, it is a rare treat to hear it performed using original Müller system clarinets. The final work, by Hummel is performed using original and replica Baermann-Ottensteiner system clarinets.
The liner notes provide many resources that would assist clarinetists in understanding the technical and historical progression of the mechanical structures for the chalumeau leading up to the modern clarinet. The notes feature images, brief historical information, fingering systems and the voicing of each instrument that is used throughout the recordings. There is also online access through the Limen platform to register the recording, which gives you access to high quality videos. Upon reviewing the recorded videos, it is amazing to visually experience each piece as it is performed with the utmost respect to the technique and style of playing these historical instruments. The video allows the listener to see the technical greatness achieved by the performers and their utmost dedication to the historical performance. Their impeccable artistry and ability to flow through the registers with seamless phrasing, articulation and technique while playing historical instruments makes this recording worth adding to your collection.
-Natalie Szabo
---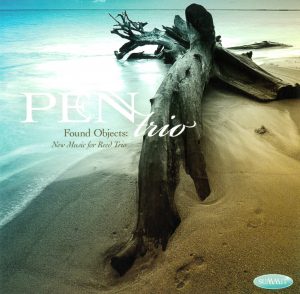 Pen Trio Found Objects: New Music for Reed Trio. Nora A. Lewis, oboe; Phillip O. Paglialonga, clarinet; Eric Van der Veer Varner, bassoon. W. Bradbury: 5•4•3 (except after C); J. Brandon: Found Objects: On the Beach; A. Sternfeld-Dunn: Oblique Strategies; M. S. Hundley: In Threes. Summit Records, DCD 754. Total Time: 53:00.
For those who have had the opportunity to hear the PEN Trio, they know they are hearing one of the finest reed trios on the scene. Their first album, Found Objects, is a collection of new works commissioned by the trio that enriches the core repertoire for reed trio.
William Bradbury's 5•4•3 (except after C) is a five-movement work based on a pentatonic scale except after moments where the pitch C is played. It's a solid opening track with impressive ensemble and balance. Jenni Brandon's Found Objects: On the Beach is a multi-movement rumination on the serendipity of newly discovered items. Philip Paglialonga, a professor of clarinet at the University of North Texas, shines throughout this album and especially on this piece. His sound maintains body and center throughout the compass, and his timbral trills, altissimo playing and ascending slurs are particularly excellent. For those familiar with Milhaud's La cheminée du roi René, the last movement of Found Objects evokes a similar atmosphere.
Aleksander Sternfeld-Dunn's Oblique Strategies is a theme and variations that highlights the strong double reed duo. Eric Van der Veer Varner's musicianship is displayed with excellent articulation and great balance. The final chorale section highlights the ensemble blend. M. Shawn Hundley's In Threes tests the limits of the contemporary trio. Nora Lewis comes to the fore with excellent control and subtlety in her extended cadenza. The rhythmic demands are high in this piece, and they do a remarkable job of tossing off a difficult work.
Found Objects is an album of mature interpretations of challenging contemporary works. The recorded sound is typically stellar for Summit, and the composer liner notes add a personal touch for the uninitiated listener. The excellent performances on this disc are a fitting tribute to the late Eric Van der Veer Varner and this wonderful ensemble.
-Osiris Molina
---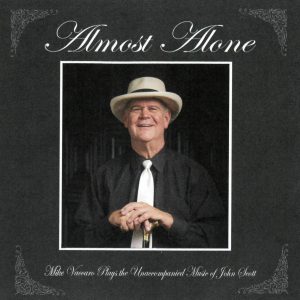 Almost Alone. Mike Vaccaro, clarinet. J. Scott: Pentatonia; Alpine Suite; J. Cooper: Rüdesheimer Weiß; N. DeGregorio: Meditation. ADC Recordings. Total Time: 67:00.
Freelance multi-instrumentalist Mike Vaccaro certainly kept himself busy during the COVID-19 lockdown. Vaccaro recorded his album Almost Alone during the 2020 quarantine using his own personal professional equipment. Vaccaro is a veteran of the greater Los Angeles, California, music scene having performed as a classical, jazz and studio musician.
The bulk of the album is devoted to two multi-movement unaccompanied works by composer John Scott. Scott is perhaps best known for his work composing for film and television with over 100 score credits. Pentatonia is a work for unaccompanied clarinet with 14 short movements ranging from two to four minutes long. The movements are highly melodic with titles alternating between generic tempo descriptions (Maestoso, Lento, Vivace, etc.) and programmatic (Carefree, Gentle Rocking and Tempo di cow poke). Vaccaro has a rich and dynamic tone which sings through the contrasting style and color of each movement. The second Scott composition is Alpine Suite, an eight-movement work for unaccompanied saxophone. Unlike Pentatonia, each movement carries a programmatic title which depicts different aspects of the mountains.
The album closes with two additional works with piano accompaniment by Jack Cooper (Rüdesheimer Weiß) and Nick De Gregorio (Meditation). The digital piano accompaniment does not take away from the expressive performance by Vaccaro. These last two tracks are much more expansive and dynamic than the unaccompanied works that preceded.
Listening to this album, you would never know that Vaccaro recorded each track himself as the recording and mastering is of high quality. The album can be purchased from Vaccaro's bandcamp page which can be accessed through his website: https://mikevaccaro.com/.
– Zachary Dierickx
---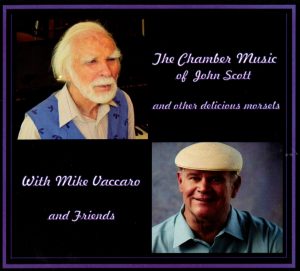 The Chamber Music of John Scott and other delicious morsels. Mike Vaccaro, flute, clarinet, saxophone; Left Coast String Quartet: Norman Hughes, violin; Mari Haig, violin; Julie Metz, viola; Greg Adamson, cello; The Mason, Matsuura, Vaccaro and Zick Saxophone Quartet: Gary Matsuura, soprano saxophone; Mike Vaccaro, alto saxophone; Damon Zick, tenor saxophone; Jay Mason, baritone saxophone. J. Scott: Clarinet Quintet; A Week in October for Sax Quartet; J. S. Bach: Flute Sonata in Am; T. Charlier: Du Style-Solo Clarinet from 36 Etudes for Trumpet; D. Zick: Hector, Desmond and Titus for Sax Quartet; Three for Four for Sax Quartet; Nada Pero Máquinas for Sax Quartet. ADC Recordings. Total Time: 63:00.
This album contains two lovely and colorful works that include clarinet. The liner notes provide personal thoughts from composer John Scott, in which he mentions his ambition to be an orchestral clarinetist. Though he didn't have that opportunity, he never lost the thrill of listening to the many wonderful clarinet works.
Composed in four movements, Scott's Quintet touches on a variety of different styles of music. The first movement is pastoral with the clarinet as the soloist and the quartet accompanying. Mike Vaccaro's smooth and warm chalumeau register shines in this movement displaying his ability to blend with the quartet. The melody here, though modern, is singable and carefree.
In the second movement the character is very playful and childlike lending itself to a waltz that feels lopsided in a charming way. Vaccaro's phrasing in this movement conjures images of a scenic vista, while showcasing his technical ability with long complicated passagework.
The third movement features Vaccaro's bass clarinet playing which has the quality of a well-trained opera singer – it has a lovely light essence, but with substance and color that ground it. As the movement progresses, Vaccaro's bass clarinet tone combines with the string quartet to display his facility of blend and timbral variation as a tool in his musical interpretation.
The fourth and final movement employs a drone effect with jazz elements, something with which Vaccaro is very familiar. His experience in this style of playing is evident, but as the movement requires him to play a jazz style next to classical style, we have the chance to hear just how skilled he is at both.
In Du Style we are treated to Vaccaro's unaccompanied clarinet playing. Though the work was originally written for the trumpet, it is hard to tell it wasn't originally composed with the clarinet's color in mind. We hear a variety of melodic styles for which Vaccaro's vibrant, colorful tone and nimble technique is well-suited. There are certainly elements of the jazz idiom which Vaccaro is accustomed to interpreting as well. In such passages, Vaccaro seamlessly transitions between rhythmic playing and a melodic singing style in much the way a jazz band moves from one solo to another. At yet other moments, elements of baroque style such as larger intervals and angular melodies are executed by Vaccaro with elegance. Though a short piece, Vaccaro takes advantage of ample opportunities to show off his well-connected musical lines, sumptuous chalumeau register and polished technique. A wonderful piece played with great artistry!
Though there are many difficult passages and ensemble work required, Vaccaro and colleagues do an excellent job of bringing vivid characters to life on this wonderful recording.
-Vanessa Davis
---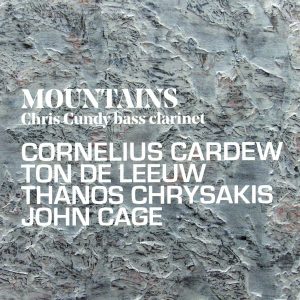 Mountains. Chris Cundy, bass clarinet, tape preparations and accompaniments. C. Cardew: Solo with Accompaniment; Mountains; T. de Leeuw: Mountains; T. Chrysakis: Fryktoria; J. Cage: Five. Aural Terrains, TRRN1444. Total Time: 55:31.
 This album is an unapologetic presentation of avant-garde bass clarinet music. Cundy hasn't set out with the intention to wow a listener with obsequious refinement but instead seems to have focused on presenting the ideas and philosophies of these works in their purest form. There is value, beauty and courage in the artistic freedom required to let a work stand on its own two feet and Cundy should be applauded for that endeavor.
Solo with Accompaniment by Cornelius Cardew for bass clarinet with three accompaniments is an exploration of timbre and texture. Clarinetist Chris Cundy weaves in and out of the electronic texture skillfully and this piece sets the tone for what is to come on the rest of the album.
Mountains by Ton de Leeuw for bass clarinet and tape is an excellent example of an extended work that blends acoustic and electronic elements. The short thematic material that interplays between the clarinet and tape is handled well by Cundy. The fragmented nature of this piece and similarity of color between the acoustic and recorded parts make it challenging to capture an expressive arc in a recording but Cundy has done just that as well as I can imagine.
Fryktoria by Thanos Chrysakis for five bass clarinets is a study of the broad tonal palette the bass clarinet has to offer, particularly in the arena of non-traditional techniques. Rather than gathering the organization of the piece in terms of rhythm or tonal material, the approach here strikes me as a set of scenes which use different textures and timbres to morph from section to section.
Mountains for solo bass clarinet by Cornelius Cardew is written in four variations. The first variation is simple from a technical standpoint and Cundy approaches it with a firm rhythmic feel and with carefully placed diminuendos. The second variation is much more rhapsodic with constant tonal variations achieved by voiced harmonics, bisbigliando and embouchure variations. Variation three is a cadenza which harkens back to the rhythmic feel from the first variation, without much variation in pulse or dynamic, it is at times difficult to imagine where the cadenza is leading. Variation four is quite lively and rhythmic and while the piece ends with a taper to niente, this variation still serves as a tidy ending to this interesting piece.
Five by John Cage is one of his number pieces which were open in instrumentation. This piece also gives the listener long periods of stasis where nothing is happening in terms of the melodic, harmonic, or rhythmic material. However, I think that is the point and it is executed well by Cundy.
If you seek an album to challenge your musical ideals and help you explore the many contemporary tonal possibilities the bass clarinet can achieve, then Mountains is the album for you.
– Spencer Prewitt
---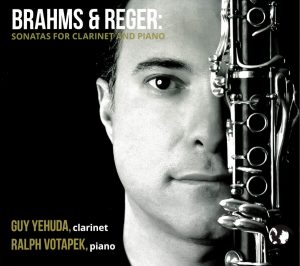 Brahms and Reger: Sonatas for Clarinet and Piano. Guy Yehuda, clarinet; Ralph Votapek, piano. J. Brahms: Clarinet Sonata in F Minor, Op. 120, No. 1; Clarinet Sonata in E-Flat Major, Op. 120, No. 2; M. Reger: Clarinet Sonata in A-Flat Major, Op. 49, No. 1; Clarinet Sonata in F-Sharp Minor, Op. 49, No. 2. Blue Griffin Recording, BRG363. Total Time: 44:00 [disc 1] / 42:00 [disc 2].
Integration and collaboration are key in Brahms and Reger, as one could argue that the clarinet is not really a "star," but rather part of a team within the lush and interwoven score. Votapek provides a partnership with exquisite interpretation, masterful technique and rich color shifts. These artists shine in their own individual moments and draw the listener into a beautiful and cohesive ensemble at all the right junctures.
Brahms's Sonata in F Minor, Op. 120, No. 1 is filled with tenderness, especially at the transition points. Yehuda gently eases the listener into new sections and provides us with a masterclass in transition by building anticipation and releasing into arrivals. Large leaps are connected with ease and control. Reger's Sonata in A-flat Major, Op. 49, No. 1 is approached with much of the same interpretation and gentleness, but these scores are more complex. One could argue that there could be even more contrast and color-shift, especially in the transitions of the first moment and the outer sections of the third movement, to highlight the multitude of characters and moods present in the score. I was longing to hear a darker and more intimate side in these sections. Brahms's Sonata in E-Flat Major, Op. 120, No. 2 is another beautiful rendition of this masterwork. Much like the interpretation and performance of Brahms's Sonata in F Minor, transitions and color shifts are bountiful, and the listener never tires of hearing the full, rich tone of both Yehuda and Votapek throughout the journey. The same can be said of Reger's Sonata in F-sharp Minor, Op. 49, No. 2; color-shifts abound in this complicated work, especially in the final movement.
Overall, lovely dark timbres and a singing, lyrical quality makes this recording a delight to hear. Arguably, we could point to a proliferation of recordings of these masterworks and ask ourselves "Why another?" One only needs to hear the masterful execution, poignant moments and delightful collaboration of Yehuda and Votapek to confirm the rightful place of this recording into the "must-haves" of clarinet libraries and pedagogical discussions.
-John Masserini
---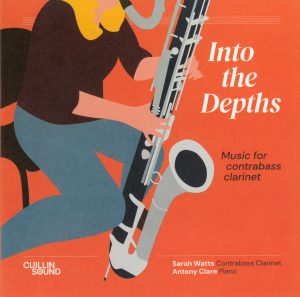 Into the Depths: Music for Contrabass Clarinet. Sarah Watts, contrabass clarinet; Anthony Clare, piano. E. Kelly: Into the Depths for Contrabass Clarinet and Piano; F. Donatoni: Ombra 1 for Solo Contrabass Clarinet; Ombra 2 for Solo Contrabass Clarinet; M. Spasov: Idiosyncrasies for Contrabass Clarinet and Live Electronics; T. Williams: Weighed Down by Light for Contrabass Clarinet and Fixed Media; S. Uduman: out of the darkness that envelops for Contrabass Clarinet and Live Electronics; A. Clare: Nevis for Contrabass Clarinet and Piano. Cuillin Sound, CUILL1006. Total Time: 64:00.
Assisted by pianist Antony Clare, Sarah Watts shakes, rattles and rocks on the contrabass clarinet in her new album Into the Depths. Bookended by works for contrabass clarinet and piano, the album's centerpieces are its three electroacoustic works. Idiosyncrasies by Miroslav Spasov, Weighed Down by Light by Tom Williams, and out of the darkness that envelops by Sohrab Uduman, all utilize live processed electronics, and introduce the listener to a cornucopia of sound worlds. Watts contributes to these sound worlds with her virtuosic command of the full range of the contrabass clarinet as well as extended techniques such as slap tonguing, growling, key clicking and multiphonics.
The title work, Into the Depths by Elizabeth Kelly, introduces the listener to the broad range of colors a contrabass clarinet can achieve on its own. Accompanied by Antony Clare, this work finds inspiration in jazz. Watts again partners with Clare to close out the album on a work written by Clare, Nevis. A compelling exploration of the low registers of each instrument, Nevis closes the album quite triumphantly.
The electroacoustic works, though dependent on access to technology, are noteworthy additions to the repertoire. Spasov's Idiosyncrasies takes advantage of Sensor Augmented Bass Clarinet Research (SABRe) to, as the liner notes explain, "explore the application of air pressure to control real time synthesis and processing parameters in live performance." The result is an intimate connection between acoustic and digital worlds without the need for precise externally controlled cues. Weighed Down by Light opens to a vast open vista. This "contemporary concerto" explores washes of metallic shimmering timbres and relentless rhythms. out of the darkness that envelops by Tom Williams opens with similar textures to the previous electroacoustic works on this album. What sets Williams's work apart is its continuous development of harmonic material as well as the escalation and stacking of echo effects.
Rounding out the album are Ombra 1 and Ombra 2 by Franco Donatoni. Here, Watts is alone with only her virtuosity to keep her company, much to this listener's delight.
Into the Depths may explore the bottom range of the clarinet family, but its shining moments are found as much in Watts's clear altissimo and deft technique as in the rumbling, rattling contrabass register. This album also catalogues Watts's welcome contributions to the contrabass repertoire as a commissioner and performer of new music.
-Derek Emch
---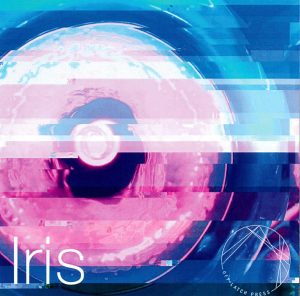 Iris: Erich Barganier, electric guitar, violin; Ford Fourqurean, clarinet. E. Barganier: Like Horses; Grotesquerie No. 2; F. Fourqurean: aperture; divergent roads. Off Latch Press. Total Time: 21:00.
Iris, a new album from clarinetist Ford Fourqurean and guitarist Erich Barganier, is an engaging window into the world of new music collaboration. Each of the four works on this album were written and recorded by the performers and mixed by either Fourqurean or by Ying-Ying Zhang. Using what sounds like pedal-based electronics and open-source audio synthesis software (possibly SuperCollider) Fourqurean and Barganier create beautiful soundscapes with and for each other.
Like Horses, the introductory work by Barganier, opens with the electronic hum of a guitar amp. Soon, a gentle guitar ostinato enters followed by a velvety clarinet melody. Slight hints of electronic processing and subtle delay effects on the clarinet grow into a delightful garden of glitch effects that quickly spreads throughout the texture. The other duo on the album, divergent roads by Fourqurean, features Barganier on the violin and is more interested in crunchy reverberating harmonies than in virtuosic bombast. It is a gentle finale lulling the listener into a relaxed state.
aperture and Grotesquerie No. 2 are solo works for guitar and clarinet, respectively, and each written by the other performer. Barganier's mastery of guitar effects is on display in aperture, while Grotesquerie No. 2 allows Fourqurean to exercise his technical mastery. Though his tone quality is at times inconsistent, his multiphonics are clear and stable. Audio synthesis adorns his sound, continuing in the glitch aesthetic so prevalent in this album.
This album's primary weakness is the lack of information on the physical release. Although the mixer, producer and some of the instrumentation can be found on Iris's bandcamp.com release, it would be nice to find it on the physical copy as well.
-Derek Emch
---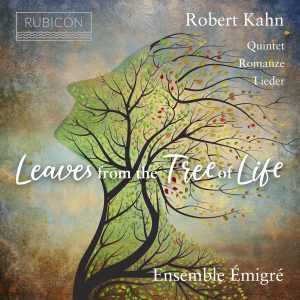 Robert Kahn: Leaves from the Tree of Life. Ensemble Émigré: Danny Driver, piano; Christopher Gould, piano; Gemma Rosefield, cello; Emily Sun, violin; Ingrid Pearson, clarinet; Flora Bain, horn; Norbert Meyn, tenor and director. R. Kahn: Romanze in F minor; 's ist ein so stiller heil'ger Tag; Novemberfeier; Idyll; Liebestrost; Tagebuch in Tönen; 9 Lieder nach Gedichten von Christian Morgenstern, Op. 31; Feuerbestattung; Gebet; Quintet in C minor, Op. 54. Rubicon Classics, RCD 1040. Total Time: 61:45.
Ensemble Émigré presents an album of the music of German-Jewish composer Robert Kahn, Leaves from the Tree of Life. Most of the album is lieder and piano works, however the final piece is the world premiere recording of his Quintet in C minor, Op. 54 composed in 1911 for the unusual instrumentation of piano, violin, cello, clarinet, and horn, with Ingrid Pearson of the Royal College of Music, London, performing the clarinet part. Kahn was friends with Brahms, and his influence is particularly evident in the first of this four-movement work. The "Allegro non troppo" begins with a descending octave unison melody that I find reminiscent to the opening theme of Brahms's first clarinet sonata. The movement then continues with the powerful sound created by this instrumentation in a very Brahms-esque manner. The piano adds more body than a clarinet quintet and the horn lends a new texture to the sound. The ensemble blends beautifully and solo lines are allowed to emerge as they develop. Pearson's clarinet playing is bold when she has the melody which weaves its way through each instrument. The second movement, "Presto assai," alternates between a pulsating piano and string motif and a lush melody with the clarinet and cello. The "Andante sostenuto" opens with a gentle clarinet line accompanied by the strings with the horn providing the bass line. Pearson's broad sound returns throughout, like yarn knitting us through the movement. The final movement, "Allegro agitato," is driven with a bouncing 6/8 rhythm that I found rather groovy. The initial melody is played by the violin and gets passed back and forth to the clarinet before opening up to an ascending clarinet solo motif which returns later in the movement, where it is passed back and forth again to the violin.
Kahn's quintet is an exciting addition to the repertoire. Each movement provides a varied approach to this unique instrumentation, and the fine ensemble playing on this recording is an enjoyable means to get acquainted with the piece.
– Jason Alder
---