Originally published in The Clarinet 47/4 (September 2020). Printed copies of The Clarinet are available for ICA members.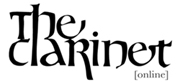 ---
Audio Notes
by Kip Franklin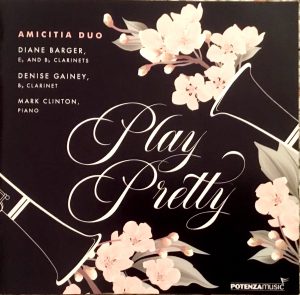 Woodrow Wilson once said that "friendship is the only cement that will ever hold the world together." Play Pretty, a brand-new recording from the Amicitia Duo (Diane Barger and Denise Gainey), wholeheartedly embodies that sentiment. The album represents the culmination of a professional and personal friendship that spans more than three decades. Moreover, the album has a tremendous personal depth as it celebrates not only the friendship between Barger and Gainey, but also the relationships they each had with their mothers. Three of the four works involve Barger playing E-flat clarinet to Gainey's B-flat. Coupled with the fact that the duo performs newly-commissioned works by Scott McAllister, Alexis Ciesla and William Price as well as a significant work by Gerald Cohen, the scope of the album is truly unique.
The album opens with what is easily its most memorable work: Amicitia Suite. This Scott McAllister work was commissioned by the duo and was premiered at the 2017 ClarinetFest® in Orlando, Florida. The opening movement, "Play Pretty," is the album's namesake. It is inspired by the relationship Diane had with her mother, who would always tell her to "play pretty." The melodic content of the movement is derived from Dvořák's Ninth Symphony, specifically the melody "Goin' Home." The interplay between both Barger and Gainey is fluid and flowing, with impeccable intonation between the E-flat and B-flat clarinet in octaves. Pianist Mark Clinton colors the texture with steady, heartbeat-like pulses and arpeggiations.
The second movement, "Schizo Scherzo," is the most intricate and witty movement of the piece. In an everything-but-the-kitchen-sink approach, McAllister incorporates snippets from notable clarinet solos of the orchestral repertoire including Till Eulenspiegel, Bolero, Rhapsody in Blue, Symphonie Fantastique, Dances of Galanta, Polovtsian Dances, Scheherazade, Daphnis et Chloé, Beethoven's Symphony No. 8, Shostakovich's Symphony No. 5 and more! All of these excerpts orbit around the third movement from Brahms's Sonata in F Minor. As the title implies, the movement's character is frenetic and humorous. Barger and Gainey's playing is spot-on rhythmically and technically, making for a charming and exciting interpretation.
"Heavy D," the third movement, is in dedication to Denise's mother. Throughout the movement, Barger and Gainey's octave intonation is again impeccable, and the pacing of their dynamic swells is incredibly well-matched. The work alternates between passages in which the clarinets play a solitary melody in octaves, and passages in which they are divided into two independent lines in a more traditional melody and accompaniment style; one voice sings while the other supports, which no doubt reflects the mother-daughter relationship that inspired this movement. In both, Barger and Gainey's inflections on the appoggiaturas suggest a sense of longing, both in the sense of melancholy and of fond remembering. The playing is delicate, precise, and tender.
"BFF," an acronym for "best friends forever," completes the work. It is a spectacular and sparkly movement full of rapid scale passages, trills and cascading arpeggios. The playing is nothing short of expert. At times Barger and Gainey sound as if they are challenging one another and at others completing each other's lines. Ultimately the diverging parts join together in a single, unified melody. McAllister has managed to accurately personify both Barger and Gainey, whose personal connection to the work coupled with their exquisite artistry make it the highlight of the album.
Alexis Ciesla transcribed his Études Concertantes (originally composed for B-flat or bass clarinets) for E-flat and B-flat clarinet for the Amicitia Duo. Each movement is a short vignette that features one challenging aspect of clarinet playing: large intervals, arpeggios, staccato, chromaticism and swing style among many others. In total there are nine movements in the set. Throughout each movement, Barger and Gainey are able to achieve a totally homogeneous sound and cohesive interpretation. This work is evidence that these performers share a special collaborative bond. Their rhythmic execution is so well done that listeners have a sense that the two parts are fused into one. All of the movements in this work have charm and stylistic coalescence that are easily conveyed, making for an enjoyable and fun listening experience.
William Price's Sweet and Simple is a pastoral work that is highly contrapuntal. Throughout the work, Barger and Gainey's expert attention to intonation results in poignant resonances of perfect intervals. Similarly, the effects of unison elisions between the E-flat clarinet, B-flat clarinet and piano are particularly effective and striking. The blend of sound Barger and Gainey create is colorful and vivid. Pianist Mark Clinton is to be commended for his playing during his solo passages.  In all parts, there is a sensitivity and delicacy to the playing. The interpretation is contemplative, thoughtful, lyrical and pensive.
The final work on the album is Gerald Cohen's Sea of Reeds, a set of five songs based on traditional Hebrew texts. In a break from all the other works on the album, this is the only one to feature two B-flat clarinets as opposed to the E-flat/B-flat combination. The first song, "Hariu L'adonai," is a jaunty rhythmic frolic that is incredibly effective due again to the evenly-matched forces and faultless intonation of Barger and Gainey. The second song, "Adonai Ro'i lo Echsar," is plaintive and somewhat doleful, which
is contrasted by the syncopated and spry third song, "Dodi li va'ani lo." The fourth song, "Y'varech'cha," possess a childlike innocence with Barger and Gainey echoing each other's melodies in canonic imitation mixed with unison singing. The work concludes with "Dayeinu!," a capricious dance in mixed meter that is a fitting way to conclude an engaging album.
Barger and Gainey are in their element throughout every track. The tone from each performer is clear and refined, and furthermore the blend of sound they are able to achieve together is astonishing. It is clear that this duo operates with a single unified consciousness and awareness. All of the works presented on this disc are enjoyable and well-done, but the Amicitia Suite truly stands apart from others. It is imbued with such personality and flair that make a truly unique listening experience. Overall this album is very highly recommended!
Happy listening!