Originally published in The Clarinet 47/4 (September 2020). Printed copies of The Clarinet are available for ICA members.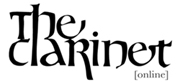 ---
RECORDINGS
Listen to the majority of these recordings in the ICA September Reviews Spotify Playlist!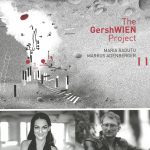 The GershWIEN Project. Markus Adenberger, clarinet; Maria Radutu, piano. K. Penderecki: Three Miniatures for Clarinet and Piano; G. Gershwin: Rhapsody in Blue, A. Shaw: Concerto for Clarinet; P. Sarasate: Zigeunerweisen; R. Schumann: Three Romances; F. Poulenc: Hommage á Edith Piaf and Sonata. All Sound Around. Total Time: 67:26.
Austrian clarinetist Markus Adenberger currently performs with the Vienna Chamber Orchestra and teaches at the Global Summer Institute of Music hosted at Virginia Commonwealth University. In collaboration with Romanian pianist Maria Radutu, they bring us an excellent new album titled The GershWIEN Project.
Adenberger and Radutu give a wonderfully contrasting and energetic performance of Krzysztof Penderecki's Three Miniatures, highlighted by exceptional articulation in the altissimo register in the outer movements and a contrasting somber tone quality in the middle movement. Adenberger maintains the same control and delicate phrasing in the collaborative rendition of George Gershwin's Rhapsody in Blue, while Radutu provides a coy playfulness to the solo piano portions that this reviewer wishes were present in the tutti phrases as well. The recording does not indicate who completed this arrangement, but it is quite compelling and would make a fine addition to a true duo recital. Franz Hofferer joins Adenberger and Radutu for a logical follow-up to Rhapsody in Blue, Artie Shaw's Concerto for Clarinet. Adenberger demonstrates excellent technique and control in the virtuosic swing-influenced passages while still maintaining flexibility and freedom in the various cadenzas (including a confident double high C to end the piece).
The next two transcriptions on this recording are given delightful readings by the duo. Adenberger and Radutu offer a refined treatment of Pablo de Sarasate's Zigeunerweisen highlighted by impeccable intonation, an impressive double high D in the middle of the performance, and a quick (albeit somewhat reserved) finale highlighted by sparkling articulation. Adenberger's covered tone is an ideal fit for their performance of Robert Schumann's Three Romances, Op. 94. Although originally conceived for oboe and piano, this performance should convince any listener of the worthiness of the clarinet version, especially the way Adenberger explores the soft end of the dynamic spectrum and navigates the legato intervals between the clarion and altissimo registers. The blend of timbre and phrasing in the treacherous unison passages of the third movement is particularly commendable.
The last two works are both by Francis Poulenc, although one will be much more familiar to the clarinet community than the other. Radutu's performance of Hommage à Edith Piaf features the perfect amount of rubato and tasteful balancing of melody and accompaniment, all while channeling the spirit of the famous actress and singer-songwriter. The final piece on the recording, Poulenc's famous Sonata for Clarinet and Piano, features plenty of dramatic shifts in character, but is somewhat marred by an audible air leak that Adenberger does not sport in other pieces on this recording. It also sounds as though the microphones were placed differently for this piece. The performers sufficiently plumb the depths of extreme emotions found throughout this clarinet standard, further emphasized by hauntingly soft playing in the upper clarion register in the first two movements. Their rendition of the third movement features great technical facility from Adenberger, but perhaps
more impressive is the clarity that Radutu emits from the piano in passages that are all too often marked by blurriness and excessive pedaling.
The production of this album is excellent, although there were a couple passages where the clarinet could have been a bit more present in comparison to the piano. The liner notes contain short biographies of the performers. The album spans from Romanticism to jazz and the entire spectrum of human emotion. This will be a welcome addition to any clarinetist's library, especially those that regularly perform in a clarinet-piano duo.
– David Cook
---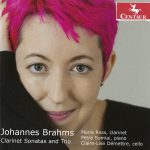 Johannes Brahms: Clarinet Sonatas and Trio Performed on Historical Instruments. Marie Ross, clarinet; Petra Somlai, piano; Claire-Lise Démettre, cello. J. Brahms: Sonata in F Minor, Sonata in E-flat Major, Trio for Clarinet, Cello, and Piano. Centaur, CRC 3760. Total Time 79:55.
The clarinet compositions of Johannes Brahms are some of the most important works in the standard clarinet repertoire. The prominence of these works naturally has resulted in an abundance of recordings from a variety of perspectives. However, this recording is unlike so many that came before it because it seeks to be a true historical interpretation both in the materials used as well as the stylistic considerations employed. This approach extends to all the instruments used on the recording. The pianist Petra Somlai uses a New York Steinway from 1875; cellist Claire-Lise Démettre uses gut strings and no endpin as was the custom in Brahms's circle; and Marie Ross uses an Oehler B-flat clarinet from the 1890s, and an A from 1905 coupled with a wooden mouthpiece and a reed made in the tradition of the time. One thing that is quite modern is the excellent recording quality and engineering by Dirk Fischer.
One of the most striking aspects of this album as a whole is what Ross describes as tempo elasticity. Essentially, the crescendo and diminuendo markings for Brahms are also connected to tempo. Speeding up during crescendos and slowing down during diminuendos serve to heighten the expressive palette and provide the needed flexibility for an offering that is truly romantic. To a modern performer, this approach is initially jarring, however that feeling is short lived. That suppleness brings some interesting elements to this recording. The clarity of the dense musical textures between the piano and clarinet are crystal clear in the Sonata in F Minor. Ross and Somlai both give each other total freedom to express their individual musical ideas with no hint of urgency. That fact gives this recording a sense of true chamber music played at the highest level. There are bold artistic choices, delicate interplay between the piano and clarinet, and utmost sensitivity.
The same excellence established in the first sonata is evident in the Sonata in E-flat Major. The playing from both Ross and Somlai is clear and polished and the interplay between the voices is even more striking in this offering. Upon listening it feels like hearing Brahms for the first time; there is time and space for every compositional structure to shine through. The typical modern approach of letting the music speak for itself usually manifests in performances that are quite metronomic; this hyperexpressive approach actually feels more like Brahms and brings out colors and characters that are otherwise lost. But to be sure, the artistic choices made on this album are far from arbitrary – they are always connected to the larger musical framework and are well thought out and executed with refinement and flair.
This recording of the Trio for Clarinet, Cello and Piano can be summarized in one word: beautiful. The addition of Démettre on cello, particularly with the gut strings, brings a much more intimate and colorful quality to this work. There is none of the harshness that sometimes happens in modern presentations, but there is no lack of interesting ideas either. The phrasing is clear and intelligent, the interplay between voices is intimate and the composite is stunning in every way.
This album is of the highest quality and every clarinetist should listen before their next performance of these works. It is rare to find a recording of standard repertoire that is truly fresh and free from dogma while still honoring the style of the piece. This recording absolutely does that and more. It sheds new light on works that are so well known. I would be remiss to not give special credit to the clarinet playing of Marie Ross. While the album is so clearly about the pieces as a whole and isn't meant to highlight any player individually, which is an incredibly positive attribute, still Ross can't help but shine. The music is elegantly played with interesting ideas and breathtaking interplay between the voices, which would be impressive in itself. However, the fact that Ross is playing 120-year-old clarinets, with a wooden mouthpiece, and using the Oehler fingering system is nothing short of remarkable, and is a testament to her commitment to historical performance generally and this project specifically. She has proven that she is a true master of historical performance and instruments and is uniquely able to synthesize that knowledge into a modern presentation that informs and inspires modern performers and historical aficionados alike.
– Spencer Prewitt
---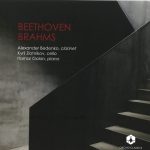 Beethoven and Brahms. Alexander Bedenko, clarinet; Kyril Zlotnikov, cello; Itamar Golan, piano. L. van Beethoven: Trio for Clarinet, Cello, and Piano; J. Brahms: Trio for Clarinet, Cello, and Piano. Orchid Classics, LC 20037. Total Time: 62:14.
Pristine clarity characterizes the opening chords of the Adagio and spirited articulations of the Allegro con brio in this recording of Beethoven's Trio for Clarinet, Cello and Piano (taken from the Septet, Op. 20). The enthusiasm of a younger Beethoven's playful sense of adventure and knack for witty, inspired exchanges bursts out of this recording with panache. The clarinet, cello and piano lines interweave adeptly without losing any of their individual sonority or particular resonance, offering pleasing contrast in a graceful dance.
The Adagio benefits from beautiful and careful phrasing as Bendenko and his collaborators trade melodic and supporting lines with élan and sentimentality. The stormy middle section is somewhat restrained but provides effective contrast and an edge of lovely desperation in Zlotnikov's playing. In the Tempo di Menuetto, each member contributes to the tightly-wound, exciting energy of Beethoven's writing with an elasticity and flexibility of sound. It can be difficult to replace the brighter feel inherent to higher voices of the violins from the original orchestration, but the agility and resonance of Alexander Bedenko's sound lends itself readily to the task.
The Andante con variazioni sparkles with a delightfully classical style highlighted by virtuosic piano lines and beautifully matched articulations from the Bendenko and Zlotnikov. The two seem to dance, moving as one and arriving at new ideas in lockstep underneath the piano. Bendenko's sustained clarion notes in this movement can be a little bright but reflect the shimmering quality of a violin vibrato. A playful calando is marvelously executed with wit and taste, yielding to the Scherzo. This movement is notable for the beautiful ease and fantastic phrasing from pianist Itamar Golan and the vocal intuition of Zlotnikov's lines coupled with consistent and nuanced support from Bedenko. The Andante con moto Alla Marcia – Presto confirms the ensemble's cohesive interpretation, and the understated virtuosic ease of Golan's triplet lines spill easily out of the fingers bringing the whole to an exciting finish.
In the first movement of Brahms's Trio in A Minor, Bendenko provides a passionate push and pull of emotional phrasing with glowing warmth. The performers each succeed in finding a darker sound with more pathos and gravity that is highlighted by a light, ethereal quality in the pianissimos. The Adagio opens with a luscious quality to the clarinet line that is both satisfying and yearning in nature. Bedenko continues to show great flexibility in his expressive tone that matches easily across the registers in the soaring intervals Brahms often favors. This expansive concept of tone continues easily through the Andante Grazioso as the piano gurgles happily beneath the nostalgic lines of the clarinet and cello, almost inebriated with joyful memories. The un poco sostenuto that closes out the movement submerges the listener in a warm bath of sound. These contented qualities lend themselves well to the contrasting agitation of the final Allegro with grit and bravado in Zlotnikov's opening lines.
Pairing these two trios, one from the beginning of Beethoven's career and the other from the end of Brahms's life, is a classic construction that takes on a deep expressive meaning with the flexibility of tone and comfortable expression of style from the performers. Bendenko conveys the youthful enthusiasm of Beethoven and the graceful nostalgia of Brahms with a refreshing and evocative interpretation. His recording also boasts fantastic program notes describing historical and musical considerations from instrumentation to the composers' different approaches to scherzos. This album is well worth a listen!
– Andrea Vos Rochefort
---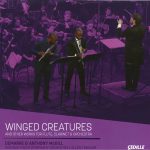 Winged Creatures. Anthony McGill, clarinet; Demarre McGill, flute; Chicago Youth Symphony Orchestra, Allen Tinkham, music director. M. Abels: Winged Creatures; F. Danzi: Sinfonia Concertante for Flute, Clarinet, and Orchestra; C. Saint-Saëns: Tarantelle; J. Puckett: Concerto Duo. Cedille Records, CDR 90000187. Total Time: 59:03.
They say, "You can't go home again." The old adage is not true here! Winged Creatures is a collaboration of two internationally-recognized virtuosos and brothers: clarinetist Anthony McGill and flutist DeMarre McGill with the Chicago Youth Symphony Orchestra conducted by Allen Tinkham. The McGill brothers, former members of the CYSO, are the featured soloists on this recording of works for clarinet, flute and orchestra. Anthony McGill is principal clarinet of the New York Philharmonic and DeMarre McGill is principal flute of the Seattle Symphony. Recorded in a single weekend in June 2018, I can only imagine what an impression these notable alumni made on these orchestra members.
The recording begins with the title track, Winged Creatures, by African-American composer Michael Abels. The purple liner notes include a list of donors for this work that was commissioned by Cedille Records, a personnel list for the CYSO, full bios for the soloists, conductor and ensemble, candid shots from the recording sessions and detailed information about each work. Abels shares that he was inspired by the McGills' playing to compose a work about butterfly flight. The work features contrasting themes of flight: soaring and purposeful versus random and erratic. Abels, best known as a film composer, crafts quite a cinematic effect in this work. The two instruments weave together effortlessly. The McGills' masterful interplay and impeccable tonal blend is achieved as they play soaring lines with immaculate balance and precision. The two soloists intertwine lines, blurring their tones to disguise their instruments' individual characteristics. Anthony McGill's tonal control and pure intonation in the altissimo range is marvelous. A neat moment occurs when Abels gives the soloists' material from the exposition to the orchestra members in the recapitulation, a recognition that perhaps these young musicians will someday in turn become the soloists that the McGills are today.
The CD includes another result of a collaboration for the McGill brothers and the CYSO. Joel Puckett's Concerto Duo was premiered by the McGills and the CYSO with Tinkham conducting in May of 2012. Puckett is also an alum of the CYSO, having served as composer-in-residence. Concerto Duo is dedicated to the McGills and their parents, and each of the three movements is dedicated to a different toddler. Themes of family and childhood abound. The music here is funky and jazzy alternating with lyricism. The soloists and orchestra are fully engaged for this full-length, 20-minute work. There is a jubilant effervescence from the group in the midst of the second movement lullaby when the toddler must be digging in her heels to avoid sleep. Coordination of the soloists and accompaniment and preparation of the CYSO is well done by Tinkham.
Sandwiched between these two newer works are the 19th-century works by Danzi and Saint-Saëns. The soloists provide a wonderful master class in late Classical-era phrasing and voice leading in the Danzi. The third movement is a full technical display from the soloists, and they execute it with apparent ease. Anthony McGill's articulation here is crystal clear and clean. Remarkably, DeMarre and Anthony McGill, at age 18 and 14 respectively, appeared in a "Mr. Rogers' Neighborhood" episode in 1994 playing the youthful Saint-Saëns' Tarantella.
It is always a treat to hear Anthony McGill play. His velvety sound is so full of color and character. This recording provides a rewarding insight into music-making of a most special kind, two virtuoso brothers sharing music with youth providing inspiration for each other and all of us. Take a listen, you will thoroughly enjoy it!
– Gail Lehto Zuggar
---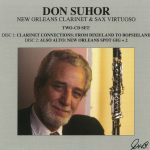 Clarinet Connections: From Dixieland to Bopsieland and Also Alto: New Orleans Spot Gig+2. Don Suhor, clarinet; with the Amy Sharpe Trio; Gary Burghoff's Mardi Gras Celebration Band; Topsy Chapman and the Pro's; Wendell Brunious Jazz Band; John Eubanks Trio; Don Vappie Quartet. GHB Records, BCD 561/562. Total Time: 57:11 (album one); 56:12 (album two).
New Orleans clarinetist Don Suhor (1932-2003) has gained new attention with this recent two-disc release of small ensemble sessions he recorded with friends over a 25-year period. It is the perfect showcase for his prodigious improvisational talent and commanding presence. The recordings are remarkable in that they showcase the influential players in Don's past and document the breadth of his stylistic horizon, which effortlessly encompasses tunes and styles from early traditional New Orleans jazz through the swing era to bebop and beyond. In a very real sense, we have a history of jazz evolution here from the first half of the 20th century. But it is much more than a recreation of the literature and stylistic mannerisms of the legends from that time. In the fashion of all great jazz artists, Don has delivered a personal and highly effective voice that stands on its own while honoring the past traditions of the art.
A lifelong resident of New Orleans, Don learned the Dixieland repertoire in his teen years and mastered the intricacies of dense, improvised ensemble playing that is the hallmark of early traditional jazz performance. He proves that on this recording again and again, especially in songs where he is working with a trumpet, clarinet and trombone front line. There is no shortage of jazz musicians who can improvise well, but not all of them understand the rules of accurate voice leading and the placement of the right note within the ensemble at just the right time. This is a talent that comes from listening spontaneously while playing, from working with the same group of musicians for many years and by instinctively knowing where to be at every moment. Don is a consummate master of this style. He makes it easy for us to get lost in the music with his sinuous melodic lines and flawless ensemble counterpoint.
Don especially enjoys the intimacy and freedom of working as soloist with a rhythm section. The first eight tracks feature him in the Amy Sharpe Trio – clarinet, banjo and string bass. Don is given free rein to shine here. Sharpe's banjo provides everything that is required and more – highly inventive single-note melodies, classic yet colorful harmonies, a great sense of improvisation and dependable time. Al Bernard is simply the perfect bassist delivering flawless intonation and the ever-important solidity of the beat that is critical in every small ensemble. You never get tired of the sparsity of the group even in nearly 30 minutes of music.
Sidney Bechet's signature tune, "Petite Fleur," opens the first CD and immediately establishes Don's New Orleans roots, linking him to a rich, defining tradition of great reed players. Its haunting, serpentine minor melody is presented perfectly here with a beautiful vibrato, lush, controlled tone and a pleasing fluency all the way to the top of the altissimo range, compelling the listener to relax and spend an evening listening to an accomplished master. What follows is a parade of some of the best of the 1920s repertoire ("Crazy Rhythm," "Sweet Lorraine," "Up A Lazy River," "Just a Closer Walk With Thee") interspersed with standard swing classics including Benny Goodman and Charlie Christian's "Seven Come Eleven" and Gershwin's "S'wonderful." Along the way, Don exhibits his effortless improvisation that blends a strong traditional style expected in pre-World War II music with a uniquely modern post-1950 hot swing vocabulary. This combination of the traditional tunes fashioned in a new package works every time. This is yet another reason to buy and critically devour this collection.
The next five tracks employ a full Dixieland ensemble. "Basin Street Blues" includes the welcome addition of a drummer – Gary Burghoff, a fine musician and an accomplished actor who played Radar on the acclaimed M.A.S.H. television series. This "Basin Street Blues" is a clarinet feature complete with an extended cadenza and rock-solid rhythm. The full ensemble that follows includes legendary players of the style in the front line (Duke Heitger, trumpet and Lucien Barbarin, trombone) and vocalist Topsy Chapman with a piano, bass and drum rhythm section. Perhaps the best track of the disc is Joe "King" Oliver's iconic "Dippermouth Blues." Played by the Wendell Brunious Jazz Band with Wendell on trumpet, this tune swings hard. The 1923 solos and playing of Johnny Dodds and Oliver are referenced but not duplicated. Personalized statements here border on bebop in nature while maintaining the energy and substance of the original. It is a tribute to these fine musicians that they can breathe new life into the foundational repertoire of jazz.
The second CD of the set continues the exploration into the flexibility and durability of early jazz. Much of this disc is from a wild impromptu wedding-party session that captures the energy of the event as much as the music of the Don Vappie Quartet. "Lady Be Good," "South Rampart Street Parade" and the generic Mardi Gras march "Second Line" alternate with Duke Ellington standards "Take the A-Train" and "Caravan." To complete the mix, the disc ends with Billy Strayhorn's 1959 "Lotus Blossom" and "Ezz-Thetic," an avant-garde tune that was first recorded by Don Ellis and Eric Dolphy with the George Russell Sextet in 1961.
Throughout all the diverse music included in this fine CD set, one thing is constant: Don Suhor was an outstanding and singular musician who mastered his instrument and should be included among the great jazz clarinetists. He is in complete control in all registers of the clarinet, is steeped in tradition yet has an individual voice, and he delivers consistently excellent and engaging solo work. Here is an album that synthesizes the best of jazz styles from 1920 through 1960.
The recording is balanced and high quality, which is remarkable as all but six of the 26 tracks were recorded in private sessions or on a gig. There also is an excellent 12-page booklet that was written by Charles Suhor – respected jazz critic, author (Jazz in New Orleans: The Postwar Years Through 1970), and Don's younger brother – that personally documents the 55-year career of Don. It is an inside introduction to this brilliant jazz voice that is as effective in compelling us to sit up and recognize his talent as is the music on the discs. This CD set is a comprehensive tribute to a marvelously talented musician who successfully combined a respectful appreciation for heritage with a highly original brand of swing/bebop. It deserves to be in the collection of every jazz clarinetist and anyone interested in the mastery of our instrument.
[See also "Don Suhor: A Legend in the Shadows" by Charles Suhor in The Clarinet Vol. 46/3 (June 2019). Ed.]
– Jerry E. Rife
---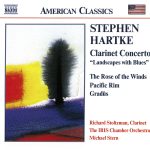 Stephen Hartke: Clarinet Concerto "Landscapes with Blues." Richard Stoltzman, clarinet; IRIS Chamber Orchestra, Michael Stern, conductor. S. Hartke: Concerto for Clarinet and Orchestra "Landscapes with Blues," The Rose of the Winds, Gradüs, Pacific Rim. NAXOS, LC 05537. Total Time: 59:39.
Winner of the 2013 Grammy Award for Best Contemporary Classical Composition and numerous other awards, Stephen Hartke's (b. 1952) musical influences span a wide range of composers and stylistic periods, from music of the Medieval period to the atonal and chance music of modern composers. Born in Orange, New Jersey, he grew up in Manhattan, encountering music at a very early age. Stephen Hartke is widely recognized as one of the leading composers of his generation, and his work has been hailed for both its singularity of voice and the inclusive breadth of its inspiration.
Richard Stoltzman's musicianship and virtuosity are known to not only the clarinet community but also to the entire musical world. He is regarded as a captivating soloist, jazz artist and virtuoso of many musical genres. He gave the first clarinet recitals in the histories of both the Hollywood Bowl and Carnegie Hall. In 1986, Stoltzman became the first wind player to be awarded the Avery Fisher Prize. Recently he was awarded the prestigious Sanford Medal by the Yale School of Music and was elected a Fellow of the American Academy of Arts and Sciences.
Hartke's Clarinet Concerto (2001) is an exciting work with a diverse range of styles, moods, rhythms and imagery. The first movement, "Senegambia," is described in the program notes as being influenced by music from the West African nations of Senegal and The Gambia. West African music is highly polyrhythmic, incorporating cross-rhythms that are characterized by hemiola. Melodies are not based on a single line over harmony but instead rely more on call-and-response and improvisatory or declamatory styles. The opening immediately evoked the style of Stravinsky, who is one of Hartke's influences. Based on a five-note ground bass with Stravinsky-like interjections combined with the call-and-response elements of the West African music, this movement is attention-grabbing to say the least. Stoltzman's melody carries freely over the orchestra. In the role of griot (the storyteller or praise leader), he leads in the call-and-response, and also gives the impression of improvisation, soaring in and out of a complex cornucopia of sound.
The second and longest movement of the concerto is titled "Delta Blues." The Mississippi Delta is sometimes described as the "land where the blues was born." Many of the vocal lines were borrowed from field hollers, a type of song originally sung by enslaved African Americans. This style of singing is more of a cry than a song and is marked by swooping and abrupt changes in pitch. This movement begins in subdued and mysterious manner. The style is quite melancholic and laid back. Then unexpectedly, with a passionate and ardent display, Stoltzman performs a series of high energy altissimo "riffs" with the Stravinsky/Gunther Schuller contravening harmonic language in the orchestra. His technique is without measure and his execution is impressive and precise. This movement takes many twists and turns, the clarinet at times introspective and soulful, then strident and inflexible, evolving into a mournful wailing. Hartke states that some of the twists and turns of the clarinet writing were taken from the opening motive of Cool Drink of Water Blues by Tommy Johnson. Stoltzman's skill and knowledge of jazz style and execution is expert and riveting.
The final movement is titled "Philamayork." The composer states, "'Philamayork' takes its title from Albert Murray, a compound word he uses to denote the mythical cities of the North, where blues had gone and became a hard-driving urban music." The movement begins with a dancelike, rhythmic groove and quickly becomes a faster and more energetic dance. A more relaxed blues style is effortlessly exhibited by Stoltzman finally leading to what Hartke calls "travelling music" to the end of the concerto. The close of this concerto is driving and exciting, culminating with a rhythmic and technical exhibition shown by the clarinet. Stoltzman's virtuosic performance is immeasurable. I absolutely loved this concerto.
Highly commendable in this 2003 recording were the IRIS Chamber Orchestra and their soloists. Under the direction of Michael Stern, an internationally known conductor, this ensemble was spot-on and virtuosic in its own right. This group of performers are exceptionally skillful in their performance of the remaining works on the CD: Hartke's Pacific Rim, The Rose of the Winds for string octet and Gradüs for chamber sextet.
I would highly recommend this album. The Clarinet Concerto is a stand out, but the additional three works are a bonus of quality musicianship.
– Lori Ardovino
---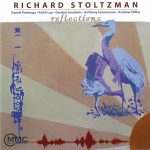 Reflections. Richard Stoltzman, clarinet; Warsaw National Philharmonic, George Manahan and Jerzy Swoboda, conductors. D. J. Perlongo: Sunburst; K. Lay: Earth Caoine; G. Goodwin: Paragraph for Clarinet and Orchestra; A. Iannaccone: Concertante for Clarinet and Orchestra; A. Stiller: Procrustean Concerto. MMC Recordings, MMC 2105. Total Time: 61:39.
Reflections is a CD release by the world-renowned clarinetist Richard Stoltzman and the Warsaw Philharmonic Orchestra. This recording includes five short works for clarinet and orchestra, all of which were recent compositions at the time of the recording (2004).
The CD begins with Sunburst by Daniel Perlongo, a piece that is full of energy with brilliant orchestral colors. The writing features contrasting sections of beautiful expressive lines with almost jazz-like gestures that really pop. Earth Caoine by Keith Lay is a hauntingly beautiful work that is a sharp contrast to Perlongo's piece. The clarinet line frequently contains descending glissandi that evoke a sense of pain and sorrow. This "wailing" character is set against an orchestral texture that is expansive and constantly changing. Paragraph for Clarinet and Orchestra by Gordon Goodwin is a beautiful, more upbeat and optimistic work. With alternating lyric sections and aggressive syncopated staccato passages, the piece showcases Stoltzman's ability to change character and styles seamlessly, creating a fun and engaging performance. Concertante for Clarinet and Orchestra by Anthony Iannaccone features a series of episodes for virtuoso clarinet and orchestra. The piece unfolds with different scenes driven by the solo operatic voice of the clarinet. Stoltzman captures the essence of each section beautifully and one does get a sense of a character moving through a story line in a musical drama.
The concluding work on this is CD is Procrustean Concerto by Andrew Stiller in two movements. The first movement features extreme contrasts and dramatic episodes. Lyrical lines and musical dialogues between the clarinet and solo instruments are interrupted by wild aggressive gestures in the orchestra. The second movement begins with a Chilean folk melody written with a very humble and simple accompaniment. Reminiscent of Ravel's Bolero, the melody is repeated many times with instruments being added resulting in more variations in colors and texture. Unlike Ravel's work, the piece returns back to the simple opening melodic material after reaching its climax two-thirds of the way through the piece.
The CD liner note description of Concertante for Clarinet and Orchestra by Anthony Iannaccone says, "…the orchestra becomes, propulsive, then recedes. Like a passionate opera singer, the clarinet moves to center stage and imparts arioso-like melodies." This description resonated with me as it really applies not only to every work on this CD, but to the entire career of Richard Stoltzman. He has been a unique and powerful artistic voice for so many decades. In this recording, each piece features an experience that is special and stunningly beautiful. Each tells a different story, a different opera, where Stoltzman moves to center stage to say something meaningful and poetic. The playing is compelling with every moment filled with musical intention. Stoltzman's tone is beautiful and skillfully controlled, especially in many of the highest tessitura passages. The lyrical passages sing and the technique is flawless.
This CD is very well recorded. There is an excellent sense of space, and the instruments sound natural and well balanced. The individual performances of Stoltzman and the principal players in the orchestra are truly superb. I don't think I have heard Richard Stoltzman sound more beautiful, and the works selected for this recording really showcase his special talent and musical artistry. This is truly an outstanding CD that every clarinetist should have in their library.
– David Shea
---