Originally published in The Clarinet 48/2 (March 2021). Printed copies of The Clarinet are available for ICA members.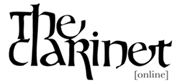 ---
RECORDINGS
Listen to the majority of these recordings in the ICA March Reviews Spotify Playlist!
---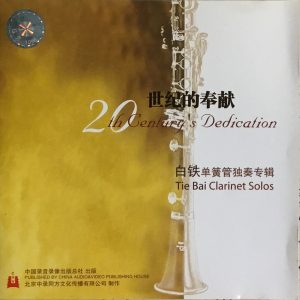 20th Century's Dedication. Tie Bai, clarinet; Hae Chung Kim, piano; Roberta Garten, piano. G. Litaize: Récitatif et Thème Varié pour Clarinette et Piano; M. Bitsch: Bagatelle pour Clarinette et Piano; J. Jin: Arirang Variations for Clarinet Solo; E. Bozza: Caprice Improvisation pour Clarinette et Piano; P. Gabaye: Sonatine for Clarinet and Piano; M. Arnold: Sonatina for Clarinet and Piano. China Audio and Video Publishing House, CAV 1096. Total Time: 52:39.
Currently professor at the Xi'an Conservatory of Music in Xi'an, Shaanxi, China, prizewinning clarinetist Tie Bai studied at the National Military Art College in China and continued his studies at the University of Southern California. His teachers include noted Chinese clarinetists as well as Mitchell Lurie and Yehuda Gilad. He has soloed with orchestras in Korea, China and Los Angeles, and has given recitals in France, China and the United States.
For this album, Bai has chosen a variety of 20th-century music from France, Korea and Britain. Some of these works are rather well-known and others are less frequently encountered, but all are of high quality. It could serve as a reference guide to graduate students and other recitalists looking for obscure but effective repertoire.
Bai opens with Récitatif et Thème Varié by the blind French organist, pedagogue and composer Gaston Litaize. Selected as the contest piece for the Paris Conservatoire in 1944, it was published in 1946 and dedicated to Auguste Périer, professor of clarinet at the Conservatoire at that time. A colorful, atmospheric piece with numerous varying sections and considerable technical challenges, it deserves a wider audience than it currently enjoys, and would be an excellent choice for a master's or doctoral recital.
Marcel Bitsch was a winner of the Prix de Rome and later professor of counterpoint at the Paris Conservatoire. By turns mysterious and whimsical, his Bagatelle is rarely heard in spite of
its originality and craftsmanship. Lasting under six minutes, it could be an effective encore.
Jeong W. Kim, a prizewinning Korean composer, pianist and conductor, holds a Ph.D. in music from UCLA. His Arirang Variations, based on traditional Korean melodies and rhythms, is spacious, tonal and accessible. One variation employs flutter tonguing to lyrical effect.
Eugène Bozza dedicated his expressive Caprice Improvisation to Guy Dangain. Its title may refer to an extensive, dramatic cadenza near the middle of the piece, flanked by passages of great energy and charm.
Another winner of the Prix de Rome, Pierre Gabaye wrote his lighthearted, optimistic three-movement Sonatine with a nod to jazz and blues influences of a French cast, especially noted in the reflective second movement. This crowd pleaser, a perfect choice for the last piece on a recital, requires the collaboration of an outstanding pianist, and Bai is fortunate to have such a partner here.
Malcom Arnold needs no introduction to clarinetists; of all the works on this disc, his three-movement Sonatina may be the most frequently encountered on recitals, at least in the United States. However, perhaps not everyone knows that the prolific Arnold was principal trumpet with the London Philharmonic, wrote nine symphonies and won an Oscar for the film score to The Bridge Over the River Kwai in 1957. It is fitting that Bai's album ends with a smashing performance of this well-known and well-respected work.
Both of the pianists on this CD, Hae Chung Kim and Roberta Garten, offer expert collaboration to Bai's ardent, colorful playing. The recorded sound is fresh and resonant, with perfect balances between clarinet and piano. This recording is highly recommended for many reasons, not the least of which is the rarity of some of its high-quality repertoire.
– Larry Guy
---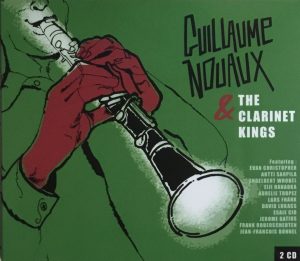 Guillaume Nouaux & The Clarinet Kings. Guillaume Nouaux, drums; with Evan Christopher, Antti Sarpila, Engelbert Wrobel, Eiji Hanaoka, Aurélie Tropez, Lars Frank, David Lukács, Jérôme Gatius, Esaie Cid, Frank Roberscheuten, Jean-François Bonnel, clarinet; and Luca Filastro, Alain Barrabès, Harry Kanters, Jacques Schneck, piano. Self-Published, GN 2019. Total Time: 50:31 (album 1); 50:37 (album 2).
Guillaume Nouaux and the Clarinet Kings is the 2019 double disc recording of drummer and band leader Guillaume Nouaux, a performer and educator from Arcachon, France. Nouaux is an award-winning musician, having won Artist of the Year in 2007 from Jazz Magazine, Classical Jazz Prize from the Académie du Jazz in 2011, and in 2014, Special Jury Prize of Hot Club de France for his album Drumology.
Guillaume Nouaux and the Clarinet Kings was a longtime dream and goal of Nouaux, that being a recording featuring an international lineup of fabulous clarinetists in a jazz trio setting, inspired by a similar album titled Zutty Singleton and the Clarinet Kings (Volume 1 and 2), which Nouaux discovered in a Parisian record store years ago. His concept was to present some of his favorite jazz clarinetists in a trio with piano and drums. He has employed clarinetists Jean-François Bonnel (France) Evan Christopher (United States), Esaie Cid (Spain), Lars Frank (Norway), Jérôme Gatius (France), Eiji Hanaoka (Japan), David Lukács (The Netherlands), Frank Roberscheuten (The Netherlands), Antti Sarpila (Finland), Aurélie Tropez (France), and Engelbert Wrobel (Germany) in a wonderful recording of mostly jazz standards. Composers represented are Duke Ellington, Fats Waller, Cole Porter, George Gershwin, Jelly Roll Morton, Benny Goodman, Al Jolson and more, with two original compositions, presumably written for this endeavor. The album was nominated for Classical Jazz Prize of the Académie du Jazz and won Special Jury Prize of Hot Club de France, both in 2019.
All of the clarinetists, save for the lone American, were unknown to this author, but in every instance, these musicians are at the top of their art form, perfectly interpreting traditional jazz with excellent clarinet tone, impeccable technique and inventive improvisations. Each clarinetist is afforded two tracks, one on each disc of the double CD. If these clarinetists are unknown to you, you owe it to yourself to learn about them and to get to know their playing.
Luca Filastro (Italy), Alain Barrabes (France), Harry Kanters (Holland) and Jacques Schneck (France) are consummate pianists who work double duty performing strong left hand accompaniments (with the absence of a double bass player). They serve the music and the concept of this album perfectly. When the pianists improvise, their solos are interesting and inventive. As a clarinetist, I have no complaints regarding such clarinet-heavy improvisations, but looking at the big picture of the music, I might have allowed more piano solos to balance the clarinet improvisations, but that, of course, is just a matter of opinion. Nouaux does present two tracks, one on each album, of just piano and drums duo, perhaps giving a nod in the direction of my thinking.
It is refreshing to hear and review an album conceived and led by a musician other than a clarinetist for The Clarinet. It is also a wonderful concept to feature multiple clarinetists performing on one album, allowing the listener to hear multiple examples of music in a similar genre, but with varying approaches to the instrument and compositions. The album contains an artistic record jacket with minimal, but sufficient liner notes. If you like good music, you will like this album!
– Ben Redwine
---
Once Upon A Time There Was A Piece Of Wood. Sarah Watts, clarinet; Jon Iles, narrator. S. Fontanelli: Once Upon A Time There Was A Piece Of Wood. Cuillin Sound, CUILL1005. Total Time: 66:04.
Once Upon a Time There Was A Piece Of Wood is the retelling of the classic story of The Adventures of Pinocchio in a new setting for clarinet and narrator. Simone Fontanelli was commissioned by the Gürzenich-Orchester Köln and Kinderoper Köln to write a chamber opera for children in 2010. The resulting German version was performed in Switzerland and Austria and then translated to Hungarian, Italian and Spanish with performances in those respective countries as well. Fontanelli then whittled down the English translation of The Adventures of Pinocchio into 14 scenes of Pinocchio's most important moments to create a theatrical work for narration and clarinet, which here is presented with Jon Iles as narrator and actor and Sarah Watts, clarinetist. A nicely-illustrated booklet with a synopsis for each scene and additional background information is included with the disc. This piece for one narrator/actor and one clarinetist lends a certain friendly intimacy to the theatrical chamber work for youngsters, and is also an entertaining listen for adults, with a focus on universal themes, emotions and actions ranging from the sweetest to the most bitter.
Jon Iles is an experienced British voiceover artist and actor and is active in television, radio and theater performance. He is best known as DC Mike Dashwood in iTV's The Bill and has also acted in dozens of TV commercials, documentaries and corporate broadcasting. His warm, deep voice is a perfect fit for this CD project. Clarinetist Sarah Watts is a bass clarinet specialist who is a Selmer, Vandoren and Silverstein artist and is professor of bass clarinet at the Northern Royal College of Music and professor of performance at Sheffield University. She has published bass clarinet tutorials and performs with Northern Ireland's Hard Rain Soloist Ensemble and her duo SCAW.
Jon Iles's narration brings the characters to life with a variety of accents and vocal characterizations, and colorful interpretation of the text. The clarinet part weaves in and around the narrator and both performers have long stretches of solo material as well. The technical and musical demands for the clarinetist are extreme and showcase Watts's accomplished clarinet playing. The angular, virtuosic writing allows Watts's excellent and unwavering articulations to shine, and she presents a variety of extended techniques such as flutter tonguing, glissandi, multiphonics and more with ease. Although Watts easily performs these effects, she falters slightly in a few places in altissimo connection and in creating a lyrical dolce sound and softer dynamics overall. The clarinet is recorded with close-set microphones and is at times a bit too prominent, aurally crowding the narrator. Despite having a relatively varied texture of voice characterizations and effects from the clarinet, the duo pairing sounds too similar after a while. The clarinet writing might have benefited from a few simpler lyrical sections to help sustain interest and attention throughout the hour-plus CD for two performers. Despite these critiques, the CD is worth having in order to hear the smooth playing of their interpretation of this unique work.
– Karen Dannessa
---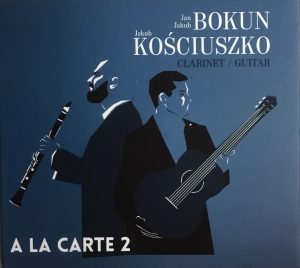 A La Carte 2. Jan Jakub Bokun, clarinet, Jakub Kościuszko, guitar. G. Connesson: Disco Toccata; M. Ravel: Pièce en Forme de Habanera; Ł. Woś: Scherzino; Souvenir de Halama; G. Drozd: Adagio, Op. 44j, "Hommage á J.S. Bach"; B. Kovács: A la Flamenco; Hommage á Zoltán Kodály; J. Zenamon: Luz y Sombra, Op. 121; G. Viseur: Douce Joie; D. Reinhardt: Nuages; R. Galliano: A French Touch; D. McDonald: Urban Pastoral; Yom: La Traversée. JB Records, 025-2. Total Time: 53:00.
Founded in 2013, the Bokun/Kosciuszko clarinet and guitar duo is dedicated to rediscovering the greatest chamber music masterpieces from Schubert to contemporary repertoire. The duo has performed Piazzolla's Double Concerto with orchestras and released their premiere recording, A la Carte, to considerable acclaim. They have performed in Cologne, Tokyo, New York, Prague, Budapest and Brussels among other major cities.
The disc opens with a delightful amuse-bouche titled Disco Toccata by Guillaume Connesson. Here, we have a lively work seemingly inspired by Reich with its rhythmic language tinged with minimalism. The performers execute this work with razor-sharp precision and excitement. Then, we have the Ravel Pièce en forme de Habanera, a work originally written as a vocalise that has become a major staple in clarinet/piano recital repertoire. The duo truly delivers the sultry, seductive nature of this piece; the guitar transcription adds a special elan to this habanera. Following the Ravel is another delightful work in an almost neoclassical style by Łukasz Woś titled Scherzino. Both Bokun and Kosciuszko display beautiful colors of sound in this performance.
In keeping with gastronomic terms as A la Carte suggests, we move from the hors d'oeuvres to a more substantive work on the disc, Gerard Drozd's Adagio, Op.44j "Hommage á J.S. Bach" adapted for clarinet and guitar. This track exemplifies exquisite intonation, style and expressiveness by both performers. The second of two works by Woś on this disc, Souvenir de Halama, is sung beautifully by Bokun. Again, his color palette is aptly displayed in this performance.
The following work, A la flamenco, more commonly known as Hommage á Manuel de Falla by Béla Kovács, is the most familiar offering on this disc. This performance by Bokun is the highlight of the recording, exhibiting flawless technique, superb style and rhythmic precision. This arrangement for clarinet and guitar only adds to the brilliance of this work. Also by Kovács, the Hommage á Zoltán Kodaly is performed with flair and precision by Bokun in this unaccompanied work. The Zenamon, with its alteration of dance-like sections and chanson styles, is performed with panache and meticulousness. The other chanson-like works by Viseur, McDonald, Galliano and Reinhardt (with the last being for solo guitar) are delivered with soulful style by Bokun and Kosciusko, respectively. The final work on the disc, Yom's La Traversée is an exciting tour de force in a quasi-klezmer style.
Overall, this disc exhibits extremely fine ensemble and lyrical playing and was a pleasure to review. The combination of clarinet and guitar is deserving of further exploration by performers and composers alike.
– Kenneth Long
---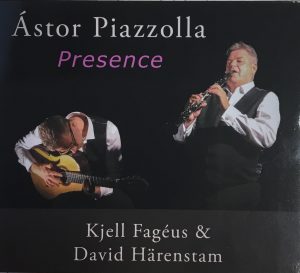 Astor Piazzolla: Presence. Kjell Fagéus, clarinet; David Härenstam, guitar. A. Piazzolla: Psicosis, Gulinay, Revirado, Todo Fué, Decarisimo, Los Poseidos, Misteriosa Vida, Nuevo Mondo, Tango Choc, Tanguisimo, Dernier Lamento, Greenwich, Las Furias, Yo Canto Un Tango, Adios Nonino, Romantico Idilio, L'histoire du Tango: Bordel 1900, Café 1930, Nightclub 1960, Concert d'Aujourd'hui. Sound Spheres, RHLB22. Total Time 62:00.
Piazzolla fans, rejoice! This is a new collection of his works arranged for clarinet and guitar performed by the Swedish duo of clarinetist Kjell Fagéus and guitarist David Härenstam. This collection contains 16 small pieces (most only two or three minutes long) as well as the famous Histoire du Tango, which is well known to all. Kjell Fagéus was principal clarinet with the Royal Opera Orchestra in Stockholm for 14 years, as well as serving as principal clarinet in other Swedish orchestras. He has toured Europe, the U.S., South America, Ukraine, Israel and China, and has recorded for radio and television. David Härenstam is currently the artistic director of the Stockholm Chamber Music at Riddarhuset in Stockholm. He has appeared on numerous recordings performing in a range of styles from Baroque to jazz.
Piazzolla's works have maintained an enduring popularity over the years and have been transcribed and arranged for nearly every instrumental combination imaginable. No matter what instrument is performing, his music maintains its sultry, suave and rhythmically engaging qualities. This pairing of clarinet and guitar is quite good and the Fagéus/Härenstam duo takes great advantage of the timbral possibilities inherent with these two instruments to bring out the seductive nature of the tango. While the guitar is exceedingly nimble in complicated passages, these pieces really shine when the guitar uses its powerful harmonic and rhythmic strumming capabilities to underpin the clarinet soaring over the top in the melodic line. Fagéus and Härenstam are in complete command of their instruments on this recording – not just through the technical demands, which is to be expected, but they are also in command of their sound. Both players are able to vary their instrument's tone to suit the moment of the music, pivoting on a dime from a penetrating presence in some places to an almost amorphous, breathy mood just a few measures later.
Fagéus is especially skilled in taking advantage of the nuance the clarinet is capable of and exploiting it to great effect with a subtle vibrato and husky tone when appropriate. The centerpiece of the album is the Histoire du Tango at the end of the disc and this arrangement demands the most from both musicians. It is performed here with aplomb and an excellent sense of style; the listener doesn't even notice the technical demands which are easily negotiated by the duo. Occasionally, the guitar sound is difficult to discern when the clarinet is playing above the staff, but in general the balance between the two instruments is excellent. The wide dynamic and color range of the clarinet is perfect for this music, especially when paired with the guitar. These performances are extremely effective and if you like Piazzolla's music, you'll definitely want to listen to this album!
– Christopher Ayer
---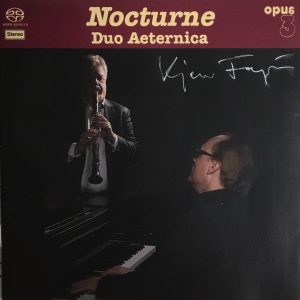 Nocturne. Duo Aeternica: Kjell Fagéus, clarinet, and Love Derwinger, piano. C. Franck: Prelude, Fugue, and Variation, Op. 18; Mélancolie, Pièce V; G. Fauré: Vocalise-Étude; N. Boulanger: Three Pieces; L. Boulanger: Nocturne; D'un Matin de Printemps; G. Tailleferre: Adagio; Pastorale; Arabesque; N. Rota: Sonata in Re. Super Audio CD, CD 28001. Total Time: 54:56.
This album by Duo Aeternica (Kjell Fagéus, clarinet and Love Derwinger, piano) features primarily transcriptions of 19th and 20th-century works. In the program notes, the duo states that the album's works are compiled "with the ambition to present beautiful music from the 19th and 20th century that also will widen the repertoire for clarinet and piano." Many of the works on this album are transcribed for clarinet but maintain the original piano part.
The first works on the album are by César Franck. Prelude, Fugue and Variation, Op. 18, is originally for organ, but this recorded transcription is based on a version of the work for violin and piano created by Paul Lemaître. The second work, Mélancolie, is originally for violin and piano, and the third, Pièce V, is originally for harmonium, but is often played by oboe and piano. My favorite of these is Mélancolie. The clarinet's lower register blends well with the piano, creating a warm, melancholic scene. I also enjoyed the duo's recording of Pièce V. It has a sweet innocence that is charming. All these transcriptions work well and are performed beautifully.
Three Pieces by Nadia Boulanger is a highlight of this album. Known and respected as a great composition teacher, Boulanger's actual compositions are often overlooked. It is exciting to have arrangements of her works prepared for clarinet and piano. Originally for organ, then arranged for cello and piano by the composer, these works are gems. They are full of color and provide opportunities for the clarinetist to display a full range of emotion. The third movement in C# minor is particularly vibrant and full of life. This is a wonderful work and I plan to seek it out to perform in the future.
Works on this album by Lili Boulanger include Nocturne, originally composed for violin or flute with piano, and D'un Matin de Printemps, which was adapted for many instrumentations and here is taken from the flute and piano version. These compositions work well as a set. The first is a slow, expressive work, while the second is faster and energetic. Like all the transcriptions on this album, they make lovely additions to the clarinet's repertoire.
The duo then includes three works by Germaine Tailleferre including her Arabesque, the album's first work originally intended for clarinet and piano. Tailleferre had a gift for writing beautiful, tuneful melodies, and these works highlight this. The first work, Adagio, is a transcription of a violin and piano version of the second movement of her piano concerto. Pastorale was originally written for violin or flute with piano. These are not well-known works, but the duo's performance will inspire clarinetists to seek them out.
Nino Rota's Sonata for Clarinet and Piano is the epitome of beautiful clarinet writing, and the duo's recording is yet another interpretation of this work for performers to consider. Overall, this album is a nice collection of beautiful, traditional-style works for clarinet. The tone quality of both Fagéus and Derwinger is coloristic and vibrant, resulting in compelling performances. I hope that the duo considers publishing their transcriptions, particularly the Nadia Boulanger work. I think many clarinetists would like to play them, and we have Duo Aeternica to thank for adding them to our repertoire.
– Amanda McCandless
---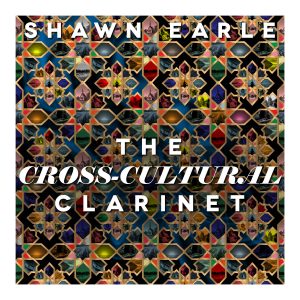 The Cross-Cultural Clarinet. Shawn Earle, clarinet; L. Edwards-Burrs, soprano. R. Rosen: Sipatsimoyi; D. Charke: Between the Shore and the Ships; T. Olson: Paraclete; J. Mayer: Raga Music; E. Weisgarber: Koku; S. Moore: Tout Passe. Polymnia, 2019. Total Time 37:00.
Canadian clarinetist Shawn Earle's 2019 album The Cross-Cultural Clarinet demonstrates his flexibility and musicality across a wide span of newly-written works. Earle has performed and taught across North America and previously served as assistant professor of clarinet at the University of Virginia and an instructor at the University of British Columbia. The compendium features Earle's fantastic performances of solo works by Robert Rosen, Tawnie Olson, John Mayer, and Elliot Weisgarber. He is joined by Lisa Edwards-Burrs on works for clarinet and voice by Derek Charke and Sandy Moore. Earle states his interest in both Canadian clarinet music as well as music influenced by non-Western cultures as his premise for the album.
The first track, Sipatsimoyi, by Robert Rosen meanders between quarter-tone phrases and extended techniques. Rosen aims to evoke a Piikuni Blackfoot smudge ceremony in which sweetgrass is burned and wafted to cleanse negativity. Earle's smooth and soothing lines easily evoke tendrils of smoke pluming out.
Derek Charke's two-song cycle Between the Shore & The Ships is the highlight of this album. Edwards-Burrs's fantastic tone and musicality lend themselves to the work and blend well with Earle's pure sound. Charke chose to set the eponymous first song to an excerpt of Longfellow's poem "Evangeline," which depicts the British deportation of Acadians from Grand-Pré. Earle captures the essence of the second movement "Blizzard" encapsulating the line "where fear is posed in slow motion" through his tightly-controlled pacing.
Tawnie Olson's Paraclete allows Earle to feature his expertise in extended techniques. The two movements depict the shock and distress of hearing bad news, and afterward the second movement tries to create a meditative state with clarinet accompanied by a Tibetan singing bowl. Raga Music by John Mayer features nine movements that take their titles from different ragas associated with events, seasons and times of day. The suite of movements is enjoyable and should definitely be added to more repertoire lists. Sandy Moore's Tout Passe brings out supple and heartfelt performances from both Earle and Edwards-Burrs. Their gentle lines at the beginning build up in frantic energy and motion over the piece's four sections.
Shawn Earle's album shares a wide array of music that is worth many listenings. The Cross-Cultural Clarinet showcases Earle's excellent performance and illuminates many works that deserve being added to our wider repertoire. While a listener might not love every work, they can definitely find something worth exploring.
– Ford Fourqurean
---