Originally published in The Clarinet 48/2 (March 2021). Printed copies of The Clarinet are available for ICA members.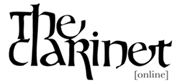 ---
Book Reviews
Amy Dunker. Meditations for Musicians. Batuta Press, 2019. Print edition $10.00; Kindle edition $2.99. Available in English, Spanish, Portuguese and Czech.
This singular book contains 151 one-page meditations – thoughtful words of encouragement and cues for reflection. Some of the meditations are only one word, but on average they are two short sentences. The open space on each page allows time to breathe and refresh. For the hard-driving college student or young professional, the writing of composer, trumpeter and teacher Amy Dunker is a soothing balm.
Seven of my Northern Illinois University students read the book and shared their impressions with me. Here is a sample of their thoughts.
This book has been very inspiring to me. I would describe it as simple yet thought-provoking and inspiring. I have often looked to this book for motivation to practice. I would recommend this book to both the student and the professional because it offers motivation for both.
I have mixed feelings about the book; I understand the purpose of the book is to inspire but personally I found it more a "personal growth book" than a book that could help me really understand music's core.
In the process of learning music we will experience failure; do not be afraid, because every failure is for the final success.
Reading these steps was kind of a wake-up call for me to not let my emotions run my life because they are only temporary. It made me think, do not push away or hide the emotions but acknowledge them and resolve them, like the quote said. Overall, I thought it was motivational.
I really liked how many of the sentences on each page were about one's personal journey – not being measured by anyone else around us.
This book is a valuable resource because there are some great reminders for many different aspects of being a musician.
I think as musicians there is a lot we can learn from this book: breathing, patience, perseverance and self-preservation.
– Gregory Barrett
---
Music Reviews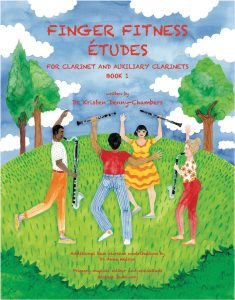 Kristen Denny-Chambers. Finger Fitness Études for clarinet and auxiliary clarinets, Book 1. Clarinet Playground, 2020. $18.00 or $15.00/each for five or more.
You probably already know Kristen Denny-Chambers's clever and pedagogically sound major and minor key-centric approach to developing technical ease, Prep Steps Before You Kroepsch. Her latest book, Finger Fitness Études, complements that mission with finesse. The inviting cover art reflects Denny-Chambers's passionate and fun teaching philosophy, also expressed through her "Clarinet Playground" website. With feedback from many students and professionals, including bass clarinet-specific ideas from Anne Watson and guiding musical suggestions from L.A. legend Michele Zukovsky, Denny-Chambers has composed etudes that are a unique contribution for developing clarinetists and bass clarinetists. Here's the recipe: take the dry one-bar mechanism studies from either Baermann or Klosé, pour a little cream from Jeanjean's Vade-Mecum over the top so as to progress tone by tone from low to high and add a bit of zany comic-book-meets-Fantasia style to ensure you are satisfyingly full at the end of the meal.
Each of the 48 pages of etudes is headed with the two-note combinations that are the focus of the etude on that page; the student repeats the intervals as many times as desired. Once the player has familiarity with the targeted intervals, off they launch into Denny-Chambers's etude. The player is cajoled by her engaging score indications: "Flying – with ease and momentum," "Moderato – with Latin flair," "Mysteriously – in slow 2, with a smooth and sultry character." You get the idea – this book is about all the dimensions of a life in music.
The first 16 studies focus on half steps, moving only one finger at a time. The second 22 are harder, requiring perfection of the motion of two or more fingers. The third section (10 etudes) is for bass clarinet and reworks some of the pieces from the first two sections but with changes to incorporate low Eb in the first two studies and then down to low C in the concluding eight.
It's hard to assign a difficulty level to this collection. Everyone needs to refine their finger motion, right? The note range is modest and most of the movement is scalar or by small leaps, but the large number of cut time pieces and 3/4 pieces in one requires a player with at least a couple years of experience. Add syncopated rhythms, lots of markings in the score and direct or oblique references to the standard literature (Copland Concerto for example) and you have an appetizing feast for even an undergraduate who would like to refine their finger work.
– Gregory Barrett
---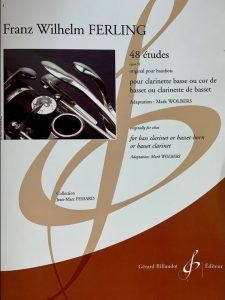 Franz Wilhelm Ferling. 48 études, Op. 31, for bass clarinet, basset horn or basset clarinet (originally for oboe). Adaptation by Mark Wolbers. Gérard Billaudot Éditeur, 2020. $26.95
Many clarinetists are aware that Cyrille Rose used the oboe etudes of Franz Wilhelm Ferling (1796-1874) as a starting point for his famous 32 études. Mark Wolbers, clarinetist, conductor and basset horn aficionado from Anchorage, Alaska, has adapted the full set of original Ferling etudes for clarinets with low C extensions. The result is outstanding. Musically, Dr. Wolbers' adaptation remains faithful to the original. The biggest change he has made is to expand the original range of two-and-a-half octaves to three-and-a-half to fully exploit the range of clarinets with low C extensions (every etude goes below low E). The changes have been made with skill and taste. Whereas the main goal of these adaptations has certainly been to work on the lowest notes of low clarinets, the charm of the original compositions has remained intact. Ferling's etudes are actually very nice little pieces of music, which explains their steady popularity with countless adaptations for various instruments. I warmly recommend this collection to every bass clarinet or basset horn player who aims to improve their "low-end" skills. The lay-out of the edition is also clear and flawless. You can hear all the etudes on YouTube, expertly played on basset horn by Dr. Wolbers himself (search "Wolbers Ferling").
– Mikko Raasakka
---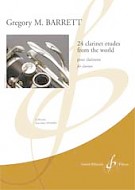 Gregory M. Barrett. 24 Clarinet Etudes from the World. Gérard Billaudot Éditeur, 2012. $29.95
Etudes are an essential part of each student's musical and technical development. As teachers, it's easy for many of us to assign the same etudes we have become familiar with over time. Gregory Barrett's book of progressive etudes (in all the major and minor keys) makes an excellent case for expanding into musical areas that extend beyond what many clarinetists learn in their formal studies.
The strength of this book is that each of the etudes is from the music of a different culture. Drawing from countries representing all the world continents except Antarctica, the variety of included styles gives opportunities for an impressive breadth of musical possibility. From the quarter tones in a Palestinian wedding song to the metrical intricacies of an Indian raga, the idiom of each musical culture brings with it challenges that are both technical and interpretive. Being able to play in many different styles is a skill that performers already recognize as essential, and the flexibility this book of etudes fosters goes beyond what many typical books can offer. What's more, music being written now is incorporating even more influences from the music of cultures outside the Western European tradition. As contemporary clarinetists see conversancy in multiple musical styles becoming an increasingly important skill set, the value of a thoughtfully curated book such as this one becomes clear. Studying these 24 Clarinet Etudes from the World would deepen the vocabulary of any clarinetist's musical language.
– Gregory Oakes
---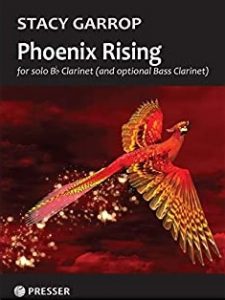 Stacy Garrop. Phoenix Rising for solo Bb clarinet and optional bass clarinet (2016/2017). Theodore Presser Company, 2019/2020. $13.99
Stacy Garrop's Phoenix Rising depicts the life cycle of the mythical phoenix, tracing first its death in I. "Dying in embers" and then its resurrection in II. "Reborn in flames." Performers and audiences alike will find this highly programmatic work accessible and evocative. Originally written for saxophone and commissioned by saxophonist Christopher Creviston, this clarinet edition is dedicated to New Music Chicago clarinetist Jennifer Woodrum. Though some of the figures, particularly toward the end of the second movement, assume a slightly different character on the clarinet, the transcription maintains its essential features between instruments.
Garrop writes in her program note that the first movement, "Dying in embers," captures the final moments of an ancient phoenix's life, the bird "settling on top of a pile of embers and breathing its last breath." The register, rhythms and space in this movement reveal a soundscape of fatigue. Enervated moments of fluttering/flapping from air sounds combined with multiple articulation occasionally interrupt the solemn, chantlike lines and bends in the low register groan between pitches.
The contrasting second movement, "Reborn in flames," races to life with fast articulations and brilliant technical flourishes. This movement sustains a highly rhythmic feel, dancing between time signatures as it describes pyrogenic explosions and the reincarnation of the newborn phoenix. Garrop employs fewer extended techniques in this movement than in the first, but still includes several timbre trills and glissandi in the altissimo.
Garrop's biography boasts an impressive lineup of commissions, including works for the Kronos Quartet, the Cabrillo Festival, the Grant Park Music Festival, Chanticleer, the Detroit Symphony and the St. Louis Symphony. Her works are widely recorded on Cedille Records and other labels.
– Matthew Nelson
---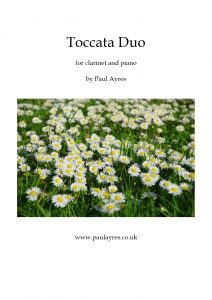 Paul Ayres. Toccata Duo. http://paulayres.co.uk, 2008. £10.00 or $15.00
Paul Ayres (b. 1970) lives in London, where he is a freelance composer, arranger and choral conductor. Although he is primarily a composer of choral and church music, he has a wide array of instrumental works available as well. Ayres says that he "enjoys 're-composing' classical works and 'classicizing' pop music." This description is especially appropriate of his Toccata Duo.
Toccata Duo is composed for any melody instrument and can be accompanied by either piano or organ. The version for clarinet and piano was used for this review. As the title would suggest, the work features fast moving notes and a fair amount of imitation between the two parts. However, in a nod to the composer's pop music proclivities, this toccata is in 7/8 time and has a dance-like quality.
Toccata Duo opens with an intense melody in which both instruments move fluidly between a 2+2+3 feel and a 3+2+2 feel. As the piece continues, the composer uses an abundance of hemiola through eighth rests and ties which have a destabilizing effect for both the listener and performer. Furthermore, unusual harmonies and unexpected accidentals bring this toccata decidedly out of its Baroque roots. The middle section has a calming effect as the melody becomes more lyrical and settles in to an unchanging mixed-meter feel. Finally, both instruments return to the opening material before the duo comes to an exciting finish.
Paul Ayres's Toccata Duo lasts slightly less than four minutes and would be a fun and interesting way to fill out any recital. The notes are fairly idiomatic for clarinetists and the range is accessible, only extending to an altissimo D. PDF files of the solo and accompaniment parts are available for download on the composer's website: http://paulayres.co.uk.
– Madelyn Moore
---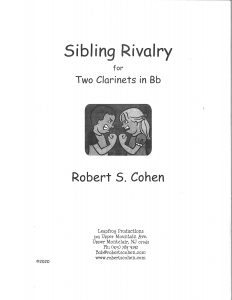 Robert S. Cohen. Sibling Rivalry for two clarinets in Bb (2020). Leapfrog Productions, 2020. $15.00 (digital download)
Robert Cohen's new work Sibling Rivalry adds nine minutes of entertaining and evocative material to the clarinet duo repertoire, depicting an often-contentious musical competition between the two performers. The title cleverly manifests itself in the particular nature of the competitive strategy devised by Cohen, whose use of imitation, phasing, and variation recalls minimalist influences. Sharp dissonances punctuate musical "shoves" as the performers perpetually seek to outdo one another, yet the overall harmonic content of the piece should prove accessible to audiences, and the presentation of the material provides a rare sense of fullness to this instrumentation.
The first movement commences with a series of rapid repeated notes, passed back and forth between the performers. The pattern quickly ruptures as each performer seeks higher ground, and breaks down completely through the middle of the movement, where wider intervals dominate the aural landscape and the performers alternate between progressively longer motives. A recapitulation eventually culminates in a muddy soup of dense chromatic imitation, racing toward the final augmented unison that embodies this fractious relationship. Cohen calms his actors in the second movement, weaving variations of a languorous song over and through a four-bar ostinato. He interrupts this indolent surface several times with individual bars of aggressive activity, and just when it seems that the two parts will settle into a final and peaceful resolution, they move instead to a very dissonant major seventh. The third and final movement most closely resembles classic minimalist works, as additive and sequential variations in one part slowly change the context of more constant repeated figures in another.
Sibling Rivalry was written for Italian clarinet duo Guido Arbonelli and Natalia Benedetti, who premiered the work
over a live feed from Perugia, Italy, on May 29, 2020.
– Matthew Nelson
---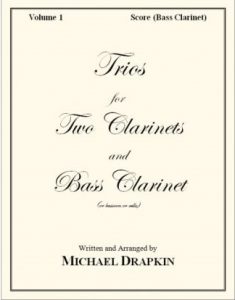 Michael Drapkin, arranger. Trios for Two Clarinets and Bass Clarinet. Drapkin Music Publications, 2020. Distribution by Carl Fischer/Presser. Two Volumes, each: $35.00/score; $95.00/set of parts.
Toyota, Apple, Michael Drapkin – all synonyms for quality, reliability and ubiquity. With the first clarinet part running 70 or 80 pages of music in each volume, and the full scores to about 200, Drapkin has arranged and assembled what must be the ultimate gig book for clarinet trios. Or are these two volumes a lifelong diary in quarters, eighths and 16ths – revealing all of Drapkin's musical and emotional proclivities? Spanning the gamut from an audacious arrangement of Strauss's Till Eulenspiegel's lustige Streiche to the much easier pieces of 16th and 17th century superstar John Dowland, Drapkin has supplied the fuel for many a late night clarinet soirée.
The arrangements are practical, with playing ranges and technical demands idiomatic. Obligatory pieces by J.S. Bach, Mendelssohn and Mozart are comforting. The Frederick Fennell effect is here with several Sousa march arrangements. High school and college wind ensemble memories will be rekindled with the arrangement of the Holst First Suite in Eb. Do you like opera overtures and arias? Plenty of Rossini and Mozart to keep your fingers and voice humming. Who says a clarinet trio can't play Wagner's Magic Fire Music? Not Michael Drapkin! You get the idea. Feeling a bit sentimental? Elgar's "Nimrod" from Enigma Variations will have you in tears after three phrases. Perhaps the one original composition by Drapkin included, The Yellow Rose of Mozart, sums it all up: Have a little fun with music, whether you live in Texas or not.
– Gregory Barrett
---
Hoagy Carmichael and Johnny Mercer. Skylark arranged for clarinet quartet (with bass clarinet) by Dana Paul Perna. http://willemsmusiik.com $12.00 (digital download)
Skylark, one of the most memorable American standards, is sensitively arranged by Dana Paul Perna in close harmony utilizing the best ranges of the clarinets and bass clarinet. Each voice has rhythmic independence and the lines alternately move in parallel and contrary motion. Please let this arrangement introduce you to Willemsmusiik, with over 1,200 titles in its searchable online catalog. Founder and multi-woodwind performer Tristan Willems offers original compositions and arrangements with great appeal from classical, jazz and folk genres. Browse and you will find titles both familiar and exotically enticing.
– Gregory Barrett
---