Originally published in The Clarinet 46/4 (September 2019). Printed copies of The Clarinet are available for ICA members.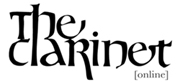 ---
Audio Notes: September 2019
by Kip Franklin
The music of Johann Sebastian Bach is universally known. He is arguably the founding father of Western art music, having qualified and quantified the language of tonal harmony. The harmonic, melodic and musical models he established manifest themselves in the works of nearly all subsequent tonal composers. Unfortunately, clarinetists have no original works by Bach and instead must rely on transcriptions and adaptations in order to glean the experience of playing his music. In addition to the existing body of transcriptions and recordings, two newly-released albums are anchored in the works of Bach.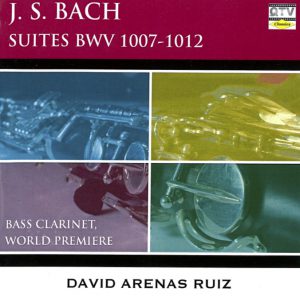 Spanish bass clarinetist David Arenas Ruiz has released J.S. Bach Suites BWV 1007-1012, a double-disc album containing all six of Bach's cello suites arranged for bass clarinet. Although there have been several previous recordings of individual suites, this recording is, to my knowledge, the first to contain all of the suites. They are a bit challenging to decipher due to poor English translations, but the liner notes interestingly detail Ruiz's approach to interpretation and the adjustments that have been made in performing these works regarding breathing and multiple stops. By reading from the original cello part (sounding a whole step lower than the originals), Ruiz utilizes the complete range of the bass clarinet, including many rich descents to low C! In hearing the recording, one quickly has the sense that Ruiz is a total musician, a master of his instrument with expert command of phrasing, cadence and dynamic nuance. In the slower dances, one can perceive a slight vibrato in the sustained notes, which I find to be employed very tastefully and effectively.
While the whole album is masterfully executed, certain dances warrant specific mention. Those not familiar with these suites will quickly recognize the melodies of the Bourée I and II  from Suite No. 3, the Prelude from Suite No. 1, and many others. Other dances to take special note of include the Courante from Suite No. 1, in which Ruiz marries elegant articulation with seamless register leaps, and the Preludes from Suite No. 3 and Suite No. 5, both of which feature the hearty robustness of the bass clarinet's extreme low register. The Gigues from Suite No. 1 and Suite No. 4 also showcase a puckish capriciousness and nimbleness that one would not typically associate with the bass clarinet. However, Ruiz's expert interpretation achieves the light articulation and facile technique necessary to convey the aforementioned characters.
Throughout both CDs that comprise this album, Ruiz's technical fluency is practically seamless and his tone is full, focused and rich across all registers. There is some audible air noise on the recording (possibly the result of close microphone placement), but it does not distract from the quality of the recording. His attention to interpretation and phrasing on this recording makes it an instant must-have for enthusiasts of Bach on bass!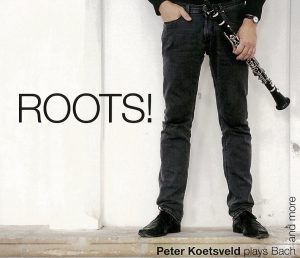 Dutch clarinetist Peter Koetsveld also features the music of Bach on his new album Roots! This release is again a double-disc album, the first of which contains a potpourri of movements from Bach's suites for cello as well as from the violin sonatas and partitas. Performed here on the standard soprano clarinet, one can again readily ascertain the detailed preparation of phrases and melodic lines. Koetsveld's interpretation of Bach's music is so effortless and seamless that it comes across as a quasi-off-the-cuff improvisation. This is especially evident in his rendition of the Prelude from Suite No. 1 and the Double from Partita No. 1.
Certainly all of the works by Bach are excellent and well-performed, but of particular note is the well-known Chaconne from Partita II. Each note is intricately sewn into an ever-evolving melodic line that Koetsveld weaves with delicacy and tenderness. Simultaneously, he delivers the virtuosity of Bach's rich harmonic elements with careful attention given to tonal color and resolution of tendency tones. This is the stand-out work on the first disc, being both the longest and most complex work from Bach. Koetsveld rises to the challenge with aplomb!
The first disc is enough for a stand-alone album and would make a nice addition to anyone's library. This recording would be a fitting accompaniment if practicing Voxman's Classical Studies. However, the Bach disc only comprises half of the package. Disc two of Roots! contains works heretofore unknown to me. Mike Curtis's A Week in Plasencia is an especially charming and accessible seven-movement work for solo clarinet. [See the December 2018 issue for Gregory Barrett's review of this piece. Ed.] Each movement depicts a specific day of the week at a location in Plasencia, a Spanish city located near the border with Portugal. The first movement, "Sunday, Plaza Mayor," immediately dissolves any lingering Baroque sentiments from disc one. It is heavily syncopated, jaunty and imbued with sultry chromaticism. "Wednesday, Parque de la Isla" is a bluesy lament involving several pitch bends and solemn melodies; the ensuing "Thursday, Café Goya" offers a more amicable atmosphere. "Friday, Rio Jerte" depicts the Jerte River and the many cherry blossoms that bloom at its banks during the spring months. "Sunday, Plasencia Sepharid" contains flamenco-like gestures that bring the work to a fast and fiery conclusion. After Bach's Chaconne, this work is the most memorable from the album. It is imbued with flair and character and is deftly performed by Koestvald. If you are unfamiliar with this work, I highly recommend this recording!
The double-disc set closes with Dutch composer Willem Frederik Bon's Etudes for Clarinet. The 12 short vignettes collected here are not unlike miniature Paganini Caprices in terms of their technical and musical demands. Koestsveld is in his element here. His technical prowess and musicianship are on full display in these pieces, and the extreme altissimo register is handled with the utmost fluidity. The mechanics of the playing are at an incredibly virtuosic level, but what really sells these pieces is the well-planned, cohesive interpretation within each etude. Each has its own personality, color, mood, etc. One can hear motivic and character development taking place over the course of each approximately 90-second etude. This, more than anything else, makes the pieces enjoyable to hear. Wit, charm, sorrow and humor are all conveyed through Kovestvald's performance.
Both of these large-scale albums are recommended as they offer a valuable resource for performing Bach's music on clarinet, as well as for exploring new music for solo clarinet and bass clarinet! Happy listening!