Originally published in The Clarinet 46/4 (September 2019). Printed copies of The Clarinet are available for ICA members.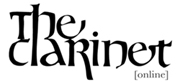 ---
Martin Fröst: A Conversation with a Legend*
by Erin Vander Wyst
*Read the full interview in your copy of the September issue of The Clarinet or log-in to your ICA account to read it digitally.
What is it, exactly, that elevates one to the status of "legend" in the clarinet world? Is it playing concerti with the Los Angeles Philharmonic, the Chamber Orchestra of Europe, the Royal Concertgebouw, the Orpheus Chamber Orchestra, the National Symphony Orchestra and so many others? Is it having released more than a dozen albums, including one that has sold more than 200,000 copies? How about performing as both soloist and conductor simultaneously? Maybe it is championing new music and new techniques for clarinet performance – like the addition of choreography and costumes to concerti? Or maybe, just maybe, it is giving back to the next generation of musicians. If any one of these traits can elevate a clarinetist to "legendary" status, then Martin Fröst certainly qualifies – in every category.
Born in 1970, Fröst first started out playing the violin at the age of 5. His switch to the clarinet came after hearing a recording of Jack Brymer playing the Mozart Clarinet Concerto. It was during his studies at the Royal Conservatory that Fröst performed this very concerto – his first concerto performance – with the Royal Academy of Music Orchestra at the age of 17. Just a few years later, at the age of 24, Fröst released his first recordings. He was featured on a compilation album of Penderecki's works, performing the Quartet for Clarinet and String Trio, and his first solo album French Beauties & Swedish Beasts included such standards as the Debussy Rhapsodie and the Poulenc Sonata.
Since then, Fröst has released almost 20 solo albums and has been featured on several others. Many of them contain standard repertoire – there is an entire album devoted to concerti written for Benny Goodman – but some shine a bright light on new and lesser known works. His 2016 release Roots contains works of Piazzolla, Hillborg, Fröst's brother Göran and several others. Fröst maintains a grueling tour schedule just as impressive as his discography. In 2018 alone, he performed in more than 10 countries, with orchestras including the BBC Orchestra (U.K.), the Helsinki Philharmonic (Finland), the Frankfurt Radio Symphony (Germany) and the St. Paul Chamber Orchestra (Minnesota, USA). In the midst of this hectic recording and performance schedule, Fröst still finds time to give back to the younger generation through his Fröst Foundation.
How did Fröst leap from small-town student to conservatory concerto soloist, and onward to internationally renowned recording artist and in-demand solo performer? He was gracious enough to spend a few hours of an October morning to share insights on his career, practicing and collaboration with other musicians worldwide.
Earliest Studies
Erin Vander Wyst: Who were your first clarinet teachers?
Martin Fröst: I grew up in the north part of Sweden, in a small town called Sollefteå ans Sundsvall. The tradition in those days was that wind music was connected with military music, so it was a clarinet player who was playing with the military up there. It was quite a good start for me, actually.
EVW: Do you remember anything particularly valuable that you learned from this teacher?
MF: From the first teacher, I learned the clarinet basics, of course, but I remember he introduced me to all the standard music – immediately. As you said, I came to the clarinet through Mozart. My parents were doctors, but they played a lot of violin and viola. My father played all of the clarinet repertoire on viola. I came to know Brahms and all of these things through the viola. My first teacher, he introduced me to Schumann, Brahms, Mozart of course, Beethoven, everything. That was clever of him; because of course it was too early for me to play all of this music … but I heard it very early, and I tried to play it. He gave me lessons on some of it – that was a wonderful start.
EVW: Jack Brymer was the soloist on that first recording of the Mozart that you heard, the one that inspired you to switch to clarinet. Was he a continuous influence –
did you continue to listen to him in particular?
MF: My father gave us a lot of instruments – the violin and the cello, and then a clarinet – and that recording of the Mozart Clarinet Concerto. As far as I can remember, that was the major recording. And, of course, Karl Leister after that and so on.
EVW: Were there any other musicians that were key early influences for you, that you listened to a lot – either clarinetists or other instruments?
MF: Yes. My parents started chamber orchestras in the north part of Sweden, so I heard a lot of string music. My father played recordings of Pinchas Zukerman and Daniel Barenboim playing the Brahms sonatas, on both violin and viola. Later on, I listened to a lot of sopranos. I remember when I played the Rossini, I listened a lot to Bartoli, because she was a flying star! And clarinet? Yes, I listened to everyone … Sabine Meyer and Karl Leister … also, I listened to some folk music, including Giora Feidman.
Formal Music Study
EVW: Did you go to university for music?
MF: Grades 1-9 we are in normal school; then you have to go to gymnasium [the American equivalent of junior high/high school] – that is, until you are 15; and I went direct to Stockholm after that. So, when I was 15 I moved from the north part of Sweden to Stockholm, and went into the Royal College of Music. That was quite early, actually, for the European way – I felt quite lonely at the beginning, I have to admit. I didn't have any other coursework – English, some Swedish –
but the rest was playing and music theory and, so between 15 and 21 I studied totally clarinet and music.
EVW: Who were your teachers at the Royal College of Music, Stockholm?
MF: The principal clarinetist of the Stockholm Philharmonic, Sölve Kingstedt, was an important teacher. Kjell-Inge Stevensson was also my teacher. Of course, a very important teacher was Hans Deinzer in Germany. I did not study with him as long, but I went back to him for maybe three years. Around age 20, I went to Germany for the first time to study with Deinzer. He was famous as a teacher even then, I think. He was the teacher of Sabine Meyer and all of these German players. He could teach on a very deep level.
EVW: Are there one or two things that stick out that you learned from Deinzer?
MF: I remember he studied Buddhism, so the lesson was like a meditation. We could stay on one note for an hour. It was great for me, but I also remember some students that had troubles. I remember he could stay on a single phrase in the Mozart Concerto for like 45 minutes – and after 45 minutes, when you'd done it, he would stop and say, "Did you feel that?" I think that was a genius thing – especially for me; I learned teaching and also practicing. Both of those things have a lot to do with how you listen to what you do. When I worked for 45 minutes, on, say, legato, and everything was the color that we wanted to hear and so on, suddenly he said "Did you hear that?" And then, suddenly, my ear was working – registering what I had just done. And then you step up onto the next level. And also we studied a lot of original scores from the start.
Paving New Roads
EVW: You have recorded a lot of previously unrecorded works for clarinet, especially on your album Roots. How did you decide to do such a varied program on that recording?
MF: That was the whole idea of this program – for it to be a timeline. I started with the earliest music I know: the Gregorian chants and the Greek hymns. Then, I got excited that we could put works together that would complement each other – and then the listener sees that all music is related. When we play the Roots concert live, it is back-to-back without silence between the pieces. I asked some composers to compose certain things that would fit in this "Genesis" or "Roots" program. I was fascinated by the connections in music – to listen to modern music today could be like hearing layers of all music history, and that is what I wanted to do. It was the most exciting journey. I will perform Roots again later this year with different orchestras in Germany.
EVW: And you're also conducting on the Roots project; how did you start conducting?
MF: The first time I conducted was at a music festival, and I started to direct while playing the Mozart Clarinet Concerto. Afterward, my agent called me and said, "Well done, but you have to close your mouth." I apparently had my mouth open the whole time! It probably looked terrible on television! Then it became important for me to learn to conduct. It gives you another perspective – you have to have ears around the whole orchestra and listen in a different way. And you learn how to communicate all of these small energies, that all the other instruments in the orchestra want to have from you and of course the energy goes back and forth all the time – it was a good school for me. Many things I do have to do with education for myself. I think knowing how to conduct has a good impact on my collaboration with conductors.
EVW: Would you recommend that younger clarinetists explore conducting as well?
MF: I would say so. I'm not sure how clarinet players study nowadays but I used to learn scores. If you are going to study the Mozart concerto, you should definitely go through all the symphonies – maybe from 31 to 41 – read them, listen to them, and see what he did with the instruments to learn a little bit more about the concerto. And that you should do with all the composers.
EVW: For some of your performances, you have started incorporating dance, especially with the Hillborg concerto. What was your inspiration to start adding dance to your performances?
MF: It's very hard – I am not a dancer. Actually, it was back in that time with Deinzer, because that was the time when Boulez and Stockhausen and all these composers were into trying to make some more out of it. So, I played the Boulez Domaines and I played the Stockhausen Harlequin; and that gave birth to an idea that I wanted to go a bit further with. I thought, "Why don't we do a concerto with choreography integrated into it?" It was quite hard – I studied with a very good choreographer – and after that I did some more things. That's where the idea came from, anyway. I think, again, I did it as an education for myself, and I wished to "shake around" myself.
Another way I went into conducting was through "conductography," which I invented with my brother when we did this marionette piece about this doll who is hanging on strings, and the orchestra was reacting to my movement instead of me conducting. And I saw that this worked fantastically and the orchestra was on the edge of their chairs. They took so much responsibility and they wanted to communicate in a very subtle way, and then I saw that you can do many things in many different ways.
EVW: When you perform Peacock Tales, sometimes you wear a mask. Did you design the mask?
MF: No. It was a designer famous for doing lots of costumes, who did a lot for Ingmar Bergman in her day, for the theater and movies. We wanted to have a mask for this piece because the Peacock Tales was like a dualism between this human face and this demonic mask face.
EVW: What is it made out of?
MF: It's a sort of paper – a Japanese material.
EVW: Did it take a lot of practice to learn to perform in the mask?
MF: Yes! It was scary! I'm not always comfortable. If you do a new way of performing, a new road, it can be scary, but it can also be exciting.
*Read the full interview in your copy of the September issue of The Clarinet or log-in to your ICA account to read it digitally.
---
About the Writer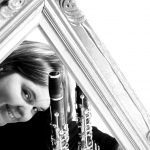 Clarinetist Erin Vander Wyst received her D.M.A. from the University of Nevada–Las Vegas, where she studied under Dr. Marina Sturm. Originally from Appleton, Wisconsin, Erin received bachelor's and master's degrees in clarinet performance from the University of Wisconsin–Milwaukee under the tutelage of Todd Levy. Since moving to Las Vegas, Erin has performed with the Las Vegas Philharmonic and the Nevada Ballet Theater, among others. September 2016 marked her international debut with a lecture-recital performance at the Doctors in Performance Conference in Dublin, Ireland.