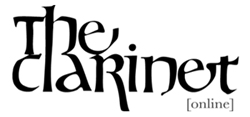 Originally published in The Clarinet 44/3 (June 2017). Printed copies of The Clarinet are available for ICA members.
---
by Christopher Nichols
As the Audio Reviews Editor, I enjoy the privilege of gaining familiarity with a significant number of remarkable artists, some of whom have been quite active in performance and recording activities. Prior to receiving several of her recent compact discs for review consideration in The Clarinet, I was unfamiliar with clarinetist Seunghee Lee. After listening to these discs and learning more about her, I thought our readership would enjoy hearing about her accomplishments, motivations and recorded output.
Lee's educational background includes studies at the Eastman School of Music and the Yale School of Music with some of the most revered artist teachers of today, such as Charles Neidich, Eli Eban and David Shifrin, among others. Her activities as a recording artist have gained her critical acclaim in the pages of this publication and Fanfare, as well as consistently high rankings by classical radio stations on a global scale. Lee's true passions lie in using the power of music to shed light on humanitarian issues and inspire philanthropy to counter them, which motivated her to found the recital series Concert for Cause. A recent charity benefit gala under these auspices realized a collaborative project with Andrea Morricone. This gala featured her as a soloist in world-premiere arrangements for clarinet and orchestra of iconic film music by Morricone, son of the late Ennio Morricone and co-composer of the score to the celebrated film Cinema Paradiso. Professionally-produced videos from those performances are available on Lee's YouTube channel seungheeclarinet.
Beyond her activities as a clarinetist in the realms of performance and recording, Lee is also a passionate and skilled golfer, which she had the opportunity to discuss at TEDx Hong Kong. At this event, Lee discussed the tendency of music and golf to inspire perfectionism. I am certain many clarinetists will relate to her thoughts! Those interested in her perceptions should easily find a 15-minute video of her talk on the TEDx Hong Kong YouTube channel using the search function.
Lee's recent releases contrast with her debut album Brava on Summit Records from 2000, which features core repertoire such as opera fantasies by Lovreglio and Bassi, as well as Schubert's beloved Arpeggione Sonata. Her most recent recordings – Embrace, Hidden Treasures and Solace – program mostly popular works of the classical literature in transcriptions for clarinet and piano, many of which are self-arranged.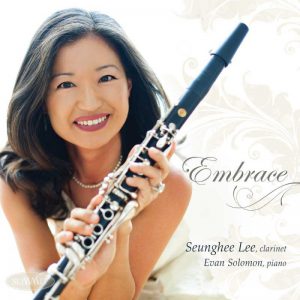 Embrace, on the Summit Records label, is the first of Lee's discs to focus on transcriptions of popular works for piano, strings and voice. Throughout this recording, Lee performs with a beautiful sound, excellent intonation and a vocal approach to phrasing and articulation – her mastery of the "soft consonants" of clarinet articulation is impressive! In addition to the 17 transcriptions found on this disc, Lee offers one celebrated miniature from the clarinet repertoire, Gabriel Pierne's Canzonetta, Op. 19. This track is a particular treat as Lee's technical virtuosity is on display. She executes the many arpeggiated flourishes in a fluid and coquettish manner.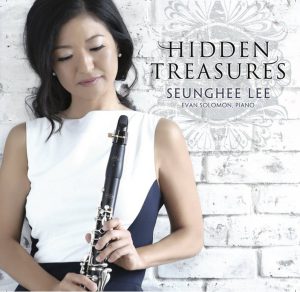 Hidden Treasures, Lee's first release on her own label Musica Solis, places a special focus on her own aria transcriptions from the most revered operas in the repertoire. Again, Lee's gift for phrasing in a vocal manner is immediately evident. Her performances are heartfelt and sensitive, and demonstrate consummate understanding of the libretto. Lee demonstrates her technical virtuosity with transcriptions of Rimsky-Korsakov's Flight of the Bumblebee, Chopin's Etude No. 2 in A Minor, Op. 10, No. 2, and Rossini's "La Danza" from Tarantella Napoletana, Op. 104. The closing tracks are of special interest. Both are world-premiere recordings of charming and lyrical works by clarinetist-composer Michele Mangani titled Intermezzo and The Dancing Doll. Mangani's intimate knowledge of the instrument's capabilities is clear. Lee performs each work with the utmost sensitivity and musical conviction.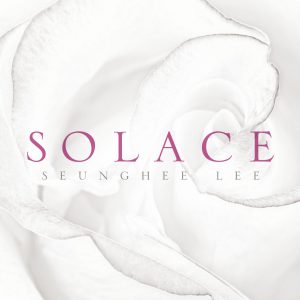 Lee's most recent release, Solace, also on her label Musica Solis, pays tribute to her father, lost over 25 years ago to gun violence on the south side of Chicago. In tandem with the inspiration and recording title, the program for this disc is somber and reflective with selections such as the Bach/Gounod Ave Maria, "Lacrymosa" from Mozart's Requiem and Harold Arlen's Over the Rainbow. Again, Lee performs with expression, sensitivity and an acute awareness of the text for each vocal transcription.
For all three discs, pianist Evan Solomon provides expert accompaniment. His exquisite sensitivity is evident throughout with regard to balance, phrasing and flexibility. His touch is ideal for the light and transparent nature of this literature. However, Solomon also contributes in a soloistic manner when appropriate, most notably in Lee's transcription of the Adagio from Rachmaninoff's Piano Concerto No. 2 found on Embrace. Additionally, he is a talented arranger, which he displays with his transcription of Villa-Lobos's Bachianas Brasilieras No. 5 recorded on Solace.
As each disc includes a large number of tracks, it was impossible to give each one the full attention it deserves. Further information about the content of Hidden Treasures is available in the June 2014 edition of "Recent Arrivals." Complete track listings for Embrace and Solace are found in the September 2016 "Recent Arrivals."
A book of Lee's arrangements from Hidden Treasures is available on Amazon in a package set with the compact disc. I hope that Lee will share the transcriptions found on Embrace and Solace in the same fashion! Those interested in reading more about Seunghee Lee should visit her comprehensive professional website: www.seungheeclarinet.com.