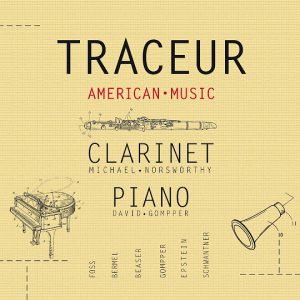 Traceur
Michael Norsworthy, clarinet; David Gompper, piano. R. Beaser: Souvenirs; J. Schwantner: Black Anemones (arr. Norsworthy); L. Foss: Three American Pieces; M. Epstein: Nebraska Impromptu; D. Bermel: SchiZm; D. Gompper: Traceur. New Focus Recordings FCR172. Total time: 68:27. New Focus Recordings
The compact disc Traceur by clarinetist Michael Norsworthy and pianist David Gompper features a varied program of 20th- and 21st-century American works for clarinet and piano. The music presented is mostly tonal with influences including American folk song, jazz and Latin music. Norsworthy chairs the woodwind department of the Boston Conservatory and is principal clarinet with the Boston Modern Orchestra Project, while Gompper collaborates frequently with various solo artists and is professor of composition and director of the Center for New Music at the University of Iowa.
The first work on the disc, Souvenirs (2001-02), was written by Robert Beaser, and is a series of six short character pieces. The opening movement, "Happy Face," is lively and effervescent and was written upon the composer's return from a trip to Rome. "Lily Monroe" is based on the folk song of the same name and alternates between sections of plaintiveness and declamation. Beaser says that "Y2K" has nothing to do with the millennium, but instead, is a lyrical "song without words" for a dear friend. "Spain" is based on a Spanish song in three with good use of hemiola at the climax. "Cindy Redux" is based on the Appalachian folk song "Cindy" and is a jaunty romp with delicious note bends and other jazz effects. The haunting "Ground 0" was the composer's response to the events of 9/11 and is in a long arch form.
Norsworthy and Gompper are well-matched collaborators who are technically accomplished and artistically single-minded. Norsworthy has a lovely, refined tone in all registers and at times displays breathtaking soft dynamics in the altissimo register.
Joseph Schwantner composed the expansive Black Anemones in 1980. This work was originally composed for soprano Lucy Shelton and was based on poems of the American poet Agueda Pizzaro. Norsworthy provided an effective transcription for the disc.
German-born Lucas Foss emigrated with his family to Philadelphia in 1937. Foss's early period, in which his Three American Pieces (1944-45) were written, was marked by influences including American folk song, jazz, the poetry of Carl Sandburg and the music of Aaron Copland.
"Early Song" begins with what Foss describes as a "prairie lullaby." A brisk and rhythmic fast section follows, with fragments of material ricocheting between clarinet and piano. This is succeeded by a restatement of the opening. A final fast section ultimately dissipates to nothingness. The second piece, "Dedication," begins with a lyrical opening in which Norsworthy uses a light, elegant vibrato. The faster middle section tips its hat to jazz, but returns to the lyrical mood of the opening. "Composer's Holiday," the final piece of the set, is vivacious in spirit, and again captures a jazz feeling with note bends and a brilliant glissando at the end.
Marti Epstein's Nebraska Impromptu (2013) is a spacious piece featuring static, dissonant chords under single notes or small groups of notes in the clarinet. Overall, the work has a pointillistic quality, highlighting the myriad colors of the two instruments in various registers and intensities.
SchiZm (1993-94) by Derek Bermel features two starkly contrasting movements that well befit the work's title. The first, "Field of Stars," is a lyrical movement that perhaps suggests cantorial music with its drones and augmented seconds in the melodies. The frenetic "Puppet State" features note bends, syncopations, growls and occasional forays into the extreme upper register of the clarinet, all of which are expertly executed by Norsworthy. Bermel adds a dollop of salsa, habanera and tango to further convey a schizophrenic quality.
Gompper himself contributes the final work, Traceur (2014-15), to the disc. This is a challenging, complex, single-movement atonal work. Gompper bases the work loosely on both the Farey mathematical series and diagrams of a runner and jumper known as a traceur. The work combines several sections including fractious material between the clarinet and piano, highly rhythmic segments, and disjunct, airy sections of music. Some of the clarinet effects used include "color" notes, multiphonics and flutter tonguing.
Overall, this is a satisfying listening experience of American music performed by consummate artists, conveying many moods and nods to various influences. Any number of the works presented here could ultimately find their way to permanent spots in the repertoire and be championed on recital programs far beyond American shores.
Scott Locke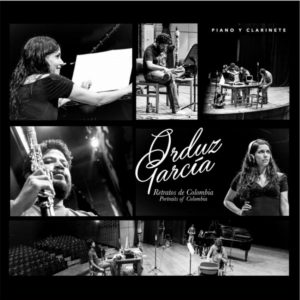 Portraits of Colombia
Jose García-Taborda, clarinet; Ana María Orduz Espinal, piano. L. Cardona: Melodía triste; O. Rangel: Scherzo; L.A Calvo: Adiós a Bogotá and Intermezzo No. 1; P.M. Pino: Fantasía sobre motivos colombianos; A. Mejía: Candita; R. Velasco: Dos caminos, El mico negro; H.F. Neuman: Serenata; J.O. Muñoz: Como Pá desenguayabar; L.C. Figueroa: Remembranza, Colombianas No. 2; G. Vidal: Romanza, Melodía; L.E. Bermúdez: Doble Cero. Artist produced. Total time 55:00. Orduz Garcia
With the exception of the opening original tune Melodía triste by León Cardona, the bulk of the pieces on this CD are arrangements for clarinet and piano by Jose García-Taborda, Javier Asdrúbal Vinasco, Juan David Osorio and Jhoser Salazar. While the sources of the originals are unknown, or at least not noted on the CD jacket, a cursory YouTube search can find many of them performed with other combinations of instruments. Many of these works will undoubtedly appeal to the listener, yet it appears that they are unpublished.
Most of the compositions tend to fit a kind of folk song feeling of native Colombian music, with the emphasis being put on lyricism rather than technical or instrumental displays. All of the pieces are rather timeless in an attractive melodic and harmonic sense, and appear generally to have been written in the mid-20th century. One doesn't have to speak Spanish to get a sense for the pervasive mood of these offerings through frequently used titles like Melodia, Serenata, Remembranza and Romanza.
While the production values seem high, the well-balanced clarinet and piano have a close-miked feeling that seems to take away the natural room acoustics. The net effect is always controlled and homogenous, but perhaps at an expense of that "going for it" excitement which should appear now and then in all recordings, and is always the sign of a special one. This disc also tends to restrict the darker, more resonant low range of the piano, yet I find Orduz in sync with García in both balance and stylistic mindset. They are clearly a duo that functions well together.
Clarinet-wise, García is an excellent player with most elements of good playing (secure ensemble, technique, range) surely in his grasp. The tuning is most often stable but tends to drift a bit high at the usual places (starts and ends of phrases, very soft playing). Interestingly, and not having the music in front of me to check, many of his passages have a kind of "is he or isn't he" articulation feeling. Whether this style of tonguing is a purposeful approach or a side effect of the close mike, it generally fits the lyrical/vocal approach of this music quite well. The only downside is the seeming emphasis of a note-by-note phrasing instead of a more directional, linear approach.
While there is much to admire in the pretty lyricism of this body of music from Colombia, one may be uncertain how to program these 15 two- to four-minute pieces. Many of them would certainly work as interesting encores, and a set of three contrasting works might serve as an interesting stylistic contrast on a traditional recital.
Howard Klug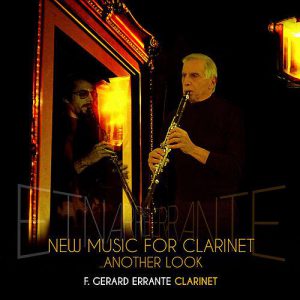 New Music for Clarinet: Another Look
F. Gerard Errante, clarinet, bass clarinet and tenor saxophone; Nyle Steiner, EVI; Lee Jordan-Anders, piano; William Albright, piano. W.O. Smith: Solo for Clarinet with Delay System and Asana; V. Ussachevsky: Four Studies for Clarinet and EVI; A. Hailstork: A Simple Caprice; D. Wilson: Piece for Clarinet "Alone"; F.G. Errante: Souvenirs de Nice; S. Hodkinson: The Dissolution of the Serial. Ravello Records RR7941. Total time: 60:25. Ravello Records
Whether contemporary music aficionado, performer, educator, or curious listener, this new album has something for you! We are graced here with some of the most recognizable composers that work with electronic media and clarinet. The project's mastermind, F. Gerard Errante, brings his own expert technique and understanding to these works. These recordings come from LPs previously released by Errante, all offered together in this new compilation. The end result is worth a great deal of discussion.
William O. Smith is one of the most versatile clarinetist-composers active today, with a hand and foot in seemingly every musical idiom. His 1980 work Solo for Clarinet and Delay System exploits a simple electronic delay from the performer to create a composition full of unpredictable and colorful landscapes. Errante is not only perfectly comfortable with this arrangement, but makes masterful use of the delay's potential. Sudden changes in dynamics, for example, are executed with careful attention, making the piece's constantly rotating material interesting at every turn.
Vladimir Ussachevsky's Four Studies for Clarinet and EVI continues the disc, with EVI performer Nyle Steiner joining Errante. Steiner first pioneered the EVI (Electronic Valve Instrument), which is designed to control a synthesizer, in 1972. Both performers carefully balance texture to such agreement that the timbre of the electronics and clarinet are simply different sides of the same coin. Ussachevsky's whimsical work provides both soloistic moments and cooperative ventures for the two performers between four movements.
We return to Smith's compositions on the third track with Asana. A constant forward motion seems to pervade the piece's aesthetic. Errante again sounds right at home with the piece's call for various forms of electronic processing. The listener can expect electronic and clarinet sounds to interchange constantly, and it is obvious that neither clarinet nor electronic media is meant to dominate in this situation.
At the record's approximate midpoint, we are fortunate to have a fine pianist join forces with Errante. Lee Jordan-Anders and Errante tackle Adolphus Hailstork's A Simple Caprice, an energetic work of approximately 15 minutes. I find irony in the title, as there are often very complex moments between the work's two fiercely independent and divergent chamber parts. Jordan-Anders's great sensitivity provides every opportunity for delicate playing from Errante when the work requires such an approach.
A solo work by Dana Wilson continues the record. The Piece for Clarinet "Alone" may not call upon chamber collaboration or electronics but is no less interesting compared with any of the previous pieces. Errante moves fluidly from register to register and executes a number of extended techniques, including unstable multiphonics and flutter tonguing, across the piece's three movements.
A most valuable recording of Errante's own Souvenirs de Nice follows the Wilson. The work involves generous use of prepared piano, multiphonics, a demi-clarinet configuration, and statements by the performer in French. The piece is often highly cacophonous with alternating moments of subtlety. My previous attempts to locate recordings of this work in graduate school were entirely unsuccessful, and it is extraordinary to hear Errante present listeners with such an energetic rendering of his ideas.
William Albright joins Errante on piano for the final work, Sydney Hodkinson's The Dissolution of the Serial. Errante is highly capable across the multiple woodwind instruments (clarinet, bass clarinet, and saxophone) called for in the composition. Both performers have previously performed the work with the St. Paul Chamber Orchestra under the composer as conductor. The piece's moods vary from obtuse to outright ludicrous and comical. I was chuckling during this album's conclusion, as this work is certainly one of the most bombastic pieces chosen for this new compilation.
This album is outstanding in variety and execution. Those with any interest whatsoever in 20th century works, especially those with limited exposure today, stand to learn a great deal from this album. Thoughtful sequencing of the pieces combined with such musicianship makes for a stimulating and entertaining listen. Because the various recordings are generally from the "LP era" (as described by Ravello Records), the occasional difference in audio fidelity and left-to-right fade from track to track is understandable and does not detract from the listening experience. Very highly recommended.
Joel Auringer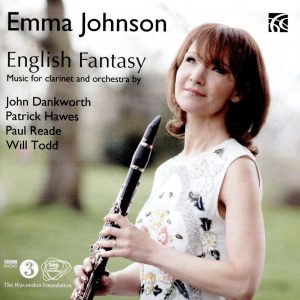 English Fantasy
Emma Johnson, clarinet; BBC Concert Orchestra, Philip Ellis, conductor. W. Todd: Concerto for Emma; P. Reade: Suite from the Victorian Kitchen Garden; J. Dankworth: Clarinet Concerto: The Woolwich; P. Hawes: Clarinet Concerto. Nimbus Records NI6328. Total time: 69:19. www.wyastone.co.uk
Emma Johnson certainly needs no introduction to the clarinet community. She is perhaps one of the most prolific and well-known clarinet soloists over the past quarter century, performing around the world and boasting a discography of well over two dozen recordings. There are few clarinetists who do not have at least one of her discs in their collection.
Her latest release on the Nimbus label brings together four works written especially for Johnson with her virtuosity and lyrical playing in mind, and it is a brilliant recording. Although two of the works are quite new with two others written within the last 25 years, they all emphasize a style that unabashedly celebrates popular music and the melody-driven textures that inspire it. Johnson states as much in the liner notes:
These four composers have all also dared to write melodically whilst still managing to find new things to say. Does it take courage to write melodically? Well, yes, when you live in an age where art has to be forever stretching boundaries to be taken seriously. However, English Fantasy contains music which I hope will entertain and move a contemporary audience whilst unapologetically rooting itself in the traditions of the past.
Having said that, Johnson's playing showcases the often pastoral and jaunty music, in the best traditions of Finzi and Vaughan Williams. For those clarinetists who are ever in search of groundbreaking and avant-garde new music for their instrument, this disc may not be their cup of tea. However, for those looking for eminently accessible new music for clarinet, this recording is a must.
The Concerto for Emma by Will Todd makes the most use of jazz idioms, providing phrase after phrase of music that recalls many Gershwin/Grofé moments and has an immediate appeal. Paul Reade's Suite from the Victorian Kitchen Garden brings together music that was originally composed for the eponymous BBC television series and recorded by Johnson. She states that the music, pastoral and serene, "is the English rural idyll." In a way, The Woolwich concerto by John Dankworth combines elements of the first two works, which results in a fun, "schmaltzy," nostalgic tour of an urban cityscape of a day gone by. The last work featured on the disc, Clarinet Concerto by Patrick Hawes, really anchors this collection. A three-movement, 22-minute work, this concerto is the most wide-ranging both in the inventiveness and depth of the musical material and in the technical demands for the soloist. It goes without saying that throughout the disc Johnson's playing is superb, demonstrating wonderful nuance and control at every dynamic level across the entire range of the instrument. She seems to revel in this music, and it is evident that she finds much musical inspiration and meaning with all of these works.
A very nice feature of this disc is the accompanying booklet, which contains notes written by Johnson. She describes the genesis of each work, providing some interesting and insightful commentary on the music and how she views it. Mention must be made of her partner in this recording. Despite her stature, the BBC Concert Orchestra under the direction of Philip Ellis very nearly upstages Johnson with its phenomenal and inspired performance. The ensemble is extremely tight and clean, with wonderful individual playing that is the equal of the soloist when the music demands it. This is a fabulous ensemble and it would be well worth seeking them out to hear them in their own right.
Christopher Ayer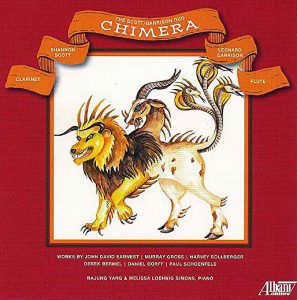 Chimera The Scott/Garrison Duo: Shannon Scott, B-flat and bass clarinet; Leonard Garrison, flute, alto flute, bass flute, piccolo; Melissa Loehnig Simons, piano; Rajung Yang, piano. J.D. Earnest: Chimera Waltzes and Serenade and Dance; M. Gross: Las Calles de Buenos Aires; H. Sollberger: To the Spirit Unappeased and Perergrine; D. Bermel: Twin Trio; D. Dorff: Zoe and Xena: A Romp in the Park; P. Schoenfeld: Sonatina for Flute, Clarinet and Piano. Albany Records TROY1652. Total time 73:11.
Albany Records
The Scott/Garrison Duo, comprised of clarinetist Shannon Scott and flutist Leonard Garrison, has performed together since 1988. Their commitment to contemporary music is reflected in this disc, which features music by six living American composers. They perform with outstanding intonation, blend, and rhythmic accuracy, and their duo is augmented by piano in five of the seven selections. The two pianists, Melissa Loehnig Simons and Rajung Yang, are highly accomplished artists who contribute wonderfully to the project's success.
Pride of place has been given to the music of John David Earnest (b. 1940): the first and last tracks. Earnest, who has written extensively for all musical genres, has lived in the New York City area for many years, where he has taught at Lehman College and the City University of New York. Of his Chimera Waltzes (2016), Earnest writes, "My goal was to link together ideas from completely different sources, in the same way that the chimera of ancient mythology were hybrid creatures made of parts of several different animals." This work contains an extended solo for bass flute and a multi-faceted clarinet cadenza. Earnest's Serenade and Dance for clarinet and piano (2013), the last track, begins with a lyrical solo followed by a lighthearted dance episode.
Murray Gross (b. 1955) studied at Oberlin College and Michigan State University and is well-known as a conductor and composer. Currently he serves on the faculty at Alma College in Michigan. Las Calles de Buenos Aires (The Streets of Buenos Aires) opens with dark, severe, improvised-sounding music that segues into a rhythmic, declamatory section influenced by Astor Piazzolla. Remarkably, the work's many disparate parts hold together well.
Harvey Sollberger (b. 1938) is a composer, conductor and flutist whose music has been performed by Pierre Boulez, Gunther Schuller, the New York Philharmonic, the San Francisco Symphony, and contemporary music ensembles throughout the world. Written for his friend Charles Wuorinen's 60th birthday, To the Spirit Unappeased and Peregrine for flute/piccolo and B-flat clarinet/bass clarinet is astringent, inventive, mesmerizing and uncompromising.
Derek Bermel (b. 1967) is currently artistic director of the American Composers Orchestra at Carnegie Hall. Twin Trio (2006) for flute, B-flat clarinet and piano is an inventive, theatrical piece in four contrasting movements. It features short, repeated "cells" that can take on tremendous intensity, occasionally bordering on the manic. It is rhythmically and technically demanding, and the performance expertly conveys the life and energy of this music.
Daniel Dorff (b. 1956) is well-known as a composer for children's programs. His Zoe and Xena: A Romp in the Park from 2015 for piccolo and bass clarinet is a tribute to two young and exuberant dogs: a Labrador and a golden retriever. The dogs' energy seems endless.
Paul Schoenfeld (b. 1947), in addition to being a widely performed composer, is a scholar of the Talmud and mathematics. The music reflects the complexity of the man, and takes as its inspiration a wide range of musical utterance, yet always with a touch of dry humor. Sonatina for Flute, Clarinet and Piano (1994) starts with a serious introduction and proceeds to three vigorous dance movements. This virtuoso piece conveys visceral intensity and, at moments, riotous, uninhibited joy.
This disc is full of top-notch playing, and is highly recommended. My only caveat is that more extensive program notes would have been welcome.
Larry Guy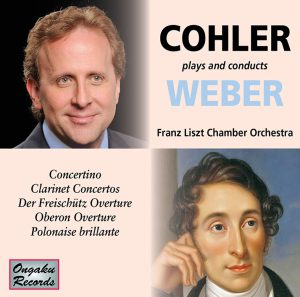 Cohler Plays and Conducts Weber
Jonathan Cohler, clarinet and conductor; Franz Liszt Chamber Orchestra; Rasa Vitkauskaite, piano. C.M. von Weber: Concertino in E-flat Major, Op. 26, J. 109; Concerto No. 1 in F Minor, Op. 73, J. 114; Concerto No. 2 in E-flat Major, Op. 74, J. 118; Der Freischütz, Op. 77, J. 277; Oberon, J. 306; and Polonaise brillante (arr. F. Liszt), Op. 72, J. 268, S. 367. Ongaku Records 024-126. Total time: 79:46. Ongaku Records
It's hard to imagine a better illustration of "standard repertoire" for the clarinet than Weber's Concertino and two concertos. It's also hard to imagine repertoire more encrusted with performance tradition, passed through generations from teacher to student and enshrined in recordings and editions of music. In particular, the additions made by Carl Baermann in the later 19th century – which according to him represented his father Heinrich's performance style – have hung on tenaciously in print and on record. With this CD, Jonathan Cohler's mission was to get back to basics; as he states in the extensive booklet that accompanies the CD, he wanted to "begin with the original Weber sources for all three clarinet works, and add to that my own ornamentation, articulation, and cadenzas in accordance with principles that I believe Weber followed."
Such an endeavor raises questions that musicians often ask: What was the composer's "original intention"? How can we get close to that intention in our performances, if the composer is no longer around to advise us? Musicologists bat around these questions with some regularity, especially if they are involved in producing editions of music. They wrestle with multiple (and often conflicting) sources, and with questions of performance practice – things that were never, or rarely, notated, but were nevertheless expected in performance. In recent decades, two musicological schools of thought have emerged. One, adapted from postmodern literary criticism, believes that composer intent is unknowable, and perhaps even irrelevant. The other, while recognizing that determining composer intent is problematic, believes that clues are nevertheless there, and we should strive to find them through close knowledge of musical texts and historical performance practices. Entangled with these two views are philosophical questions of what constitutes "the work" – the text that has been composed, or the realization of that text in performance?
Judging from his liner notes, Jonathan Cohler believes in the second viewpoint, and he hopes, by using editions that are now available based on Weber's original sources, to present what Weber "really intended." These performances will sound a bit different to listeners accustomed to the traditional Baermann versions. Gone are the familiar ornaments and additions that many of us have come to assume were part of Weber's original. Yet, as noted above, Cohler inserts his own ornaments and cadenzas, following period performance practice. Are we simply trading the Baermann version for the Cohler version? Perhaps. But the Cohler version is quite effective. In terms of sheer performance, Cohler offers us what we have come to expect from his recordings: technical brilliance, energy and beautiful musicality. It should be noted that Cohler serves as both conductor and soloist for this recording – no small feat. The Franz Liszt Chamber Orchestra sounds terrific under his direction (though a little bottom-heavy for my ears, but perhaps that has to do with the CD's production process). Also on the recording are two Weber overtures, and the Polonaise brillante for piano and orchestra, masterfully played by Rasa Vitkauskaite, Cohler's regular performing partner.
Jonathan Cohler has not only given us an excellent recording of these pieces, but has also performed a service in raising our awareness of the differences between commonly-used editions and Weber's originals. Cohler seems to view this as a kind of "rescue mission" from the anachronistic style of Carl Baermann. It's worth remembering, however, that the Baermann editions themselves also reflect a valuable performance tradition – that of Carl Baermann himself – and that's not necessarily a bad thing.
Jane Ellsworth
 Tempo de Outono Nuno Pinto, clarinet; Elsa Silva, piano. J.P. Oliveira: Hokmah; C. Azevedo: Tempo de Outono; P. Amaral: Etude I-Sur La Permanence du Geste; F. Lapa: Das Margens da Luz; M. Azguime: Le Bleu Profond and Son a ta Demeure. Artway Records AWR 016 001. Total time: 67:46. Artway
Nuno Pinto serves as professor of clarinet and chamber music at the Escola Superior de Música e das Artes do Espetáculo (ESMAE) in Porto, Portugal. An active soloist and chamber musician, he has premiered more than 120 works by 60 composers and been the dedicatee of several works. His discography covers a diverse array of styles including contemporary music, chamber music, jazz and world music. Pinto studied with Saul Silva, António Saiote, Michel Arrignon and Alain Damiens in Portugal and France. Pinto is joined by pianist Elsa Silva in a fantastic collection of new works by Portuguese composers. Pinto states about the album:
We feel that musical creation is imperative! New Music? Yes of course! Why? Why not?! We need it as much as it needs us. So it really had to be! Only Portuguese music? Of course! To us it is quite clear. There are more than enough reasons and they are all obvious. Strange Music? Maybe…But is not what is truly new always strange? Each of these pieces has something special – well worth playing and being heard. Furthermore, for all of the above and much more we cannot explain, this recording is worthwhile and makes all the sense in the world. It really had to be.
Pinto and Silva begin the album with an exciting performance of João Pedro Oliveira's Hokmah. Hokmah is the Hebrew word meaning "wisdom." This work belongs to a group of three works with a fourth still to be composed. Oliveira states:
Hokmah relates to the wisdom needed to make the right choice. The clarinet and the piano relate to each other in a heterophonic way, where each instrument duplicates in different ways (contracting and expanding) what the other instrument does. In the end the process takes the opposite way, melodic and harmonic motives becoming more and more reduced till the final measure.
Composer Carlos Azevedo is also active as a jazz conductor and pianist and is currently a professor of analysis at ESMAE. In Tempo de Outono (Time of Autumn), Pinto and Silva glide effortlessly through virtuosic passagework, delivering a moving performance.
Etude I – Sur la permanence du geste (On the Permanence of Gesture) by Pedro Amaral is scored for voice, clarinet or viola and piano, and travels through an array of colors and contrasting sections much like a song without words. The performers allow the work to evolve and grow with great control and finesse.
Fernando Lapa is a professor of analysis and composition techniques (Oporto Music Conservatory) and composition (ESMAE). Das Margens da luz (From the Shores of Light) is a 15-minute work containing multiple sections and characters. Once again this duo delivers a brilliantly crafted performance of this demanding work.
The final two works on the album, Le Bleu Profond and Son a ta Demeure, are both composed by Miguel Azguime, who is distinguished for originality and diversity; his musical world reflects an approach that relies on his multifaceted capabilities as composer, performer and poet. Both works present an array of extended techniques and virtuosic passages that are fluidly executed by Pinto and Silva.
This collection of contemporary Portuguese compositions will provide clarinetists with excellent new literature to consider for performance and study.
Julianne Kirk Doyle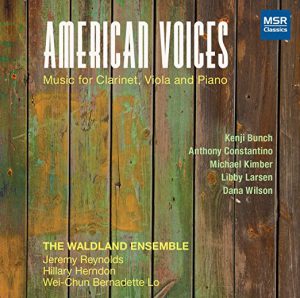 American Voices: Music for Clarinet, Viola, and Piano
The Waldland Ensemble: Jeremy Reynolds, clarinet; Hillary Herndon, viola; Wei-Chun Bernadette Lo, piano. K. Bunch: Four Flashbacks; A. Constantino: Ritual Songs; D. Wilson: A Thousand Whirling Dreams; M. Kimber: Vanishing Woods; L. Larsen: Ferlinghetti. MSR Classics MS 1541. Total time: 70:53. MSR Classics
The Waldland Ensemble, formed in 2013, is made up of clarinetist Jeremy Reynolds, violist Hillary Herndon and pianist Wei-Chun Bernadette Lo. This album reflects their mission to feature new music by composers from multiple generations. It is comprised of works commissioned by the performers both individually and in consortium.
Overall, the album contains a terrific variety of repertoire sure to appeal to the ear of any listener. The works on this album are by living American composers, in accordance with the ensemble's mission. The complexity of several of the works is immediately apparent to the audience, and the ease with which the ensemble plays is a testament to their musicality individually and collectively.
The first work, Four Flashbacks by Kenji Bunch, starts playfully and whets the appetite for the music to follow. Though the work is only written for clarinet and viola, the layering of patterns gives the impression of a denser orchestration, a testament to both the composer and the performers. The musical contrast of the movements sets up the remaining works well.
Dana Wilson's piece A Thousand Whirling Dreams, inspired by the end of a Langston Hughes poem, was premiered at ClarinetFest® in August 2014. The second movement, "To break this shadow…" has an almost religious introspection that explores nuance in color, which the performers do with aplomb. The outer movements contain a raw energy often found in Wilson's other works. Florid technical lines showcase each individual performer, while the ensemble moments highlight the group's synergy.
Ferlinghetti by Libby Larsen is another work inspired by literature, in this case Lawrence Ferlinghetti's A Coney Island of the Mind. Like her many other works for clarinet, this does not disappoint. The six-movement work gives ample opportunity to showcase the performers' technical abilities and musical nuance. Each movement can be thought of as a vignette, or in the composer's words, "a riff on an image suggested in the fragment [of the poetry]." You may find yourself hearing snippets of familiar music or second-guessing if you have heard a famous motive in many parts of the piece. The final movement is much more blatant, with 23 iconic patriotic quotations appearing within it.
I highly encourage clarinetists looking for new programming ideas to give this album a listen. The performance quality and repertoire selection will not disappoint. American Voices is available as a physical copy from various online retailers.
Cody Grabbe