Originally published in The Clarinet 50/1 (December 2023).
Printed copies of The Clarinet are available for ICA members.
---
THE ICA AT 50: Continuity and Change, 2002–2012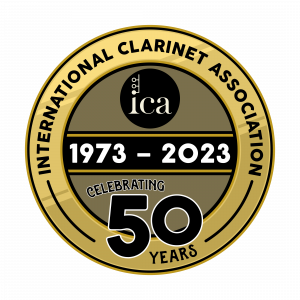 This article is the third in a four-part series documenting the history of the International Clarinet Association, in celebration of its 50th anniversary in 2023. Parts 1 and 2 appeared in The Clarinet, vol. 50, nos. 1 and 2 (December 2022 and March 2023). Readers are also referred to Alan Stanek's extensive history written for the 40th anniversary in 2013, which may be read on the ICA's web site (clarinet.org/history), and to The Clarinet, vol. 40, no. 3 (June 2013), which contains numerous articles and remembrances commemorating the ICA's 40th anniversary.
by Jane Ellsworth
---
By 2002 the International Clarinet Association was a well-established, stable institution. But no organization can afford to stand still, and the leaders of the ICA in the decade from 2002 to 2012 continued to look for new and better ways to serve the membership. This included a change to a more efficient administrative structure, new ways for members to interface with the organization online and through social media, and a greater role for the ICA board in the production of the annual conference, ClarinetFest®.
A New Administrative Structure
The activity of volunteers, up to and including the president and other officers, has always been crucial to the functioning of the ICA. With growth in membership and organizational ambition, however, it was clear that something more was needed to allow the ICA to fulfill its aims. Steps in the direction of a more professionalized administration had been contemplated in the previous decade, but it was President Robert Walzel (2002–2004) who finally made the decision to hire an executive director. By the end of Walzel's first year in office, Rose Sperrazza (previously the ICA's membership coordinator) had been hired to fill the position. The executive director's role was "overseeing all organization business operations," and the position would subsume both the membership coordinator and advertising manager jobs that had formerly been held by volunteers.1 The executive director would also be crucial in the management of the annual ClarinetFest®.
Walzel enacted other important changes. During his term, for the first time, members could start or renew their memberships online through the ICA website. Walzel also created three "international liaisons" to facilitate communication with ICA members in countries outside the US, and to support the work of the national chairs. The financial footing of the ICA was strong, and the first grants from the program set up during Julie DeRoche's presidency were awarded under Walzel. In addition, the ICA invested in commissioning a new work for clarinet and wind ensemble by the well-known composer Michael Daugherty. This resulted in the work Brooklyn Bridge, which was premiered at Carnegie Hall during the 2005 CBDNA national conference by Michael Wayne and the University of Michigan Symphony Band. The ICA also started making an annual contribution of $1500 toward the maintenance of the ICA Library at the University of Maryland. During Walzel's presidency, honorary memberships were given to John Mohler, Bernard Portnoy, Stanley Drucker, and David Weber.
The next ICA president, Michael Galván, stayed in office only a year before stepping down for personal reasons. His shortened term was not uneventful, however. The board set up two task forces: one to consider website improvements, and one to examine issues concerning the selection of performers for "potpourri" recitals at ClarinetFest®. It was also during Galván's term that Rose Sperrazza stepped down as the ICA's executive director, to be replaced by So Rhee, who served in the position from 2005 to 2012. Honorary memberships were announced for Jacques Lancelot, John McCaw, and Clark Brody in 2006, and for Elsa Ludewig-Verdehr in 2007.
Upon Galván's resignation, President-Elect Lee Livengood stepped into the presidency a year early, completing Galván's term and then serving his own two-year term (2005–2008). Because Livengood's learning period as president-elect had been shortened, Walzel agreed to an extra term as past president to assist and advise him. An important initiative in Livengood's term was the revitalization of the system of state chairs. New nominations for these positions were taken, and the appointees were tasked with the recruitment of new members, as well as communicating with existing ones and encouraging participation in ICA activities. As a result of the work of the "potpourri" task force, a new proposal form was put in place for use in applying for spots on those concerts. Keith Koons stepped down after many years of leadership on the ICA's research committee; moving into that role was John Cipolla. Bud Rubin, longtime legal counsel for the ICA, retired and was replaced by Steven L. Hughes, while Brian Covington became the new webmaster. Website capabilities came to include competition registration, and by 2006, registration for ClarinetFest® itself. Membership renewals moved from a monthly to a quarterly basis, and two-year memberships (at a slight discount) were offered in addition to the usual one-year period. In 2008, honorary memberships were given to Larry Combs and Fred Ormand.
As we have seen throughout this article series, every ICA president has been concerned with membership development. The ICA had briefly breached the 4,000-member mark in 1998, during Alan Stanek's presidency; but after that, membership gradually dropped to 3,900 and below, generally hovering around the 3,400–3,600 range between 2003 and 2005. Thanks to a combination of factors—especially the state chair initiative, and the hiring of a full-time executive director—by the end of Livengood's term in 2008 the organization had once again broken through to 4,017 members.2
Following Livengood's slightly extended term, the new president was Gary Whitman (2008–2010). A number of new initiatives came into being during his term. Two of those initiatives involved the area of composition. Firstly, the ICA partnered with it peer organizations, the National Flute Association, the International Double Reed Society, and the International Horn Society, to commission a wind quintet. This resulted in the work Hardwood by Lansing McLoskey. Secondly, the ICA's own Composition Competition was revived, having been in abeyance since 2001; the initial call was for a work for clarinet and piano, and the winning work would be performed at ClarinetFest® 2010 in Austin. Another new development was the institution of a new ICA position, pedagogy chair. The initial three-year term for this position was filled by Larry Guy. A major improvement to the ICA's website was the addition of a section for members only, which allowed for (among other things) online voting for officers. The first online vote occurred in 2010. In keeping up with technological developments, Whitman took an additional major step: the beginning of an ICA page on the new social media site called Facebook (2009)! Honorary memberships bestowed during Whitman's term were to James Schoepflin and Buddy DeFranco.
Keith Koons took over the ICA presidency in 2010. Several new developments came about during his term. In the members-only section of the website, past issues of The Clarinet started to be made available in PDF format, a valuable feature that continues to this day. In addition, an electronic newsletter was planned, to be sent to all members. A national chair coordinator position was put into place, with the initial three-year term filled by Eddy Vanooshuyse of Belgium. A new term of the pedagogy chair began, filled by Kimberly Cole Luevano. To further the ICA's aims of accessibility and international reach, a committee was formed to spearhead a new International Access Initiative, the purpose of which was to "coordinate a two-year trial program to provide access to the ICA member website for clarinetists around the world with a passionate interest in the clarinet but without the financial resources to become members."3 Honorary memberships for 2011 were given to David Etheridge and Béla Kovács, and for 2012 to Frank Kowalsky and Ben Armato; for 2013, it was announced that the recipients would be Hans Rudolf Stalder and Milenko Stefanović. The ICA's business standing continued to be strong, with elevated revenue thanks in part to the fact that donations could now be made through the website, and also to generous bequests from the estate of Pamela Weston who, sadly, died in 2009. Membership numbers continued to fluctuate around the 4,000 mark, sometimes dipping a little below and then rising again.
ClarinetFests®
As always, the annual ClarinetFest® continued to occupy a place of primary importance, in terms of both administrative effort and membership satisfaction. The ClarinetFest® locations during this period were as follows:
2003: Salt Lake City, Utah
2004: College Park, Maryland
2005: Tokyo, Japan
2006: Atlanta, Georgia
2007: Vancouver, B.C., Canada
2008: Kansas City, Missouri
2009: Porto, Portugal
2010: Austin, Texas
2011: Los Angeles, California
2012: Lincoln, Nebraska
The huge task of organizing this event had long been acknowledged by the ICA board, and various efforts had been made in previous years to increase assistance for hosts. But more was needed. In a 2003 "President's Message," Walzel announced that the 2004 ClarinetFest® in Maryland would be "organized exclusively by the ICA" for the first time, rather than by an individual conference director or institution. This was the beginning of a new process by which the ICA would assume "all organizational control of conferences, as well as assuming responsibility for all financial liabilities," in order to "better promote consistency in the processes of identifying conference sites, selecting performers/presenters, managing business operations and registration, and better serving the membership in these premiere organizational events."4 Hosts would now be able to focus on artistic direction and local arrangements. Under Lee Livengood, the ICA board developed an improved handbook to help hosts understand the new organization.
Other changes were made in response to concerns from the membership. For example, to prevent possible conflicts of interest, competition coordinators were no longer allowed to serve as judges. Cash prizes were increased in the Orchestra and Research Competitions, to maintain parity with the other competitions. The board committed to working with hosts to provide a variety of accommodation types and prices, and to improve shuttle service from hotels to conference sites. Noting that ClarinetFest® was not a money-maker, Lee Livengood encouraged performers to forego charging artist fees for their performances, and performer registrations were reduced to just $50.
The ClarinetFests® that took place between 2003 and 2012 continued the tradition of presenting a wonderful mix of concerts, lectures, master classes, and competitions, along with the trade exhibits that form such a vital part of the conference experience. Particularly noteworthy was the Tokyo ClarinetFest® in 2005—the first (and still the only) time the event had been held in Asia. Attendees were treated to hearing excellent Asian clarinetists who had not previously been heard at ClarinetFest®, along with the usual fare. There were also some unusual events, such as the opening parade and concert by the "Tokyo Comical Clarinet Philharmony with Bagpipe," and even a small earthquake (unplanned!). In Porto in 2009, the audience was delighted by the antics of the "Show des Vents," a clarinet ensemble with a theatrical flair that presented a hilarious musical comedy routine. At the 2011 ClarinetFest® in Los Angeles, attendees not only got to attend a concert at the famous Hollywood Bowl, but also experienced clarinet music and performers from India for the first time. These and many other memorable events are what make ClarinetFest® the highlight of the year for many clarinetists.
The Clarinet
One of the other jewels in the ICA's crown, its journal The Clarinet, continued to provide the membership with informative feature articles, regularly occurring columns of various kinds, CD and sheet music reviews, national reports, and general news from the clarinet world, under the tireless editorship of Jim Gillespie. Volumes 30–39 saw the continuation of many of the regular columns from previous years, including "Quintessence" (Bruce Creditor), "Master Class" (various authors), "Industry Profiles" (various authors), "Teaching Clarinet" (Michael Webster), "The Jazz Scene" (Thomas Jacobsen), "Historically Speaking" (Deborah Check Reeves), and "Clarinetists in Uniform" (Diana Cassar-Uhl; later, Cynthia Wolverton). But, as always, Jim looked for ways to improve the journal to include more topic areas, authors, and international perspectives. To this end, several new columns started to appear. Several of these reported news from various areas of the world: "Letter from the UK," by Paul Harris, "News from France," by Jean-Marie Paul, and "News from South [later, Latin] America," by Ricardo Dourado Freire. Ensemble repertoire was discussed in "The Clarinet Choir," by Margaret Thornhill, and "Clarinet Trios, Quartets, and Quintets," by Jorge Montilla. As part of the duties of the ICA's new pedagogy chair, mentioned above, a column called "Pedagogy Corner" began, written first by Larry Guy and later by other pedagogy chairs. A short-lived column called "University Snapshots," by Peggy Dees, profiled selected university teachers in the US. To serve the many ICA members who are not professional clarinetists, the column "The Amateur Clarinetist," was begun by Susan Steele. "Clarinet Cache," by Kellie Quijano (now Kellie Lignitz-Hahn) and Rachel Yoder, informed members of clarinet-related media on the internet. Lastly, the column "Competitions," written by various authors, reported on the results of clarinet competitions around the world.
Besides Jim Gillespie, production of The Clarinet also relied on editors for reviews. Joseph Messenger, who had served as editor of reviews for an astounding 25 years, stepped down from that role at the end of 2008, to be replaced by Gregory Barrett. William Nichols continued as audio reviews editor, also writing the regular column "Audio Notes." This column had been started by Bradley Wong in 1992, at first to provide "capsule reviews" of the many CDs not receiving full reviews; Nichols expanded the column to include fascinating assessments of many different types of clarinet recordings.
One of the important roles of The Clarinet is to provide obituaries and tribute articles for prominent clarinetists who have passed away. In the period from 2002 to 2012, a large number of these memorials appeared, including for the following individuals:
Jack Brymer (1915–2003)
David Hite (1923–2004)
Betty Brockett (1936–2003, production assistant for
The Clarinet, 1973–86)
Jost Michaels (1922–2004)
Avrahm Galper (1921–2004)
Ron Phillips (1906–2004)
Artie Shaw (1910–2004)
Robert Schott (1924–2005, first ICA secretary/treasurer, 1973–75)
Yukio Ohashi (1923–2004)
David Breeden (1946–2005)
Josef Horák (1931–2005)
David Weber (1913–2006)
Nicholas Shackleton (1937–2006, clarinet collector extraordinaire)
Thea King (1925–2007)
David Oppenheim (1922–2007)
Vincent Abato (1919–2008)
Georgina Dobrée (1930–2008)
Al Gallodoro (1913–2008)
Mitchell Lurie (1922–2008)
Kalman Bloch (1913–2009)
Pamela Weston (1921–2009)
Kjell-Inge Stevensson (1951–2010)
Tsuneya Hirai (1936–2010, Japan correspondent for The Clarinet, 1986–2003)
David Etheridge (1942–2010)
Stanley Hasty (1920–2011)
Dieter Klöcker (1936–2011)
Himie Voxman (1912–2011)
On the verge of its 40th anniversary, the International Clarinet Association was a healthy, vital organization with a solid organizational structure, dedicated leadership, and an active, international membership. The original founders of the group in 1973, acting with great vision and hope, may not have imagined just how strong the organization was to become—or perhaps they did. In any case, by the end of its fourth decade, the ICA was poised to head into the next era of its life with gusto, welcoming a new generation of clarinetists and enthusiasts.
---
Endnotes
1     Robert Walzel, "President's Message," The Clarinet 30, no. 4 (September 2003), 106.
2     Kristina Belisle, "Secretary's Report," The Clarinet 36, no. 1 (December 2008), 92.
3     Keith Koons, "President's Message," The Clarinet 39, no. 1 (December 2011), 104.
4     Robert Walzel, "President's Message," The Clarinet 30, no. 2 (March 2003), 91. The organization of the 2005 conference in Tokyo, having been well under way prior to this time, followed the old model; after that, all ClarinetFests® were managed by the ICA.