Originally published in The Clarinet 50/4 (September 2023).
Printed copies of The Clarinet are available for ICA members.
---
The ICA at 50
Challenges, Resilience, and Growth, 2012–2023
by Jane Ellsworth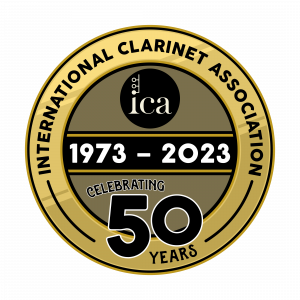 This article is the last in a four-part series documenting the history of the International Clarinet Association, in celebration of its 50th anniversary in 2023. Parts 1–3 appeared in The Clarinet, vol. 50, nos. 1-3.
Click on these links to see parts 1-3
---
The last decade has been one of challenge, change, and resilience for the ICA. All organizations must grow to meet the demands of the moment, and the ICA has done so with fortitude during the turbulent years since 2012, dealing successfully with financial and membership challenges, adapting to societal transformations, and even coping with a pandemic. All the while, it has continued to serve its members in new and innovative ways.
Facing Challenges
The previous article in this series recounted the ICA's adoption of an administrative structure with an executive director to aid board members in the operations of the organization. By the end of Keith Koons's presidency in 2012, a new experiment had started: the use of a professional management company. Madeleine Crouch and Company were hired to fill this role and to work with the new president, John Cipolla (2012–2014), president-elect Maxine Ramey, treasurer Tod Kerstetter, and secretary Caroline Hartig, to further the ICA's goals. Two large, interrelated challenges were to be confronted by these individuals, and subsequent boards as well—namely, falling membership numbers and financial difficulties. Ultimately these would be successfully overcome, but not without considerable thought and work from the board.
The ICA's membership had hovered around 4,000 for a number of years. In 2012 a slow but steady decline began, so that by the time of the general business meeting at the 2018 ClarinetFest® in Belgium, the number was down by an alarming 25%, to about 3,000. Membership drives by presidents Cipolla and Ramey (2014–15) made a temporary difference, but couldn't reverse the overall trend. A broader strategy was needed, and the boards under presidents Cipolla, Ramey, and Hartig (2015–2018) initiated action on two fronts that, over time, would result in rising numbers. The first involved international membership. It had always been a primary goal of the ICA to be a truly international organization, and every president made strides in this direction; but the goal was given new energy by the conversion of the former international chair position into an appointed international board representative, filled initially by Stephan Vermeersch. Indeed, by the 2015 business meeting, international membership had doubled, to 30% of the whole. Further developments occurred in 2018, after a particularly productive meeting of national chairs at the ClarinetFest® in Belgium; this resulted in the creation of the chair of international relations, filled by Luca Sarraca.1 Continent chairs were also created, in addition to the existing country chairs. This restructuring continued in 2020 when the international board representative (originally a non-voting position) was elevated to a full-fledged board position of international vice president, and filled by Eddy Vanoosthuyse. The work done by all of these individuals was invaluable. In addition, the ICA board developed partner memberships with several international clarinet organizations, allowing international members to join the ICA with only a small additional fee. As a result of this combined effort, international members form nearly half of the ICA's total membership today.2
The other effort for raising membership numbers was geared toward younger clarinetists. Maxine Ramey made it a central goal of her presidency to focus on clarinetists aged 18 to 30 (see her eloquent "President's Message" on pages 105–6 of The Clarinet 42, no. 1), and subsequent presidents followed suit. To reach younger, digital-savvy clarinetists, new strategies for the use of social media were employed. A new blog, The Clarinet Online, was added to the ICA's website. Content appealing to the interests of younger members began to appear in The Clarinet journal (discussed further, below). During Caroline Hartig's presidency a youth committee was formed, "to research how we can better serve our youth and increase global membership and interest in the clarinet and ICA."3 In 2017 a youth initiative survey was sent to members. A student travel grant program begun in 2018 enabled younger players to attend ClarinetFest®, and ClarinetFest® directors started to build in opportunities for more participation by middle school and high school students. For example, in Orlando (2017) there was a day set aside where students in these age groups could attend free of charge. Also in that year, the ICA instated a membership category for middle school and high school students.
The membership efforts were all-encompassing, and included other constituencies as well. In 2015 the US state chairs requested more ClarinetFest® activities not only for students, but also for amateurs. Subsequently, ClarinetFests® included clarinet choirs open to many different types of members. In 2019 the ICA began an ongoing partnership with the New Horizons International Music Association, an organization dedicated to music-making by older adults, and a New Horizons clarinet choir performed at the 2019 ClarinetFest® in Knoxville. To make membership more affordable for everyone, the ICA initiated a reduced-rate membership category for individuals who wanted only digital access to The Clarinet, rather than print copies of the journal. All of these efforts paid off; by the 2022 ClarinetFest® in Reno, membership had reached an all-time high of 4,497, including 2,302 US members and 2,195 international members.
In parallel with these membership travails, the ICA also faced (and eventually overcame) financial difficulties. These were the result of a number of factors, of which falling membership numbers—and consequently, less revenue from dues—was only one. The annual ClarinetFest® is not meant to make (or lose!) money, but it sometimes does turn a small profit for the ICA, especially when held at locations within the US; however, between 2012 and 2016, ClarinetFest® revenue declined. The experiment with outside management was also costly. To address these and other factors, John Cipolla and the ICA board, guided by treasurer Tod Kerstetter, began a series of financial reforms. Cipolla's goal was to make objective, data-driven decisions about spending, and this involved the close examination of all expenses and revenues.
Over the next few years a number of actions were taken in addition to the membership efforts described above. A new accountant was hired, and some accounting processes were changed, allowing for more frequent monitoring of expenses by the ICA treasurer. Streamlined business practices were adopted, such as holding conference calls rather than in-person meetings when possible. Because the use of a professional management company had proven more expensive than simply employing an executive director, by the end of 2015 the ICA had returned to the older administrative model. Lynn Fryer served as executive director for a short time in 2015–16, followed by Evan Lynch (2016–2019) and Jessica Harrie (2019–present). The production of The Clarinet, always one of the largest line items in the ICA's budget, was also a potential source for reduced costs. After James Gillespie's retirement as editor and the move to a new editor (see more, below), a less expensive printer was found, and the size of each issue was slightly reduced, with some material being transferred to The Clarinet Online, mentioned earlier. This saved on production and postage costs. A less expensive platform was found for the ICA's website. All of these changes produced significant savings. On the revenue side, Caroline Hartig initiated a new, multi-tiered sponsor system for ClarinetFest®, resulting in larger sponsorship support and fewer costs for the ICA. At the Orlando ClarinetFest® in 2017, a capital campaign was kicked off, which members responded to generously over the next few years. Gradually, and with some ups and downs, the finances recovered from a low of a little more than $13,000 (net assets on 8/31/15) to a healthy $110,000+ at the end of financial year 2021-22.4
Just as the ICA board was achieving stability in membership and finances, a new challenge appeared that affected not just the ICA, but the entire world: the COVID-19 pandemic. As normal life was upended, the board made the difficult decision to cancel ClarinetFest® 2020, scheduled to take place in Reno. Like musicians all over the world, though, the ICA discovered just how much potential there was in holding events online. In lieu of ClarinetFest®, executive director Jessica Harrie and social media coordinator Jenny Maclay devised an online conference, "The ICA Plays On," which took place June 26–28, 2020. With great determination and creativity, they also organized numerous other online events that kept ICA members in touch with each other during many months of quarantine and limited outside interaction. When it became clear that the pandemic would force the cancellation of the in-person 2021 ClarinetFest® as well, ICA leadership and the 2021 artistic team bravely took the entire event online, with great success. These online events are discussed in more detail below.
Each of these challenges tested the mettle of the ICA—and was surmounted through the hard work and dedication of the many individuals who served on the board and committees, and through the generosity and goodwill of the membership. Meanwhile, the organization continued with daily business operations, looking towards the future and making improvements to benefit members. The state chairs became even more active in this period, managing social media pages, sending out newsletters, and running local events. President Hartig set up an advisory board of artists, professors, and industry representatives from the US and abroad; she also started a partnership with the Bill Cook Foundation to provide clarinets to students around the world in need of them. Mitchell Estrin, president from 2018 to 2020, established the ICA Legends award, to honor important clarinetists from the past in the same way that the Honorary Membership award lauds living members. He also presided over two large donations to the ICA Research Center, from the estate of Bud Rubin (former ICA legal counsel) and Robert and Annette Luyben; the creation of a new ICA logo; the establishment of the aforementioned partnership with New Horizons; and the creation of an ICA committee for diversity and inclusion (now the Diversity, Equity, Inclusion, and Access Committee). During the term of President Denise Gainey (2020–2022), a newly designed website made its debut, with features such as a virtual conference center, a member event center, and a discussion forum. An instrument donation program was started, using the volunteer service of clarinet repair technicians across the US to get good-condition instruments into the hands of those in need. A number of important new member-led committees were constituted; in addition to the diversity committee named above, there are currently committees for clarinet enthusiasts, college and pre-professional engagement, health and wellness, jazz and world music, membership and development, new music, pedagogy, and social media. At the time of this writing, the current ICA President, Diane Barger, has begun a Centennial donation campaign, to help launch the ICA into the next 50 years.
ClarinetFests®—And More
In the last decade, the ICA's annual ClarinetFest® has been held in Assisi, Italy (2013), Baton Rouge, Louisiana (2014), Madrid, Spain (2015), Lawrence, Kansas (2016), Orlando, Florida (2017), Ostend, Belgium (2018), Knoxville, Tennessee (2019), and Reno, Nevada (2022), in addition to the online events in 2020 and 2021. The ClarinetFest® continues to be a vital event for the membership—perhaps even more so since the pandemic. The basic components, including concerts, lectures, master classes, and competitions, have been augmented in recent years by an increased number of events related to pedagogy, wellness, entrepreneurship, and other topics, as well as the participation of more clarinet choirs.
Holding the ClarinetFest® in a variety of locations gives members the pleasure of visiting new places and hearing a diversity of players and repertoire. Each artistic team puts its own stamp on the event, either through unique aspects of the location, or through the adoption of particular topics or themes. For example, the 2014 event in Baton Rouge took the theme of "The Clarinetist as Entrepreneur," with many events focusing on business skills and creative career paths for clarinetists. The 2015 ClarinetFest® in Madrid coincided with and celebrated the bicentennial of Antonio Romero, one of the most important Spanish clarinetists. The 2021 ClarinetFest®, which took place online due to the pandemic, retained all the usual components but also included the Clarinet Learning Community (a pedagogy-focused forum) as well as the Showcase Stage, featuring younger performers. Highlights of each ClarinetFest® can be found in the report on each conference published in The Clarinet, usually in the issue following the event.
Besides ClarinetFest®, the ICA has recently begun sponsoring other events that members can attend. In 2020, the three-day online event "The ICA Plays On" featured a series of interviews and panel discussions on topics such as "Extended Techniques and Commissioning New Music," "Clarinet Care, Repair, and Maintenance," "Auxiliary Clarinets," and "Adult Enthusiasts and New Horizons." "The ICA Plays On" took place again in 2021. Even after the pandemic, online offerings continued, often sponsored by ICA committees and chairs. These included two New Music Weekends (2021 and 2022), Clareidoscope (2022 and 2023, sponsored by the state chairs), and Together Again (2022, sponsored by the Clarinet Enthusiasts committee, along with the Clarinet Enthusiasts Workshop in 2023). The Lunch and Learn series features various topics. In January 2023 the ICA hosted its first Low Clarinet Festival, an in-person conference hosted by Stefanie Gardner at Glendale Community College in Arizona; this proved so popular that it will become a biennial event. Videos of all of these events can be viewed on the ICA's YouTube channel, which has become a very important resource. The channel also includes the ClarinetCast series by the Health and Wellness Committee, Pedagogical Pathways by the Pedagogy Committee, the Clarinet and Community series of interviews, and many other short videos.
The Clarinet
The ICA's quarterly journal, The Clarinet, continues as a mainstay of the organization's offerings, presenting news, scholarly articles on history and analysis, pedagogical features, reviews, and much else. Jim Gillespie, the indefatigable editor of the journal since 1978 (volume 6, number 1), retired after the June 2015 issue, having edited an astounding 147 issues. His place was taken by Rachel Yoder, who had served as assistant editor since 2013. Under Yoder, The Clarinet has undergone major changes. Some of these were made for reasons of cost effectiveness, as noted above; others to increase the appeal and reach of the content. The journal was printed in full color for the first time, a change that was enthusiastically received by the membership. The distinction between feature articles and recurring columns (called "departments" in the table of contents) remained in place. Some longstanding, favorite columns continued, such as "Letter from the UK," "News from France," "Historically Speaking," and "Pedagogy Corner," to name just a few. The "Master Class" column, which had been a beloved component of nearly every issue since late 1994, went on hiatus in 2017 and 2018 but has been revived since then. Michael Webster's "Teaching Clarinet" has reached its end as of June 2023, after an amazing 85 issues. Currently the oldest column in the journal is Bruce Creditor's "Quintessence," which started in Fall 1986 and has a new installment in this very issue.
Over the last decade a number of new columns have been created. Reports on conferences, workshops, and competitions, as well as other short notices, now appear in "Clarinotes." Eric Hoeprich's "Hysterically Speaking," running between 2015 and 2019, presented historical images of clarinetists that were often humorous, with enlightening commentary. Appearing as both a column and an online blog, "BuzzReed" was "an exciting new space for sharing information about the clarinet's pedagogy, equipment, culture, literature and history in a format designed with younger clarinetists and nonprofessionals in mind."5 In a similar format, and also serving younger players, is Jenny Maclay's "Clarinet Chronicles," short articles on a variety of topics. "Equipment Matters" serves as a replacement for the older "Industry Profiles" column, and features a rotating set of authors, as does "Clarinet Enthusiast," which was renamed from "The Amateur Clarinetist." To better serve international readers, the "International Spotlight" illuminates an aspect of clarinet playing in a different country each issue, written in the language of that country alongside an English translation. The most recent addition, "Etude," presents a short study by a living composer, along with the composer's commentary.
As we have seen in other parts of this history, the editor of The Clarinet does not work alone; such a large endeavor requires numerous assistants and sub-editors. Editor Yoder took a major step in appointing an editorial board, creating a more formal review process for feature articles and raising the scholarly rigor of the journal. Reviews of music, books, and CDs have long been the responsibility of two separate editors, who supervise review writers. For the last 15 years, the music and book reviews editor has been Gregory Barrett. Bill Nichols retired as audio review editor toward the end of 2015, having written 77 "Audio Notes" columns and overseen the writing of thousands of reviews over almost 20 years. His place was taken first by Christopher Nichols (2015–2019), followed by Kip Franklin (2019–2022) and Karl Kolbeck (2022–present).
The ongoing effort to make all the issues of The Clarinet available to members online as well as in print, begun in 2010, was completed by the end of 2014, when the James Gillespie Library (with its regularly updated index) was fully available on the ICA's website. Beginning with volume 51 in December 2023, The Clarinet will be delivered to members in an electronic format only, with print copies available at an extra cost via a print-on-demand service. As noted earlier, the companion site to the journal, The Clarinet [Online], presents some content from The Clarinet but also offers separate, online-only articles, reviews, interviews, and announcements, with space for comments and questions from readers. Like the ICA as a whole, The Clarinet has adapted to the changing needs and interests of the membership.
As noted in previous articles in this series, The Clarinet often features tributes to clarinetists who have passed away. Several deaths in recent years affected the ICA community in particularly close ways. These included Lee Gibson (1915–2013), ICA founder, early president, and first editor of The Clarinet; Harry J. "Bud" Rubin (1928–2018), the ICA's longtime legal counsel; Guido Six (1955–2015), leader of the Claribel clarinet choir and indomitable spirit who hosted two ClarinetFests® in Belgium, and was poised to host a third just before his death; and Tod Kerstetter (1963–2021), ICA treasurer and beloved clarinet professor at Kansas State University. These colleagues, and many others, are sorely missed.
Honorary Members and Legends
The ICA awards Honorary Memberships to "individuals of unusual distinction from the areas of professional service, teaching, performance, and/or lifetime achievements."6 Since the ICA's founding, 62 such awards have been given. The new honor for posthumous recognition, ICA Legends, was added in 2018, and 15 ICA Legends have since been recognized. A complete list of both of these awards is found online and in the front of each issue of The Clarinet. Following is a list of awardees in the past decade.
Honorary Memberships,
2013–present
Hans-Rudolf Stalder
Milenko Stefanović
Michele Zukovsky
Walter Boeykens
Hans Deinzer
Antonio Saiote
David Shifrin
Petko Radev
Harry Sparnaay
Eddie Daniels
Richard Stoltzman
Luis Rossi
Bernard Van Doren
Charles Neidich
Ron Odrich
Alan Stanek
Eddy Vanoosthuyse
Paquito D'Rivera
Robert Spring
Charles West
Franklin Cohen
Theodore Johnson
Giora Feidman
Colin Bradbury
Philippe Cuper
James Pyne
ICA Legends
Simeon Bellison
Daniel Bonade
Jack Brymer
Louis Cahuzac
Eric Dolphy
Benny Goodman
David Hite
Reginald Kell
Thea King
Mitchell Lurie
Robert Marcellus
Kalmen Opperman
Artie Shaw
Pamela Weston
Harold Wright
A Personal Note: Our Diversity Is Our Strength
Removing my historian's hat for a moment, I'd like to offer a few personal reflections about the ICA. Over the past year, I've had the unique task of presenting an overview of the ICA's 50-year history. To do this, I've looked closely at every issue of The Clarinet, and read every "President's Message" and every set of business meeting minutes. I've sat in on interviews of nearly every living ICA president, as well as others who have been significant in the organization's history. And, of course, I have drawn on my own 40-some years of membership, attendance at ClarinetFest® (30 of them!), and participation as committee member, competition coordinator, author, and editorial board member. The thing that has most impressed me in looking back over all these years of history is this: the people. The board members, national chairs, state chairs, coordinators, editors, ClarinetFest® directors and teams and participants, volunteers of many different kinds, and the members. The collective energy, effort, dedication, and love of thousands of people have resulted in this amazing organization. It's truly astounding.
People are the heart of the ICA, and they come from all over the world. They—WE— are of many different cultures, backgrounds, identities, religions, ages, genders, abilities, perspectives. The clarinet brings us together. One of the great joys for me in the last few years has been to watch the ICA become more and more inclusive. For example, in the first 40 years, the organization had one female president; in the last ten years, there have been four. At my first ClarinetFest® (Oberlin in 1981), 11% of performers and presenters (3 out of 27) were female; at the 2022 ClarinetFest® in Reno, it was 48.3% (138 out of 286).7 This is an important measure of progress for me. Others may have their own measures—and you can be sure that the ICA is working continually to be more thoughtful, aware, and welcoming. The more diverse we are, the better we are. Make yourself heard, participate in whatever way feels comfortable to you, and the ICA will go on reflecting the beauty of its membership and of the instrument to which we are all devoted for the next 50 years and beyond.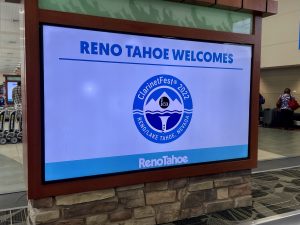 ---
Endnotes
1     Luca Sarraca's term ended in summer 2023, at which time the chair of international relations position was retired; the International Vice President position now covers those duties.
2     As of the July 2022 annual business meeting held in Reno, Nevada, and reported in The Clarinet 50, no. 1 (December 2022), 82.
3     Caroline Hartig, "The President's Message," The Clarinet 44, no. 1 (December 2016), 6.
4     See Tod Kerstetter's financial statements in The Clarinet 44 no. 2 (March 2017), 63; and 50, no. 2, 83.
5     Spencer Prewitt, Jesse Krebs, Kristy Nichols, and Eric Salazar, "BuzzReed," The Clarinet 43, no, 2 (March 2016), 79.
6     ICA By-Laws, Article V, Section 7.
7     These numbers were computed from lists of performers from each ClarinetFest®, and, in the case of the Oberlin ClarinetFest®, detailed conference reports. The numbers exclude members of clarinet choirs, master class participants, and competition participants. See The Clarinet 12, no. 3, 8; 13, no. 1, 6–12; and 49, no. 2, 53–57.
---
Jane Ellsworth is both a musicologist and a professional clarinetist. She is program director and professor of music history and clarinet at Eastern Washington University. Her books include A Dictionary for the Modern Clarinetist (Rowman & Littlefield, 2015) and The Clarinet (University of Rochester Press, 2021), as well as a forthcoming monograph on the clarinet in 18th- and 19th-century America. Ellsworth is also bass clarinetist with the Spokane Symphony.
---