Originally published in The Clarinet 50/3 (June 2023).
Printed copies of The Clarinet are available for ICA members.
---
Book and Music Reviews
June 2023
---
BOOKS
Daniel Bangham. Woodwind Instruments: A Practical Guide for Technicians and Repairers. The Crowood Press, 2022. £50.00 or $80.00 print, $44.99 eBook.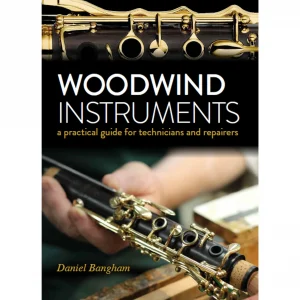 Woodwind repair is a challenging skill to learn, even with hands-on training. It can be nearly impossible and downright frustrating to try to learn through the written word and photographs. Daniel Bangham, however, remedies this to a high degree with his book, Woodwind Instruments, a practical guide for technicians and repairers. Bangham takes a practical, methodical approach to the repairs of clarinets, flutes, saxophones, oboes, and bassoons, and his use of full-color photographs further aids in helping it all make sense. While five woodwinds are all covered extensively, clarinets take the lead in most sections, and most repair techniques in the book can be applied to clarinets. In addition, Bangham provides highly useful diagrams and gives detailed instructions using terms just about any woodwind player can understand. And his use of a rational, well-structured key nomenclature should be a compulsory part of any woodwind player, educator, or technician's training.
The book starts sensibly with sections on getting familiar with the instruments—what we should call their different keys and parts, what basic tools a repairer should have on hand, and common order of disassembly and assembly. From there, emergency repairs and proper care/maintenance are addressed (these sections alone make the book a worthwhile purchase for educators). Moving forward, the reader can take their woodwind repair education to their desired level, as the author covers workbench/shop set up, advanced/specialized tools (including making your own tools), common/advanced woodwind repairs, overhauls, and even machining and highly specialized woodwind repair techniques.
Bangham's guide concludes with a wealth of knowledge on screw sizes and where to obtain tools and supplies, both in the US and Europe. I cannot recommend this book highly enough! It is a fantastic resource for woodwind educators, performers, novice technicians, advanced technicians, and everyone in between.
–Miles DeCastro
---
Tony Lamb. Artistic Clarinet Performance: A Look Beyond the Notes, 2022. £10.99 plus postage. [email protected] for PayPal directions.
Tony (Anthony) Lamb enjoys an impressive career as a clarinetist. Lamb was the principal clarinetist with the Royal Ballet Orchestra from 1969-71. In 1974, he was a founding member of the prestigious Capricorn chamber ensemble (violin, clarinet, cello, and piano), winning a special prize at the Gaudeamus International Competition in Rotterdam. Lamb's tenure with the ensemble took him to many prestigious venues such as Wigmore Hall and the BBC Proms in London. The ensemble appeared regularly on radio and television throughout Europe, commissioned and premiered many new works for their ensemble, and recorded on the independent British label Hyperion Records. Lamb also held the position of principal clarinet with the English National Opera from 1976-2012.
In Artistic Clarinet Performance: A Look Beyond the Notes, Lamb reflects on his 50-plus years in the music industry as a clarinetist. The book starts with an account of the British clarinet tradition and gives practical advice on topics ranging from practicing to performance techniques. The remainder of the book is dedicated to assessing the diverse considerations a clarinetist may encounter in a traditional Western art music career: various types of solo and ensemble playing, transposition, exams, auditions, competitions, master classes, and recordings.
The author's experiences are woven throughout the text as anecdotal evidence for his performance suggestions and observations regarding changes in the music industry. Although the clarinet is always at the heart of Lamb's writing, his passionate and relatable accounts can certainly be useful to any musician regardless of academic pedigree or career path.
–David Deiter
---
MUSIC
David Cook. Clarinet Conditioning: Warm-Ups and Perspectives. Conway Publications, 2022. 480 pp. Hard copy $35.00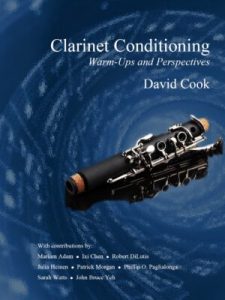 David Cook is assistant professor of clarinet and chair of instrumental performance studies at Millikin University as well as an active orchestral and chamber clarinetist. He received a bachelor's degree in music education from Central Michigan, master's degree in clarinet performance and chamber music from the University of Michigan, and a master's in music theory and a DMA in clarinet performance from the University of Oklahoma.
This book is divided into two parts; the first part consists of interviews with clarinetists: Mariam Adam, Ixi Chen, Robert DiLutis, Julia Heinen, Patrick Morgan, Phillip O. Paglialonga, Sarah Watts, and John Bruce Yeh. The chapters devoted to each of the clarinetists listed above consists of a background of the performer, a brief description of their individual warm-up routine, and an interview that provides a more in-depth look and description of their warm-up routine.
The second part of the book consists of exercises exploring not only aspects of the clarinet such as tone, voicing, intonation, technique, and articulation, but also exercises for breathing and physical stretching (both static and dynamic stretching). These exercises are from both the author and the clarinetists interviewed.
Clarinet Conditioning is a detailed and well-organized book that provides an incredibly valuable resource for clarinetists. It brings in a multitude of perspectives and can assist any level of player or teacher. This book can help us learn more about some or our colleagues' routines and find new ways to warm up for ourselves or for our students. I would highly recommend Clarinet Conditioning to be a staple on every clarinetist's bookshelf.
–Lee Seidner
---
Nancy Williams. Woodwind Improvisatory Methods of the Classical Era: A Pedagogy Method. 2021. drnancywilliams.com/product/735288 $33.00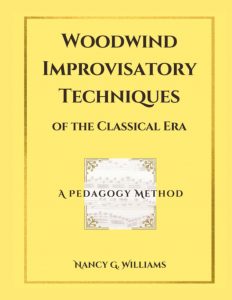 With its characteristic short, clear phrase structure and the distinct delineation of the melody from the accompaniment, the style of music of the Classical era is familiar to us all. Within its confines, which to us today seem to be so structured, clarinetists performing this music are frequently asked to improvise. This improvisation can be as simple as varying a dynamic on a repeated figure, or as complex as a cadenza—the artistry lies knowing when and how much embellishment and improvisation can be added before the essence of the melody is disfigured. Effective use of improvisation to enrich a performance is an advanced skill. The proficiencies required, as well as the actual art of improvisation and ornamentation, have until recently been learned through listening to teacher performances and recordings, making it an art form passed down from generation to generation as a musical heirloom. As is often the problem with things passed down, the explanation can be lost, leading to miscommunication. For all students to have the opportunity to learn the technique of Classical-era improvisation, it is imperative to have a tool to teach it as a skill, step by step. Woodwind Improvisatory Techniques of the Classical Era: A Pedagogy Method by Nancy Williams is this resource. It presents a method to learn and teach these techniques that are natural and organic to some, and harder to achieve for others. In four large sections, not only does this work cover a special area in woodwind pedagogy, it also has a litany of additional opportunities for both teaching and learning.
The introduction provides an excellent and detailed historical context for classical improvisation. It explores the musical culture of the time, which was one of creativity, embellishment, and improvisation in music-making. Immediately the author dispels the idea of a "myriad of rules" for the art, writing that this is not only misleading, but actually conflicting with fact. Background is provided on the history of embellishment and a line drawn to separate agréments (simple ornaments like mordents, turns, and trills) from more complex forms of improvisation. She outlines in a clear and logical way the different variables, including the performers' decisions. Longer form improvisations like Eingänge and cadenzas are also introduced.
The second section outlines aural training techniques that can be used to develop the skills needed to play and teach embellishment and improvisation. This section, as do all others, begins with a summary, almost like what would appear on a lesson plan, to give the reader an idea of what is to come and how to use it most efficiently through presentation of tools, goals, and objectives. Williams delineates very specific levels of improvisation, from basic imitation in which a student may simply vary rhythmic elements to improvise, to call and response wherein the student completes the full musical thought, all the way to varying scales and patterns and harmonizing the melody, ending with melody creation. Step-by-step directions are given on how to teach each level that could easily also be used by a professional to learn these skills, which is one of the many wonderful uses for this resource.
In the Classical Ornamentation chapter, Williams defines common classical ornaments clearly, and explains when each would have been used in the Classical era including a very helpful list to help identify when to play a short or a long appoggiatura. Symbols and their variations are notated clearly, and resources are cited throughout for those interested in delving even deeper. Particularly appreciated is the clarity of examples of the symbol followed by a clear realization of the symbol not just on its own, but within the context of the line. Following is a similar section with accompanying examples addressing longer improvisations including cadenzas, lead-ins, ways to change a melody, and then a list of possible improvisations to be added to the Stamitz Clarinet Concerto in B-flat.
Following the primary text are two very valuable resources—a wonderful anthology of famous improvisations and a thorough bibliography that, on its own, would be an outstanding resource. This book would be an excellent addition to the resource library of any performer, teacher, or student in the woodwind area. I cannot recommend it highly enough and look forward to working through this with my students.
–Vanessa Davis
---
Mary Alice Druhan. The One-Handed Clarinetist's Workbook: A Resource for Individual Hand Development and Injury-Recovery Periods. CAMco Music, 2022. Physical book or PDF plus silicone plugs $32.00. Additional options for book and PDF, with or without plugs.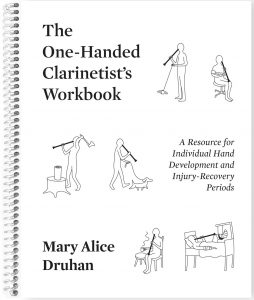 This groundbreaking 143-page workbook is spiral bound, beautifully laid out, and printed on heavyweight paper. Based on personal experience, Druhan provides essential practice material for clarinetists recovering from a left- or right-hand injury. The extensive, systematic musical exercises allow for practice with the left or right hand alone. For the right hand this is made by possible by inserting into the clarinet seven silicone rubber plugs to close holes on the top joint. Clear illustrations show exactly how to do this.
The first half of the workbook focuses on the left hand. For symmetry's sake the right-hand exercises use the same broad categories as the left. For each hand the "Simple Warm-Ups" are oriented by key and give fundamental exercises based on long tones, dynamic control, articulation, and scalar motion. How thoughtful to give the clarinetist a wide range of ideas on which to focus. Each exercise is a few measures long, and for the left hand they progress from chalumeau to clarion register up to the altissimo. Druhan provides clear fingering suggestions with annotations, especially if the fingerings slightly differ than when also using the right hand. The flexible potential of this book is enhanced with exercises to play if the left-handed clarinetist can use the right-hand side keys. For the left hand, the three registers are each visited three times, each level with greater complexity than the last. Most impressive to me, and what makes this workbook so appealing, is the wide variety of exercises composed—seemingly without repetition. Players will be challenged by mixed meter and syncopated rhythms, especially in the articulation exercises.
Klosé-like two-measure "Noodles" are in both the left- and right-hand sections. I found the right-hand ones particularly novel and refreshing. This facet alone shouts the value of this workbook even for a clarinetist using both hands without the plugs. Echoing the flexible nature of the studies for the left, those for the right have indications of whether left- and right-hand pinky fingers are needed.
Various register voicing exercises are given throughout the workbook, and in the left-hand section every clarinetist's beloved 12ths exercises, featuring deft use of the register key, receive imaginative consideration both ascending and descending. Completing both left- and right-hand sections are a few "Études," one-half to a full page long, which allow for specific hand practice in satisfying musical settings. In each section the culmination is eight to 12 pages of excerpts from our repertoire, including works by Shulamit Ran, Alice Mary Smith, Valerie Coleman, Libby Larsen, Jeanne Shaffer, Ida Gotkovsky, Jenni Brandon, Jean Sibelius, and more.
–Gregory Barrett
---
Andy Hudson and Roger Zare, with Jason Alder. Space Bass: Advanced Explorations for Bass Clarinet. Conway Publications, 2022. $30.00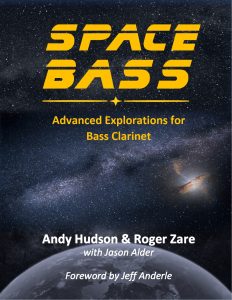 Conway Publications has been pumping out a noticeable number of publications related to the clarinet recently. Space Bass: Advanced Explorations for Bass Clarinet —by Andy Hudson, assistant professor of clarinet at UNC–Greensboro; composer Roger Zare; and low-clarinet authority Jason Alder—is a clever, funny, and rich deep-dive into the contemporary techniques that are defining the standard of bass clarinet virtuosity in the 21st century.
This compendium of Roger Zare's unaccompanied works serves as a highly creative and inspired set of vehicles that isolate and explore the ever-expanding palette of modern techniques for bass clarinet, including low register pinky/thumb facility, altissimo, large descending leaps, slap tongue, multiphonics, spectral multiphonics, flutter tonguing, singing while playing, and a host of other effects.
The titles are fun: "Big Bang," "Dark Matter," "Nebula," and "Pale Blue Dot," etc. Each piece is prefaced by Hudson's explanation of a specific contemporary skill melded with his clever observations and then a performance guide for specific measures and their musical content. Zare's pieces are meant to push you to the limit and expand your musical and technical capabilities in every conceivable way. Zare's explorations pave the way for other composers to see the myriad possibilities of the instrument.
Hudson's remarks on each piece encourage the performer to set aside preconceived notions, embrace the unknown, and go confidently in a new direction. These processes can be daunting, but Hudson encourages us through the whole book. The appendices include altissimo and quarter tone fingering charts, a primer on circular breathing, Alder's succinct guide to bass clarinet clef notation, and two "Dear Composer" letters written by Hudson and Zare that guide the prospective composer through the paces of what is required of both performer and composer. It is one of those documents that should be required reading in every composition class.
The printing and music notation are clear and easy to read. If there is one slightly less than perfect aspect of this book it is the binding. For a 163-page book, the binding is a little too tight, and my copy never lies quite flat on the stand. This book is a call to arms and a profound love letter to the bass, and should be required reading for every bass clarinetist.
–Osiris Molina
---
Ken Benshoof. BitterSweet for E-flat clarinet and piano. ALRY Publications, 2022. $18.00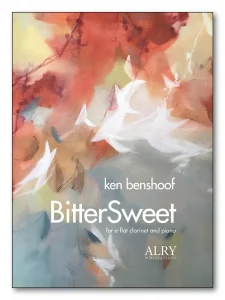 BitterSweet by Ken Benshoof (b. 1933) originated as a work for flute and piano. Upon completion, he sent the piece to Mark Wolbers, emeritus professor of music, University of Alaska–Anchorage, for comments and feedback. Wolbers liked the piece so much that he convinced Benshoof to transcribe the work for E-flat clarinet, which he agreed to do. In the score Benshoof remarks:
Take a pair of themes, which are to each other as Bitter is to Sweet:
The first—a whimsical, quizzical, searching Clarinet, with commentary from the Piano.
The second—soft modal tonalities in the Piano, with lyrical thoughts in the Clarinet.
Oscillate between them four and a half times:
First: set the stage,
Second: get in trouble,
Third: get out of trouble (with help from a third theme),
Fourth: celebrate,
And a half for a codetta.
These comments perfectly encapsulate this 8 1/2 minute piece. "Whimsical" quips at the beginning in the clarinet serve as the Bitter to the ensuing Sweet waltz section. The return of these elements eventually leads to a sweeping melody in the clarinet supported by rolling triplets in the piano—the celebration. The final codetta revisits fragments of the initial motive in the clarinet, which brings the piece to a satisfying conclusion.
Benshoof clearly understands the E-flat clarinet and is intelligent in his writing for the instrument. His use of the altissimo is limited (reaching F) and perfectly approached. Pitch bends in the chalumeau present the greatest challenge but create interest and a haunting sense. BitterSweet is a very good addition to the limited repertoire of the E-flat clarinet and is accessible for all serious players of the instrument. Thanks to Mark Wolbers for encouraging this transcription. Find his terrific recording at ALRY for those interested in hearing a very good interpretation of the work.
–Elizabeth Crawford
---
Greg Bartholomew. In the Language of Meditation, for clarinet and piano. Burke & Bagley, 2014. $24.95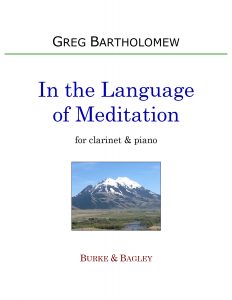 The music of award-winning American composer Greg Bartholomew is frequently performed throughout North America, Europe, and Australia. Bartholomew was born in 1957 in St. Paul, Minnesota, and earned his degrees from the College of William & Mary in Virginia and the University of Washington.
Bartholomew has written numerous works for solo clarinet, clarinet and piano, clarinet choir, and various chamber ensembles with clarinet, including Rollick & Romp for solo clarinet, Meleagro for clarinet and piano, Ukiyo-e: Pictures of the Floating World for clarinet and piano, and First Suite from Razumov for clarinet and string quartet, which is also available in a trio arrangement for clarinet, cello, and piano.
One of his recent clarinet pieces is the melodious 14-minute, three-movement composition for clarinet and piano (or clarinet and chamber orchestra), titled In the Language of Meditation, and written for Nicolai Pfeffer. It is adapted from a 2013 sonata for viola and piano dedicated to the memory of Ingrid Buschmann. There is also a 2014 adaptation for alto saxophone and piano and for alto saxophone and chamber orchestra. The first movement "Observations from a Rooftop Garden" is allegretto in tempo, but con molto rubato. It is followed by a dignified andantino second movement, titled "Contemplating a Mountain with Love." Vivo is the appropriate tempo for the last movement, titled "Reflecting on a Visit with Birds."
The composition is tonal and pleasant for listening, with clear form, rhythm, and meter, and the range is mostly from chalumeau to clarion, rarely going into the altissimo. Although it is not technically demanding, this composition requires performance by mature musicians, able to understand its unique meditative atmosphere. It was premiered in 2015 by the clarinetist Andrew Friedman and pianist Karen Ganz. Their excellent recording is available on Bartholomew's YouTube channel. According to Friedman, "The work takes on a simple, heartfelt aesthetic, reflecting Buschmann's brand of gentle kindness and her love of the natural world with singing [solo] clarinet lines and sparkling textures in the accompaniment." For more information, please visit Bartholomew's website.
–Andrija Blagojevic
---
James Cohn. Variations on a Boogie-Woogie for clarinet in A, cello, and piano. Subito Music Publishing, 2016. $15.95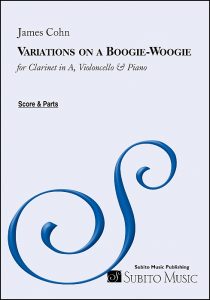 The late American composer James Cohn (1928-2021) has written several works with clarinet that are enjoyable for both performers and audiences. The Variations on a Boogie-Woogie are no exception among Cohn's compositions, allowing an opportunity for the clarinet-cello-piano trio to play in boogie-woogie style. The piano establishes a boogie-woogie bassline in 12/8 time with the clarinet and cello playing a bluesy melody in imitation of each other before joining together. The middle variations are not swung but in a rocking 4/4 time followed by a waltz variation that uses chromaticism as a means of modulating. This three-minute piece culminates in an exciting, rhythmic final variation. No articulations are marked, allowing the musicians freedom for stylistic expression at their own discretion. Overall, Variations on a Boogie-Woogie stands out among the repertoire for the clarinet trio and may serve as an excellent three-minute closing piece for any chamber music recital.
–Vanessa Klassen
---
Robert S. Cohen. The Mysterious Transformation of Johann B. for B-flat clarinet, vibraphone, piano, and percussion
(2008). HoneyRock Music, 2022. $25.00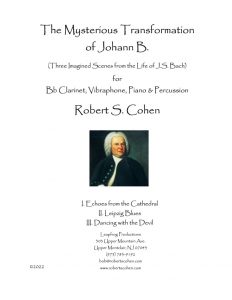 In The Mysterious Transformations of Johann B., Robert Cohen imagines J.S. Bach in three amusingly dubious (or embellished) scenes from the composer's life. The first movement, Echoes from the Cathedral, is based on the Schadenfreude Bach feels standing above the coffin of Duke William Ernest, Bach's difficult former employer. The Adagio misterioso commences with the famous B A C H motif in the clarinet, going on to quote snippets of the Toccata and Fugue in D Minor, BWV 565. The second movement, "Leipzig Blues," describes an episode of writer's block late at night, as well as its resultant melancholy. The clarinet again begins with the B A C H motif, but the character has evolved from the morbidity of the first movement to late-night wistfulness. The final movement, Dancing with the Devil, depicts a tattooed, gold chain-bedecked, and heavily inebriated Bach fumbling through chromatic experimentation in his studio before passing out on his floor. Cohen puts the emphasis on dissonant intervals throughout, including a climactic two bars of 16th notes written a tritone apart in the clarinet and vibraphone/piano parts. Each of the three movements displays some jazz influence in the harmonic and rhythmic content.
Cohen has created a substantial piece for clarinet and percussion ensemble that clocks in at close to 14 minutes and requires significant technical facility on the part of the clarinetist. The range extends to an altissimo B-flat, the passagework exhibits quick, fluid, and frequent register crossings, and the piece generally demands a fair amount of endurance. Cohen also indicates passages with flutter tongue and glissando. The score itself is a C score, so those clarinetists looking to perform from the score will need to transpose. The transposed clarinet part has a key signature indicating two sharps (presumably from the computer transposition), yet it might be easier to read if it had been presented with no key signature.
–Matthew Nelson
---