Originally published in The Clarinet 50/3 (June 2023).
Printed copies of The Clarinet are available for ICA members.
---
Reprints from Early Years of The Clarinet: Jazz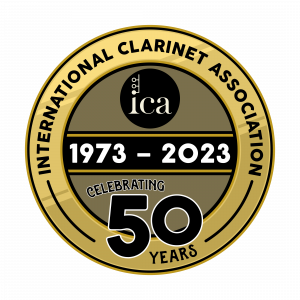 This issue's special reprint section spotlights articles on jazz clarinet and clarinetists from the years 1976 to 1985, a time when the clarinet had declined in popularity from its heyday as a leading jazz instrument, and its future in jazz was unclear. These articles and interviews are supplemented by commentary from current jazz clarinetists working in various styles and countries, with insights on the clarinet's past 50 years in jazz, and the future of jazz clarinet.
coordinated by Rachel Yoder and Caitlin Beare
---
The Role of the Clarinet in the Development of Jazz
Douglas Carleton studied with Keith Stein and contributed the first jazz article in The Clarinet, appearing in vol. 4 no. 1 (Fall 1976).
by Douglas Carleton
Early jazz was primarily ensemble music, mostly brass bands assembled for funerals and parades, which played an assortment of marches and quadrilles, eventually incorporating popular songs of the day.
The clarinet first gained entry into this field around the time New Orleans clarinetist Alphonse Picou transposed a piccolo bridge in "High Society" for the clarinet. This is generally believed to be the instrument's first contribution to the music. This bridge is played note-for-note, almost invariably, whenever "High Society" is played today.
The tune was first recorded by the King Oliver Creole Jazz Band (June 1923), featuring Johnny Dodds on clarinet. His role in the Oliver band was primarily to provide counter-melody to fill in between trumpet parts, improvising in a fairly strict, arpeggiated style which not only compliments, but leads naturally from one trumpet solo to the next. ("Mandy Lee Blues" or "Canal Street Blues," recorded earlier that same year, are perhaps better examples of Dodds' improvisatory abilities.) He served in this function well and deserves all credit he has been accorded, but his playing failed to grow beyond the dated, arpeggiated style. When times changed, Dodds' career was essentially over.
The Original Dixieland Jazz Band was the first to receive nation-wide response, largely because they were a white group, with better promotional facilities. They were fortunate to have a company with the stature of Victor, but were aided also by the fact that they were the first to record (1917). Larry Shields, working with this group, provided licks and breaks which became standard on pieces such as "Tiger Rag," "Sensation Rag," and "Clarinet Marmalade."
Sidney Bechet started playing at an early age, and quite literally grew up with the music in New Orleans. He took lessons from George Bacquet, Big Eye Louis Nelson, and Lorenzo Tio, all formally trained clarinetists. From them he learned technique, insisting that style was a most personal thing which could not be taught. Up to that point, jazz had been ensemble music with occasional breaks. Bechet, although later switching almost entirely to soprano saxophone, was the first clarinetist to really play in a solo style. Martin Williams (in his book, "Jazz Masters of New Orleans") wrote of Bechet, "Although he was always aware of the cooperative necessities of ensemble improvising, he was not always an ideal ensemble player in the older style … he had simply burst out of a secondary role."
Meanwhile in Chicago, King Oliver had brought the music North, as had the Original Dixieland Jazz Band (ODJB) and a few other notables. Some hybrids began to develop. The New Orleans Rhythm Kings (or Friars Society Orchestra), made up of both New Orleans and local musicians, played in a style not unlike the ODJB, but were much more open about inspirations, even playing and recording with black musicians such as Oliver and Jelly Roll Morton.
On the first Chicago jazz records (by the Buckton Five in 1924), Volly DeFaut played clarinet, but the session was dominated by Muggsy Spanier's Oliver-influenced cornet lead. These recordings were significant in establishing a "Chicago" style, though Bix Beiderbecke's Wolverines solidified the basic sound and proliferated acceptance of the new music. Still basically a brass-dominated music, it did not of itself produce any noteworthy clarinetistry.
Jimmy Noone, a New Orleans clarinetist who made the move North, became an influential figure in the formation of Chicago style. In 1927 at the Apex Club, Noone's complex thematic elaborations were a natural extension of the clarinet's part in the New Orleans ensemble. With good technical command of his instrument, he made a deep impression on Chicago's clarinetists, most notably Benny Goodman.
Goodman differed from most other Chicagoans in that he was a clarinetist who played jazz, while the Austin High Gang (a group of Chicago musicians usually credited with recording the first purely "Chicago" jazz) were in it to be "Jazzmen," the way of life being their point of interest. They played whatever instruments chance led them to play.
Though he started out on violin, chance led Frank Teschmacher to the clarinet. He was so deeply moved by Beiderbecke's biting cornet that he began to work a rasping quality into his tone to approximate Bix. ("China Boy" by the McKenzie-Condon Chicagoans, recorded in 1927, is an excellent example. The Noone influence is more clearly evident in subsequent recordings.)
Pee Wee Russell, usually identified with Chicago jazz because of his long association with Chicagoans, had already traveled throughout the Southwest playing with different bands. His talent developed independently of the Chicagoans' rhythm-based, biting style. He was recorded around the same time with the sensitive, almost hesitant exploratory style which was to become his hallmark.
Jazz was developing in the East as well. Fletcher Henderson and Noble Sissle had good bands which featured Don Redman and Sidney Bechet extensively. Duke Ellington was upgrading the music with the help of Barney Bigard's clarinetistry. Before long, almost all of the New Orleans and Chicago players had made the trek to New York, and regional differences began to fade.
Benny Goodman's orchestra wasn't the first big band, but it was the first to amass a nationwide popularity and signaled the dawn of the Big Band Era. He brought a flawless technique of fluid movement and impeccable taste, and his own brand of Chicago style to the new instrumentation, bringing about a new era of clarinetists as well.
Goodman himself became an influence and inspiration to countless players of the day. Edmond Hall was a New Orleans clarinet player, possibly the most widely recorded. He had fine technique, and incorporated elements of Goodman's clean, spirited style into his own already unique rhythmic improvisational style. One is at a loss to think of a clarinetist of the day who was not influenced in some way by Goodman's example.
Goodman's position in the Big Band Era so strongly identified both him and his instrumentation that when the bands began to wane, the clarinet's popularity sank as well. It has not yet been able to regain its position as an important contributing force in the development of jazz.
The years following World War II saw a decline in the fortunes of the Big Band genre. This can be attributed as much to the other factors giving rise to the stardom of vocalists as to the disenchantment of a large segment of the public to instrumental jazz with the advent of bop. The complexity of the music was as demanding on the listener as it was on the musicians.
As jazz moved toward bop, such names as Stan Hasselgard, Tony Scott and Buddy DeFranco emerged. Hasselgard was a Swedish clarinetist who could have become a major force in bop, but had made only a few recordings before he died in a traffic accident.
Scott and DeFranco were successful in making the transition. Scott, Juilliard-trained but influenced by the success of Ben Webster's tenor sax, developed a softer sound, and in recent years has spent considerable time abroad working with and recording the folk musics of other cultures.
DeFranco, influenced heavily by both Goodman and another technical wizard of the big band clarinet, Artie Shaw, came under the spell of bop's progenitor, alto saxophonist Charlie Parker, in the mid-1940s. DeFranco's astounding technique and superb musicianship won him the respect and admiration of many of his contemporaries. In 1956, he proved to be one of the few who could not only keep up with, but also interact effectively with pianist Art Tatum's technical prowess when the pair recorded an LP together.
The clarinet has not played a significant role in jazz at all since the early 1960s, when William O. Smith took the clarinet into the more celebrated atmosphere of the avant-garde. With his American Jazz Ensemble, he explored unusual time signatures and rhythms, and experimented with tape, sometimes improvising over a previous recording, played back at varying speeds. He also composed several formal works for clarinet and various chamber instruments, later devoting all energies toward composition.
Since that time the instrument has continued to be used in groups which recreate the types of sounds and styles which have gone before, and as a second or third instrument of saxophonists.
Of course it is too early to say how the perspective of history will show this decade. The clarinet has not been totally deserted by the progressive arm of jazz, however. Perry Robinson, of the avant-garde, has been working of late with regularity in more commercially viable groups, such as Two Generations of Brubeck. Buddy DeFranco has returned to full-time clarinetistry after several years of leading the Glenn Miller Orchestra. Perhaps either or both of these artists will be able to turn things around, to enlarge the role of the clarinet in the future development of jazz.
***
In 1976, I was invited to present a paper at the annual Jazz Revisited Colloquium at the University of Michigan. The scope of the Jazz Revisited program was 1917-1947, so I expanded it to the then present day for publication in The Clarinet. It wasn't a promising time for jazz clarinet, as the "establishment" tended to view the instrument as a swing-era antique. I made it my mission in life to correct that misguided impression. Since then there have been some notable contributions to the furthering of the clarinet's place in jazz. Buddy DeFranco never stopped, but continued at the "top of his game" well into his 80s. Eddie Daniels was named "New Star on Clarinet" in the DownBeat poll in 1968, shortly after receiving his master's in clarinet at Juilliard, becoming the greatest influence in legitimizing the cross-over between jazz and classical. My personal favorite '70s band, Soprano Summit, paired the clarinets and soprano saxes of Bob Wilber and Kenny Davern. Ken Peplowski is another example of the classically trained jazz clarinetist, rising from Benny Goodman's sax section to bring legitimacy to jazz and the clarinet. Paquito D'Rivera, the only non-US born recipient of the NEA Jazz Masters honor, also burst on the scene in the '80s. More recently, Anat Cohen and Dave Bennett carry the banner to new heights. Yes, a lot has happened in the last 50 years. Though not back to the days of "Clarinet is King," a healthy level of acceptance has been achieved.
– Douglas Carleton
***
In the past 50 years, the world of classical clarinet playing has grown much more than the field of jazz clarinet playing. You have people like Nicolas Baldeyrou, Martin Fröst, Ricardo Morales, that have taken the clarinet to another level. In terms of jazz there's Paquito, Peplowski, folks who have been around a long time, and there are a number of talented young people but no one has jumped out at me at playing the clarinet, studying the clarinet. And you know why? Because the clarinet is hard. It's one of the hardest instruments. To go directly to jazz when you don't have a solid grasp of the instrument is too hard. You need to put in 20 to 25 years of hard work to have a command of the instrument. When I was younger I studied with Bonade, Abato, Portnoy, and one of my favorites… Joe Allard! Then I was prepared to move to another level in jazz because I had my chops. The more you have control of your instrument, the more you can express yourself. First, you have to get so controlled you can do anything you want, then you have to get loose with it and then have a voice. We're all individuals, we all need to find a voice. The contemporary sound of what jazz sounds like today, the basic swing, the pulse of the music, it's in the world with fusion, funk, and players like Chris Potter, Michael Brecker, and others… I'd like to hear some young players doing that.
– Eddie Daniels
---
Sidney Bechet: Artist of Genius
Bob Wilber (1928-2019) was a student of Sidney Bechet, later going on to perform with Bechet, Benny Goodman, Duke Ellington, and many others during a career spanning more than six decades. Wilber's profile of Sidney Bechet and observations of a transcribed Bechet solo, excerpted here, originally appeared in The Clarinet 10 no. 1 (Fall 1982).
by Bob Wilber
There is an extraordinary clarinet virtuoso who is, so it seems, the first of his race to have composed perfectly formed blues on the clarinet. I wish to set down the name of this artist of genius; as for myself, I shall never forget it…
In what was possibly the first critique on jazz ever written, Ernest Ansermet wrote this glowing account of Bechet's playing in Revue Romande after having heard him with Will Marion Cook's Southern Syncopated Orchestra in 1919 at the Royal Philharmonic Hall in London. Twenty-six years later when I first met Sidney he was living in a ramshackle house in Brooklyn, playing occasional jazz concerts and a few nightclub engagements, hardly the internationally famous artist that one would expect after such acclaim as Ansermet's. But, as little evident as it was in 1945, his star was on the rise. During the last ten years of his life and ending at his death in 1959, he became the most popular figure on the European jazz scene, his eminence rivaled only by Louis Armstrong's. In an irony so typical of Bechet's career, his song Petite Fleur was the No. 1 hit record all over the world as he lay dying from cancer in Paris — not Sidney's own recording, but one by an English band, Chris Barber, which featured one of Bechet's many disciples, Monty Sunshine. After having been a prophet without honor in his native U.S.A. for so many years, there are signs that his important place in American music is finally going to be recognized.
Since The Clarinet is a publication read mostly by clarinetists, I would like to focus attention on Bechet's artistry on the instrument which has, like his composing, been largely ignored. His unrivaled supremacy on the soprano saxophone has tended to obscure his pre-eminent place in the history of jazz clarinet.
Sidney's birthplace, New Orleans, was of course giving birth to jazz music when he was born there in 1897. The clarinet (which seems to have almost disappeared from contemporary jazz) was a very prominent instrument in the New Orleans style. Following in the footsteps of the early pioneer clarinetists Lorenzo Tio, Larry Shields of the original Dixieland Jazzband, Alphonse Picou who originated the famous chorus on "High Society," "Big-eye" Louis Nelson, and George Baquet, New Orleans nurtured a host of brilliant clarinetists. Besides Bechet there were Johnny Dodds, Jimmy Noone, Leon Rappolo, Barney Bigard, Albert Nicholas, George Lewis, Irving Fazola and others.
Although Sidney left home at the tender age of thirteen and did not return to New Orleans until 1940, his position as the leading jazz clarinetist in the Crescent City was firmly established. Johnny Dodds, although considerably older than Bechet, was inspired to take up the clarinet after hearing young Sidney playing in a parade.1 Lil Armstrong, Louis' second wife and a fine musician, summed up Dodd's talent in a series of reminiscences with the author and critic Chris Albertson before her death in 1971 as follows: "He was no Bechet, but not a squeaky Duhe either." (Referring to Lawrence Duhe, clarinetist with the original Creole Band whose "squeaks" were never recorded for posterity!)
Like most of his New Orleans contemporaries. Bechet played the Albert System and never changed to Boehm. Duke Ellington, who was always unstinting in his praise of Bechet spoke of the "wood" in his tone, and Louis Armstrong referred to his sound as "pure honey." Another outstanding characteristic of Bechet's steve was his percussive attack — his notes did not just commence to sound, they exploded out of his horn! His repertoire of expressive devices included every sort of growl, whine, and glissando possible. His clarinet vibrato, while not as pronounced as on the soprano sax, was very rapid, heightening the intensity so characteristic of all his work.
What was most incredible about Bechet's playing was the spontaneity of his improvisations, his ability to compose variations on themes and, indeed, invent new melodies on the spot. To demonstrate the various aspects of Bechet's style mentioned above, I have notated a clarinet solo he recorded in 1937 with Noble Sissle's orchestra [see music example]. In its daring and dramatic impact it matches anything that Goodman and Shaw recorded during the swing era. I have paired it with Eubie Blake's charming and original melody so that the reader may study the relationship between the theme and improvisation.
To appreciate the excitement of Sidney's solo one should really hear the original recording. Luckily, after a long existence as a rare collector's item, it has recently been reissued on French CBS, No. 13-63093. and includes an alternate take.
The record starts out innocuously enough, three choruses of the melody arranged in the typical big-band style of the thirties: brass answering saxes and vice-versa. Just as we, the listeners, are beginning to despair of a truly interesting musical moment, Bechet makes his entrance in typically dramatic fashion with a high D held for nine beats with searing intensity. In bar one the D becomes the first note of Bechet's opening 3-bar phrase. The first two bars are an entirely new melody, while the three A's in the third bar bring us back to Eubie Blake's theme. The next phrase with its sweeping beginning in bar four is a typical clarinet obbligato which we could imagine Sidney playing against the trumpet lead in a New Orleans style ensemble. In bars eight through twelve Bechet again returns to the melody played with that air of majesty so unique among jazz players. He returns to an obbligato in bar thirteen, and in bar fourteen he plays a G-sharp against the A7+5 chord, creating a striking dissonance. Actually, I believe Sidney was interpreting the chord as a C-sharp7 rather than the original A7+5. The melody certainly indicates this chord as an alternate choice of harmony.
The next phrase, starting with the high F-sharp pick-up in bar 16 and continuing all the way to bar 24, is perhaps the most striking part of the solo, brilliant in its daring and breadth of conception. Alter descending diatonically down the scale, Bechet lands on the B which becomes the central motif for the next six bars. As all clarinetists know, this B is the most powerful note on the clarinet and Sidney makes dramatic use of its possibilities as he repeatedly — almost stubbornly — strikes the note with rhythmic savagery which in a ruthless manner obliterates the original melody.
Bechet carries us even further into a never-never land of musical fantasy by a striking change in harmony in bar 23. Instead of the original B-minor, he has had the arranger change the background harmony to B7! By now the listener has lost all track of the original theme but Poppa Sidney brings us back down the earth again as he returns to the melody in bar 25. But after four bars he is off again with another daring flight of fancy. Using the repeated octave jump of the theme as a basis, he creates a wild, bluesy but playful phrase which he then repeats, ending with a harsh driving melody descending to the tonic. We have experienced thirty-seven bars of sustained musical excitement by a true musical genius. As Ansermet so prophetically put it, "maybe this is the road the whole world will swing along tomorrow."
Endnotes
1     Johnny Dodds by Frank K. Kappler. Time-Life Records.
***
The clarinet has not been so kind to Black players. We face prejudice both pedagogically and professionally. In general, people just don't believe we actually play the instrument, much less that we play it well, with the saxophone being the default. Being a Black clarinet player is a lot like being a Black quarterback was before Patrick Mahomes: It's just not believable. (Black musicians don't see the instrument as a platform for black expression either, though Eric Dolphy and Bennie Maupin made Black bass clarinet more believable.) Where would jazz trumpet be if Dizzy, Freddie, and the like were ignored and omitted? The answer is nowhere, and nowhere is where jazz clarinet is. Mainstream modern jazz sees the instrument as not relevant, useful only in repertory situations. When you look at any aspect of jazz from a completely white-centric viewpoint, the creative element is lost.
Quite predictably, in these articles Jimmy Hamilton, Alvin Batiste, Buddy Collette, and John Carter are omitted. Jimmy Hamilton's omission is particularly lobotomizing, since he was one of the most modern improvisers in the Ellington group. Only Paul Gonsalves and Clark Terry could match Hamilton's modernness and freedom. His playing was as modern as Duke's writing. Technically he was one of the all-time greats, but in his 20+ year tenure with Ellington, how much groundbreaking music was he an integral part of? Jazz isn't folk music. Where was the clarinet when jazz was growing and changing? Jimmy was there.
In the act of ignoring Black players, one ignores the development of the music overall. In my lifetime I have heard many fine Black players of clarinet: Roscoe Mitchell, JD Parran, John Carter, just to name a few. All of these players are central to the development of jazz clarinet, and they are composers who shaped the future of this music.
– Don Byron
***
The clarinet cemented its place as an integral instrument within the jazz lineage very early on. Although it was a pioneering instrument in the Dixieland, swing, and big band eras, it unfortunately slowly disappeared as a frontline instrument from the 1940s onwards, with a few notable exceptions (Buddy DeFranco and Jimmy Giuffre come to mind as two big influences for me). Over the past 50 years, I think there has been a resurgence and renewed interest in jazz clarinet, with a lot of musicians breaking new ground and challenging listeners' perspective on the instrument—people like Anat Cohen, Paquito D'Rivera, Victor Goines, Doreen Ketchens, Eddie Daniels, Frank Glover, James Danderfer, Todd Marcus, and Joaquin Sosa all come to mind. I think both musicians and listeners are finally realizing the potential the clarinet has as a unique and distinctive sound within a modern context.
– Virginia MacDonald
---
An Introduction: Our Jazz Clarinet Heritage
Henry Duckham (1929-2018) wrote numerous articles for The Clarinet, including this piece originally appearing in Vol. 9/3 (Spring 1982). It served as a survey of the past, present, and future of jazz clarinet, and introduced a series of interviews in subsequent issues with jazz legends Benny Goodman (Summer 1982), Buddy DeFranco (Spring 1983), and Artie Shaw (Spring 1985). The Buddy DeFranco interview was reprinted in our Sept. 2015 issue; the other two interviews are excerpted here.
by Henry Duckham
… A few years ago when I was visiting my former teacher, Rosario Mazzeo, we discussed why the clarinet world hadn't produced "star" players like flutists Rampal and Galway, for instance. We didn't arrive at any conclusions but Mazzeo said: "Yes we need a clarinet hero!" Ever since then I've wondered where all the heroes have gone. There was a time in the early part of this century when jazz clarinetists in New Orleans were prima donnas, second only to a few trumpet and cornet players. New Orleans, with its strong tradition of marching bands, produced many clarinetists and when the so-called "front line" of trumpet, trombone and clarinet became established, the clarinet had the job of filling in above the trumpet and adding forward pulse through a stream of notes at a somewhat faster pace than the other two instruments while extending the range of the three dominant melodic voices. The clarinet had an important role during those days, and there were important players.
Two streams of jazz clarinet playing developed in the first decades of this century. One was best exemplified by the great soprano saxophonist/clarinetist Sidney Bechet. Although the soprano saxophone was to become his primary instrument, Bechet came out of the New Orleans clarinet tradition. The most overwhelming characteristic of Bechet and others in his mold was an intense rhythmic drive embodying incisiveness of attack, a tone that could be characterized as consistent, centered, brilliant with an edge that could cut through and often rival the trumpet's dominance. While flexible, note placement was precise, and the style tended to confine musical statements to one register. In Bechet's case as well as some others there was considerable digital fluency but technique tended to give way to emotional expression. In addition to Bechet, players that may be thought of as part of this "stream" of playing are Johnny Dodds, Omer Simeon, and Edmond Hall. While these were all New Orleans musicians, their influence may be heard in the later playing of such Chicago players as Frank Teschraacher and Rod Cless. It was a style that lent itself to solo statements, and, while Louis Armstrong is generally credited as the first great soloist based on his records in the late 20s, it is probably fair to say that Bechet's solo work antedated Armstrong's by some years. The Swiss conductor, Ernest Ansermet wrote of Bechet's playing when he heard him with the Southern Syncopated Orchestra led by Will Cook on a European tour in 1918: "There is an extraordinary clarinet virtuoso who is, so it seems, the first of his race to have composed perfectly formed blues on the clarinet. I wish to set down the name of this artist of genius; as for myself I shall never forget it . . ."
The second "stream" of playing that emerged in the early jazz era in New Orleans incorporated a looser concept — both rhythmically and tonally. It was a style of clarinet playing that grew out of the instrument's decorative and embellishing role. The tone of these players tended to be less straightforward with greater pliancy and diversity of timbre. What was lost in intensity was compensated for with greater fluidity and increased use of the entire range of the instrument. Tonally and rhythmically these players tended to be particularly effective in support of ensemble work. One has only to turn to the work of Barney Bigard in Duke Ellington's band to discover how this style wove itself in and became integral to the whole musical fabric. These players were more classically oriented in the European sense — a premise supported by the fact that Jimmy Noone, perhaps the most notable example of this "liquid" school, and Buster Bailey (an accomplished clarinetist who played double lip with a wonderfully centered tone and had symphonic aspirations) both studied with the classical tutor, Franz Schoepp (also Benny Goodman's first teacher). Albert Nicholas represented another fine player in this second mold.
One of Benny Goodman's great contributions to the development of jazz clarinet playing was the blending of both the "liquid" and the "rhythmic incisiveness" schools in his own playing. Goodman, of course, is the last and greatest clarinet hero that we have had, and it is hard to appreciate the enormous popularity that he engendered. It helps to place his popular presence in some kind of framework if we recognize that his popularity in the 30s was akin to that of the Beatles in the 60s. Of course since the Goodman era we have not been without fine players, but their numbers have not been abundant. Buddy DeFranco, who by virtue of extending the instrument's technique to include the vocabulary of the post-swing and bop era, should have inherited the Goodman mantle. He has, to date, not had the commercial or popular success of Goodman, however. And the question nags: "Why not?"
DeFranco himself in a recent article in the New York Times by John Wilson thinks he knows why the instrument disappeared in the 40s. "It's a very difficult instrument on which to play modern jazz," he said. "Since the swing years, the dynamic intensity of bands has increased tremendously. For a clarinet to keep pace with a big band or with a rhythm section takes a lot of energy. It could take 20 years off your life. Young people get impatient," he continued. "They don't want to squeak for a year before they get something out of the horn. They want to pick up the guitar and be a star. They want instant satisfaction. We were willing to take our time." He also added that, "I took the time to learn to do it. It's hard. It's like playing bebop on the oboe." Clarinetist Bob Wilber believes that the post World War II era and the atomic age ushered in a preoccupation with energy. He views the clarinet as an instrument of subtle nuances; it has no place in an environment increasingly fulfilling the need for display of raw energy and power. Benny Goodman, when posed the question about clarinet heroes, acknowledged there are many proficient players on the scene but wondered how many great ones there are.
Things to Come
If the instrument's absence may in part be attributed to its technical obstacles and the pervasiveness of dynamic levels exceeding the threshold of pain, there appears to be a growing conviction that the clarinet is making a return in jazz circles. There may be a number of factors helping this resurgence. One is the slowly growing realization in our conservatories and schools of music that this music called jazz is not a separate and distinct musical phenomenon but is, in fact, a performing style like Baroque performance. As an example, it requires its own playing conventions, distinct tonalities, nuances and inflections. The players, both students and faculty, realized this first and the numbers of practitioners adept in both written and improvised performance grows each year. Then, too, the technique of the clarinet has been extended enormously in the last two decades. There exists a growing body of players skilled in playing early clarinet music on original instruments. There is an even stronger contingent concentrating on the performance of contemporary works incorporating expanded techniques. All this has pushed back the limits of what we previously thought possible from the clarinet as well as ourselves as players. These new directions have been translated by many players into greater tonal and technical flexibility — those qualities so necessary to jazz improvisation. For even though jazz is replete with conventions, good improvisation requires the instant and uninhibited translation of the intuitive message directly through the instrument. It may be that we have entered into a quieter time; a time when we recognize that our economic and material resources really are limited; a time of diminished regard for exaggerated displays of energy; a time when the charm of more subtle voices has a chance to be heard. Chamber music audiences and ensembles have grown exponentially in the last seven to ten years, and the popularity of the small jazz ensemble seems to be coming back — and it is the small group in which the clarinet perhaps finds itself most at home.
***
I don't know much history or insight into jazz clarinet playing. My interest in playing jazz was solely to impress a gorgeous tuba player! So, I couldn't claim to be an authority. However, I can make a comparison on the small surface in which I've scratched. Back then, it seems, the music was separated by race and gender. The struggle was, and still is, real! Clarinet was mostly a supporting instrument. Of course, you had your standouts like Sidney Bechet, George Lewis, Pete, Benny, and Artie, to name a few.
I'd like to think jazz clarinet has gained notoriety and respect; at least by me. LOL! When I was considering playing jazz on my clarinet, it seemed, the clarinet was the doubler's instrument, played by saxophonists (along with the flute) when a particular sound was needed. So that attention to detail that I worked so hard on as a classical player was not present. I really appreciated and respected what those guys did. However, I didn't want that for myself. In fact, I thought I'd have to change my embouchure and technique in order to play jazz. Turns out, I didn't! I just added my passion for melodies, and a few inflections, like smears and vibrato, and invented my own style, which I love and others love too!
I also think the internet, displaying how the clarinet is played in other cultures, as well as women playing the clarinet, helped raise our instrument to new heights and enthusiasm on both the jazz and world scene. We can access small tribes in other countries playing the clarinet. So, the world is much closer now, and people love it when they can see themselves and others represented in a positive light.
– (Dr. Queen) Doreen Ketchens
---
A Masterclass with Artie Shaw:
Through the Clarinet to Music
The interview with Artie Shaw (1910-2004) excerpted here was originally published in The Clarinet 12 no. 3 (Spring 1985).
as told to Henry Duckham by Artie Shaw
People have asked me where I've studied and I've said that all my life I've studied with the guy next to me. If I got with a band where I was the best in the band, I'd quit and go to a band where there was somebody who knew more. In my lectures I give my simple steps to becoming a genius: 1) Find yourself a genius. 2) Make friends with him. 3) Follow him around. 4) Watch everything he does. 5) Do it. Well, without knowing it that was my program.
When it really hit me was when I was 19 and I heard Firebird and Afternoon of a Fawn. I took those records home and began to realize you can learn music from those guys. I didn't know who "those guys'' were. I didn't make any distinction between what they did and what I was doing except that it was lots better, much more complicated, much more evolved.
When I began to hear Ravel's Alborado del Gracioso and Daphnis and Chloé, Stravinsky's Petroushka and Le Sacre and Debussy's La Mer — those were influences. Then I began to hear Satie and Bartók, and Schoenberg's Kammersymphonie and I began thinking in terms of art form. But here I was playing You are My Lucky Star and Is It True What They Say About Dixie? to make my living. My God?! And even though once in a while we'd play something fairly nice, I began to realize I was the wrong guy in the wrong place.
The point is I found myself selling soap and cigarettes and automobiles and that wasn't what I'd intended to do. But at that time where was there to go? There were no decent bands you could join, no working jazz bands. Casa Loma was around but that was not really much of a jazz band. So that by the time I was 23 I found myself pretty much at a dead end. Writing seemed to be the only thing I could do to get off that treadmill where I would be playing Is It True What They Say About Dixie? week after week for the rest of my life. …
I played with the CBS staff band and occasionally we joined forces with the CBS Symphony Orchestra under the direction of Harold Barlow. There were some very good musicians there at the time —Johnny Corigliano who later became concertmaster for the New York Philharmonic and Nicolai Berezowsky who wrote an excellent clarinet concerto among other things, who was probably one of the finest composers of that period. I don't know what's happened to his music but it's bound to come back; it's first-rate stuff. Anyway there were guys like that and also the clarinetist Daniel Bonade. What a player. Man, he was really something. I remember a luncheon many years later when Benny Goodman and I were talking about various things and he asked me what I thought about Reginald Kell. I said "too schmaltzy." What about Bellison? "Too much the other way — a little rigid." "Well, who do you like?" Benny finally asked. I said, "Dan Bonade. Bonade's my idea of the consummate clarinet player." He said, "Who's he? I don't know his work." I said, "Well, he's a Frenchman, a big burly guy and he plays beautifully; fluent technique, beautiful tone, tongue like a snake and he can do anything. His playing is lovely, truly." Well, Benny went on asking me about this guy and that guy until finally I said, "Benny, you're too hung up on the clarinet." He said, "What are you talking about, that's what we play isn't it?" I said, "No, I've been trying to play music." You know, I truly believe that's the first time he seriously ever had to consider the notion that the clarinet is a means, not an end. I don't think the realization lasted long because he went right back to the end again. Maybe it's that he doesn't have the ear or the proper kind of sensibility — it could be just that. Because the fact is that musical sensibility is everything. Without it, I don't care how fluent you are or how proficient. …
In the 30s and 40s people were making all the inevitable comparisons between Benny and me although I myself never saw any real reason for comparison. I mean we weren't aiming at the same thing. I noticed in your interview with him he studiously avoids mentioning my name, talks about other clarinetists as if I never existed. It's as though he wishes I were never there and if he avoids thinking about me I'll go away. Well, of course I did go away a long time ago when I finally quit the business in 1954.
You know, there is a Dryden line, He who lives to please, pleases to live. Fair enough but I didn't want to live to please, or vice versa. So eventually I had to get out. People ask me, "Do you miss it?" That's like asking a man who had to cut off his right arm because it was gangrenous if he misses it — obviously he does. But he didn't want to die. So I simply had to get out of the music business. And, of course, when a guy gives up several million dollars he has to have fairly compelling reasons. My compelling reason was I wanted to live, not die. It's that simple. I suppose that sounds awfully pat but it's true. I am convinced that if I had stayed in it, I'd be dead by now.
It's funny. I didn't think I'd done anything worthwhile. … I had a very screwed-up opinion of myself. In short, if I did it, it couldn't really be much good. I felt I was kidding people, that they were being taken in by me. Even at the peak of my success part of me kept saying, "Oh well, that's ok but I don't really value any of it." It's taken me all those years to come to the point where I finally know who I am. Along the way I lay on a couch for four years unlearning all the garbage that had been laid on me by my education, the culture and the society we live in. … But then gradually after some years of analysis it began to open up and I realized to some extent you make your own world. It's something you have to do. You can't expect miracles but you do what you can to make things a little better, for yourself anyway.
People are always asking me what mouthpiece I used. I never did know, I just hunted around until I found one that felt reasonably good. Then I would get a piece of emery paper and fool with it until I got it to where I wanted it. My upper register developed from playing in front of a strong brass section when microphones weren't very good and large speakers didn't exist. I couldn't compete with trumpets playing high Ds and E-flats so I had to play high Gs and As and Bs and even Cs to get above them. In most clarinet literature there's no reason for that. I decided though if were going to play up there it should sound like normal notes. I didn't see any reason for the tone to thin out. I worked at it until it came out. But I didn't work at it practicing in a room; I did it in front of my band. You know, you were playing in dance halls the size of Zeplin hangars. There was one microphone in front of the whole band. Today you see a wall full of speakers and everybody's got a mike up his nostril.
I've done a lot of thinking about why the clarinet fell out of favor. As a matter of fact they sent a guy over from Time magazine when I was living in Spain. He located me in an obscure little place that wasn't even on the map and asked me that very question. Time was asking Goodman, Woody Herman and me and I gave him a lot of speculative answers but they all boiled down to one or two sentences. The one that I still think is probably closest to the truth, but I can't swear it is the number one answer, is that it's harder than most instruments to make sound good in jazz. Very tough to play a lot of the chromatic chords you use in modern jazz.
Guitar, of course, is marvellous. You just move your fingers one fret up or down and you've got another key; piano too. The other thing I think is very important is that when I was playing we were living in a much more innocent era. Drugs were practically unheard of. But the beginning of the cool and bop eras right after the war coincided with the demise of the clarinet. It's interesting because about that time everything, including the language, became fuzzy. The word "like" crept into the language. "Like, man," "Like, cool," "like" "like" "like" — and the language became hazy and blurry. The clarinet, on the other hand, is a clear instrument. You can't be fuzzy on it. The clarinet's very precise; if you miss a note you get a squeak or a squawk. Trumpet, for instance, you can play in between the notes and get away with it. Flute has become a jazz instrument but you know it's not as precise or as good a jazz instrument as the clarinet.
***
As far as the evolution of jazz clarinet playing, there's a lot in common with every other type of instrumentalist in the sense that, post-Coltrane, one could argue that the most significant changes have been jazz going "electric" for quite a few years, which made it a little difficult for the clarinet (and flute, oboe, etc.) to really be able to cut above the band in this more "jazz fusion" setting. But I find that now jazz has absorbed so many different forms, I'm hearing many clarinetists incorporating elements of classical, folk, avant-garde, rock, and different musics from around the world into their playing—for one example, starting maybe a decade or so ago, it seemed that every other clarinetist was adding at least one Brazilian choro into their repertoire—and that goes along with a return to more acoustic jazz in the last couple of decades. Also, most jazz clarinetists now are technically fluid, great sight readers, and also not afraid to play jazz with a more "classical" sound (dark, round sounds, in tune, and even holding the instrument so there's not too much extraneous movement). And there's a definite uptick in the numbers of great jazz clarinetists coming up!
 – Ken Peplowski
***
What made me fall in love with the clarinet has to do with its special "powerful delicacy." It is probably because of this delicacy that it has not yet managed to become a mainstream voice of modern jazz. But the incredible breadth of its range of technical and expressive possibilities combined with the variety of stylistic fields in which it is used always guarantees its important and special role. In fact, today there are so many wonderful exponents of this instrument, and each of them brings a very personal look and a new sound to this world.
– Gabriele Mirabassi
***
What sticks out to me about articles on the clarinet in jazz after all these years is the focus on the American traditional jazz players, which are very important and big names like Goodman and Shaw, but there were a lot more around, and there is no mention of players in/from other countries and other jazz genres. I think enough has been written about the "old stuff"; we should focus on the "newer stuff." I would say the playing of the jazz clarinet in the last 50 years expanded towards adding new flavors like improvising with triads, upper structures of chords, free improvisation, avant-garde and new music, with squeaks, multiphonics, etc, so a merge between classical music and improvisation in general. Another important part is the whole world music thing, mixing folk elements from whatever country with jazz elements to find a unique symbiosis. And in recent years, playing odd meters and jazz without the element of "swing" has made its mark, where players are playing quintuplets and other groupings of notes. Nowadays with technology, microphones, and effect pedals, interdisciplinary projects and much more lead to limitless inspiration and possibilities.
– Simon Wyrsch
---
 An Interview with Benny Goodman
The following are excerpts from Henry Duckham's interview with Benny Goodman in The Clarinet 9 no. 4 (Summer 1982), four years before Goodman's passing in 1986.
by Henry Duckham
Clarinet: Well, I wanted to start off by asking about your teachers. I know you studied with Franz Schoepp, your first "classical" teacher. What kind of exercises did he start you with?
Goodman: Well, I guess it was the Baermann book and scales, and I used to play little duets with the student who was coming in.
Clarinet: And then you studied with Simeon Bellison?
Goodman: Yes, I did.
Clarinet: Do you recall your work with him?
Goodman: Well, I think he wound the reed with rope, you know, or string. He used to use a very hard reed. He wasn't a very mechanical-minded teacher in that sense. I don't think he knew very much about the mechanics of the instrument but concentrated on nuances, expressions and so forth. Not that I know a great deal about the mechanics myself.
Clarinet: But there are some people that are really into the technical aspects of the instrument. So he used a string ligature. He must have been in the German tradition.
Goodman: Well, he was, more or less. You know what I have here that you might be interested in. You know Langenus, whom I studied with, was quite a gentleman and a scholar. Well, his edition of the Baermann is still used. He wrote a little pamphlet on the clarinet, you know. There is an amusing statement in it. Although it was written over 50 years ago, Langenus states that "the reeds are not as good today as they used to be."
Clarinet: That aspect of clarinet playing never seems to change! He had that duck-billed mouthpiece didn't he?
Goodman: Yes, that was an RVS named after Robert Solanger. I still have one. It was made by someone out in California. He used to call it the Langenus model, I believe.
Clarinet: And then you worked with Reginald Kell. Did you try the double lip embouchure?
Goodman: Yes, I did. I sort of still go back to it once in a while.
Clarinet: It's a different feel.
Goodman: Yes it is. There are pros and cons about it and I guess there always will be. I don't know if it makes any difference at all. Langenus used to say it sort of set him off right to start with.
Clarinet: For beginning students?
Goodman: Well, no. For himself. He used to play that way and felt it put his embouchure in the correctly placed position. Then he said he could skip it. And I've skipped it many times too.
Clarinet: Did you play that way initially?
Goodman: No.
Clarinet: Well, they say that if you're a good single lip player there's really not much difference between the double lip and a single lip player because you are still using the upper lip properly.
Goodman: I wonder sometimes. I think if you're using single lip that you're bound to favor the lower lip mostly. That's my impression, anyway. You don't involve the sides of your upper lip.
Clarinet: Some critics of double lip seem to feel the double lip embouchure doesn't give quite the solidity the single lip does.
Goodman: Well, not if you get used to it. As a matter of fact, in a sense you have more strength really. It's perfect because the mouthpiece is evenly encompassed by both lips.
Clarinet: Getting back to Kell, there was a period that you were working on chamber music with him, wasn't there?
Goodman: Well, he was a great technician, you know. He knew a lot about the technique of the instrument. Probably a lot of people didn't agree with him. About using your fingers quite — well not strenuously — but precisely and putting them down very positively and hard on the clarinet. A lot of people believe in a light touch. Especially if you are playing an adagio or something like that, you know you just lift up one finger. Whereas Kell believed the softer you played, the more pressure you had to put on the key.
Clarinet: I see, so he advocated rather a positive kind of finger action under all conditions.
Goodman: Oh yes, absolutely.
Clarinet: In your very early stages were there people in the Chicago Symphony that you modeled your playing after?
Goodman: No. I didn't know anybody in the Symphony then.
Clarinet: But of course you heard the players like Noone and Bechet.
Goodman: Oh, yes. A lot of jazz players. Rappolo. "Buster" Bailey and Jimmy Noone. There was a fellow who played with Bix Beiderbecke, Jimmy Hartwell, too.
Clarinet: Teschmacher, was he playing then?
Goodman: Yes.
Clarinet: Did you hear Sidney Bechet?
Goodman: Oh, he was in New York. When I came to this city he had gone to Paris, I think.
Clarinet: Let me ask you a little about what your set-up is now, what equipment you are playing. What kind of a mouthpiece do you use, for instance?
…
Goodman: Well, let me see. I think I've got it here. It's a Howart.
Clarinet: Have you been playing on that long?
Goodman: Well, I have two sort of different lays you know. One is a short, closer lay and one is a little more open.
Clarinet: Do you use those for different kinds of work?
Goodman: Whatever works, yes. I think the key is really in practicing. I think one can find too many problems with the clarinet. I do think it's good to have one in good condition, however. I know myself, my clarinet must have needed some work because I was fussing with too many reeds. So I sent it to Moennig and he had to work on it for about seven hours. So there must have been something wrong. That can happen and you don't even realize it. You get used to it.
Clarinet: And I see you use Vandoren reeds. Number 2 strength pretty much, are they?
Goodman: Yes. Numbers don't seem to make much difference nowadays.
Clarinet: They vary so much. Have you ever tried a Morré reed?
Goodman: Yes. They're alright. They don't seem to work particularly well for me. I don't know why.
Clarinet: What about clarinets?
Goodman: Well, I've got a Selmer here that Moennig fixed up for me. The best Buffets are the ones that Moennig fixes. The way they come out of the regular production, they are not as good as they could be. I know this has happened to me, I don't know if it's true for all of them. As I said, Moennig fixed a Selmer clarinet for me. I think it's the first one he has ever done and that has worked pretty well.
Clarinet: I was going to also ask you about the Bartók Contrasts. There must have been an awful lot of rehearsing for that recording too.
Goodman: Yes, there was.
Clarinet: How did you manage it, because as I recall you were particularly active with your band during that period.
Goodman: I don't know how I found time to do it. I think I used to fly from California for rehearsals. It was a 23-hour flight then. I'd spend a couple of days rehearsing. I don't remember the schedule. I know there were a couple of flights entailed in that.
Clarinet: How was Bartók to work with?
Goodman: He was delightful. He seemed to like the combination of people, Szigeti and myself, and there were discussions about the piece — very low key. I remember one thing in particular. I think I said to him: "I'm going to have to have three hands for this particular phrase" and he said
"Approximate, you know, do something close to it." It was interesting, even though there are so-called difficulties —clarinet difficulties — in that piece, they are all very logical at the end, aren't they?
Clarinet: Yes, they are. Once you get it down it feels natural. The other players have to swing with you on the thing. It seems it's something you almost play by ear.
Goodman: Absolutely. You mean the interpretation.
Clarinet: Yes, and the ensemble.
Goodman: Yes. I think so. It takes a certain amount of doing. As far as the style is concerned, it's a very romantic piece in the end, isn't it? Well, I suppose that's true with any modern music in the end, or most modern, good music (should I say good?) or sustained music that has some kind of life to it.
Clarinet: …You had some involvement with bop, didn't you?
Goodman: It was a band, yes. Rather brief, I think.
Clarinet: When you first heard the people like Charlie Parker, Thelonious Monk and Dizzy Gillespie, what was your feeling about that?
Goodman: Well. I think although Charlie Parker was a great innovator, I never particularly liked the sound that he got. It kind of turned me off a little bit. Maybe there are certain sounds you get used to. You have to look beyond certain things, though.
Clarinet: You even made a recording with Fats Navarro, who was one of the legendary bop trumpet players.
Goodman: Yes. I think it was "Stealing Apples," Stan Hasselgard, wasn't he on that?
Clarinet: He might have been. I was going to ask you about Hasselgard. He was a very talented player.
Goodman: A very talented player.
Clarinet: Do you have any favorites as far as your own recordings go?
Goodman: You're talking about classical? I think in a sense I do, yes. Well, I don't have many classical records. I think I like the two Weber works I did with the Chicago Symphony Orchestra. (Concerto for Clarinet, No. 1, F minor opus 73 [1967], Concerto for Clarinet, No. 2, E-flat major, opus 74 [1968]. Both conducted by Jean Martinon.)
Clarinet: Was there one era of your career that felt particularly good to you?
Goodman: Well, I think one always has a good feeling about starting out. When I started my band and it had reached a certain stage, I think that, when we had our success at the Palomar Ballroom in Los Angeles and then came back to the Congress hotel in Chicago. I think that particular period was an exciting period.
***
When I was about 8 or 9 years old, my father, a classical saxophonist and music teacher who loves jazz, came home with that legendary 1938 recording of the Benny Goodman orchestra Live at Carnegie Hall. From that point on, frenetically I started transcribing those fantastic improvised solos, not only by Benny, but from Toots Mondelo, Harry James, Babe Russin, Ziggy Elman, and even Lionel Hampton and other members of "The King of Swing" aggregation. Time passed by, and soon after the bebop revolution developed in the mid-1940s, on the scene emerged the solitary figure of "that adventurous clarinetist who played Charlie Parker lines." His name was Buddy DeFranco, a dear member of our community, and a main influence on the development of many generations of modern clarinet players. But in my opinion, the colleague who contributed the most to a wider acceptance of our beloved instrument into the mainstream of contemporary jazz was Eddie Daniels and his exquisite 1986 LP Breakthrough, who encouraged myriads of musicians of all over the planet to bring the obscured "licorice stick" back to the jazz field. I am one of them!
– Paquito D'Rivera
---