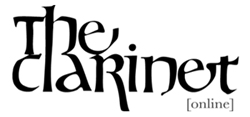 Originalmente publicado en inglés en The Clarinet 44/1 (diciembre 2016). Copias impresas de The Clarinet están disponibles para los miembros de ICA.
---
por Ricardo Dourado Freire
La revista The Clarinet y la International Clarinet Association (ICA) son modelos de organización y estructura de información para otros países. En este año, alguns clarinetistas brasileños organizaron una revista de clarinete para discutir la ejecución clarinetística, las carreras y el conocimiento acerca del instrumento. La Revista Clarineta presenta artículos, entrevistas y otras informaciones sobre le clarinete.
Marco Antonio Mazzini ha estado en esta columna otras veces. Él ha actuado como organizador de sociedades de clarinetistas como la ClariPeru y la Red Latinoamericana de Ensembles de Clarinetes (REDLEC) y de eventos clarinetísticos como el Congreso Latinoamericano de Clarinete y la Oficina Peruana de Clarinete. Mazzini, quien desarrolló carrera como solista en el clarinete bajo, participa con una entrevista especialmente para este número acerca de la revista The Clarinet.
Revista Clarineta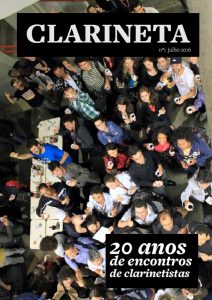 La Revista Clarineta fue lanzada en julio del 2016 como la primera revista brasileña de clarinete, en versión electrónica. Fue organizada por cuatro clarinetistas: Daniel Oliveira (Orquesta del Theatro São Pedro, São Paulo), Joel Luis Barbosa (Universidade Federal da Bahia), Luís A.E. Afonso-Montanha (Universidade de São Paulo) y Sergio Burgani (Universidade Estadual de São Paulo).
La primera edición presenta artículos por Vinicius de Sousa Fraga ("Ejecución del Clarinete y Elecciones de tiempo: una análisis de las grabaciones del Quinteto de Clarinetes de Mozart") y Herson Mendes Amorim ("La enseñanza del Clarinete en Belém do Pará, Brasil"). La invitada especial Meryelle Maciente ha escrito el artículo "Cuidando de músicos: Hábitos psicológicos Diarios para promover la salud y reducir ansiedad". El artículo del editorial está intitulado "Algo a celebrar: Veinte años de eventos clarietísticos en Brasil". Otras secciones incluyen una entrevista, en esta edición, "Una entrevista con Jose Botelho," y una sección para el clarinete bajo: "El córner del clarinete bajo: una carta de Henri Bok" y "Secretos del maestro Edmílson Nery." La sección de lanzamiento de CDs presenta: Velha Amizade por Nailor Proveta y Alessandro Penezzi; A música de Osvaldo Lacerda para Clarineta por Critiano Alves e invitados; Retrato das Américas, a Clarineta do Norte ao Sul por Ovanir Buosi y Horacio Gouveia, y Quintetos para Clarinete e Cordas por Luis Afonso Montanha y Ensemble, São Paulo.
La primera edición ya ha tenido un gran impacto entre los clarinetistas brasileños, con más de 10.000 vistas, en su sitio electrónico, en el primer mes. La revista ayudará a compartir informaciones y apoyar los mismos valores que ICA desea promover en el mundo.
Entrevista con Marco Antonio Mazzini – Solista de clarinete bajo de Peru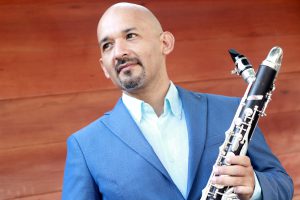 Mazzini se graduó en clarinete por el Conservatorio Nacional de Perú y recibió su masters del Ghent Conservatory, Bélgica. Además de ser el fundador de ClariPeru, desde 2011 ha estado trabajando como profesor de clarinete, música de cámara e historia de la música en la Pontificia Universidad Católica del Perú (PUCP) en Lima.
Ricardo Dourado Freire: Como és tu carrera como solista de clarinete bajo en Latinoamerica?
Marco Antonio Mazzini: Está creciendo mucho, y no solamente en Latinoamérica. En Perú he actuado como solista en clarinete bajo muchas veces, y últimamente Yo he tenido algunas apariciones en la televisión, lo que es muy motivador – pero también no muy usual para este clarinete grande que igual merece un lugar de destaque con otros instrumentos. Últimamente yo tengo tocado como clarinetista y clarinetista bajo también por Sudamérica y Centroamérica. Tengo el apoyo de la Facultad de Artes Performáticas de la Universidad Católica del Perú y, claro, que eso ayuda mucho. Me siento muy feliz en mi país!
RDF: Que piezas te han dedicado o te las has comisionado?
MAM: Hay muchas piezas que me han sido compuestas como solista de clarinete bajo y para mi Trio Thelema, de Bélgica (clarinete, saxofón y piano). Son entorno de 50 piezas hasta ahora que yo he hecho la premier. La más grande es el concierto para clarinete bajo llamada Concierto Silvestre del compositor peruano Rafael Junchaya, una pieza extraordinária la cual la he subido al escenario en este año.
RDF: El Concierto Silvestre es una pieza muy importante en tu carrera. Cuantas veces la has tocado y dónde?
MAM: Yo he comisionado el Concierto Silvestre en 2009. Hasta ahora he tenido el placer de tocar esta pieza maravillosa 22 veces en Perú, Argentina, Brasil, Guatemala, Bélgica, España, Chile, Costa Rica y, más recientemente, en Turquía. En Octubre de este año voy a hacer la premier en Sudáfrica. Me siento orgulloso de mostrar no solamente las posibilidades del clarinete bajo, pero la voz de compositores peruanos. Rafael Junchaya es un gran compositor – todos los clarinetistas deberían fijarse en sus Tres Danzas Episkenic para clarinete/clarinete bajo, tenor/barítono sax y piano. Que pieza divertida de tocar!
RDF: Tú has tocado muchas piezas contemporâneas antes, pero como este concierto te há impactado la carrera?
MAM: Yo creo que esta muy claro que Junchaya's Concerto tuvo y todavía tiene un gran impacto en mis actividades performáticas. La combinación de grandes melodías, armonías imprevisibles y grandes efectos la hace irresistible de tocársela. El tercer movimiento es una clara combinación del vals Venezolano y el Reggaeton, y le causa a la orquesta y al público danzar en sus sillas todas las veces!
Los planes para el futuro son comisionar un concierto para clarinete contrabajo y orquesta de cuerdas y restablecer el Kinsa Trio (clarinete, cello y piano), donde yo toco solamente música de Perú y Sudamérica. Puedes encontrar algunos videos en YouTube y escuchar piezas como "Vírgenes del Sol" y "El cóndor pasa", las cuales son una gran alternativa para el repertorio tradicional que todos tocamos con esa instrumentación.