Originally published in The Clarinet 46/4 (September 2019). Printed copies of The Clarinet are available for ICA members.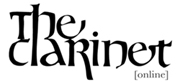 ---
Music Reviews: September 2019
STUDIES AND COLLECTIONS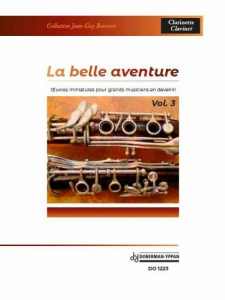 La belle aventure, Vols. 1–3. "Miniature works for great musicians in the making." Three volumes of short pieces by composers Michalis Andronikou, Simon Bertrand, Éric Champagne, Hope Lee, Robert Lemay, Jean Lesage and Bruce Mather, compiled by Jean-Guy Boisvert. Doberman-Yppan, 2018. Vol. 1: $9.00 PDF, $10.00 print; Vol. 2: $11.70 PDF, $13.00 print; Vol. 3: $11.70 PDF, $13.00 print
Clarinetist Jean-Guy Boisvert has made it his mission to promote works by fellow Canadians. To that end, he has commissioned nearly 20 composers to write close to 100 works for clarinetists between their first and sixth year of study –
a great idea to get students in the habit of discovery early. Five volumes of music are planned. The completed first three (beginner, intermediate and advanced) are devoted to solo clarinet works. The fourth will be clarinet duos and trios, and the fifth, works with piano.
The 10 pages of Volume 1 contain nine varied works by six composers. Yes, they may be beginner pieces in terms of notes on the page, but they have so much more than is usually associated with this level. While Italian is used for normal score markings, the suggestive titles are in either French or English, and special score directions are given in French. This is an education in itself as the young student will need to know that soufflé, for example, has several meanings. Attention to detail is the strength of these works. Composers demand observance of nuanced dynamics, tempo changes, subdivision, phrasing, myriad articulations and a panoply of general style considerations. The engaged student will be rewarded.
Whereas all of Volume 1 lies beneath the register break, Volume 2 crosses it, including a requisite piece with slurred ascending 12ths. The 10 pieces are either one or two pages in length and include mixed meter, accelerating trills, timbral trills, syncopation, proportional notation and small groups of notes with varied combinations of half and whole steps. If sudoku is good for the brain, so are these miniatures – the player will be challenged.
The works in Volume 3 are slightly longer and would challenge my university students. Boisvert has collected pieces that include techniques such as quotation/homage to The Rite of Spring, small aleatoric considerations, increasing rhythmic complexity due to rapidly changing subdivision and mixed meter, pulsing air effects and unabashed atonality.
These three volumes are unique in our pedagogical repertoire. If you are an adventurous teacher and passionate about contemporary composers, and you have a student up for the challenge, then by all means dive in. Boisvert has recorded 29 of the solo pieces on CD and several tracks are available on SoundCloud.
– Gregory Barrett
---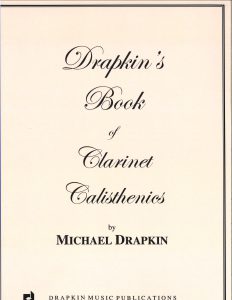 Michael Drapkin. Drapkin's Book of Clarinet Calisthenics. Drapkin Music Publications, 2018. $24.00
Michael Drapkin, famous for his volumes of bass clarinet orchestral excerpts, wrote Drapkin's Book of Clarinet Calisthenics as a technique-building device. As he explains in the foreword, a passing comment by Stanley Hasty on the importance of daily technique practice was the driving force behind his newest method book. Drapkin's book is a collection of three practice sessions that focus on technique acquisition and daily refinement of these skills.
Drapkin's Book of Clarinet Calisthenics is a 58-page collection of three sets of etudes extracted from the Langenus and Baermann methods. They are separated into groups of 15-, 30- and 60-minute practice sessions comprised of arpeggios, scales and staccato exercises. The etudes include some of our "greatest hits" for strengthening technique, including Langenus articulation and Baermann scale exercises. What makes this volume distinctive is the systematic order in which the etudes are arranged, the fixed time constraint for maximum efficiency, and the useful suggestions by Drapkin at the bottom of each page. At the beginning of each practice session, Drapkin offers a "symbology" of marks to prepare the player for the potential technical pitfalls of the coming exercise.
It's great to see the famous Langenus staccato etudes reprinted employing digital means and with such clarity. We are frequently passed down these etudes from an often-photocopied version, which over time can be blurry or contain markings that are not pertinent to our personal needs. Drapkin's collection is beautifully bound and logically presented, and provides a complete practice system or a well-organized point of departure for players to insert their own modifications.
– Osiris Molina
---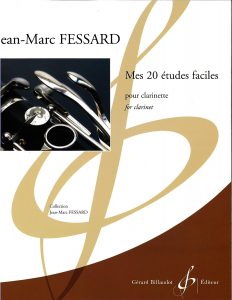 Jean-Marc Fessard. Mes 20 études faciles pour clarinette. Collection Jean-Marc Fessard. Gérard Billaudot Éditeur, 2018. €9.82
Renowned clarinetist Jean-Marc Fessard has recently published a batch of etudes for beginner clarinetists. These are in addition to his existing beginner's method and his treatise on the evolution of the clarinet. Etudes that we have been waiting for, that is! Fessard's 20 short etudes close the gap between several other major etude books.
Each of our major commonly used teaching methods is centered around certain aspects of playing, such as mastering all major and minor keys following the circle of fifths (Rubank, Baermann, Klosé), tone production (Kelly Burke), ergonomics of the hand (Balassa and Berkes), articulation (Robert Stark), or isolating hand and musical concepts (Paul Jeanjean). Maître Fessard's 20 études faciles seem to feature a little bit of everything, which is not easy to attain for the beginning level. Leaning towards the French tradition, the exercises feature beautiful horizontal lines as well as passages that clearly train either the left or the right hand. Additionally, each piece is made up of motifs that can be considered as short one- or two-measure learning modules. This breaking up of materials in small increments is cleverly done and will be helpful to each student's learning.
Every etude shows an Italian mood marking and a suggested metronome setting. There are several meters (compounds of two and three) and dynamic indications, as well as different keys with very few or no accidentals. A knowledgeable pedagogue, Fessard has avoided the extreme altissimo register and has narrowed articulation choices to simply either slurring or tonguing of notes. These two limitations allow students to focus on the tasks at hand and on developing good tone and musicality, without having to worry about high notes or elaborate tonguing concepts. Fessard's etudes will be a great enrichment for students and for teachers due to their wonderful pedagogical and artistic perspective.
– Barbara Heilmair
---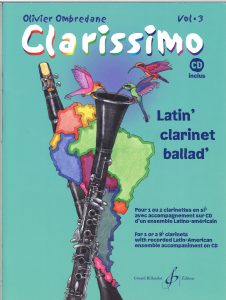 Olivier Ombredane. Clarissimo: Latin Clarinet Ballad Volume 3, for one or two B-flat clarinets with recorded Latin-American ensemble accompaniment CD. Gérard Billaudot Éditeur, 2018. $40.99
Olivier Ombredane offers the clarinet community valuable master classes in Latin-American and Caribbean music through his three-volume series of Clarissimo compositions. This, the third volume, involves the most complexity, particularly with regard to rhythm and accent patterns. Ombredane takes his inspiration for these compositions from such varied traditions as the Chilean cueca, the Venezuelan merengue and joropo, Sant-Domingue's bachata, the Brazilian choro, bossa nova and samba, the Peruvian lando, the Argentine chamama and the Cuban bolero.
Ombredane designs the 10 compositions in volume three to be played by either one or two B-flat clarinets with the accompanying CD. The works on the CD are expertly performed by an ensemble that includes Ombredane (piano, percussion) and clarinetist Jean-François Verdier, providing an authentic reference for each of the distinct styles presented in the scores. In his foreword, Ombredane gives pedagogical advice for mastery of the stylistic character, including clapping exercises, memorization, foot-tapping and improvisatory (or free) articulation. The scores themselves provide an introductory rhythmic reference for each style as well as lucid and well-proportioned notation, complete with chord changes.
– Matthew Nelson
---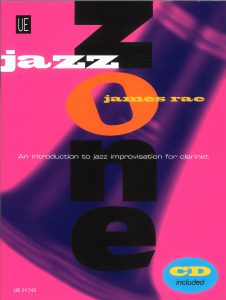 James Rae. Jazz Zone: An Introduction to Jazz Improvisation for Clarinet. Universal Edition, 2000. $24.95
This publication integrates a clear sequential method for beginning jazz improvisation on the clarinet with a practical, hands-on approach that encourages the student to use their ears as they play along with a piano, bass, keyboard rhythm section accompaniment and sample recordings. The audio samples are professionally recorded by experienced professional jazz musicians, giving authentic examples of style, rhythm and improvisation for the student to model. The concise and informative written explanations are followed by musical exercises in the form of one-page songs. Each song is followed by a scale and a set of rhythms specific to that particular song. I particularly like the approach of dividing the chapters into the large categories of Rhythm and Melodic Improvisation, with Rhythm being the primary focus at the start of this method. This approach allows the student to develop a foundation of how to play within varied rhythmic "feels" so as to learn to apply these styles to the melodies learned later in the method. The Rhythm chapters explore both swing and even (straight) eighth-note styles. The Melodic chapters focus on pentatonic scales, reading chords and chord symbols, the blues scale, twelve–bar blues, passing notes, minor blues and a more elaborate twelve-bar blues. These works are short enough to allow a teacher to introduce improvisation to a student in a lesson without having to use the entire lesson on the subject. No single publication or method can be considered the "best" introduction to learning to improvise in a jazz style, but this method is one of the best that I have found. It approaches the subject in a sequential manner, is written by a person who is experienced in performing and teaching this style of music, and it approaches the subject in a methodical and limited way so as to allow the student little successes as they progress through the method. Jazz Zone can be used with varied levels of students as it focuses on introducing jazz styles rather than on the fundamentals of playing the instrument. I recommend this for high school and early college clarinet students who want to learn about jazz improvisation. Younger students can benefit from the method, though some of the theoretical concepts may need further explanation.
– John Cipolla
---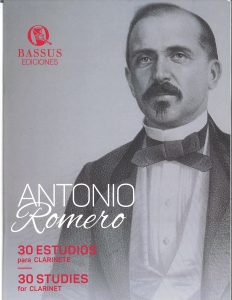 Antonio Romero. 30 Studies for Clarinet. Edited by Pedro Rubio. Bassus Edicione, 2018. $14.95
At the 2015 ClarinetFest® in Madrid, the Spanish clarinetist, composer, and instrument designer Antonio Romero y Andía (1815-1886) was the focal point of the conference. His lasting influence on Spanish clarinet history cannot be overstated and his clarinet Method of 1845-46 is still in print and in use today.
Modeled after etudes from Iwan Müller's Method, Romero's 30 Studies, extracted from the 1886 third edition of his own Method, are 24 studies in all keys, plus two etudes each on turns, trills and mordents. Romero's studies were composed to show the versatility of the 13-key clarinet, the state of the art in clarinet design at that time. In many ways, these studies form a backbone of chromatic literature reminiscent of Bach's Well-Tempered Clavier. Rubio's biography on Romero, his preface on the Romero Method and the 30 Studies are well researched and historically interesting. Rubio's contributions to Spanish clarinet and pedagogy are substantial, and this volume is useful, filling a hole in the repertoire that is similar to his low-C bass clarinet etude book.
Each study is one page in length, with an emphasis on finger technique and facile articulation. These studies are appropriate for advanced high school players or college undergraduates, necessitating a strong command of the altissimo register. Rubio's editorial choices and articulations are logical, challenging and stylistically appropriate. The quality of the printing is excellent, the typeset is very clear, and the paper is glossy and of fine quality. Romero's studies are affordable, edited intelligently and beneficial to burgeoning clarinetists.
– Osiris Molina
---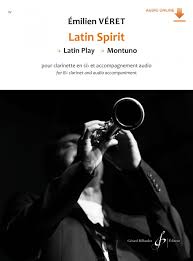 Émilien Véret. Latin Spirit. Gérard Billaudot Éditeur, 2018. €12.57
This collection contains two original compositions, Latin Play and Montuno, written for clarinet with accompanying keyboard and percussion audio in a Latin American style. Each work is presented in three levels of difficulty. The book comes with access to audio accompaniments that can be either downloaded or played directly from the media player on the Billaudot website. The composer emphasizes the importance of learning these works by listening to the audio accompaniment numerous times while reading the music, focusing particular attention on phrasing, articulation and rhythmic placement and then ultimately working towards learning to play the compositions by ear. The audio accompaniment tracks are well-recorded, providing an excellent rhythmic and stylistic foundation upon which the
player can learn the melody lines printed in the book.
The three levels of difficulty for each song gradually expand ranges and increase the complexity of rhythms. The third version of Montuno contains a section that allows the player to improvise over the recorded accompaniment based upon the given chord symbols and the prior rhythmic examples provided earlier in the song.
Overall, this collection is a very well-planned introduction to Latin American rhythms that will not only help a player to learn these rhythms and styles, but can also serve to build skills in counting more traditional rhythms found in Western classical music. Level of difficulty spans from high school to early college.
– John Cipolla
---
SOLO CLARINET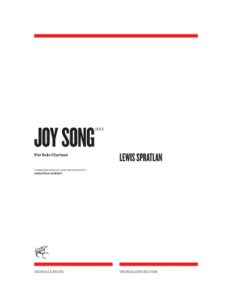 Lewis Spratlan. Joy Song for solo clarinet. Oxingale Music, 2013. $20.00
Pulitzer Prize-winning composer Lewis Spratlan's Joy Song (2013) provides seven minutes of musical optimism as it ruminates on various aspects of joy. Spratlan (b. 1940) labels the piece's four short sections "Joyful," "Grazioso," "Lazy" and "Giddy," and as the composer notes, these sections mirror "one traditional four-movement design used in 18th– and 19th-century sonata-style pieces: Allegro, Scherzo, Andante and Finale, but in extreme miniature." Bright and energetic, the "Joyful" section of the piece employs fast syncopation, expansive ascending figures and bluesy harmonies. Its exuberance contrasts with the cheeky and cute "Grazioso" which, though it contains large interval leaps and syncopated trills, seems appropriately grounded after "Joyful." The third section, "Lazy," offers contented legato images in a slow triple time, where harmony changes gradually and tends toward a peaceful tonal center. From the silence left behind, "Giddy," the final section, vaults into a fast compound meter, requiring the clarinetist to navigate athletic interval leaps, rapid articulations and effervescent passagework.
Joy Song should appeal to a wide range of advanced performers and audiences. The piece employs no extended techniques, and the range does not extend above altissimo G. Yet the rhythmic and technical challenges will keep performers engaged, providing virtuosic flair under the umbrella of a friendly harmonic scheme.
Clarinetist Jonathan Aubrey commissioned Joy Song, premiering the work at the Etihad Modern Art Gallery in Abu Dhabi on June 13, 2015.
– Matthew Nelson
---
CLARINET AND PIANO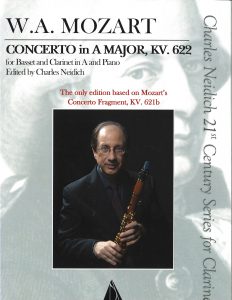 Wolfgang Amadeus Mozart. Concerto in A Major, K. 622 for clarinet or basset clarinet in A and piano. Edited by Charles Neidich. Lauren Keiser Music Publishing, 2018. $24.95
When it comes to sheet music, it could be said there are two types of musicians: those who simply play what's put in front of them, and those interested in considering the variants, willing to take time to study the sources and develop their own version of a given piece of music. Taking the latter approach, as Charles Neidich does in this new edition, bears complex and interesting results. Neidich has obviously thought a great deal about the work and expresses a clear opinion on how these variants should be incorporated into performance. He also understands the underpinnings of the Classical style, essential to a successful performance. For example, it comes as a relief to read the words, "the slur generally had the implication of diminuendo." Not to mention, he affirms the importance of the appoggiatura in Classical period expression, and starting most trills from the upper note. And how often is a clarinetist encouraged to study the treatise on playing the violin by Mozart's father? Quotes from Leopold Mozart – describing, for example, the messa di voce –
define an essential element of expression in the period, and perhaps help to explain why this effect, rather than vibrato, might be the key to expressive sound production. Throughout the part, Neidich offers suggestions for dynamics and articulation, clearly marked as editorial.
The subject of ornamentation in Mozart's music is a difficult one, and within parameters derived from period source material, it is largely a question of taste. And while Neidich, for example, encourages the player to decorate the return of theme in the Adagio movement, it is slightly surprising that the repetition of a phrase is not included as another typical candidate for decoration – for example measures 115-123 in the first movement, and for that matter, measures 172-180, especially given that Neidich takes advantage of these in his recordings. (Somewhat curiously, he quotes from Leonard Ratner's excellent Classic Music, who advises against ornamenting this particular "Adagio.")
Mozart composed K. 622 for basset clarinet in A, which is reflected in the part for a conventional clarinet in A also provided in this edition. (Parts for both instruments are included as well as a piano reduction.) The more obvious spots where the composer probably meant for the clarinet to sound an octave lower are given, along with variants. In the first movement, it again comes as a relief to see measures 145-147 at the octave Mozart intended (we know this from the composer's 199-bar sketch of the first movement, K. 621b), as well as other spots where transposing down an octave might best be accomplished. In a few places a blank bar has been left to encourage the player to fill in their own "solution," since after all there is a great deal we do not know for certain; again, there is no autograph and it is therefore impossible to know exactly where Mozart would have descended to the "basset" notes.
The format for the clarinet parts is slightly unusual; asterisks are sprinkled liberally through the parts linked to footnotes which allow the editor to discuss a variety of topics such as articulation, ornamentation, dynamics, accentuation, melodic variants and harmony. There are 49 notes for the first movement alone, linked to five-and-a-half pages of elucidation and reference to period sources: the incomplete autograph in G (K. 621b), early editions and a period arrangement for piano quintet by Schwenke. (Neidich is dismissive of the period arrangements for viola and for flute.) This makes the text a valuable resource for exploring the myriad aspects of performing this work – a "must" for any clarinetist interested in a variant or two.
Nota bene; Jonathan Cohler has just published his version of K. 622 for Presser, similarly with parts for basset clarinet and conventional clarinet, including new "solutions" to the text. Such abundance!
– Eric Hoeprich
---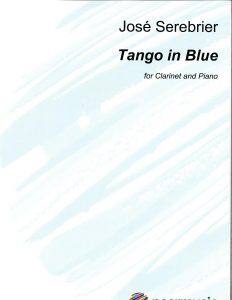 José Serebrier. Tango in Blue for clarinet and piano. Peermusic Classical, 2018. $12.95
José Serebrier (b. 1938), an Uruguayan conductor and composer, was educated at the University of Minnesota and the Juilliard School of Music. He is one of the most recorded conductors of his generation. His conducting career is amazing; at the age of 21 he became Leopold Stokowski's associate conductor at the New York Philharmonic, a post he held for five years. Following that, he became the composer-in-residence for the Cleveland Orchestra through an invitation from George Szell. He has received 45 Grammy nominations and eight Grammy awards, and has recorded with numerous orchestras.
As a composer, Serebrier has won most of the important awards in the United States, including two Guggenheim Fellowships. At 19 he was the youngest fellowship recipient of that foundation's history. He has composed more than 100 works including several symphonies.
The composer writes that "Tango in Blue was written during the long overnight flight from New York to Montevideo." (He was en route to conduct the National Orchestra of Uruguay for their 75th anniversary concert and he intended to present them this piece as a gift). He continues that the first four notes of Tango in Blue are a direct quote from the final four notes from his Symphony No. 2. Tango in Blue was so successful that his publisher requested that he write several versions; hence, he produced versions for violin, orchestra, string quartet, saxophone quartet, flute and this version for clarinet and piano.
The work begins with a brief introduction and soon the characteristic rhythm of a tango becomes apparent. This first section is marked Allegro comodo, tempo di Tango and is intended to be relaxed (rubato). This is followed by a Tempo I section with a strict tango rhythm in G minor. The clarinet plays lyrical lines. Midway through this section, the key changes to D major. The tempo slows (subito meno mosso) and the clarinet part is marked passionato, sensual which allows the performer to play with more emotion. Then an accelerando leads back to a repeat of this entire second section. The piece ends with a brief coda marked Poco piu lento e lantano, dolente. Here the clarinet and piano have a glissando down to a strong "thump!" to end the piece.
The clarinet and piano parts are not difficult. The music is marked carefully and the scores are easy to read. It should be a fun piece to play! Tango in Blue would also make an attractive encore for any clarinet recital.
– Robert Chesebro
---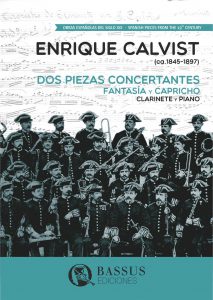 Enrique Calvist. Dos piezas concertantes: Fantasía y capricho for clarinet and piano. Arranged for clarinet and piano by Pedro Rubio and Ana Benavides. Bassus Ediciones Musicales, 2013. €14.56
The Madrid clarinet professor Pedro Rubio Olivares and his duo partner, pianist Ana Benavides González, have provided us with a fascinating volume of Romantic clarinet music from Spain. The edition features two concert pieces that are part of the series "Spanish Pieces from the 19th Century." Written in the years between 1890 and 1896, Calvist may have composed the two pieces as audition pieces for entering a local wind band. Seen with our contemporary eyes, they make beautiful intermediate recital or study repertoire, or could serve as helpful material in preparation for playing Carl Maria von Weber's works for clarinet.
Both the Fantasia and the Capricho show patterns of tonal scales and arpeggios, featuring a variety of colorful sections within a through-composed structure. Weber's works had been spread across Europe by the traveling virtuoso Heinrich Baermann by the early 1800s, and we can detect an influence on Calvist's 1890s works. The last section in the Capricho even features a "Tempo de Polaca" marking – a strong link to Weber's "Alla Pollaca" movement in his Clarinet Concerto No. 2, Op. 74.
Calvist's two pieces were originally written for clarinet and wind band and are now made available with a piano reduction for the first time. The score and parts are full of performance indications that will be helpful to performers. Pianists, especially students, will appreciate the fingering indications that Benavides has meticulously added. Furthermore, this edition is the outcome of impressive scholarly work. Pedro Rubio and Ana Benavides have included an editorial report with in-depth information on their approach, sources and previous research. There is also a short article by another scholar (Angel Lluis Ferrando Morales), that provides further context about Calvist's life and work. Overall, the introductory text points towards the possibilities of further research on Calvist who was an important figure in Spain as clarinet virtuoso, composer, wind band director and educator.
– Barbara Heilmair
---
MIXED CHAMBER ENSEMBLES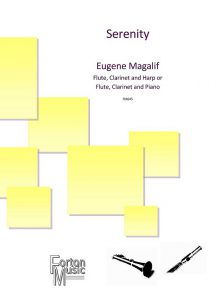 Eugene Magalif. Serenity for flute, clarinet, and harp or piano. Forton Music, 2017. £7.50 PDF, £10.00 print
U.S. composer, pianist and educator Eugene Magalif became well-known in his native Belarus for pop songs and music for children. He uses this accessible style in the trio version of Serenity, which also exists in editions for clarinet or other solo instrument with piano. This 4/4 ballad is just under four minutes, has equal easy-intermediate parts for all three performers and features dovetailing short motives against a steady chordal accompaniment. The sound is of soft diatonic clusters and light syncopation. The title fits.
– Gregory Barrett
---
CLARINET DUOS AND ENSEMBLES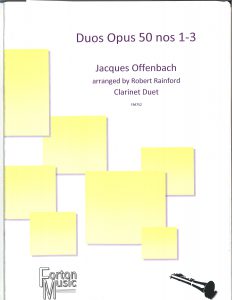 Jacques Offenbach. Duos, Op. 50, Nos. 1-3. Arranged by Robert Rainford. Forton Music, 2018. $18.95
Robert Rainford is a freelance musician and teacher living in England where he is a member of the National Flute Orchestra, Preston Flute Group and Casual Sax Quartet. This arrangement for two B-flat clarinets contains three of the six Duos for Two Cellos, Op. 50, by Jacques Offenbach. Each duo contains multiple movements. Rainford transposed the duos into clarinet-friendly keys and added dynamics and articulations. Due to Offenbach's relatively simple and straightforward writing (mainly limited to half, quarter, and eighth notes), these duets are very approachable for intermediate middle or high-school aged clarinetists.
– Zachary Dierickx
---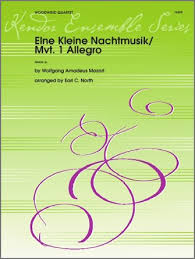 Wolfgang Amadeus Mozart. Eine Kleine Nachtmusik, Mvt. I, Allegro. Arranged for clarinet trio by Frank J. Halferty. Kendor Music, 2018. $12.95
Arranged for three B-flat clarinets playing in G major, this easy-medium arrangement includes notes to altissimo D in the first clarinet, clear marking of slurs, staccato, and sf accents as well as piano and forte sections. Score and parts are easy to read with slightly oversized notation. Reminds me of ice cream and clarinet ensemble reading sessions at my private teacher's house in middle school.
– Gregory Barrett
---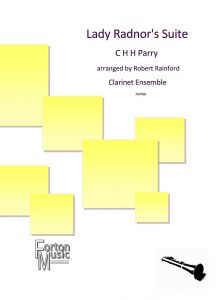 Charles Hubert Hastings Parry. Lady Radnor's Suite. Arranged for clarinet ensemble by Robert Rainford. Forton Music, 2018. £16.50 PDF, £22.00 print
Experienced arranger Robert Rainford has made a practical edition, with just the right amount of tongued versus slurred notes, in this six movement, Victorian-era neo-Baroque suite. Originally for strings in F major, Rainford's version requires E-flat clarinet, four B-flat clarinets, alto clarinet or optional fifth B-flat clarinet, bass clarinet and optional contra-alto and contrabass clarinets. He writes for B-flat clarinets in G major making it possible for a unique clarinet ensemble/string ensemble collaboration. Engaging contrapuntal Baroque trappings are a feature of each movement: "Prelude," "Allemande," "Sarabande," "Bourrée," "Slow Minuet" and "Gigue." Parry influenced composers Frank Bridge, Gustav Holst, John Ireland, Ralph Vaughan Williams and Edward Elgar. You may detect style elements of these composers, such as consecutive falling sevenths à la Elgar, in Parry's marriage of the Baroque and Victorian eras. Highly recommended.
– Gregory Barrett
---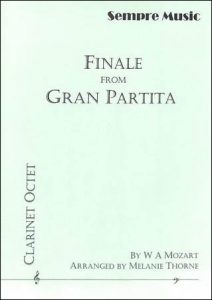 Wolfgang Amadeus Mozart. Finale from Gran Partita. Arranged for clarinet octet by Melanie Thorne. Sempre Music, 2018. $32.50
The original sounding key of B-flat major is retained, as are all repeats and Mozart's melodic charm. The ensemble needed is E-flat clarinet, four B-flat clarinets, alto clarinet or optional fifth B-flat clarinet, and two bass clarinets. Downbeat appoggiaturas are written as 16th notes. I recommend adding more slurs to the 16th-note passages where they are customary. Perhaps to compensate for the sameness of instruments compared to Mozart's mixed ensemble, Thorne has opted to mark some usually played forte passages piano. No extended low-range bass notes are written for the bass clarinets, but if you have a low C instrument, experiment with adding the lowest octave at times.
– Gregory Barrett
---