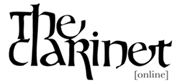 Originally published in The Clarinet 49/4 (September 2022).
Printed copies of The Clarinet are available for ICA members.
---
Music Reviews
September 2022
---
MUSIC
Orchestral Excerpts
Mara Plotkin and Steven D. Hartman, The Ballet Orchestra Clarinetist, Vol. 2. Northeastern Music Publications, 2021. $42.00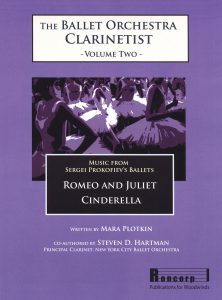 Clarinetists have been fortunate to have had Daniel Bonade, Peter Hadcock, Michael Drapkin and Ben Armato, among others, to assemble various orchestral excerpt books. These collections have contributed immeasurable assistance to learning the wealth of music for clarinet from the symphonic and operatic repertoires, and they have also provided small selections of ballet excerpts for the clarinet. However, until recently, there has been no sizeable publication specifically concerning ballet excerpts for the instrument. We now have Mara Plotkin and Steven D. Hartman to thank for ameliorating this situation. Plotkin and Hartman initially contributed Vol. 1 of The Ballet Orchestra Clarinetist, reviewed previously in this space by Gregory Barrett. That compilation features important extracts from Pyotr Ilyich Tchaikovsky's three staples of the ballet repertoire, Swan Lake, Sleeping Beauty and The Nutcracker. To round out the task of supplying major ballet excerpts for clarinet, Volume 2 comprises excerpts from Sergei Prokofiev's ballets Romeo and Juliet and Cinderella.
After a brief introduction, the authors present historical information on these two ballets, followed by excerpts from significant solos and other important passages for clarinets in BÌ, A and EÌ. As with the earlier volume, alongside the passages are performance suggestions for breathing, phrasing, articulation, dynamics, tempo, technique, fingerings and interpretation. These recommendations are provided in the text; the excerpts themselves retain the original stylistic indications of the composer. The authors similarly point out potential intonation and balance issues, and they discuss the action on stage at given moments in each ballet. Occasionally the authors have also furnished transposed passages, with the suggestion that a particular phrase might be better performed on a different clarinet. At times, excerpts from the parts of other instruments are indicated, in score form, to demonstrate how the clarinet parts fit with those of the other members of the orchestra. Other times, the authors discuss issues of texture and orchestration. Finally, they periodically propose useful practice techniques and approaches for individual phrases, and they explain differences in performing a passage in an audition versus with an orchestra. The musical notation in the volume is easy to read, and the text is straightforward and concise. In sum, the collection is essential for any clarinetist serious about playing in a ballet pit orchestra.
– Lacey Golaszewski
---
 Works for One or Two Clarinets
Claude Crousier. Songes: 5 piéces pour clarinette seule. Gérard Billaudot Éditeur, 2021. €11.48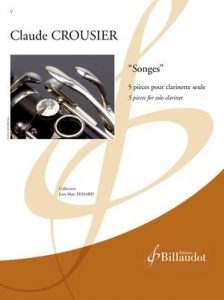 Songes: 5 piéces pour clarinette seule is a recently published work by clarinetist, composer and pedagogue Claude Crousier. The preface to the work explains that the composer has imagined a scenario in which several historical composers have written works for solo clarinet as they might have if it had been en vogue during their lifetimes. These pieces can be performed as one large work of about 24 minutes or as individual solos (timings included for each). Each Songe (dream) references style elements and musical forms from the past composer's day, but definitely brings wit and harmony from the 21st century. The first piece is a Menuet inspired by Mozart, which certainly strays from tradition in the choice of keys. This is followed by a slow, romantic songeur imagined from Beethoven and a fiery Spanish dance that references Albéniz. The fourth Songe is a rhapsody with heavy influence from the themes and style of Debussy's Première rhapsodie but is not quite so challenging. Finally, Crousier imagines that were Bach to write for solo clarinet today, he would write a fun and challenging tango. Songes is printed clearly and is appropriate for advanced students. Each piece would be fun for any recitalist looking to work outside traditional repertoire without straying too far.
– Madelyn Moore
---
Robert S. Cohen. Variants for B-flat clarinet and bass clarinet. Leapfrog Productions, 2022. www.robertscohen.com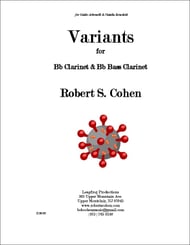 The combination of clarinet and bass clarinet playing together is such a rich and effective pairing of instruments, it's no wonder many composers and arrangers have created great music for this partnership. From the orchestral palette of Stravinsky (Le Sacre du printemps) to the quirky George Martin arrangement of the Beatles (When I'm 64). In recent times, composers have also been writing for these instruments in chamber music and as a compelling duo combination. This new work by Robert Cohen, dedicated to Guido Arbonelli and Natalia Benedetti, is a welcome addition to the oeuvre.
The context and inspiration for the music is highly topical based on the COVID-19 pandemic. From the score, here are the composer's notes and introduction to the work:
This work is my musical interpretation of my feelings surrounding the Covid 19 pandemic.
Alpha – dread of the coming pandemic.
Delta – panic over the worst of the variants.
Omicron – sadness and sense ofloss even though the new variant is less lethal.
Zeta – an imaginary final cold-like variant that allows us to exuberantly resume a normal life.
The work is approximately 12 minutes in total, but it could also work effectively as individual movements in a duo recital. It is a technically challenging work that would work well for both college majors and professionals alike. It doesn't involve the use of advanced contemporary techniques but does draw on the flexibility and fluidity of both instruments. The composer makes effective use of the extended low register notes of the bass clarinet (requiring a low C instrument). While the title and context of the piece is somewhat ominous, the work itself is colorful, varied and fun to play. I particularly enjoyed the instruction for the last movement, "Spirito con ironia e sarcasm."
Take that, COVID!
– Paul Roe
---
Works for Clarinet and Piano
Luis Barroso. Sonatina for Clarinet and Piano. Samek Music, 2021. Paper: £12.95, Digital download: £7.50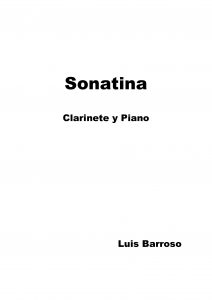 This short and sweet Sonatina for Clarinet and Piano by Luis Barroso is a charming and energetic new work. The Sonatina was composed between 2020 and 2021 and has three movements: "Animate," "Andante" and "Presto."
The "Animate" is energetic and syncopated. The clarinet and piano are equal voices and closely interlinked as the music shifts through duple and triple meter. The scalar flourishes, octave leaps and syncopated forays into the altissimo are all idiomatic to the clarinet and contribute to the flair and appeal of the movement.
In the "Andante," Barroso writes longer melodic lines but harkens back to the energy of the opening with 32nd-note and sextuplet gestures. These quick bursts heighten the drama and passion of the movement. The pianist is challenged as well as the two voices trade off the operatic melody and a swirling accompaniment containing rapid scalar passages and quick arpeggiations.
The final movement, "Presto," is more direct and biting with syncopated 16ths and sharp grace notes across the clarinet's range. A brief lull in the middle is short-lived as the music quickly ramps up and accelerates to a blistering finale.
The Sonatina for Clarinet and Piano by Barroso is a challenging and intriguing new work. The tricky technique, close collaboration and memorable melodies are sure to make this an audience favorite.
– Zachary Dierickx
---
Amy Beach. Three Compositions, Op. 40. Transcribed for clarinet or bass clarinet and piano by David Cook. Alea Publishing, 2022. PDF or hard copy $20.00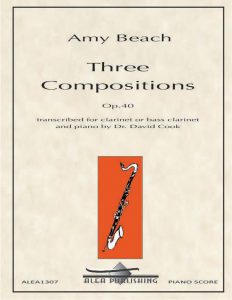 American composer and pianist Amy Beach originally created her Three Compositions, Op. 40, for violin and piano in 1898. She then followed this with a version featuring cello and piano five years later. The work is romantic in style, primarily homophonic in texture and rich in harmony. Its first movement, "La Captive," wanders meditatively, featuring melodies principally in the lower register of the solo instrument, while the second movement, "Berceuse (Lullaby)," is lighter in feel, higher in tessitura, and brighter in tempo. By contrast, the solo part for the concluding movement, "Mazurka," encompasses a much larger range and leaps about energetically.
David Cook has recently transcribed this work by Beach such that it reflects both the violin and cello versions, with parts for clarinet and bass clarinet respectively. His piano score, which includes the clarinet part notated in C, remains the same for both versions. In his transcription, Cook has honored the small modifications that Beach has made for artistic and technical motivations in the cello version. He has added his own editorial suggestions, indicated with dotted lines to differentiate them from the original notation, and he has included a change from written G-sharp major to written A-flat major for the bass clarinet to render the part more legible. The clarinet part, in B-flat with alternate A clarinet version for the second and third movements, generally fits comfortably within the range of the clarinet, only occasionally venturing up to an E above the staff. As such, the transcription would be well-suited for a strong intermediate-level performer, although it could benefit from some added slurs in the final page of the last movement, to ease an extended stretch of articulated eighth notes. At the same time, although the bass clarinet part is essentially the same as the clarinet part, only sounding an octave lower, it is more taxing to perform, in that much of the piece sits in the clarion register, and some of the music ventures into the altissimo. While this would be no issue for an advanced player, it would prove challenging for an intermediate student in ways in which the clarinet part would not. This is doubly so regarding the staccato articulation that has been added to the bass clarinet part in the clarion register of the third movement.
Broadly speaking, all the parts are spiral bound, and the music is clear, large, and easy to read. The only exception is the first page of the bass clarinet part, in which one wishes that the notes had been spaced out more to take advantage of the abundance of white space on the page. Moreover, while the clarinet and bass clarinet parts contain no awkward page turns, the piano part would likely require a page turner. Nevertheless, the 9-minute collection is charming and would make a lovely addition to a clarinetist's library, particularly for a performer searching for a relatively short, harmonically lush, 19th-century recital work.
– Lacey Golaszewski
---
Alberto Caputo. Clarinet Encore for clarinet and piano. Edizioni Eufonia, 2022. €16.00
Alberto Caputo, a young Italian award-winning composer, conductor and producer, has written a short, fast and sweet encore for fellow Palermitano Alessio Vicario who is principal clarinet at the famous opera house Teatro Massimo. Reflecting Caputo's activities as a band director, there is a version of Clarinet Encore with band accompaniment also available from Edizioni Eufonia.
This 3 ½-minute work is at the advanced level due to the fast (quarter = 150) speed of the outer sections and a few ascents to altissimo A. Beginning and ending in dramatic C minor, the music is marked by rapid 16th notes, engaging syncopation, harmonic sequences and enough long notes to let the clarinet sing. The slow middle section briefly orients to AÌ major, leading to a medium-length cadenza for the soloist before the allegro returns for a 41-bar gallop to the finish.
– Gregory Barrett
---
Phillippe Laye. Klezmer, Gipsy and Armenian Music, books 1 and 2. Editions Robert Martin, 2020. $28.98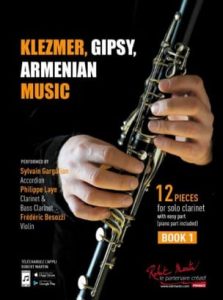 French clarinetist Phillipe Laye has compiled and published two enjoyable and educational volumes of popular Eastern European folk music taken from his own experience as a performer and pedagogue. Book 1 consists of 12 pieces organized by culture of origin. The first section is made up of four klezmer pieces, followed by four Gipsy [sic] and four Armenian works. At the beginning of each section Laye provides historical and cultural context for the music. The first book includes two versions of each piece: an "easy" version, intended for young players, and a "solo clarinet" version, which requires a little more technical development. Still, all of the works in book 1 are very accessible to students. Both books include a piano score as well as a download of sound files of the accompaniment played by Laye's own performing ensemble that includes accordion, clarinet/bass clarinet and violin. The second book is organized in the same way but does not include an "easy" version as all of the solos in this book are more advanced. Both books are well made, easy to read and will provide a unique introduction to performing Eastern European folk music for clarinetists at any level. The accompanying recordings provide a fun way to perform the works, as well as a listening reference for ornamentation and style ideas. In his foreword, Laye invites clarinetists to experiment with their own ornamentation and to let the music lead them where it will. These books will certainly prove themselves an entertaining way to venture into this world.
– Madelyn Moore
---
Wu Na. Jiangnan in Misty Rain for clarinet and piano. Edizioni Eufonia, 2021. Digital and/or paper from €16.00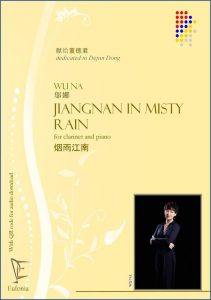 Wu Na, composer in residence for the Zhejiang Symphony Orchestra, is an international award winner and has represented China for UNESCO and at important events in China. Jiangnan in Misty Rain is a 7 to 8-minute, medium-easy piece, melodic in orientation, that depicts Hangzhou in a misty rain at the time of the Qingming Festival (Tomb Sweeping Day). Beginning and ending slowly, there are several contrasting tempo sections, the first of which has a repetitive harmonic pattern like a Satie Gymnopédie although at a faster tempo. Also notable is the opening four note piano cluster that adds a fifth note in the second measure and then outwardly expands in the next two. These five note clusters support the pentatonic nature of most of the melodic ideas. The chromatically descending bass line in the third and fourth measures is the impetus to wider ranging Western-style harmony and harmonic shifts. The supporting piano has most of the fast-moving notes including a short harp-like solo and another pentatonic expression that becomes accompaniment for a dance-like clarinet melody. The flowing nature of the piano writing allows the clarinet to focus on longer-note expressive playing. This, along with the top range being only altissimo F-sharp, means that many intermediate players can enjoy this beautiful work that is a synthesis of Eastern and Western styles.
– Gregory Barrett
---
Antonino Scorsone. tramonti a sud for clarinet and piano. Edizioni Eufonia, 2022. Digital and/or paper from €16.00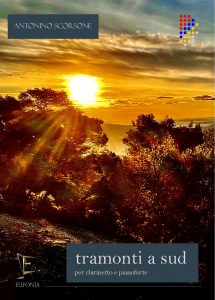 The 5-minute Andante espressivo gem tramonti a sud (sunsets in the south) features a gentle cantabile melody in the clarinet over a one-measure rocking ostinato-like accompaniment. Demonstrating the popularity this piquantly harmonized, easy-level piece deserves is that it has been commercially recorded by clarinetist Jože Kotar with his long-time partner Luca Ferrini. tramonti a sud is cast in G minor, stays mostly in the middle two octaves of the clarinet's range and is marked by touching suspensions and anticipations. Following a four-measure piano solo at the midpoint, Scorsone introduces a little contrasting shift in harmony though always staying close to G minor. The sustained final chord retains this misty sentiment with supertonic and raised submediant added to G minor.
– Gregory Barrett
---
Quartets and Solos with Clarinet Choir
Luis Barroso. The Tropical Fruits Dance and Bahama Mama for clarinet quartet. Self-published. Contact composer for free downloads: [email protected]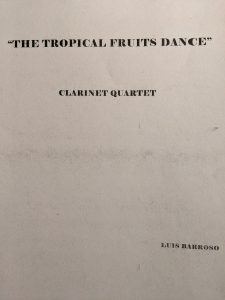 Luis Barroso was born in Madrid in 1960. He studied composition at the Superior Conservatory of Music in Madrid where he also studied modern harmony, arrangements and music for audio-visual works. A versatile composer, his music covers different genres and styles. He has written symphonic and chamber music, concertos for guitar and orchestra, music for solo guitar, piano, string quartets, trios and duos.
The Tropical Fruits Dance is a charming quartet scored for E-flat clarinet, two B-flat clarinets and bass clarinet. The difficulty level for each part is equally balanced. The music is light and favors a jazzy, dance-like rhythmic quality. The E-flat clarinet is an apt substitute for the usual top voice B-flat clarinet; no alternate B-flat part is included. The wide range of timbres and voicing adds appeal and excitement for the listener. It is well-written for the clarinet, observing the registers without being overzealous. This Dance is quite fast paced, so considering the challenging rhythms and imitative writing, the players would need to be fairly advanced. This quartet would work well for an advanced high school or college level quartet and is interesting and pleasing to the ear. I can imagine performing it would be the same.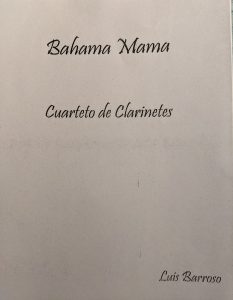 Bahama Mama is also scored for E-flat clarinet, two B-flat clarinets and bass clarinet. It is similar in style and equally challenging rhythmically as The Tropical Fruits Dance. Both quartets have descriptive titles indicating their style or character, and both present some tricky rhythmic encounters and weaving polyphonic lines. Performers must be proficient technically and close attention must be paid to the dynamic contrasts. Each player must be capable
of playing stylistically and independently,as the parts are quite demanding. Like The Tropical Fruits Dance, Bahama Mama, can be downloaded free from the composer. Both pieces have real character and would certainly work well in various performance situations.
– Lori Ardovino
---
Alexis Ciesla. Tango for Ben for clarinet quartet. Gérard Billaudot Éditeur, 2022. €11.48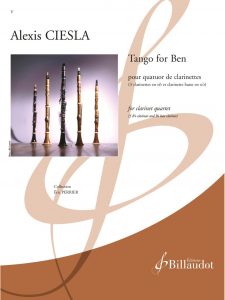 French clarinetist Alexis Ciesla has written and arranged numerous successful works for clarinets. This medium-easy tango, played in the B-flat clarinet keys of A and C minor, portrays in under three minutes what Ciesla describes in the score's preface: "The tango? A sad thought danced." Notable features include rhythmic underpinning mostly in the third and bass clarinet (which has only two notes below low E-flat and octave up is shown as an alternative), compound triplets and sharing of melody among all four voices. The highest note in the clarinets is one altissimo D with a mordent on it and the bass clarinet has one melodic, clarion-register G. This is a fun, easy piece that I would group with other short dance-themed works in a concert set.
– Gregory Barrett
---
Wolfgang Amadeus Mozart. Concerto, K. 622. Arranged and edited for clarinet choir by Dennis Nygren. Ludwig Masters Publications, 2021. $108.00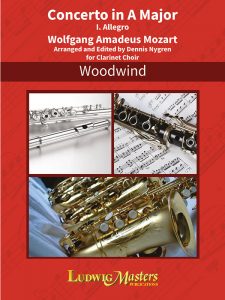 Dr. Dennis Nygren, professor of clarinet at Kent State University from 1983 to 2012, has expertly arranged the orchestral parts of our most venerated K. 622 for B-flat clarinet soloist and a clarinet choir consisting of E-flat clarinet, eight B-flat clarinets in four parts, two E-flat alto clarinets in one part (for which either B-flat clarinets or F basset horns may be substituted – parts included), two B-flat bass clarinets in one part, one E-flat contra-alto clarinet, and one B-flat contrabass clarinet. Pragmatically, considering the keys of the various instruments involved, Nygren chooses to transpose the sounding key of the concerto to B-flat major, resulting in much more reasonable intonation and technical challenges. In addition, he provides sensible ossias in several short stretches of the third movement where strict transliterations of idiomatic string writing become decidedly awkward (and potentially disastrous) passagework within the gaggle of clarinets.
Ludwig Masters Publications makes each of the movements available for separate purchase (parts and scores) at $45, $25 and $38, respectively. The publisher offers clean and readable parts with well-considered page turns to go along with Nygren's precise editing. In fact, his edition of the solo part, which for obvious reasons might otherwise go unseen, provides an excellent and informed interpretation, channeling both the influence of Robert Marcellus (Nygren's former teacher) and the research surrounding the missing original edition written for Stadler's basset clarinet.
Nygren dedicates the arrangement to Theodore Johnson and the Venner Clarinet Choir, and the arrangement in its entirety was to have been premiered by Franklin Cohen and the Venner at one of the opening concerts of the 2019 Knoxville ClarinetFest®. Due to unforeseen circumstances, Cohen had to cancel at the last minute, and I had the good fortune to be invited in his stead. I was at my sister's wedding in Seattle when I received the call, enjoying some vacation time after having just returned from performing and teaching at a festival in Spain, and I had fewer than two weeks (minus several travel days) to prepare. We performed without conductor, on one rehearsal, and I had decided to play from memory. In my hurry to revive the piece, I had not considered the possibility that a clarinet choir arrangement might not differentiate colors between parts the way an orchestra does, and yet the sensitive treatment by both Nygren's writing and the Venner Clarinet Choir's playing provided lucid cues and supported a musically communicative interpretation. The Venner subsequently invited me to perform this arrangement at Baldwin Wallace University in December of that year and, this time with much more notice and preparation, I had a blast. I would like to thank these clarinetists for their dedication and trust. These are concerts I will not forget; the Baldwin Wallace performance was the last concert I played outside of Louisville before COVID-19 grounded us, and through the isolation it served as a poignant reminder of friendship and collaboration.
– Matthew Nelson
---
Concertos
Wolfgang Amadeus Mozart. Clarinet Concerto, KV 622. Edited and reconstructed basset clarinet part by Craig Hill, 2021. Free digital download at https://mozartbassetclarinet.wordpress.com/home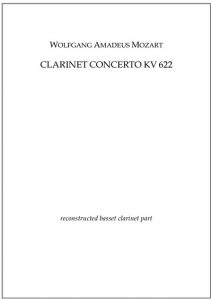 A staple, and perhaps the most important and well-known work in the clarinet repertoire, the Mozart Clarinet Concerto has seen many different editions in its lifetime. These editions have been of varying quality and level of research as they had different goals, some considering the editions that have come before, some attempting to follow only what is suggested by the earliest printed editions, and some that attempt to forge new paths in understanding. In this edition, Craig Hill provides a thoughtful edition that really does all three. He uses early editions published by André, Breitkopf & Härtel, and Sieber, as well as the Autograph Fragment, KV 621b as the basis for comparing articulation, octave differences and pitch displacement for transposition. Additionally, he also considers the most recent scholarship surrounding this important work, as well as historical viewpoints. All sources and references are clearly cited, and a Critical Report is provided, where Hill outlines the measures and beats wherein variance occurs. The result is a decidedly successful reconstruction of the basset clarinet part. This edition is the result of a great deal of research and thought and focuses primarily on differences in articulation not just in the solo part, but also in the orchestral parts. Visually this edition is clear and clean, with passages containing multiple articulation options clearly marked. In areas where the music would go into ledger line territory, Hill has opted to use the bass clef. Ample space between lines of music provides plenty of room to write notes. Measures are numbered and page turns are considered, making this not only a scholarly edition, but also a functional one. Pre-written cadenzas are not included. Interestingly, two versions of the third movement are included here, "for those players who wish to retain the downward scale in bars 61 and 192." Overall, this is a wonderful edition because it provides not only a fully functional basset clarinet reconstruction but backs it up with significant scholarly research from a variety of different viewpoints. This would be a great addition to any clarinetist's library of Mozart Concerto editions.
– Vanessa Davis
---
Pedro Étienne Solière. Clarinet Concerto No. 6 "Concerto Espagnole." Solo clarinet part, full score, and piano reductions edited by Craig Hill, 2021. Free digital download at https://mozartbassetclarinet.wordpress.com/home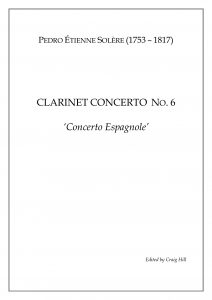 Pedro Étienne Solière (1753–1817) was a French composer and clarinetist. Having lived his childhood in Mont Louis, near the border of Spain, Solière was familiar with the music and culture of Spain at the time. This experience no doubt influenced the composition of his sixth concerto for clarinet, known as "Concerto Espagnole." While it utilizes elements of Spanish music of the period primarily in the solo clarinet and the third movement "Fandango," the style of much of the work is very much classical in the way you would expect from that time.
This concerto was first brought to the attention of the modern clarinet community through Dieter Klöcker's 1999 recording. Interestingly, though, that edition, as noted by Craig Hill, had a different second movement which later was discovered to be the middle movement of an entirely different unknown work. The functional visual element of Hill's edition is expertly presented with clear engraving, thoughtful staff spacing in the most technical passages and considerate page turns. Similar to his edition of the Mozart Clarinet Concerto, Hill has created an edition that thoughtfully considers historical editions and modern sensibility as well as surviving historical editions. Much like his other editions, he provides comments on specific editorial decisions he has made. In addition to the solo clarinet in B-flat part provided, Hill also provides the full score and two different piano reductions. The instrumentation for the orchestra is: two oboes, horns in B-flat and E-flat, violin 1 and 2, viola, bassi, and optional castanet and tambourine parts edited for matching articulation and other phrasing and expression markings. Hill also reconstructs the viola part that he, upon closer study of the score, realized was missing in key areas of the work and gives his reasons and method of reconstruction. Additionally, Hill provides two piano reductions: one based on the original score (without the reconstructed viola part) and one based on the score including the reconstructed viola part, adding to the utility of this edition. Hill has again presented us with a work that is both a scholarship-based representation of Solière's work, and a functional set of score and parts. This is a great addition to the classical catalog of any clarinetist's library.
– Vanessa Davis
---
Louis Spohr. Concerto for Clarinet and Orchestra No. 2 in E-flat Major, edited by Ullrich Scheideler, Breitkopf & Härtel, 2021. Full study score €49.90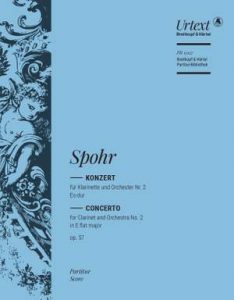 Louis Spohr's clarinet concertos are a staple of most clarinetists' repertoire, but they are not often heard in public. One reason might be the unavailability of modern critical editions of these fine works. With this study score for the second concerto – available alongside orchestra parts and a piano reduction through Breitkopf & Härtel – clarinetists and conductors now have an option to count on for their performances. It includes, most importantly, a well-designed orchestral score of the work, accompanied by a foreword in German and English, outlining the origins and early performance history. An appendix (in German only) provides detailed source information and lists editorial modifications. This edition allows for a historically informed performance of this work.
Spohr wrote the second clarinet concerto in spring of 1810 and conducted the premiere performance in June of that year at the Frankenhausen music festival. As we learned from Carl Maria von Weber's clarinet concertos, written almost at the same time, there are special source problems stemming from the performance-related ideas of the soloist (in Spohr's case Johann Simon Hermstedt) and the ideas of the composer. Spohr's concerto was written to showcase Hermstedt's phenomenal technical skills. Hermstedt was granted an exclusive performance right until Spohr released it for publication. This means that Hermstedt's performance style became part of the composition, forcing Spohr to publish a version that needed to be edited in a manner more playable for the wider clarinet community. Neither Spohr's nor Weber's concertos were available in a printed score, and the original material may have contained additions reflecting the performance history related to their respective dedicatees. This makes it challenging to produce a modern score that presents an "Urtext." It will always be a compromise between the composer's intentions and the historic soloist's performance practice.
The editor, Ullrich Scheideler, delivers an edition that carefully follows the main source. Only two sources could be considered, the original print from 1822 in parts, and a copy which includes interesting performance marks but at the same time remains doubtful regarding its origin. The editor describes this copy in detail but cannot answer two decisive questions: was this copy used by Hermstedt before the publication, or is this copy a performance score, created and used after the first print. Without having or knowing the whereabouts of Spohr's autograph score or – even more important – the engraver's copy, these questions must remain unanswered. Thus, the main body of the score follows the first print, and the editor uses the performance copy to resolve inconsistencies of the primary source. Through the editorial comments in the appendix, one can reconstruct this performance version, showing numerous alternative readings that the editor meticulously describes. This critical edition allows the clarinetist to become reacquainted with a familiar work providing new perspectives. Ernst Ludwig Gerber's contemporary statement about the first performance, Spohr's clarinet concerto "[belongs] undisputedly to the most perfect works of art of its kind," can be taken more seriously now.
– Frank Heidlberger
---