Originally published in The Clarinet 46/4 (September 2019). Printed copies of The Clarinet are available for ICA members.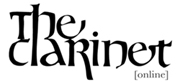 ---
Audio Reviews: September 2019
RECORDINGS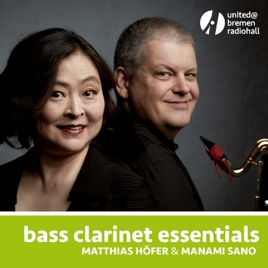 Bass Clarinet Essentials. Matthias Höfer, bass clarinet; Manami Sano, piano. O. Schoeck: Sonate, Op. 41; P. Hindemith: Sonate; A. Busch: Suite in D Minor, Op. 37a; E. Bozza: Ballade; E. Krenek: Prelude and Sonatine; A. Hába: Suite, Op. 100; M. Mower: Sonatina; J. Horák: Interviewausschnitt. Bremen Radiohall Records, LC 84828. Total time 72:35.
It is an exciting time if you are a bass clarinetist; new works and materials are consistently being generated by many performers eager to contribute to the repertory. Bass clarinetist Matthias Höfer and pianist Manami Sano have made a significant addition to the discography for the instrument with Bass Clarinet Essentials. The album has seven bass clarinet works of varying difficulty and style, one solo piano work and a brief interview with Josef Horák who is credited with having performed the first bass clarinet recital in history in 1955.
Matthias Höfer performs with the Frankfurter Opern- und Museums-orchestrer and is a member of the Bayreuth Festival Orchestra. His additional recordings include Trio Pleyel and Ensemble Clarimonia: Two Clarinets & Bassoon. A sought-after pianist, Manami Sano can also be heard on the CD CaraClarina with clarinetist Caroline Hartig.
The repertoire of this disc provides a hearty meal for the listener's ear and is an impressive amount of work to have created for this album. Othmar Schoeck's Sonate opens broadly and boldly in the low register, leading into a more nuanced lyrical section that serves as an excellent introduction to the duo. The second movement conveys a levity not always associated with the bass clarinet, and highlights Höfer's capable technique. The discourse with the pianist exemplifies a sensitivity in chamber playing found throughout the album.
Paul Hindemith's two-movement Sonate is the composer's own transcription of his sonata for bassoon. Höfer's interpretation is light and charming, with especially notable lyricism and rich tone in the work's first movement. His control of the softer dynamics in the upper clarion register is laudable. Sano's light touch makes the more delicate moments in this work very effective.
The unaccompanied Suite by Adolf Busch is reminiscent of Bach's solo repertoire for violin or cello and spans the wide range of the instrument and its character, allowing Höfer's tone to shine throughout the four movements. Eugène Bozza's Ballade is a work familiar to many clarinetists and Höfer and Sano create a lovely version full of lyricism and lush tones. I enjoyed their interpretation of
the work.
Including Ernst Krenek's Prelude for solo piano prepares the listener for his Sonatine. I appreciated the programming and while unfamiliar with the Sonatine, I hope it is a work that receives more exposure in the future. In Alois Hába's Suite, we begin with an intriguing and ominous brief movement segueing into a playful, off-kilter, Allegro agitato that contrasts nicely with the expressive nature and dark colors of the low register in the third movement.
Mike Mower's Sonatine, written for Höfer and Sano, is a delightful wrap-up, showcasing the duo's ensemble playing and technique with several florid, almost-improvisatory motions and ending with a shout. Overall the album is a solid resource for all bass clarinetists, providing a nice variety of familiar and unfamiliar repertoire performed skillfully by two artists. I would recommend a listen or two, especially for those looking to branch out into bass clarinet repertoire.
The album can be found on iTunes
and Amazon for digital download. More by Matthias Höfer can be found at
www.hoefer-bassklarinette.de (German language only).
– Cody Grabbe
---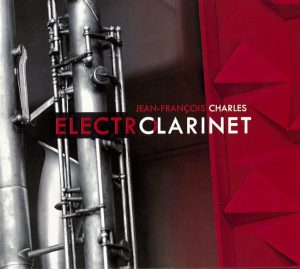 Electroclarinet. Jean-François Charles, clarinet. J.F. Charles: Electroclarinet Nos. 1-6, Lina, Electroclarinet No. 5 (alternate take). Self-published by Jean-François Charles. Total Time 55:45.
Jean-François Charles is a composer, clarinetist and live electronics designer. He is an assistant professor of digital arts and composition at the University of Iowa in Iowa City. After obtaining a MSc in electrical engineering at the National Institute for Applied Sciences in Lyon, he studied in Strasbourg with the Italian composer Ivan Fedele. He earned his Ph.D. in music/composition at Harvard, where he studied with Hans Tutschku, Chaya Czernowin, Julian Anderson, Helmut Lachenmann, Gunther Schuller and others.
Charles started composing and performing the Electroclarinet series in 2009; he has played these works in China, France, Finland and the United States. This CD features six clarinets with live electronics: E-flat clarinet, A and B-flat clarinet, basset horn, bass clarinet and contrabass clarinet. Charles demonstrates impressive technical control and strong rhythmic integrity throughout the CD. Each work is unique and distinctive in its own way. I was impressed with his proficiency on the many clarinets that were utilized on this recording. Not many clarinetists are able to achieve the technical dexterity and expertise heard here.
Most interesting were Electroclarinet No. 2, 3, 4 and 5, which are homages to four notable composers: Claude Debussy, Carl Maria von Weber, Olivier Messiaen and Igor Stravinsky, respectively. The Homage to Debussy was harmonically ambiguous. Melodic fragments are interspersed with non-metrical rhythms. Using contrabass clarinet on this selection proves interesting and appropriate given Debussy's affinity for new orchestral instrumentation. The basset horn is again a suitable choice for the Homage to Carl Maria von Weber. More melodic and less ambiguous, I found this work to be the most coloristic of the four. There are some very interesting delay and layering effects, allowing this piece to illustrate a design of colorful texture. The E-flat clarinet is expertly played for the Homage to Messiaen. The melodic contrast is wide in range and quite punctual as opposed to the previous, musically linear Homage. Prominent use of rhythm and jazz-influenced lines may be a nod in Stravinsky's direction. The white noise effect is a little distracting, but does force the listener to hone in on the interesting melodic and rhythmic variants. The
last Homage is to Stravinsky. It is the
most interesting rhythmically, with obvious references to his Three Pieces for Solo Clarinet.
Electroclarinet 6 for bass clarinet employs a compilation of sound layers which I found refreshing compared to the previous tracks. The opening exposes a drone effect with interjections of sound waves moving in and out of focus. These waves of sound become more intense and dissonant as the piece progresses. The bass clarinet mournfully wails in and out of this cacophonous oscillation. The last portion of the Electroclarinet 6 features the bass clarinet in an almost heroic melodic statement quickly followed by delay and jazz-influenced melodies.
Anything played on contrabass clarinet is intriguing, and Charles does not disappoint. Lina is colorful and jazzy, giving the listener a plethora of timbral explosions. Jean-François Charles is obviously an accomplished clarinetist and has an expansive knowledge of electroacoustic music. Through this CD, he brings a depth of experience to the genre. This album would be a welcome addition to any clarinetist's library.
– Lori Ardovino
---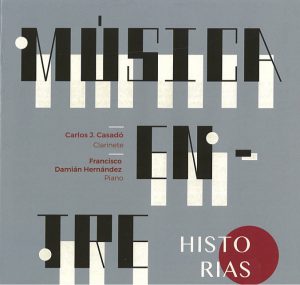 Música Entre Historias. Carlos J. Casadó, clarinet; Damián Hernández, piano. D. Welcher: Dante Dances (Danzi d'Inferno); M. Yuste: Leyenda, danza y lamento and Estudio Melódico; J. Ireland: Fantasy Sonata; A. Benjamin: Le Tombeau de Ravel (Valses-Caprices). Estudios Mans, M 38435. Total Time 57:20
A new compact disc titled Música Entre Historias features Carlos J. Casadó, clarinet, and Francisco Damián Hernández, piano. Casadó has a degree from Joaquin Rodrigo Conservatory of Valencia where he studied with Juan Vercher and José Cerveró, and he has also studied with Yehuda Gilad at the University of Southern California. He serves as second and E-flat clarinet with the Spanish National Orchestra and as professor of clarinet at Conservatorio Superior de Música de A Coruña. Hernández is an active performer of solo recitals, chamber music and solo performances with orchestras throughout Spain. Música Entre Historias draws its repertoire from two sources: works inspired by literature and composers related to writers.
American composer Dan Welcher found inspiration in a translation of 15th-century poet Dante Alighieri's Divine Comedy. His Dante Dances, a large work with seven continuous movements, was the result. Welcher connects the movements through deft transitions. "Introduction: The Gates of Hell" is expectedly dark, featuring rumbling declamations in the piano followed by banshee-like recitations in the clarinet. The harmonic language is dissonant in keeping with the movement's title, but not inaccessible.
The remaining six movements are variations in dance forms representing characters of Dante's journey to the underworld. The tonal language is more familiar but nevertheless fresh. Included are a tango, polka, schottische and tarantella. There is even a bubbly "Charleston" movement with syncopation, jazz-infused fragments and voluptuous note bends. A mournful "Gymnopédie" movement tips its hat to Satie's originals.
What one first notices about Casadó's playing is his gorgeous, lush tone and his impeccable intonation. Registers from bottom to top are perfectly even, and he demonstrates great ease in moving into his altissimo register with beauty and control, even at the softest dynamics.
Casadó and Hernández bring a unified vision to their performances. Both are consummate artists who play with complete technical mastery and musical refinement.
Next is an homage to Spanish composer Miguel Yuste (1870-1947). Yuste published seven works for clarinet, and while they don't have a specific literary work as inspiration, Casadó reasons that Spanish authors working between 1898 and 1913 served as inspiration for Yuste's compositions. Leyenda, danza y lamento, Op. 72, is unabashedly romantic and features a florid introductory section followed by the more rhythmic "danza." The latter music features enchanting, sun-drenched themes and displays an elegant virtuosity in the clarinet writing. This disc's concluding work is also by Yuste, a mournful waltz titled Estudio Melódico, Op. 33.
English composer John Ireland's Fantasy Sonata follows. Ireland grew up in London in the literary atmosphere of his parents. He was influenced by the supernatural literature of Arthur Machen and the poetry of Thomas Hardy. Composed in 1943, the Fantasy Sonata is a single-movement tonal work that features complex harmonies characteristic of the period. True to its title, it is rhythmically free overall, while working within the confines of sonata form. There are certain themes and piano figurations, including limited whole-tone passages, that seem pseudo-impressionistic.
Le Tombeau de Ravel is by Australian-born composer Arthur Benjamin. These are cleverly composed character waltzes. The work has numerous French musical influences while paying tribute to both Ravel's Le Tombeau de Couperin and his Valses nobles et sentimentales. The "Introduziane" and fast waltzes feature challenging technical filigree in the clarinet, while the slow waltzes tend toward plaintiveness. An effervescent "Finale" brings this delightful work to a close. Casadó and Hernández perform the technical waltzes with grace and élan, and the slow waltzes with the requisite seriousness of purpose.
This is a wonderful program overall. The English translation of the program notes are a bit awkward, but the playing is rich, satisfying and of the highest musical caliber. This CD is recommended listening for all who love beautifully performed music for clarinet and piano.
– Scott Locke
---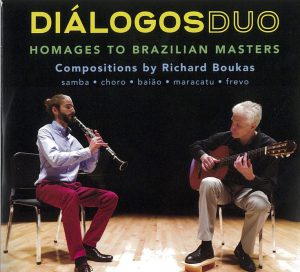 Homages to Brazilian Masters. Diálogos Duo: Louis Arques, clarinet and bass clarinet; Richard Boukas, guitar. R. Boukas: Diálogos for clarinet and guitar, Diálogos for bass clarinet and guitar; Choro Branco. Self-published by Richard Boukas (www.boukas.com/dialogos-duo). Total Time: 64:00
Louis Arques is a French-born clarinetist currently living in New York City, where he is active as a performer of new music and of Afro-Cuban music with such groups as Grupo Irek, Sonido Costeño and the New School Afro-Cuban Orchestra. This CD is the result of his collaboration with guitarist-composer Richard Boukas, who is on the faculty at Mannes/New School of Performing Arts where Arques was a graduate student. According to the CD cover, the disc was recorded live at the New School of Performing Arts in October 2017.
The music performed on this CD was composed entirely by Boukas, and as the subtitle of the CD indicates, was written in tribute to Brazilian composers of the past and present. A note on Boukas's website indicates that it "fuses a wide range of traditional genres (including choro, baião, maracatu, congada, frevo) with styles of contemporary composers such as Guinga and Hermeto Pascoal." The three large works on the disc contain multiple movements, each of which is dedicated to one or more specific composers. While all of the compositions have a stylistic basis in traditional Brazilian popular music, they also seem to reflect Boukas's own slightly more complex artistic sensibility. Perhaps this is nova brasilidade, in the same spirit as Piazzolla's tango nuevo.
The performers give lovely, clean renditions of these works. Boukas is an excellent guitarist. Arques plays with a refined sound on both soprano and bass clarinets, using vibrato occasionally but sparingly. His intonation is accurate and his phrasing well delineated. For listeners accustomed to hearing Brazilian clarinetists perform this type of music, the sound and style may seem just a bit too polished, perhaps more suited to a Weber concerto – but this is hardly a complaint.
This CD comes with minimalistic packaging: the disc is enclosed in a cardboard jacket, without liner notes of any kind. Those interested in reading about the performers and compositions are directed to the composer's web site (noted above), where information for each movement is found by clicking the info links next to the sample audio tracks on the page.
The music on this disc would fit nicely on a recital, perhaps interspersed with classical works to leaven the stylistic mix. The work for solo bass clarinet, Choro Branco, will make a particularly good addition to the unaccompanied repertoire for the instrument. The music for most of the works is available for purchase on Boukas's web site, although I didn't see Choro Branco there; perhaps the composer can add it in the future.
– Jane Ellsworth
---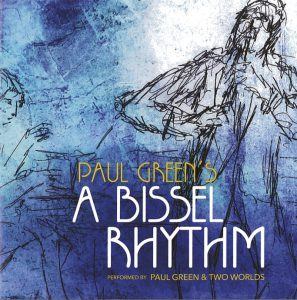 A Bissel Rhythm. Paul Green & Two Worlds: Paul Green, clarinet; Charles Tokarz, tenor saxophone; Jason Ennis, guitar; Ben Kohn, piano; Daniel Broad, bass; Peter Sweeney, drum set. P. Green: A Bissel Rhythm, Zoey's Chosidl, My Own Freilach, Doina and Ramble, Prelude to the Blues, Joe's Hurra, The Jewish March, Lisa's Song. Big Round Records (www.bigroundrecords.com). Total Time 46:00.
Paul Green and Two Worlds may be familiar to fans of klezmer music as this is the group's second album, following the debut CD Music Coming Together. Both albums feature an unusual instrumental combination: solo clarinet and solo tenor saxophone with a four-person rhythm section. They also endeavor to unite two different styles of popular performance: Jewish music, with its distinctive klezmer sound and performance practice, and jazz. Music Coming Together contains arrangements of existing jazz tunes played in a klezmer style and also includes some established Jewish music fused with jazz elements, resulting in a hybrid Jewish/jazz sound. A Bissel Rhythm takes this explorative process one step further, containing original compositions in this new hybrid style.
Over the past century, jazz composers and performers have experimented with instrumentation, marriages between different musical styles and new harmonic languages ranging from blues and the early traditional march structures to extended harmonies, and from substitution chords to modal, polytonal and atonal idioms. As a result, the term "jazz" is rife with many different, often contradictory meanings. Paul Green's efforts can be viewed as a continuation of the practice of enlivening the scope and breadth of both traditional Jewish music and jazz.
The reason that Paul Green and Two Worlds is so successful is largely due to the talent of the musicians. Paul Green is a brilliant, sure-footed clarinetist, classically trained and instantly recognizable as a professional of the first order. He is also an accomplished, working jazz player. Throughout the album Green plays with precision and complete control no matter the tempo or complexity of the music. He surrounds himself with a superb rhythm section that is at once supportive, rock-solid and comfortable in the subtle details of both traditions. In particular, bassist Daniel Broad, guitarist Jason Ennis and pianist Ben Kohn stand out as first-rate jazz improvisers. Listeners will immediately recognize and enjoy their music interaction with the front line and each other.
A Bissel Rhythm, the album's namesake track, uses the Misherak and Ahavah Rabbah scales combined with the joyful up-tempo Freylach scale. These are forms of Dorian and Phrygian modes commonly used in Romanian or Ukrainian Jewish music. In this piece, these scales embroider the standard harmonic structure of Gershwin's jazz classic "I Got Rhythm." The middle section opens up for improvised jazz choruses from every musician in the group. They all deliver solid solos within the confines of the form and scale restrictions. It is quite a wonderful feat and a true and satisfying fusion of the divergent styles.
Doina and Ramble recalls a traditional New Orleans funeral of early jazz days. It opens with a free-form, highly ornamented and melismatic Jewish doina section which reflects the mournful occasion found at the beginning of most traditional funeral ceremonies. This is presented in perfect unison by the clarinet and tenor saxophone (Charles Tokarz) and is followed by the exuberant "ramble" representing the personality, life and ramblings of the deceased.
Blues is an obvious choice for this recording, and we are not disappointed. Prelude to the Blues makes especially effective use of the Misherak scale, which is remarkably similar to the traditional blues scale. While the twelve-bar form of the blues is adhered to strictly, the players are assigned particular note groupings that are derived from the Jewish scale from which they can construct their individual improvised solos. Again, a great deal of thought has gone into this piece, and, unfazed by the underlying complexity of the structure, the players deliver as if they had been playing this new hybrid style of music all their lives.
Apart from the concept of fusing jazz and klezmer styles, what is most striking to me about this recording is the deliberateness of every musical gesture. There is a great deal to listen to on this CD. It is recorded well and contains highly informative liner notes. The disc is loaded with musical goodies and bright moments, fresh diversity, high accomplishment and great synergy. This is music from the heart. It will delight listeners familiar with klezmer and jazz traditions and will fully engage all clarinetists.
– Jerry Rife
---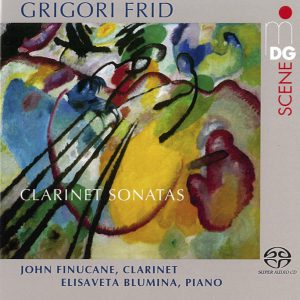 Grigori Frid: Clarinet Sonatas. John Finucane, clarinet; Elisaveta Blumina, piano. G. Frid: Clarinet Sonatas Nos. 1-3. MDG, 903. Total Time 57:16
John Finucane has been principal clarinet with Ireland's RTE National Symphony Orchestra since 1995 and has an active career as a soloist, chamber musician and conductor in Ireland and abroad. He has played with the Ulysses Ensemble, Irish Chamber Orchestra, Welsh National Opera, Opera North and Irish Film Orchestras, appeared on radio and television programs and performed with chamber ensembles such as the Ysaye, Navarra and Vanbrugh quartets. Finucane is joined by award-winning pianist Elisaveta Blumina in this collection of three sonatas written by her father, Russian composer Grigori Frid.
Grigori Frid is not well known outside of Russia but is a very important figure in music history. Frid graduated from the Moscow Conservatory where he studied with Vissarion Shebalin and Genrikh Litinsky. Frid is best known for his monodramatic operas The Diary of Anne Frank (1969) and Van Gogh's Letters (1975). He served as director of the Moscow Music Club for Young People, promoting music of new composers including premieres of works by Schnittke, Gubaidulina, Denisov and Kancheli. The album liner notes provide an extensive biography about Grigori Frid, biographies of both performers and a fascinating interview with Elisaveta Blumina about the composer's life and interests. Blumina describes Frid as "a renaissance man," stating that he loved life and was interested in all fields and aspects of it. Besides being a professional musician and composer, he was proficient in other spheres of art such as oil painting. He was a writer and loved to read literature and books about science.
The three clarinet sonatas showcase Frid's long career and contrasting interests with a series of different compositional styles including traditional Soviet realism, twelve-tone composition and a more modernist later style. The first and second sonatas include the traditional fast-slow-fast movements while the third sonata has only two movements in a slow-fast configuration. Composed in 1966, the First Sonata showcases Frid's earlier compositional style with beautiful sweeping lines and melodies throughout. The Second Sonata (1971) and Third Sonata (1982) are more modernistic. All three works are a significant discovery for the clarinet repertoire and should be performed regularly by all clarinetists. These works showcase the versatility of the clarinet and stretch the performer in all directions.
Finucane and Blumina's performance of the sonatas is magnificent. Finucane paints elegant lines with utmost control and nuance and Blumina's collaboration is exceptionally sophisticated and imaginative. The performers are sensitive in their interplay, creating a well-balanced performance.
As performers we are often looking for new works and Grigori Frid's sonatas are an excellent addition to the clarinetist's standard recital repertoire for students through professionals. John Finucane and Elisaveta Blumina present an exceptionally elegant performance that will entice the listener to further explore Grigori Frid's life and music.
– Julianne Kirk Doyle
---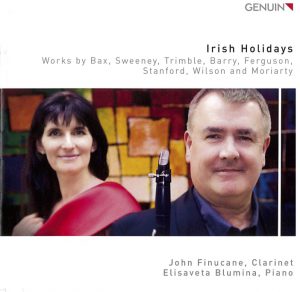 Irish Holidays. John Finucane, clarinet; Elisaveta Blumina, piano. A. Bax: Sonata; E. Sweeney: Duo; J. Trimble: The Pool Among the Rushes; G. Barry: Trumpeter and Low; H. Ferguson: Four Short Pieces; Charles Villiers Stanford: Sonata; J. Wilson: Three Playthings; C. Moriarty: Opaque Rhapsody. Genuin Classics, GEN 18495. Total Time: 76:44.
In Irish Holidays, clarinetist John Finucane presents music by composers from or inspired by Ireland. The CD includes standard repertoire by Bax, Ferguson and Stanford, while introducing lesser-known, more recent works by Irish composers Eric Sweeney, Gerald Barry, Joan Trimble, James Wilson and Finucane's former student Christopher Moriarty. These newer works are interspersed among the older standards. This recording follows Finucane's 2017 recording with a similar theme, French Holidays on the same label. Recorded in Leipzig, Germany, Finucane appears in both recordings with German pianist Elisaveta Blumina, active chamber musician and artistic director of the Hamburg International Chamber Music Festival. More information about both musicians can be found on their websites.
The opener, Bax's Sonata, sets the tenor for the recording. The collaboration and balance between Finucane and Blumina is expertly done. The graceful ebb and flow and use of rubato in the first movement are most welcome. The two artists dialogue back and forth, creating masterful chamber music. It is likewise a treat to hear Ferguson's compact, delightful Four Short Pieces from the same time period given thoughtful consideration by these fine musicians. Joan Trimble's The Pool Among the Rushes is a brief morsel, under three minutes, and evokes the most traditional Irish sound of the whole set which leaves the listener wanting more. Sir Charles Villiers Stanford's Brahmsian Sonata is the centerpiece of the recording. Their playing of this masterwork is effortless.
The liner notes to the CD by Tilmann Böttcher are very detailed and informative. They provide a great historical perspective about Stanford and his cohort as well as an apt introduction to the newer works. Eric Sweeney's minimalistic Duo has a wonderfully easy groove. Of the two works by Barry, Low is more substantive. The duo takes a jazzy, angular, spirited approach. The music ascends gradually from lowest range to altissimo. The control and intonation is a brief concern at the top of the clarinet range here.
Two unaccompanied works provide a welcome textural change during this Irish tour. I am always on the lookout for solo works that are approachable by both clarinetist and audience, and Wilson's Three Playthings (1983) is a welcome find. James Wilson, an Englishman by birth, resided in Ireland for over 50 years and was professor of composition at the Royal Irish Academy of Music, though his tenure there did not overlap with Finucane. Wilson's obituary tells the story of a composer whose unique path was of a largely self-taught "composer who fell in love with Ireland." Plaything No. 1 is rhapsodic in nature. The middle movement is a brief, triplety, jaunty jig. Throughout, Finucane's tone evokes the right colors; his interpretation is expressive.
The finale, Christopher Moriarty's Opaque Rhapsody, is the newest work on the recording, composed in 2016 and dedicated to Finucane. This work requires the most aggressive playing for both musicians, and they do so emphatically and enthusiastically. Timbre trills, tremolo, vocalizations, flutter tonguing and growling are all included here. Finucane and Blumina show great versatility in their effective expression of both Stanford and Moriarty. By the time Irish Holidays concludes, Finucane has given a guided tour of 100 years of music from his homeland, offering a unique perspective of standard repertory as well as familiarizing the listener with newer works.
– Gail L. Zugger
---