Originally published in The Clarinet 50/4 (September 2023).
Printed copies of The Clarinet are available for ICA members.
---
Book and Music Reviews
September 2023
---
Books
Paul Harris. The Clarinet: The Ultimate Companion to Clarinet Playing. Faber Music Ltd, 2022. £25.00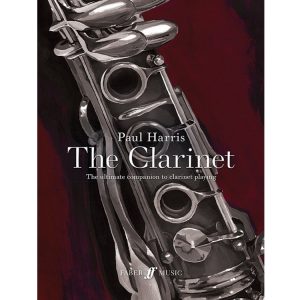 Paul Harris is quite a well-known name in the clarinet world. He is a distinguished British clarinetist and award-winning author of so many publications—over 600!—and is one of the most respected music teachers and educators. He has given master classes and seminars all over the world. His most recent notable work is a 232-page companion to clarinet playing. This is the most recent, up to date, and comprehensive clarinet companion available, outshining other small or medium size books. Harris has included in his big clarinet book an amazing amount of precious information useful to both intermediate level students and professional players. He offers his deeply inspiring insights, philosophy of playing, and expertise througout the many chapters in order to improve skills and guide the clarinetist to fully enjoy the art of playing. Here are just a few of the topics addressed: posture, science of sound production, practical exercises, breathing, articulations, embouchure, finger-work, stylistic considerations, and hints on clarinet maintenance. Everything is supported by diagrams, illustrations, and very instructive excerpts from clarinet solo and orchestral repertory. Last but not least, there is an unique feature never before included in a book: a map of clarinet dynasties, recordings, and repertoire timings. Needless to say, this is a highly recommended book!
–Luigi Magistrelli
---
Music
SOLO CLARINET AND CLARINET DUET
Guillaume Druel. Concerto à plumes (Feathered Concerto) for clarinet solo. Gérard Billaudot Éditeur, Collection Jean-Marc Fessard, 2022. €9.95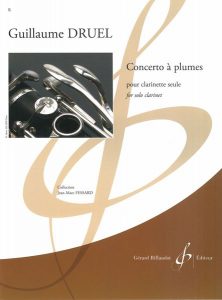 Woodwinds and birds: a natural connection? For the clarinetist, standout works by Beethoven and Messiaen reinforce that idea, as do works by Guillaume Druel. His 2013 Quatre façons d'oiseau is now followed by the work at hand, Concerto à plumes (Feathered Concerto), which is in three sprightly and thrilling (and frequently trilling) movements. Each is great fun to play because of the constantly shifting ideas in melody, articulations, and dynamics. These advanced-level works require no contemporary techniques and could be handled by a good college-level player.
Let's dive deeper. In fact, the bird of the first movement, "Cormorant" is known as a very good water diver. Perhaps the descending octaves and ninths of the opening portray that? You decide. You will also have to decide how to pace the many tempo and mood changes. Easy mixed meters are conspicuous, and a sense of pentatonic mode characterizes much of the movement.
The second movement "Moineaux" (Sparrows) also has many contrasting tempos and requires a fluid sense of subdivision. In my mind, the ascents into the altissimo, rapid 16ths, and trills befit the small sparrow. Scherzando motivic ideas and a general sense of BÌ major are reprised from the first movement.
The concluding "Étourneaux" (Starlings) is a fast-paced closer. Wikipedia tells me that starlings are noisy. That is true of the first 14 measures that leap, fortissimo, a major 15th from altissimo to chalumeau and back. The rapid notes lie well in the hand, and along the way less experienced players will learn a few new trill fingerings.
–Gregory Barrett
---
Michel Lysight. Tiles for clarinet solo. Gérard Billaudot Éditeur, Collection Jean-Marc Fessard, 2022. €11.09
Michel Lysight, the prolific Belgian composer, wrote the three-movement, six-minute solo clarinet work Tiles for the 2022 20th National Competition of Clarinet in Picardie, in Amiens, north of Paris. Fittingly for a competition work, Tiles is moderately advanced in difficulty and has audience appeal. The movements follow a fast-slow-fast scheme, are unified in using a tonal framework, and have a few melodic interval connections between them. The Allegro opener sticks to a 4/4 meter and follows a minimalist style that plays with syncopated ideas in 16th notes that work off each other and that are varied in dynamics, register, and transposition over the course of several key changes. The groove is fun to play. The languid "Lento e meditative" also alternates clarinet registers and has strongly contrasting dynamics. It incorporates two sections of rapidly tongued notes in accelerando that foreshadow the concluding third movement. The last movement, Moderato, has a basic eighth note texture except for three sections of staccato 16th notes that, as in the second movement, are marked by repeated notes. The final tongued flurry is in accelerando. Most notable in this movement is the rhythmic play incited by repeated chalumeau figures in a kaleidoscope of 5/8, 7/8 and 3/8 meters.
–Gregory Barrett
---
Johann Sebastian Bach. Toccata and Fugue in D Minor, BWV 565. Arranged for solo clarinet by Christoph Schneider. Edition Clarinova Trio Musik, 2020. €11.80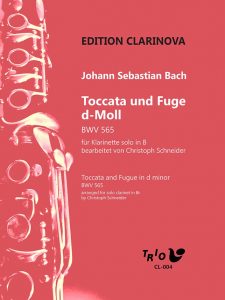 Here is another enjoyable and interesting publication from Edition Clarinova. The Toccata and Fugue in D Minor is one of the most popular and acclaimed compositions of Bach and represents the acme of the organ literature. In spite of the fact he composed it when he was only 20 years old, it reveals a high degree of maturity. Because of its tremendous richness and importance, it is regarded as a true masterpiece, and has been arranged for many instrument combinations. This is not so easy to do for a single instrument. But the clarinet can offer much flexibility in colors, dynamics and technique, approaching the dramatic character of the original organ composition.
Christoph Schneider, a multi-competition prizewinner, is currently principal clarinet in the Deutsche Opera am Rhein of Duisburg. He has been fully successful in creating his own solo instrument version while remaining as close as possible to the original. One would think it difficult for the clarinet to favorably compare to the organ in the most technical passages and beautiful endless melodies, but it is not true! The clarinet can do it, and this fine arrangement is the vehicle to use. Kudos to Schneider for his nice job!
–Luigi Magistrelli
---
Benedetto Carulli. Melodie Teatrali from Semiramide of Gioachino Rossini. Duet no. 1 for two clarinets. Revised by Corrado Giuffredi and Vittore Macrillò. Edizioni Eufonia, 2023. €20.00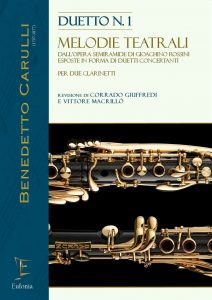 Benedetto Carulli (1879-1877) was an important representative of the Milanese clarinet school of the 19th century. He was a student of Giuseppe Adami, the very first clarinet teacher of the Milan Conservatory (founded in 1808). Not only a teacher, Carulli also was very active as a player, being principal clarinet at La Scala. His best pupil Ernesto Cavallini followed him at the opera. Luigi Bassi was another standout student. Carulli filled the teaching position at the Milan Conservatory for more than 40 years!
As a composer, Carulli wrote numerous good fantasies and arrangements of tunes from the operas of Verdi, Rossini, Donizetti, and Bellini. His Rigoletto Fantasy is the most celebrated and performed. Also the Duet from Bellini's Sonnambula for EÌ and BÌ clarinets and piano is well-known. Carulli also wrote clarinet duets inspired by La Traviata and Rigoletto of Verdi. In these arrangements the principal part is predominant and the second is simply accompanying, occasionally with delicate technical figurations. This is not the case of the Melodie Teatrali (Theatrical Melodies) from Semiramide of Rossini, published originally by Lucca and conceived in the form of duets for two clarinets. Both clarinets have demanding soloistic roles.
Two hundred years after the premiere of Semiramide at the Fenice Theatre of Venice, the Italian publisher Edizioni Eufonia (specializing in clarinet publications) has published the Duetto n 1 comprising five arias from Semiramide. Eufonia has produced a beautiful edition of these duets, providing both separate parts and score. This edition was revised by Corrado Giuffredi and Vittore Macrillò. Giuffredi has also recorded all arias from the Melodie Teatrali of Carulli with his former student Simone Nicoletta (now principal at Teatro Comunale of Bologna) on a Fluente Records CD. Thanks to Maestros Giuffredi and Macrillò for their good efforts to make these wonderful arias well-known!
–Luigi Magistrelli
---
CLARINET AND PIANO
Alexis Ciesla. 7 études ludiques (7 Playful Studies) in the styles: Klezmer, Irish, Portuguese, Spanish, Bulgarian, Italian, and Russian for B-flat clarinet, and piano or audio (digital) accompaniment. Gérard Billaudot Éditeur, Collection Éric Perrier, 2023. €21.14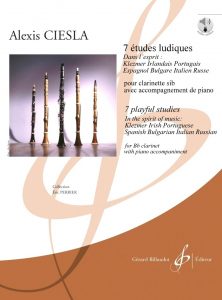 Prolific clarinetist/composer Alexis Ciesla's latest publication is a set of seven advanced-level clarinet and piano pieces each in a different national style. Totaling 18 minutes of music, with the clarinet part playfully(!) filling 14 pages, you will be entertained and challenged from beginning to end. A very characteristic melody is the core of each piece; Ciesla uses it to spin a clarinetist's dream of idiomatic leaps, arpeggios, and other passagework that will rouse the audience and that will also fulfill Ciesla's other mission of providing advanced pedagogic material. To that end, not only is there a beautifully engraved piano score included, but also a QR code for connection to the Billaudot website to access the extensive audio files for each piece. The files include a full clarinet and piano performance, as well as one to four piano-only tracks of varying speed for rehearsal or performance use. In summary, working on and performing these studies will contribute to appreciating varied cultures and world peace!
–Gregory Barrett
---
Jay Vosk. Serpentine Ways, for clarinet and piano. Digital download $14.99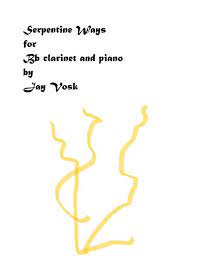 Serpentine Ways (2022) is an appealing nine-minute piece written by Jay Vosk, a composer born in New York in 1948. Its different sections (Gracefully, With more motion, and Calmly) follow one another without interruption, and towards the middle of the piece there is a short cadenza for solo clarinet. The music clearly reflects the idea of ​​his well-chosen title of Serpentine Ways. From beginning to end there is an intense and expressive counterpoint; the clarinet and the piano imitate each other, overlap, displace. There is a clever use of tension and release; the music has a certain "hypnotic effect" due to an insistent repetition of its melodic and rhythmic patterns, which change little by little. Both instruments have attractive, show-off parts; it is truly a chamber work. But the parts assigned to each instrument are not excessively difficult, nor is the ensemble of the clarinet/piano duo. I think this is a merit of the composer: writing music that is interesting and communicative but without too much complexity to perform it. The score contains a few annotations indicated by the author, who demonstrates knowing how to compose for the clarinet. Its main characteristics are: permanent legato (there is no short articulation in the whole work and neither are there repeated notes), use of chromaticism, presence of large intervals, no use of the extreme altissimo register (the highest note is an altissimo F), and use of only binary rhythms and a few triplets.
I think Serpentine Ways is a suitable work to introduce students to the language of modern atonal music: it is an entertaining piece, pleasant to listen to and to play, and it offers a vehicle for the musicians' creativity. It is a valuable contribution to the clarinet repertoire that deserves to be presented in concerts and recordings.
–Gabriel Blasberg
---
Johannes Brahms. Sonata für Klarinette und Klavier in E-flat Major, op. 120, nr. 2. Edited by Hans Gál. Breitkopf & Härtel, 2022. €16.90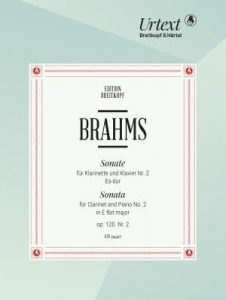 This new publication is the Urtext from the Brahms Complete Edition issued by the Gesellschaft der Musikfreunde, Vienna. It is uncluttered by editorial markings, as found in some editions, such as adding simile articulation markings to the clarinet's triplets in its dialogue with the piano in movement I, mm. 78-86. This opening up of the appearance and space on each page is attractive and gives the performer more room for their own imagination and to feel a bit closer to Brahms himself.
The editor of this edition was the prolific composer Hans Gál (1890-1987), and the Hans Gál Society website provides detailed information about his life, work—including a clarinet sonata—and his myriad activities. The website's many pages are a treasure-trove of inspiring connections from Brahms and Vienna.
Gál in the late 1920's, with Eusebius Mandyczewski (1857-1929), produced for Breitkopf & Härtel a complete Brahms edition. Mandyczewski was the archivist of the Gesellschaft der Musikfreunde and like Gál, was a teacher at the New Vienna Conservatory. But more importantly, he was a "spiritual father" for the much younger Gál and had belonged to Brahms's closest circle of friends. Gál's other connection to Brahms was his piano teacher during his student years at the New Vienna Conservatory, Richard Robert (1861-1924), also a friend of Brahms. Robert's notable students included Clara Haskil, Rudolf Serkin, and George Szell; wow! You too will feel this connection to Brahms by indulging in a bit of research and performing from this clear new printing.
–Gregory Barrett
---
Alexey Shor. Verdiana, Fantasy on Themes by Giuseppe Verdi for Clarinet (Alto Saxophone) and Piano. Breitkopf & Härtel, 2022. €29.90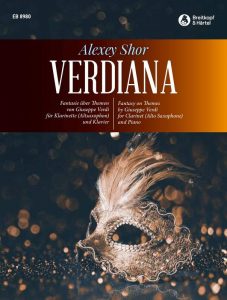 Alexey Shor (b. 1970) is a self-taught composer who until the age of 40 was a mathematician. Born in Ukraine and thereafter living in Israel and the United States, his encore pieces written for friends won fame on YouTube and now his works, including his Clarinet Concerto and the work at hand, Verdiana, are performed by star clarinet soloists in the US and Europe.
Verdiana is most well-known in its version for clarinet with symphony orchestra. Breitkopf & Härtel additionally offers versions with string quartet or string orchestra. Conceived as a passionate work of entertainment that doesn't take itself too seriously, it does offer formidable challenges of speed and dexterity for the soloist. As the title suggests, Verdiana is a tribute to the works of Giuseppe Verdi. Totaling about 15 minutes, countless familiar melodies are knit together in a quasi-concerto format of three movements: fast, slow, and (very) fast, with numerous opportunities for the soloist to include cadenzas and personal touches. What is not obvious from the title is Shor's rhythmic underpinning of Verdi's melodies with dances such as samba, bossa nova, and tango in a tongue-in-cheek fashion. This blending of classical opera and dance raises the entertainment value to the nth degree! This is an advanced level work that in capable hands is a showstopper.
–Gregory Barrett
---
OTHER CHAMBER MUSIC
Franz Schubert. Hungarian March and Rondo. Arranged for flute, B-flat clarinet, and piano by Michael Webster. Theodore Presser Company, 2019. $32.99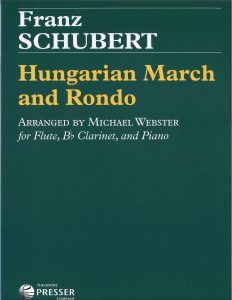 Michael Webster, former professor of clarinet at Rice University's Shepherd School of Music, currently serves as the Artistic Director of the Houston Youth Symphony. He has arranged a number of works for the same trio configuration as this piece (flute, clarinet, and piano) as he actively performs with the Webster Trio alongside flutist Leone Buyse and pianist Robert Moeling. His arrangements are published by International Music Company, Schott, G. Schirmer, and Theodore Presser Company.
Hungarian March and Rondo for flute, BÌ clarinet, and piano is a 14-minute arrangement of the first two movements (in reverse order) of Schubert's Divertissement à l'hongroise, D. 818 which is for four-hand piano. Webster states in his program notes that the third movement was omitted because it "contains many massive chordal sonorities that are served well by piano, four hands, but not by flute, clarinet, and piano." The "Hungarian March" which serves as the first movement in this arrangement is brief, containing a lot of rhythmic unison between the flute and clarinet. This movement provides a wonderful introduction for the piece with a stately, elegant march. The "Rondo" second movement serves as the main body of the piece. This movement also includes a fair amount of rhythmic unison but also beautifully features each instrument of the trio. The second movement especially features many characteristics of Hungarian music as mentioned by Webster in his program notes, including "dotted rhythms, syncopation, frequent modulations between relative and parallel major and minor, and a generally bittersweet relationship of keys."
This arrangement provides a wonderful addition to the chamber music concert repertoire that beautifully honors Franz Schubert's original work for piano, four-hands inspired by Hungarian folk music.
–Lee Seidner
---
Wolfgang Amadeus Mozart. Rondo in C Major KV 373 for clarinet and orchestra. Transcription by Nicolai Pfeffer after the original violin version. Edition Clarinova Trio Musik, 2022. €11.80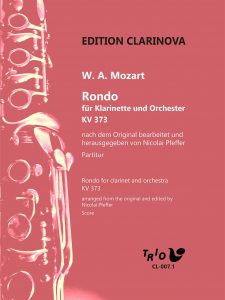 Mozart's Rondo in C Major, KV 373, was dedicated by the composer to the violinist Antonio Brunetti, as were Mozart's Adagio in E Major and Rondo in B-flat major. This beautiful miniature, composed in 1781, was performed at the musical academy of the Salzburg court orchestra. Mozart probably conceived this piece a short time before the performance. It features a delightful, cheerful typically Mozartian melody recurring as a refrain between two couplets. In one of his letters Mozart mentioned this "Rondeau" as being performed in April 1781. Franz Anton Hoffmeister, German classical composer and contemporary of Mozart, produced a transcription of the Rondo (transposed to D Major) for flute and orchestra. Ever popular, the music was used in two Hollywood productions: Schindler's List and True Lies. Moreover, Argentine tango star Carlos Gardel borrowed a part from the second couplet for the popular song Por una cabeza. This proves how popular this Rondo became after it was composed. We must thank German clarinetist Nicolai Pfeffer for his fine arrangement for clarinet and orchestra. It was also recorded by him on a CD with the Orchestra Regionale Toscana from Florence. Pfeffer transposed the piece to BÌ Major to facilitate the performance on the BÌ clarinet. Michael Nowotny provided the piano reduction. Pfeffer writes in the preface of this publication that dynamics and articulations are based on the original violin version. One more enjoyable piece to add in our clarinet library!
–Luigi Magistrelli
---