Originally published in The Clarinet 50/1 (December 2022).
Printed copies of The Clarinet are available for ICA members.
---
MEET MURMURI
Jason Alder interviews the six Icelandic clarinetists on Björk's new bass clarinet-inspired album Fossora.
by Jason Alder
---
In the beginning of September 2022, the clarinet community was abuzz with news coming from the Icelandic experimental-pop superstar Björk. Not only was she about to release a new album, but it would feature a bass clarinet sextet! I thought to myself: I wonder who is playing on the album? This must be one of most prominent uses of clarinet, and especially bass clarinet, in popular music perhaps since The Beatles' "When I'm Sixty-Four"… I must know more! Iceland is a small country, and I know several Icelandic musicians and clarinetists. Surely I must have some connection to these musicians!
A week later the first single, "Atopos," was released with an accompanying video. It was everything I have come to expect from Björk—surreal images of a dark psychedelic fungal forest, inhabited by the costume-clad clarinet-playing characters, DJ Kasimyn from the Indonesian duo Gabber Modus Operandi, and Björk herself. The clarinet sextet, comprised of two BÌ and four bass clarinets, create an almost synth-like square soundwave of harmonies that form the textural tapestry over which the gabber beats thump and Björk's unique voice and story-telling vocal style asks us to put aside our differences, find our resonance, and connect in unity. Björk describes Fossora on her website:
Each album always starts with a feeling that I try to shape into a sound. This time around the feeling was landing on the Earth and digging my feet into the ground (after my last album "Utopia" which was all island-in-the-clouds element air and no bass). How I experience the "now" is also woven into how it is written. This time around 7 billion of us did it together, nesting in our homes quarantining. Our mutual "now" is being so long in one place that we shot deep roots down. "Fossora" is about that. It is a word I made up. It is the feminine of fossore (digger, delver, ditcher). So in short it means "she who digs" (into the ground). Therefore, when I was describing the sound to the musicians on it, I would call it my mushroom album. Fungus duggen down.
The list of musicians confirmed that my suspicions were true. One of the clarinetists was Grímur Helgason, who I knew from our time studying in Amsterdam together. I contacted Grímur, who put me in touch with the rest of the players—Hilma  Kristín Sveinsdóttir, Kristín Þóra Pétursdóttir, Baldvin I Tryggvason, Helga Björg Arnardóttir, and Rúnar Óskarsson. Together they are the clarinet sextet Murmuri. I spoke to them just before the release of Fossora to find out more about the players, the album, working with Björk, and the concept of "troll rave."
---
JASON ALDER: Which clarinet voice and part did you play on the album?
GRÍMUR HELGASON: Mainly first clarinet, doubling on bass clarinet in one song.
HILMA KRISTÍN SVEINSDÓTTIR: Second clarinet, not bass.
KRISTÍN ÞÓRA PÉTURSDÓTTIR: I played third or fourth clarinet depending on the piece and how big an ensemble was needed. It was 99% bass clarinet, usually in the rather high register, and only a few bars on the B-flat clarinet.
HELGA BJÖRG ARNARDÓTTIR: I was first bass clarinet mostly and BÌ clarinet in one song.
RÚNAR ÓSKARSSON: Mostly the lowest one, number six. There was also one piece with contrabass clarinet which I played.
BALDVIN I TRYGGVASON: Second lowest bass clarinet and lowest bass clarinet in songs with contrabass clarinet.
JA: What is your musical background? How long have you played the clarinet or bass clarinet?
GH: I guess I have played for over 30 years now, starting at the age of 7 or 8. My background is mostly in classical and modern music with a little bit of jazz and improvisation involved. I'm nothing of an expert on the bass clarinet, although I quite frequently cope with bass clarinet parts that do not require too much of a specialist.
HKS: I have played the clarinet since I was 9 years old, and that has been my main instrument ever since. I've also sung in choirs since I was a kid and worked in a funeral choir for a few years. In university I studied clarinet, composition, and classical singing.
RÓ: I am a professional clarinetist. I studied bass clarinet in Amsterdam with Harry Sparnaay from 1994-1998. They were very fruitful years, and of course [it was] a great pleasure to have the opportunity to study with Harry.
KÞP: I have a BM degree from Listaháskóli Íslands (Iceland University of the Arts) where Einar Jóhannesson was my main teacher. I started playing the clarinet at age 8 in a school band. Then as a young adult I quit and went to the University of Iceland to study linguistics. A few years later I found myself picking up the clarinet again and then there was no going back. I picked up the bass clarinet shortly after I started playing again, about 12 years ago. I think I was asked to play it in the school orchestra, then the clarinet choir, and it was like a snowball for me. I got more and more opportunities to play bass clarinet and eventually I started taking lessons with Rúnar Óskarsson and I am the first (and only) to finish a final exam on bass clarinet here in Iceland. I continued to have it as an extra instrument at the university and it was a part of my final exam from there as well.
HBA: I have played the clarinet since I was 8 years old. I graduated from Reykjavík Music School in 2000 and then I went to Utrecht and graduated in 2003. I started the bass clarinet not so long ago but am now totally hooked and also play the contrabass clarinet.
BIT: I started studying clarinet at the age of 7, so I´ve played the clarinet for 24 years. I did my bachelor's at the Iceland Academy of the Arts and my master's at the Royal College of Music in London. I started playing the bass clarinet regularly in 2018. Since then, I play the bass frequently, along with B-flat and E-flat clarinet.
JA: Do you work primarily as a performer or educator?
GH: I work full time in the Iceland Symphony Orchestra as second clarinet, doubling on E-flat clarinet and sub-principal. Like many Icelandic musicians I also teach a bit, play a fair amount of new music (in my case mainly with Caput Ensemble), and do various chamber music programs with friends. It's also not uncommon to do some studio work and concerts with pop musicians and improvisers.
KÞP: I work as a clarinet teacher and educator. I teach kids from 8 to 20 years old in all levels in a music school in Reykjanesbær. My background is in classical music so that's where I'm comfortable. I have been lucky to get to play with some of the best ensembles here in Iceland: for example, Caput Ensemble, Reykjavík Chamber Orchestra, Elja Chamber Orchestra, SinfoniaNord, and the Icelandic Opera. Grímur and I recently did a duo concert, something we have wanted to do for a while. But for me these are just single projects here and there, so I'm not really playing that much compared to the others. I look at myself as a clarinet teacher with occasional performance opportunities. Other than that, I'm quite busy these days raising my (and Grímur's) two young daughters, so for most of the time now I'm a mom and a part-time teacher.
HKS: I work at a recording studio and as a producer for the Iceland Symphony Orchestra TV concerts. I'm also a composer—my latest work was for Björk's flute septet "Viibra"—and now I'm composing for langspil, a traditional Icelandic instrument.
RÓ: Since 2004 I have had a clarinet and bass clarinet position with the Iceland Symphony Orchestra, but in addition to that I play a lot of chamber music with smaller groups, try to do clarinet recitals now and then, and I have premiered a few Icelandic pieces for bass clarinet.
BIT: I am a full-time clarinet teacher but jump on any opportunities to perform. I usually play in the classical music scene—subbing for Rúnar at the Iceland Symphony Orchestra, the Icelandic Opera, performing with chamber groups, etc. I have also done some theater jobs and occasional recordings for movies and television.
HBA: Yes, I'm a full-time musician. I play a lot of contemporary music, work with composers and that kind of work. I am in a group that focuses on new music, Electra Ensemble, and the lineup is violin, cello, piano, flute, and clarinet. I also sub at the Iceland Symphony Orchestra, play with SinfoniaNord, and a few other groups. I also teach clarinet, which I love to do, and am studying electronic music and making my own compositions through that media.
JA: Had any of you played together before? Did this ensemble exist beforehand, or did you come together for this project?
GH: The ensemble didn't exist as such before, but we all knew each other very well and play regularly together. Kristín Þóra and I are also a couple.
KÞP: This is a small country, you know, and we all have different connections and relationships: teachers, students, co-workers, co-students, friends, even family. So Rúnar was my bass clarinet teacher and I play in a wind band where he is the conductor and we are good friends, Grímur and I have often played together, Baldvin and Hilma were in the same music school and university as me, Helga is a coworker and I have substituted for her in Sinfonia Nord and in her teaching… So yeah, I could write a long essay about all our connections but in short, we were and are all good friends and colleagues.
HKS: I had played with Baldvin and Kristín; we studied at the Iceland University of the Arts at the same time. Grímur and Rúnar were my teachers in Kópavogur Music school when I was a teenager. The only one I didn't know was Helga, but I knew she was an amazing clarinet and bass clarinet player.
BIT: The clarinet music scene in Iceland is quite small.
HBA: We have all worked together a lot before this project.
RÓ: In all kinds of circumstances, ranging from small polka (Oktoberfest) gigs to big symphonic concerts.
JA: How many tracks on Fossora use clarinets? Is it the same ensemble on every track?
GH: If I remember correctly, we rehearsed five songs and recorded four of them. It's mostly the same ensemble and never smaller than a quintet. In one of the songs an oboe joined the group, and there's also overdubbing of a bassoon and a flute.
HBA: Four songs but not always the same setup. But mostly bass clarinet, with some smidgen of B-flat clarinets and contrabass clarinet to flavor.
KÞP: It's always me, Grímur, Rúnar, Helga, and Baldvin. Hilma joins us for two tracks I think and Matthías (the oboe player) for one.
JA: How did you become involved with Björk for this album?
HKS: My first step into Björk-world was through Hamrahlíðarkórinn (the Hamrahlid Choir). We recorded one song on her 2017 album Utopia and then joined her on tour for her amazing "Cornucopia" shows in 2019. We also recorded one song on Fossora. After that I started working as her assistant, which was a great experience. My first mission was to gather the clarinetists for Fossora, actually.
GH: Hilma called me and told me about the project and since I was already super interested, Björk called the same night and confirmed the gig. I had not worked with her before but many of my friends had. For example, I have a quartet with friends—soprano, flute, guitar, and clarinet (we mostly commission new pieces)—and between us we have now worked with her on three different albums.
HBA: Björk is very aware of the music scene in Iceland and plucked us all from there.
RÓ: Hilma was her personal assistant and studied clarinet with me a few years ago. It all started with a Zoom meeting; Björk was there and explained the project. At that point I did not realize how big the bass clarinet parts would be.
JA: What about the clarinet and bass clarinet attracted Björk to the instrument?
HBA: She talked about how the sound of the instrument was what she was looking for, for the feel of this album.
KÞP: She had decided that this was going to be the clarinet album (she already did brass, vocals, strings, flutes…), but then she felt she wanted to do more than just that, so it ended up being just four tracks with clarinets.
GH: I think she is drawn to the "earth colors" of the clarinet and bass clarinet timbre.
BIT: I think she was seeking a smooth and low-sounding instrument, to represent earth tremors or something like that.
RÓ: She has spoken about it in interviews that her last album was more "in the air," with flutes and hardly any big drum beats. Now she wanted to go "down to the ground," with beats and low sound. I think she succeeded!
JA: Did Björk write all the parts or was there collaboration? Did anything need to be changed from what you were originally given?
HKS: Björk made all the arrangements.
RÓ: During the rehearsal period we changed some things. Björk was really open to suggestions and wanted us to give comments.
BIT: She was really hands-on. In the first rehearsal she gave us a part and took down notes on everything we commented on—how to notate this and that—and the next time we met, we had an updated part. She was really clear at the beginning that she wanted to hear our voice and personalities in the parts we played. She really encouraged us to recommend stuff that works well for the instruments, something that non-clarinetists might not know of.
JA: There are some unique harmonies in "Atopos." Do you know anything about Björk's writing process? Did she compose at the piano, or did it develop through working with you live?
GH: She had the parts written out for us. It was surprisingly similar to working with an experienced classically-schooled composer of new music, I would say. She didn't tell us about her way of composing but I have the feeling it was free atonal.
HBA: I do not know her process for the harmonies. They do sound great for the line-up though.
BIT: The parts really evolved during the rehearsal process, but the original harmonies and melodies stayed the same from the beginning.
JA: How long was the process of rehearsing and recording for the album?
HSK: We had a few "Clarinet Fridays" at Björk's cabin in November and December 2020 where we rehearsed and she workshopped the arrangements with us; then we had a recording session in March 2021. The process got a bit delayed because of COVID.
GH: We were there in her summer house in Thingvellir in a lot of snow and darkness, which was fun. Then we met in the studio.
RÓ: The period was rather long; we started to rehearse in her summer house in the middle of the winter not far from Reykjavík. We had two long days where we went through all the music a few times. Everything was recorded. Later we met in Stúdíó Sýrland in Reykjavík where we did the final recordings.
JA: What was the recording process like?
GH: We recorded it all in the same day. It felt more spectacular than regular studio work since we had worked with her in many interesting sessions earlier and seen how the material had developed.
KÞP: It was all very quick; we finished one song after another.
HBA: It was fun. Björk is a force of nature and was hands-on in all the process. The members of Murmuri and Björk are all bubbly and so funny and so we were laughing all the time.
BIT: It was pretty straightforward.
RÓ: Like all recordings, it was demanding. We played everything many times. But the atmosphere was always nice and friendly (like with all clarinetists).
JA: Were the clarinets recorded separately from the rest of the track, or did you have other parts of the track to listen to in the headphones?
KÞP: We were recorded separately from the rest of the track.
HBA: We did it with click track and without the rest of the sound and music that was to follow. Björk gave us a sample of the beat she had in mind for "Atopos."
JA: Were each of you recorded in an isolated booth, or all together as an ensemble?
RÓ: Both—first all together as a group, but in addition to that we all went to separate rooms where we played everything again.
JA: What is Björk like to work with?
GH: She has a very creative atmosphere about her, and also very friendly and fun.
KÞP: Björk is such a warm, loving, nice person. She also has a really clear vision of how she wants things to sound and look. That makes her great to work with. She is well-prepared and gets right to business, but she is also so nice and fun. When we came in, we would just DO (work). She is relaxed but focused and knows exactly what she is doing and how to do it quickly.
HBA: She is great. She has a very creative working process and is open and inspiring.
BIT: She is extremely nice and professional. She was really hands-on and was really interested in getting to know everyone and everyone's personalities. She was really keen on getting as much information in each rehearsal about the instrument, its capabilities, and notation. I think one reason for her success is her great interest in different types of music. She clearly loves making music and still does after all these years of music making.
RÓ: She was really nice and professional, very friendly and funny as well. She was describing the feelings for each song with words, stories, and feelings.
JA: Did Björk explain any of her musical vision of the tracks or album to you while you were recording?
GH: Mostly she let the music just explain itself, but in one session she wanted more vibrato from us, and to clarify what kind of vibrato she wanted us to imagine us playing in a 22nd-century Sámic jazz club.
KÞP: She explained the fungal-earthly theme of the album. A phrase that was used a lot was "troll-rave." She also said "imagine you are at a Sámic night club in the far future," or something like that. She liked putting visions in our heads to get the right mood. But she never talked about the music videos or the world that has now appeared per se.
HBA: She had very earthy descriptions of what sound she was looking for. It was fun to play this dance-style rhythmic music as a bass clarinet ensemble. She had a great way to make us understand the sounds she was seeking, like asking us to play like a jazz band in a frozen jazz bar in Finland with the exact amount of a glass and a half of red wine in our system. Funnily enough we all understood what the sound was supposed to be like after that image.
BIT: Yes, she usually explained to us her ideas and vision. I do remember her mentioning that she wanted the same feeling as an Estonian or Finnish jazz club in one of the songs. I'm fairly sure she mentioned "troll rave" when explaining "Atopos."
JA: Troll rave, haha, yes that does make more sense now! What was it like filming the video for the first single "Atopos"? How was it to play in costume?
HKS: I enjoyed it a lot; I really recommend it.
KÞP: It was a lot of fun! I think it was a bit of a challenge for them to fit us all into costumes, as we are all so different in look and sizes—not like the flutists in her last project. It took a while to get us into costumes and makeup. It was no problem playing in it, it just helped us to get into mood. When we were filming, Grímur, Rúnar, and Matthías were wearing air-inflated rubber pants. We regularly had to stop to "bring on the air inflation pump!" And their pants were so big they had to walk sideways through doorways.
BIT: My costume was fairly comfortable to play in. I wear glasses daily and can't use contact lenses, but in the video I couldn't wear glasses, so that was probably my biggest challenge. I couldn't really see anything or anyone for those two days that it took to record.
HBA: It was great fun. It was so much fun to step into her imagination like that. The costumes were great. The bubble pants that the men got to wear were so gorgeous, out of this world, and fun. I love things like that.
GH: It was a bit Monty Python-esque.
RÓ: My costume was a challenge! Inflatable latex trousers. If you Google "inflatable latex trousers" you get a lot of pictures of them. The fun thing was that my mother (she is 80) found the costumes really fantastic! First, I had to put on tights, then put on some talcum powder, and finally I needed help to get them up! After they had been filled with air it was of course extremely hot, and it was a challenge to walk! But we had a lot of fun doing the videos and the professionalism of all the people was admirable. Such a pleasure to work with all those great people.
JA: Were you involved with any more upcoming videos from the album?
GH: We are in one more video.
KÞP: We filmed another song in slightly different costumes.
BIT: I do not know when or if it will be released.
HBA: Hopefully it will appear soon.
JA: How long did the filming process take?
GH: Two days. One for "Atopos" and one for the other video that we were involved in.
JA: The environment of the video of "Atopos" is as if you're in some psychedelic forest. Were you filmed on a set, or was it a green screen?
BIT: It was filmed on set with this amazing background. I think there was a green screen behind the fungus forest.
HKS: It was a set built by set designer Heimir Sverrisson.
KÞP: It was explained to us as a rabbit hole, with fungus and sand. It was on set but the other video we made was with a green screen.
JA: Are there any plans to play live with or tour the new album with Björk?
RÓ: There are rumors that some of the Fossora songs will be played live in 2023. We surely hope so, but nothing has been decided yet.
KÞP: I think there are plans to do a live-stream concert. Maybe tour a bit. But Björk is busy catching up with her concerts that got canceled during COVID so we don't have much information on that yet.
HBA: We hope to be on the road with Björk before too long. Fingers crossed and all that.
BIT: I would love to play these songs live. I think it would be absolutely amazing.
JA: Do you have any other thoughts to share about the experience of working with Björk?
KÞP: It's just an awesome journey that will hopefully go on for a while.
BIT: It was a great experience to work with Björk. She is extremely professional in rehearsals but super friendly at the same time.
RÓ: Of course, we know that Björk is a world star. But I was a little surprised to see all the reaction and comments on YouTube when "Atopos" was released. She obviously has a huge fan base all over the world, and someone playing bass clarinet in Iceland cannot really imagine how famous she is.
JA: Will you continue playing as an ensemble in the future?
HBA: Yes, for sure. We are all very passionate about the bass clarinet and the low clarinet family. The repertoire for this kind of ensemble would be great fun to explore more.
---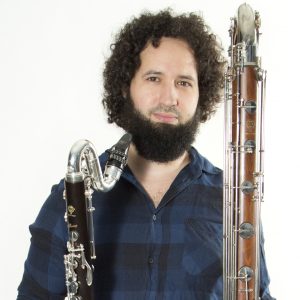 Dr. Jason Alder is an active performer and recording artist working with composers to present new music, particularly for low clarinets and underrepresented instruments. His research interests include practice-based research and collaboration, improvisation, technology, analysis and history. As an educator he teaches students of all ages and levels and is the author of the well-known and used quarter-tone and altissimo fingering charts for clarinet, bass clarinet, and contrabass clarinet. Jason is on the ICA New Music Committee and is formerly the editor of The Clarinet [Online].