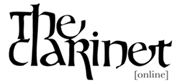 Originally published in The Clarinet 49/4 (September 2022).
Printed copies of The Clarinet are available for ICA members.
---
Clarinet Chronicles
Clarinet and Community
by Berginald Rash and Sarah Manasreh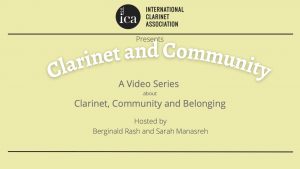 What is Clarinet and Community?
Clarinet and Community is a new video interview series hosted by Berginald Rash and Sarah Manasreh. It aims to feature a diverse group of clarinetists that are building and inspiring community through service, music and generosity. With a broad scope, these interviews explore the vast ways musicians create connections, reach new audiences, construct interdisciplinary projects, overcome obstacles and so much more. Clarinet and Community is an international project that seeks out clarinetists from around the world.
What topics have already been explored?
With six episodes currently released, and more on the way, Clarinet and Community has interviewed people who have built safe and inclusive online spaces, participated and grown within the historical clarinet community, created and developed new interdisciplinary chamber groups and promoted composers of diverse backgrounds. Other interviews include clarinetists who found ways to diversify their skill set, inspire others through their curious and bold spirit and bring music, joy and love to underserved communities. Interviewees include Sputter Box, T.C. Spivey-Hall, Emily Worthington, Marie Ross, Shaniee Kennedy and Katherine "Waffy" Spencer.
Who can be interviewed for Clarinet and Community?
Any clarinetist from around the world that is actively building and inspiring community through their work and music is eligible to be interviewed. This series is not limited to Western classical music and is designed to include a broad array of musical styles, clarinet playing and people. Clarinet and Community is particularly interested in promoting historically marginalized musicians and communities.
Where can I find Clarinet and Community?
Clarinet and Community can be found exclusively on the International Clarinet Association YouTube channel www.youtube.com/c/InternationalClarinetAssociation.
How do I nominate someone for Clarinet and Community?
If you know a clarinetist who is building and inspiring community that should be nominated, please write to [email protected]. Include their name, contact information and a short description of why you
believe they are a good candidate for this series. Spoken English is not a requirement to be interviewed if a translator can be secured.
---
About the Writers
Berginald Rash is a critically-acclaimed international performer, pedagogue, presenter and concert curator based in Dublin, Ireland.
Sarah Manasreh is the Assistant Professor of Clarinet at the University of Wisconsin – Stevens Point, editor for The Clarinet [Online] and founder of the Big Black Blotch New Music Project.