Originally published in The Clarinet 46/3 (June 2019). Printed copies of The Clarinet are available for ICA members.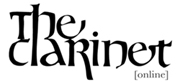 ---
June 2019: Hysterically Speaking
by Eric Hoeprich
This 19th-century photograph vies with the "Meet the Beatles" album cover of 1964. Taken in the studio of A. Huber in Vienna, it shows the quartet in its prime, perhaps a bit serious, but definitely ready to have a good time. Georg Dänzer, the clarinetist, holds his 12-key(?) instrument possibly by the Viennese maker, Martin Schemmel. Alas there are no recordings of the ensemble, but it was said that Dänzer could laugh, scream, roar and cry through his instrument. Johann Strauss, Johannes Brahms and even the young Arnold Schönberg were allegedly great fans.
Sadly, the Schrammel brothers, Johann and Josef, both died at the age of 43, but their music and the genre have lived on. The ensemble started out performing their special brand of Viennese folk and dance music as a trio of two violins with contra-guitar, but it wasn't until they added Dänzer with his picksüsses Hölzl (literally "sickly-sweet, little stick"), the clarinet in high g, that they hit the big time – maybe not quite the Beatles, but pretty good for the 1870s.
Initially called the Nussdorfers (after a suburb of Vienna), they subsequently named the ensemble after themselves: the Specialitäten Quartett Gebruder Schrammel. As their fame grew, their so-called Schrammelmusik came to embrace everything Viennese – the dances, the folk style, the dialect and the humor. Such was their notoriety that they toured widely, even venturing over to Chicago to perform at the World's Fair in 1893.