As a new feature, every month ICA will be presenting a new "composer of the month," featuring a living composer with a significant body of work for the clarinet
ICA COMPOSER OF THE MONTH, SEPTEMBER 2021
SCOTT MCALLISTER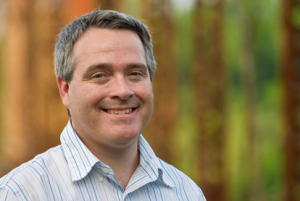 ICA: Welcome, Scott McAllister, we're very happy to have you as our September 2021 composer-of-the-month!
SM: Thanks so much, I am honored.
ICA: Tell us a bit about the featured composition, X Concerto.
SM: I decided to feature my first successful work X Concerto (1996) because it is the 25th Anniversary of the premiere this summer. It was also the composition that jump-started my composition career and is still one of my most performed works for the clarinet. This was the first work of mine after I completed my doctorate in composition at Rice University and the first major work I composed since a car accident in 1994 that ended my professional clarinet performing career. The success of this work gave me confidence to keep composing and solidified my journey on a path of composing honest music for myself.

The inspiration came to me after going through an identity crisis or search of who and what I want to be composing after all of my university/conservatory training. I had an adjunct position to teach a music appreciation class at Florida Southern College and I was lecturing about Dvořák and his New World Symphony. I was speaking about how Dvořák was working with American students and inspiring them to incorporate their folk music and influences in their music like so many nationalistic composers had and were doing. Then the voice inside my head asked, "Why don't you do this, Scott? What is my folk music?" Giving myself permission to go down this path was invigorating and scary. After a lot of soul-searching I decided to embrace the idea of combining my classical/contemporary compositional training with my American folk traditions which were quite eclectic; classical, rock, hard rock, country, disco, grunge and more. My neighbor at the time was building a house and the builders were playing Alice in Chains and Nirvana most of the day. I decided to take out my clarinet and compose a few grunge-inspired riffs and improvise over them on my clarinet. The Kurt Cobain-inspired second movement of X is based on his tune "Where did you Sleep Last Night," which is based on an old American folk song, "To the Pines." Everyone has Kurt Cobain to thank for the sixteen measures of high C's, as I was emulating his screaming in the climactic variation! X Concerto is a great place to start with exploring all of my music and I have been thrilled that this work (with three versions, including piano, wind ensemble and string orchestra) has helped many clarinetists win concerto competitions and give inspiring performances.
ICA: What other works have you written for clarinet?
SM: In chronological order of composition:

 ICA: Tell us a bit about yourself.
SM: I grew up in Lakeland, Florida and spent my summers with my grandparents in Chautauqua, NY and our cottage in Pennsylvania, where I still compose every summer. My first clarinet teacher in Lakeland was Judy Buss and her husband Howard was my composition teacher in high school. I was incredibly lucky to have them as my teachers and friends. Then I went on to study with Frank Kowalsky at Florida State. Frank became and has always remained the greatest musical and personal influence and mentor in my life. We never had a bad lesson, I never missed a lesson, and what I learned from him "between the notes" I carry today in my composing and teaching. I started my twentieth year as the Professor of Composition at Baylor University this year and am also the Director of the Academic Studies Division at the Baylor School of Music. I really enjoy juggling composing, teaching, and administration. My amazing wife Lesley McAllister (who is Professor of Piano Pedagogy here at Baylor) and I have four boys/men ages 4, 9, 19, and 23. We also have over 100 daughters as my wife is the faculty-in-residence at one of our Baylor residence halls where our family recently moved to live on campus.
 ICA: How would you describe your music?
SM: I don't like to categorize my music or label it, but many have described my music as eclectic, postmodern, and/or difficult to label. It is my hope that my music inspires the performer(s) and the listener on many different levels.
 ICA: What are some of the important influences on your work?
SM: I could write a long chapter on this question. Of course, in my early years I was shaped by all of the great music I performed and studied. But as I have matured (and am still growing), I find that pretty much everything and anything can influence my creative output. Probably the most important influences are the people I am so lucky to collaborate with in our musical world. I find that every work I compose while I am collaborating with someone takes on its own unique signature and no two pieces are alike.

ICA: What is your composing process like? Do you have a regular routine/time of day you like to work? What tools do you use to compose?
SM: Having two little boys at home makes it a little more difficult to have a composing routine, but I have been in that world for over twenty years. I find I can compose in the quiet just as much as during the chaos of life. I have a process of creative writing that I often use with my students. It incorporates the 4 I's to creative composition: Inspiration, Improvisation, Infrastructure, and Illumination. I use a balance of tools with everything from pencil, piano, clarinet, and DAW, to notation software.

ICA: How does being a clarinetist yourself impact your writing for clarinet? Do you approach it differently than writing for other instruments?
SM: That is a great question. I am sure even when I am not consciously thinking as a clarinetist, I am probably making decisions subconsciously as a clarinetist. I actually have a more difficult time composing music for the clarinet even though that is what I know the best as a performer. I have composed a few concerti for other instruments that a few of the performers would say, "that's what I get for commissioning a clarinetist!" (but always in a good way!).

ICA: How has the coronavirus pandemic impacted your work?
SM: Greatly, like many of my colleagues. Just the exhaustion and depression of not being able to be with people is a draining experience, but it is getting better thankfully.
 ICA: Now that things are hopefully starting to return to "normal," what is one thing you're especially excited to be able to do again?
SM: Going to concerts again and starting to plan commissions of new works along with slowly being able to travel to collaborate with musicians.
 ICA: Tell us about a current project or two that you're excited about.
SM: I am currently working on a Symphony for the Baylor School of Music commemorating our 100th anniversary. Baylor has an incredible orchestra and to have this opportunity to compose for this occasion while working with the students and faculty as the piece grows is a wonderful experience.
In the clarinet world, I am working on a new composition I have wanted to do for a long time. I am composing a new work for clarinet and string quartet for Eddy Vanoosthuyse and possibly a new double clarinet concerto for two Bb clarinets and orchestra in the near future.
ICA: Are there other musical activities/projects that are important to you, beyond composing?
SM: Organizing, performing, and conducting new music and helping to facilitate others to achieve their goals and dreams as an administrator and mentor.
 ICA: What non-musical activities do you enjoy?
SM: Family and fatherhood, which includes my love of fishing along with settling in and enjoying our new lives as a family-in-residence here on the Baylor campus.
 ICA: If you weren't a musician, what would you be?
SM: Honestly, I haven't imagined anything else since I was about seven years old. Like many people, music has always been a part of my life in many different ways. Music has comforted me, inspired me, saved me, and given me the best life I can imagine.
 ICA: Where can people learn more about / hear / buy your music?
SM: The best website is my own publishing company Lydmusic.com and of course Google and YouTube.
ICA: Thanks for taking the time to share your work with us! We really appreciate it!
SM: Thanks so much! I am honored and grateful to the clarinet world for all of the support and inspiration throughout the years.
Is there a composer you think we should feature as our composer-of-the-month?
Are you one yourself? Email us and let us know about it!