The ICA Board of Directors announces a special election for the position of treasurer. As defined by the ICA Bylaws, a nominating committee was formed and met under the guidance of the immediate past president, Mitchell Estrin. The nominating committee members were ICA past president Julie DeRoche and members Kathleen Jones and Michael Lomax.
The two candidates for treasurer put forward by the committee for a vote by the membership are highlighted below. Please refer to their biographical information and personal statements.
Voting instructions will be distributed by eblast on October 15, 2021. Voting will be open to ICA members in good standing for a period of two weeks and will close at 11:59 pm EST on Saturday, October 30, 2021. Once tallied, the election results will be announced to the membership by eblast.
---
Candidate #1 – Kip Franklin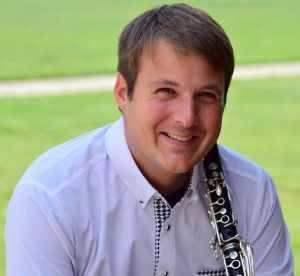 Biography
Kip Franklin is the Assistant Professor of Clarinet at the University of South Alabama and has performed extensively as a soloist and chamber musician across the United States and Europe. He frequently performs with the Northwest Florida Symphony Orchestra, the Northwest Florida Ballet Orchestra, and the Mobile Opera Orchestra. An advocate of new music, Dr. Franklin was a part of the consortium for David Maslanka's Eternal Garden: Four Songs for Clarinet and Piano and his Concerto for Clarinet and Wind Ensemble. His debut solo album, Crossroads: Twenty-First Century Music for Clarinet, was released in 2018. He has presented and performed at the International Clarinet Association conventions in Louisiana, Ohio, Florida, Tennessee, and Ostend, Belgium. Dr. Franklin has served as the Audio Reviews Editor for the ICA since January 2019.
In addition to performing and teaching, Dr. Franklin served as an adjudicator for the Michigan School Band and Orchestra Association, the Alabama Bandmasters Association, and the Pensacola Music Teachers Association. As a guest clinician, he has presented at the Midwest Clinic and the American Band College. His clarinet teachers include Caroline Hartig, Kennen White, Theodore Oien, and Guy Yehuda.
Statement
I am honored to be nominated to serve as treasurer on the ICA executive board. In my service as Audio Reviews Coordinator, I have been able to form excellent working relationships with the current ICA board members, staff, and the global membership. Since joining the ICA approximately a decade ago, I have seen it expand its efforts to become a more visible, transparent, and inclusive organization for all those who share a love of the instrument. As treasurer, I would keep steering the ICA in this positive direction, and will continue to make the benefits of membership available to all. Increasing our appeal to and involvement with international clarinetists as well as amateur and young players domestically is one means to this end. I believe in seeking out ways to maximize profits and benefits while minimizing costs. This will be my central guiding principle in the treasurer role so that ICA members trust their dues are being used responsibly and with consideration. As we continue to recover from the COVID-19 pandemic, I believe I have the necessary pragmatism, fiscal responsibility, and collaborative spirit to help advance and expand the ICA's causes and influence.
---
Candidate #2 – Vanguel Tangarov
Biography
Dr. Vanguel Tangarov is an Associate Professor of Clarinet at Texas State University and an Artistic Director and founder of the annual international clarinet event Texas State Clarinet Fiesta. Vanguel Tangarov performs as a Principal Clarinetist for the Austin Opera, Mid-Texas Symphony, and Victoria Symphony Orchestras.
Tangarov previously served as Principal Clarinet of the Sofia Philharmonic Orchestra, Bulgaria; Academia Chigiana Symphony Orchestra, Italy; Jeunesses Musicales World Symphony Orchestra, Germany, and the Monterrey Symphony Orchestra (OSUANL) in Mexico. He has appeared as a soloist with the Györ Symphony, Hungary; Mid-Texas Symphony in USA; the Plovdiv Philharmonic; the Rousse Philharmonic; the Varna Philharmonic, and the Sofia Philharmonic orchestras in Bulgaria, the Constanta Philharmonic in Romania, and the Monterrey Symphony (OSUANL) and Monterrey Chamber Orchestra in Mexico, presenting music by Mozart, Weber, Copland, Jean Françaix, Cimarosa, Giampieri, Bernstein, and Pipkov.
Vanguel Tangarov has performed in more than 20 countries on four continents, winning a positive critical acclaim. Equally popular as a soloist, recitalist, and chamber musician, he has performed in important venues worldwide, such as Berliner Filharmoniker Hall (Berlin), Gewandhaus (Leipzig), Schauspielhaus (Berlin), Concertgebouw (Amsterdam), Oslo Konserthaus (Norway), Cadogan Hall (London), Symphony Hall Birmingham (UK), Boston Symphony Hall (USA), Bulgaria Hall (Sofia), and Zaragoza Hall (Spain) to name a few.
Tangarov studied clarinet with Dimitar Boyanov at the Dobrin Petkov Music High School for gifted students in his native country. He continued his education at the National Academy of Music "Prof. Pancho Vladigerov" in Sofia, Bulgaria, where he received a Bachelor of Music and Master of Music degree in clarinet performance under the direction of renowned pedagogue and concert artist Petko Radev, a former principal clarinet of Teatro Alla Scala, Milan, Italy.
Tangarov received his Doctor of Musical Arts degree from The University of Texas at Austin under the direction of Richard MacDowell. He has also received instruction from musicians such as Aurelian Octav Popa, Romania, and Gerald Pahinger, Principal Clarinetist of Vienna Symphony.
He can be heard as a principal clarinetist on a Naxos Label recording titled Circus Maximus by John Corigliano with The University of Texas at Austin Wind Ensemble, Harmonia Mundi Label; Samuel Barber: An American Romantic, Conspirare, Craig Hella Jonson and The Company of Voices, Harmonia Mundi Label; 2017 GRAMMY Nominated, Craig Hella Johnson: "Considering Matthew Shepard", as well as the soundtrack for the movie Knight of Cups, directed by Terrence Malik, in addition to being on more than 10 other recordings.
Vanguel Tangarov is a Buffet Crampon & Vandoren Performing Artist.
Statement
Dear Colleagues and Friends,
I am honored to be nominated and considered for treasurer of the ICA. I have been an active member of the Association since 2006. My membership with the association includes multiple performances, presentations, and collaborations throughout the years; however, my passion and dedication to the clarinet craft received the highest recognition with the nomination for President of the ICA in 2018. It was truly an honor. Currently, I serve as the ICA. Orchestral Audition Competition coordinator, and I previously served as a member of the Artistic Leadership Team for the ClarinetFest 2019 in Knoxville, TN. In addition, my work as a member of the team in Knoxville in 2019 led to receiving a Guinness World Record for assembling the Largest Clarinet Ensemble.
During my time as a clarinet professor at Texas State University, I founded the annual international clarinet festival, the Texas State "Clarinet Fiesta," which brings artists from around the world to Central Texas. I also founded a series of international clarinet master classes, creating a bridge for Texas State clarinet students and international students.
My innovative and actionable approach for problem solving has driven my entrepreneurial spirit within the clarinet world. My business endeavors throughout the years have required an immense amount of responsibility, organizational accuracy, and management. Moreover, I am proud to have led all ventures to a high level of success while still managing my roles as a professor, artist, and family man.
If elected as treasurer, my focus will be to further the financial outlook of the ICA by identifying ways to optimize our budgets, mitigate risk, and accurately report on the financial state of the organization. I am confident that the board will support me to successfully carry out treasurer duties. I would be honored to work alongside esteemed colleagues, members, and friends as we strive towards the same mission: keeping the ICA thriving, especially during such unprecedented times.