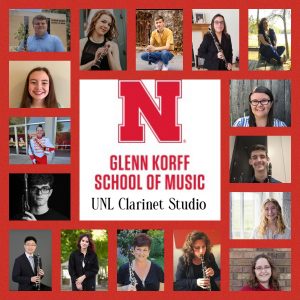 Congratulations to the University of Nebraska-Lincoln Clarinet Studio for becoming the first studio in 2021-2022 to reach 100% enrollment in the ICA! The UNL Clarinet Studio is led by Professor of Clarinet Dr. Diane Barger.
Clockwise from the top left: Grant Westerman, Melissa Graue, Nate Meyer, Danielle Botdorf, Rachel Levison, Kayla Martin, Matthew Bean, Allison Linton, Sara Vance, Emily Rose, Dr. Diane Barger, Emma Rae Barbee, Taeyeong Jung, Dayton Linhardt, Allison Neuman, and Caroline Mattern. Not pictured: Michael Bowen
The UNL Clarinet Studio offers a rich, musical atmosphere in which to continue your studies at the undergraduate or graduate levels. We offer the following degrees in music that Dr. Diane Barger, Professor of Clarinet, tailors to your needs and educational/career goals: Music Minor, Bachelor of Music, Bachelor of Music Education, Bachelor of Arts, Master of Music, Doctor of Musical Arts, and the PhD in Music Education.
The University of Nebraska-Lincoln is proud to be "pioneering new frontiers" inside the studio and classroom to prepare our students for their diverse careers in music.
If a studio reaches 100% enrollment by December 31, 2021, the studio will be featured in a future issue of The Clarinet and on our social media platforms and blog. We will also offer all studio members in those that acquire 100% enrollment a $20 discount on early student registration for ClarinetFest® 2022 in Reno/Lake Tahoe. Student and youth online memberships are still $10 until the end of the year (December 31, 2021), so this is the perfect time to join!