ClarinetFest® 2023 in Review
---
ClarinetFest® 2023 Day 4
ICA Past Presidents Round-Table Discussion
by Joanna Wiltshire
---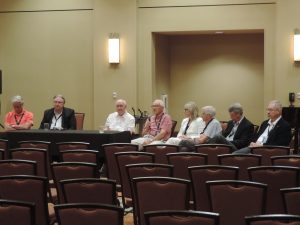 On Saturday at 1 PM, eleven past Presidents of the ICA gathered for a roundtable discussion about the joys and hardships of holding the prestigious President position. The panel was moderated by Robert Spring, and included Denise Gainey, Caroline Hartig, John Cipolla, Charles West, Ramon Kireilis, Alan Stanek, Julie DeRoche, F. Gerald Errante, Keith Koons, and Robert Walzel. To start the discussion, Robert Spring explained that being president of the ICA is really a 6-year term: 2 years as president-elect, 2 years as president, and 2 years as past president.
The prompt for discussion was to tell funny stories and fond memories that occurred while each member of the panel was president. Robert Spring, who was president from 1998-2000, started the conversation by recalling that during the 1996 Young Artist's Competition, the winner rejected the clarinet offered as a prize by saying, "I don't want this brand!" The next person to speak was Denise Gainey, the current past-president, who served as president from 2020-2022. Gainey's funny story was that during ClarinetFest® 2022, she went to take a walk to destress during the conference and literally got hit by a car! Despite this, she mentioned that she loved serving as president and working with everyone on the executive board. After Gainey, Caroline Hartig spoke. Hartig served as president of the ICA from 2015-2018 and recalled that her main memory from serving as President during ClarinetFest® was, "We're going to need another pack of Rolaids!" She also recalled how she's been a member of ICA since she was 18 and how ClarinetFest® continues to "inspire the young folks" every year.
After Hartig, John Cipolla, who served as president from 2012-2014, spoke about how special it was to go to Italy in 2013 for the first time for ClarinetFest®, as someone with an Italian heritage. Charles West was the next person to speak on the panel. Serving as president from 1988-1990, he was the first president of the newly merged International Clarinet Association. Previously, there were two organizations, the International Clarinet Society and ClariNetwork International. West recalled that his name is on the merger document that made the International Clarinet Association what it is today. Ramon Kireilis was next on the panel and served as the first president of the International Clarinet Society (I.C.S.) in 1973, thus was the first president of any clarinet organization. He also founded the Clarinet journal and recalled some arguments he had with Lee Gibson about what to include in the journal. Kireilis said he got the idea for a clarinet clinic from TUBA (Tubists Universal Brotherhood Association) in 1972 and recalled that one of the best parts of ClarinetFest® is, "hearing famous people squeak!"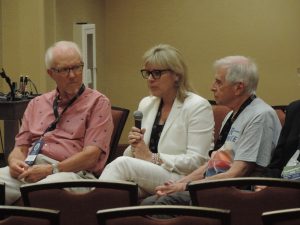 Next to speak was Alan Stanek, who served as president from 1996-1998. His fond memory was that he was president during the 25th anniversary of the ICA and it was the first year they honored honorary members. He also recalled that in 2002, a 10-year old Julian Bliss fell asleep on a couch at a party during ClarinetFest at the University of Oklahoma after talking with Stanek about how much he liked baseball. Julie DeRoche, the ICA's first woman president from 2000-2002, spoke next about how she pushed for better organization of the business dealings of ICA and more international participation in the organization. After DeRoche, F. Gerald Errante, who served as president from 1994-1996 discussed how he performed at the first ever I.C.S. clinic in 1973 and got help with his ClarinetFest® performance equipment in 1995 from Arizona State University's football team! Keith Koons, who served as president from 2010-2012, spoke about how his time as president saw large growth for the organization and that the message of "connections through the clarinet" helped inspire this growth. Lastly, Robert Walzel, who was president from 2002-2004, talked about how he also pushed for the organization to become more international and how he had to process all membership fees by hand by having them mailed to the ICA's P.O. Box. This session was a wonderful learning experience about the history of the ICA.
---