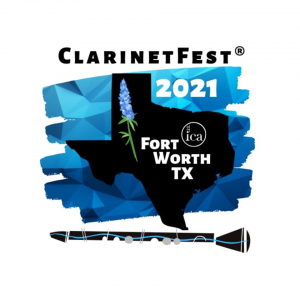 From the ClarinetFest 2021 Artistic Leadership Team:
---
Our Reno rollover process is now complete!
The membership of the International Clarinet Association is well represented by the following performers and presenters whose proposals were peer-reviewed and selected for Reno 2020 by Leslie Moreau and her Artistic Leadership Team but who will now be forming our "base" schedule for the Fort Worth ClarinetFest 2021.
(NOTE: The 2021 Artistic Leadership Team is now also reviewing new proposals to add to the comprehensive program.)
Amy Advocat
Jason Alder
Lori Ardovino
Gabrielle Baffoni
Adam Ballif
Taylor Barlow
Gregory Barrett
Michael Bartnik
Joshua Bennett
Ani Berberian
Erika Block
Melanie Bourassa
Ellen Breakfield-Glick
Katherine Breeden
Marianne Breneman
Karen Bronson
Jeffrey Brooks
Raquel Bruening
Christopher Bush
Clara Byom
Erin Cameron
Martin Castillos
John Cipolla
Katrina Clements
Jarom Coleman
David Cook
Karen Craig
Elizabeth Crawford
Vanessa Davis
Trevor Davis
Francisco Javier de Alba
Andrew DeBoer
Lara Diaz
Robert DiLutis
Stacey DiPaolo
Vincent Dominguez
Margaret Donaghue Flavin
CoCane Clarinets
Luke Ellard
Jane Ellsworth
Patrick Englert
Kjell Fageus
Calvin Falwell
Amanda Forest
Ford Fourqurean
Jennifer Fraley
Amy Gabbitas
Carl Galland
Joshua Gardner
Michael Gersten
Lucas Gianini
Jackie Glazier
Stanislav Golovin
Natalie Groom
Elizabeth Gunlogson
Timothy Haas
Myroslava Hagen
Russell Harlow
William Hayter
Barbara Heilmair
Julia Heinen
Shandra Helman
Rachael Hendricks
Jaren Hinckley
Matthew Hodgetts
Annaka Hogelin
Jonathan Holden
Scot Humes
Csaba Jevtic-Somlai
Melissa Kindy
Christopher Kirkpatrick
Keith Koons
Paul Kopetz
Kyle Kostenko
Gabriel Lellouch
Sheng-hsin Lin
Jessica Lindsey
James Logan
Corey Mackey
Jenna McCall
Amanda McCandless
Amy McCann
Dawn McConkie
Jacqueline McIlwain
Olivia Meadows
Audrey Miller
Lara Mitofsky Neuss
Osiris Molina
Shiana Montanari
Madelyn Moore
Patrick Morgan
Amanda Morrison
Bryce Newcomer
Keith Northover
Gregory Oakes
David Odom
Cathy Ogram
Sean Osborn
Kelsey Paquin
Joshua Phillips
Anthony Poehailos
Spencer Prewitt
Thomas Puwalski
Jennifer Reeves
Lundrim Rexha
Jeremy Reynolds
Jeremy Ruth
Larkin Sanders
David Shea
Rongbing Shen
Lori Shepherd
Amelia Smith
Kevin Spagnolo
Jana Starling
Daryll Stevens
Elisabeth Stimpert
John Tegmeyer
Nikolasa Tejero
Shannon Thompson
Stephanie Thompson
Ken Thomson
Suzanne Tirk
Anni Tolvanen
Ian Tyson
Stephan Vermeersch
Kathryn Vetter
Michele Von Haugg
Wesley Warnhoff
John Warren
Lowell Weiner
Lucas Willsie
Jeremy Wohletz
Kornel Wolak
Catherine Wood
Alan Woy
Shengwen Wu
Jonatas Zacarias de Oliveira
Hila Zamir
Shuang Zhu
Jenny Ziefel
Los Angeles Clarinet Choir
University of South Alabama Clarinet Choir
University of North Florida Clarinet Ensemble
Prickly Pear Clarinet Ensemble
Venner Clarinet Choir
North Dakota State Clarinet Ensemble
Emporia State University Clarinet Choir
---
We are looking forward to these ICA Board and Staff members performing on our "Flowers without Borders Stage" at ClarinetFest® 2021:
Denise Gainey & Diane Barger
Eddy Vanoosthuyse
Christopher Nichols
Tod Kerstetter
Caroline Hartig
Jenny Maclay
Rachel Yoder
The Artistic Leadership Team would like to thank these artists for their service to the clarinet community at large and for their willingness to perform amidst a busy conference and we would also like to recognize the amazing efforts and service of both Mitch Estrin and Jessica Harrie who will be behind the scenes actively serving the ICA conference in many other ways.
*All scheduled performances and artists are subject to change.
---
Texas is proud to be host for ClarinetFest 2021. Our state is rich with music and our Texas clarinetists have come from around the world to work and perform here! As part of our celebration of all things Texan, here are the artists performing on our Texas Artist Stage at ClarinetFest® 2021:
Ivan Petruziello & Victoria Luperi
Stanislav Chernyshev
Sean Krissman
Daniel Goldman
Vanguel Tangarov
Kim Cole Lueveno & Phil Paglialonga
Jonathan Gunn
Christopher Ayer
David Shea
Jim Logan
Paula Corley
Doug Storey
Tim Bonenfant
Patricia Card
Jonathan Guist
Andrea Vos-Rochefort
Dmitry Perevertailenko
Plus Your Host/ALT Team:
Mary Alice Druhan
Jennifer Daffinee
Jody Webb
Cheyenne Cruz
Gary Whitman
*All scheduled performances and artists are subject to change.
---
Clarinet Learning Community Featured Clinicians for ClarinetFest® 2021
I want to recognize and celebrate the following professionals who have volunteered to serve as a Featured Clinician for the Clarinet Learning Community. As the CLC is a new component of ClarinetFest®, the Artistic Leadership Team wants to ensure that each level has a healthy and balanced schedule. Our Featured Clinicians will be working with the Artistic Leadership Team once all proposals are accepted to fill in gaps with engaging offerings that are level-specific and will serve as a 'homeroom' for their level. We are extremely proud of their service and their willingness to engage with other presenters in a collaborative way and to foster a sense of community. The ALT wants to ensure the membership that regardless of your preferred level and the conference events you choose to attend, this ClarinetFest® will be one to remember!
Entry musicians – first introductions and lessons to clarinet, Ryan Gaughan
Level 1 – approximately 1 year experience, Michelle Anderson
Level 2 – approximately 2-3 years experience, Ricky Reeves
Level 3 – approximately 4-5 years experience, Jane Carl
Level 4 – approximately college ready, Phil Paglialonga, Pedagogy Chair, ICA
Level 5 – college intensive, John Scott
Level 6 – adult enthusiast, Laura Grantier
Level 7 – pedagogy exchange for professional teachers, Deborah Bish
---
The Artistic Leadership Team is thrilled to announce your 2021 conductors!
ClarinetFest® 2021 Clarinet Choir Directors:
Festival Clarinet Choir, Matteo Dal Masso
Professors Clarinet Choir, Victoria Ramos Dresel
New Horizons Clarinet Choir, Alan Woy
College Clarinet Choir, Chuck West
High School Clarinet Choir, Ron Scott
Middle School Clarinet Choir, Christine Wolf
We hope the ICA membership will be involved in the community through these performance opportunities of the Third Annual Guido Six International Clarinet Choir Festival hosted at ClarinetFest® 2021 in Fort Worth.
Thank you to our ensemble directors for volunteering!