Celebrate #givingtuesday with the ICA Holiday Adopt-A-Member Campaign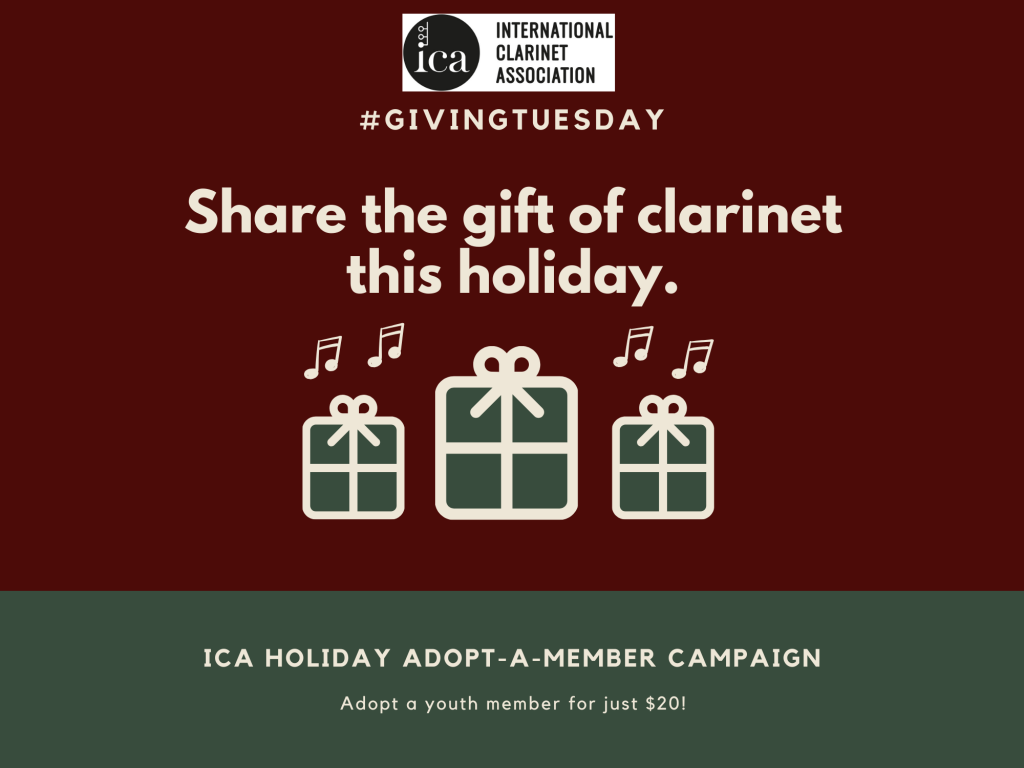 This holiday season, there is no better gift to give than the gift of clarinet! The holidays are a perfect time to give back and participate in the ICA Adopt-A-Member program. By giving clarinetists an ICA membership, you are giving them access to information, history, and our wonderful community of clarinetists from around the world. This year, we encourage our members to gift a youth membership for someone you teach, someone you know, or simply give to the adopt-a-member program at large and we'll match you with a student in need! For just $20, a student in the adopt-a-member program will receive all of the benefits our members receive!
Here are just a few of those benefits:
The Clarinet. Our quarterly journal features interviews with leading players, pedagogical articles from renowned scholars, and several other clarinet-centric highlights.
ClarinetFest. This is one of the largest annual gatherings of clarinetists from around the world, and you must be a member to attend.
Naxos Music Library. All ICA members receive free access to this database of recordings, which currently has over 2 million tracks.
Research center. Members have access to the collection of clarinet repertoire at the University of Maryland Special Collection Library, which includes many standard, uncommon, and even out-of-print materials.
Anderson Musical Instrument Insurance. If you are a member in good standing, you may be eligible for discounted clarinet insurance through Anderson Musical Instrument Insurance.
Annual competitions. Members are eligible to compete in our annual high school, young artist, orchestral excerpt, and research competitions for prizes and awards.
Every ICA member that adopts a member between today, December 3, 2019, and December 31, 2019, will be entered to win a one-year online ICA membership! 
---
Here is some more information on our Adopt-A-Member program:
What is the Adopt-A-Member Program?
The ICA Adopt-A-Member program is in place to connect ICA members with potential members who are in need of financial sponsorship. The ICA's role in this project is to simply match donors with potential members who have expressed a financial or logistical need. The degree to which a sponsor participates is solely up to the sponsor and all communication between sponsor and adopted member is at their discretion. Traditionally, the sponsor has assisted a member residing outside of the United States, often in countries where it is difficult to convert local to US currency. Although the need seems to be greatest outside of the USA, the program does not need to be limited to such.
Since its founding in 1973, the International Clarinet Association has been striving to live up to its name and become as inclusive as possible. The love of our instrument unites us all – professional or amateur; teachers, performers, students at all levels of development from all parts of the world. Our annual dues supports the Association's various activities including the journal, The Clarinet, our various competitions, attendance at ClarinetFest, and access to our Research Center. While most of our membership can easily afford our annual dues, there are prospective members of the ICA who, due to a variety of circumstances, are unable to pay the dues required for membership. Often these prospective members live in countries where paying dues for professional membership must take second place to providing the necessities of life. In order to include those who need assistance in paying dues, the Adopt-a-Member program was formed. This is quite simply a program where the more fortunate of us will offer to pay the dues of a prospective member who is unable to do so. While it is not necessary for both parties to communicate with one another, certainly most will wish to do so. Relationships have varied from the casual, to those where fulfilling lifelong friendships have developed.
What are my responsibilities as a sponsor?
A sponsor is expected to commit to adopting a member for a minimum of one year. The sponsor will make payment directly to the ICA. For as little as $20, you can make an enormous impact on the life of clarinetists around the world.
The amount for membership is as follows:
| MEMBERSHIP LEVEL | ONE-YEAR | TWO-YEAR |
| --- | --- | --- |
| Adult, Online and Print | $75 | $140 |
| Adult, Online Only | $50 | $90 |
| Student, Online and Print | $50 | $90 |
| Student, Online Only | $35 | $60 |
| Youth (High School and Younger), Online Only | $20 | N/A |
| Senior Citizen (Age 65 and Older), Online and Print | $50 | $90 |
| Senior Citizen (Age 65 and Older), Online Only | $35 | $60 |
| New Horizons International Music Association, Online Only | $25 | N/A |
| Military, Online and Print | $50 | $90 |
| Military, Online Only | $35 | $60 |
| Institutional | $75 | $140 |
| Pre-College Institutional | $50 | $90 |
All membership renewal notices will be sent to the sponsor, and the sponsor can choose to renew if he/she wishes. If the sponsor does not renew, the membership will expire automatically.
The ICA has had requests for sponsors that will provide financial assistance to members who would like to attend conferences. While there is no program in place for such an option, the sponsor may choose to consider such requests and make a decision accordingly. Such an arrangement would be made between the sponsor and adopted member with no involvement on the part of the ICA.
How can I participate in the Adopt-A-Member campaign?
Anyone wishing to participate in the ICA Adopt-A-Member campaign can contact F. Gerard Errante, the coordinator of this initiative, at [email protected] or ICA Executive Director of Operations Jessica Harrie, at [email protected].