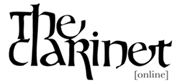 Originally published in The Clarinet 49/2 (March 2022). Printed copies of The Clarinet are available for ICA members.
---
Book and Music Reviews: March 2022

Music
Etudes and Collections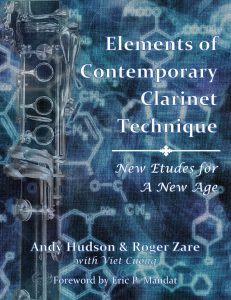 Andy Hudson & Roger Zare, with Viet Cuong. Elements of Contemporary Clarinet Technique: New Etudes for a New Age. Conway Publications, 2021. $30.00
Every clarinetist develops in a universe of musical works particular to them. The brightest, longest lasting and most forward-looking stars in mine have been Bartók's Contrasts, Copland's Concerto for Clarinet, Messiaen's Quatuor pour la fin du Temps and the reference work Bartolozzi's New Sounds for Woodwind. The quality and heft (151 pages) of clarinetist Andy Hudson's and composer Roger Zare's Elements of Contemporary Clarinet Technique now means that I have a new star by which to be guided and energized.
Zare and Hudson, each stimulated by the other, and drawing on their own top-flight educational and musical backgrounds, have created a singular achievement that includes 22 beautiful solo clarinet works (with one of the works by fellow award-winning composer Viet Cuong) that communicate much of what the clarinet can do. While each work is pedagogical in nature, there is nothing pedantic nor drill-like in them. Each is a concise one-to-three-page work that exploits one or more of the clarinet's capabilities.
Part of the easy genius of this guide to contemporary clarinet technique is that Hudson describes, in extensive introductory essays, how to approach the techniques and musical demands of each work composed by Zare. Hudson writes informed by the consistent details of his standard clarinet pedagogy, instilled from his primary teachers Lisa Oberlander (with reverberations of her own teacher Howard Klug), Lawrie Bloom and Steve Cohen. Hudson describes various ways to approach each of the performance topics in this collection: breath control; slurs; quarter tones; glissandi; circular breathing; single, double, slap and flutter tonguing; growling; timbre trills and multiphonics. Hudson guides us with reminders of voicing and embouchure awareness, provides novel fingerings for unique situations and in general acts as your personal cheerleader as you explore techniques you have heard of but didn't know how to approach, or have been performing for years but perhaps in a haphazard or quasi-informed manner. Even the most seasoned performer and teacher will be enriched by Hudson's ideas. I know every clarinetist will enjoy performing Zare's and Cuong's works and will take away a new satisfaction and appreciation of what the clarinet in the hands of a knowledgeable and skilled performer can do. Highly recommended.
– Gregory Barrett
---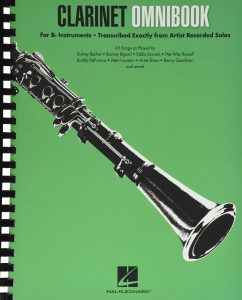 Larry Dunlap. Clarinet Omnibook. Hal Leonard, 2019. $24.99, eBook $19.99
A watershed moment for jazz clarinet occurred in 2013 when the New York Times ran the article "Jazz's Skinny Stepchild Is Cool Again," recognizing jazz clarinet's comeback after decades of eclipse by saxophone. Now the jazz clarinet renaissance has gained further confirmation with Hal Leonard's publication of Clarinet Omnibook. According to Executive Vice President Jeff Schroedl, the publisher wanted to continue its Omnibook series by working their way through the popular jazz instruments. They had already published Omnibooks for trumpet, guitar and scat singing. "There wasn't a lot out there for clarinet. That was intriguing for us," says Schroedl.
Clarinet Omnibook includes 28 artists' solos on 43 tunes. The book covers a vast chronology, from some of the earliest recorded jazz clarinetists – Sidney Bechet, Jimmy Noone, Pee Wee Russell, Omer Simeon – to many of today's players: Anat Cohen, Eddie Daniels, Paquito D'Rivera and Ken Peplowski. In between are giants of Swing Era clarinet: Bigard, Goodman and Shaw. It is gratifying to see solos by other great artists whose work will now become better known – such as Jimmy Giuffre, Jimmy Hamilton, George Lewis, Tony Scott, Bill Smith and Brad Terry – plus two jazz saxophone giants who we sometimes forget were clarinet masters: Phil Woods and Lester Young.
Transcriptionist Larry Dunlap is primarily a pianist, but one with vast arranging experience and a particular fondness for featuring clarinet because of its range and versatility. Dunlap – who has transcribed four Real Books and the solos of Oscar Peterson and Thelonious Monk – admits, "This was a little bit of a stretch for me," especially notating devices like bent notes and glissandi. He consulted clarinet players as part of his process. Dunlap did an excellent job.
Chords are provided for each tune and in almost every case the transcription starts with the melody. Most of the solos are rather intricate, a good challenge even for professional players, but I can also picture teachers sending intermediate players to the woodshed with some of these tunes. Recordings of nearly every piece are available on YouTube.
– Bob Jacobson
---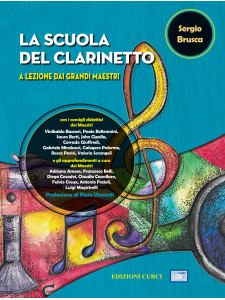 Sergio Brusca. La scuola del clarinetto: A lezione dai grandi maestri (Clarinet School: Lessons with the Great Masters). Edizioni Curci, 2021. €23,00
La scuola del clarinetto is a new publication of the Italian clarinetist Sergio Brusca – active as the bass clarinetist in the Stark Quartet –
published by Edizioni Curci. This clarinet method has been developed by an author experienced with many years of teaching activity. It is intended for beginners, students of public or private music schools, music high schools and local bands. Brusca has put together, in a very clever way, five units with a total of 135 small studies. They include a variety of exercises and simple clarinet trios, organized with gradually increasing degree of difficulty. The aim is for the student to develop correct control and technique on the instrument.
There are ample simple but important tips and there is an appendix with more demanding studies and difficult scales. The 20 chamber music pieces were conceived for students to have the opportunity to play together after even a few lessons. One innovative and strong feature in the method is the contribution of so many well-known Italian clarinetists who accepted to help Brusca by giving their ideas and theories to the young clarinetists on all the different aspects of clarinet playing. These clarinetists are: P. Beltramini, C. Giuffredi, R. Parisi, C. Palermo, G. Mirabassi, P. Vincenti, V. Serangeli, A. Fraioli, J. Cipolla (American player of Italian origin), S. Berti, F. Belli, V. Baccari, D. Casadei and C. Cavallaro. The Italian clarinet scholar Adriano Amore has given his contribution as has Fulvio Creux, the conductor of leading Italian military bands. My personal contribution was to write a brief clarinet history. This new method is highly recommended, even though it is written in Italian (there may possibly be a future English translation) for the high didactic value of its content.
– Luigi Magistrelli
---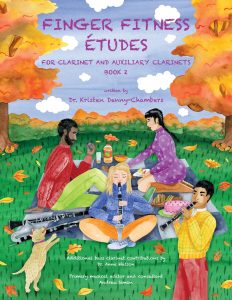 Kristen Denny-Chambers. Finger Fitness Études for Clarinet and Auxiliary Clarinets, Book 2. Clarinet Playground, 2021. clarinetplayground.com for print, digital, teacher and bundle prices.
If you have been loving Kristen Denny-Chambers's Finger Fitness Études Book 1 (reviewed in Vol. 48, No. 2, March 2021), you will be glad to know that her Book 2 is now available. Where Book 1 focused on small intervals of minor and major 2nds, and a few minor 3rds, Book 2 lets the player have a fun and joyous experience with major 3rds, 4ths, 5ths and minor 6ths all wrapped up in catchy tunes and rhythms. These one-page etudes will challenge a player in their third to fifth year of study with rhythmic variety, modulation to a closely related key in the middle of each etude and expressive use of chromatic variants. More experienced players will also grow from the focused practice of important fingering combinations. The beauty and craftsmanship of these lavish musical poems will perhaps be most appreciated by someone, such as this reviewer, in their 50th year of playing!
As in Book 1, about half of the etudes are given in a second version for bass clarinet, mostly for a low C instrument. Anne Watson made the modifications, and she is just one of the many in Denny-Chambers's growing community. Andrew Simon was the primary editor and consultant for Book 2 and Trevor Stewart has recorded all 40 etudes in MP3 format – see the clarinetplayground.com website.
Book 2 has even more jazz-inspired etudes than Book 1, and thanks to Tom Puwalski's influence there is a two-page klezmer piece. Jazz and klezmer tips are included in the appendices along with all the "finger drill" combinations that are the organizing principle behind this 78-page triumph. Highly recommended.
– Gregory Barrett
---
Solo clarinet works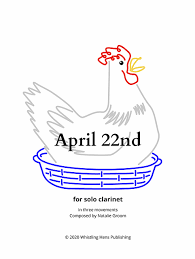 Natalie Groom. April 22nd. www.nataliegroom.com/sheetmusic, 2020. $15.00 (digital download)
Composer and clarinetist Natalie Groom's three-movement solo clarinet work April 22nd responds to powerful emotions stemming from an isolated seven-week government-mandated lockdown during the 2020 COVID-19 pandemic. At the time of its composition, she was in the midst of service as a live-in artist in residence on the campus of a senior living retirement community. Groom describes anger, despair, grief, resentment and defiance as she watches the seemingly endless pandemic affect her livelihood and the wellbeing of the seniors surrounding her. Despite these obvious emotions and the composer's explicit notes to express them (defiantly, angrily, restlessly, etc.), the piece itself seems shot through with hopeful gestures, dancing from one movement to the next and culminating in a movement entitled "Resilience." Nevertheless, she notes that the final vamp in the piece symbolizes "the never-ending drudgery of continuing to fight for normalcy, health and economic sustainability for artists during a pandemic."
The first movement, "Defiance," dances brashly out of the gate with a syncopated groove. The groove eventually fragments and becomes nonchalant, morphing into indifferent legato ideas. After a pause, the initial motive returns in the upper register, expressing anger. Floating grief follows this aggressive outburst, and the movement finishes softly, wearily echoing the fragments from the beginning. The second movement, "Despair," grieves and searches. Groom creates strong metric dissonances that contrast with the simplicity of "reminiscent" and "sad" figures. The movement gains restless momentum at its midpoint, culminating in a "triumphant" echo of the early syncopations. Like the first movement, this ends softly and slowly, echoing the initial motive. The final movement, "Resilience," makes no apologies for its spunk and determination. It also presents performers with the greatest technical challenges, leaping quickly across registers and venturing into the seventh partial (altissimo A).
Overall, Groom keeps the technical demands accessible and idiomatic, and April 22nd could be approached by an advanced high school student. She brings a clarinetist's sensibilities to the music, along with myriad opportunities for expression. In spite of the fact that a very serious situation led to the composition of this piece, it remains ineluctably fun to play and hear.
– Matthew Nelson
---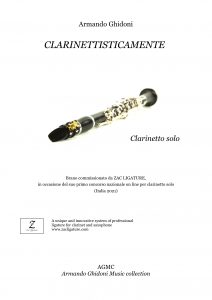 Armando Ghidoni. Clarinettisticamente. Armando Ghidoni Music Collection, 2021. Contact Armando Ghidoni via Meta (Facebook) €12,00
Armando Ghidoni (b. 1959) is a French composer with Italian origins who blends elements of both influences in his music. This work was commissioned by Zac Ligature for their 2021 online solo clarinet competition.
This a fun and immediately accessible piece because some sections are sight-readable, within the standard playing range, and in the meter changes between common time and 6/8, the beat remains constant. The work begins with a lyrical cadenza libero ad libitum that leads into the main body of the work with three contrasting sections. The first, a rollicking jig, essentially in A minor, is briefly interrupted by a rock music feel. Next is a lyrical Andante that meanders harmonically before returning to its tonal center, also in A. It introduces a 16th-note syncopated figure that becomes an element in the return of the extended jig that will conclude the piece. The Andante is less convincing than the closing section, which is a frolic and a romp.
– Robert Riseling
---
Duos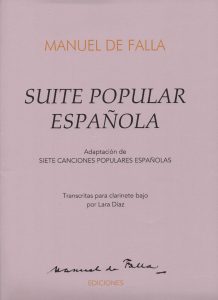 Manuel de Falla. Suite popular española. Adaptación de Siete canciones populares españolas transcribed for bass clarinet by Lara Díaz. Manuel de Falla Ediciones, 2021. $36.62
Lara Díaz is clarinet professor at the Salamanca Conservatory (Spain), the ICA national chair for Spain and a well-known bass clarinet performer. She has contributed considerably to our repertory; either as soloist or as member of the Trío Contrastes (violin, clarinet and piano), her work in this regard is remarkable.
Her lastest contribution is the transcription for bass clarinet and piano of the Siete canciones populares españolas by Manuel de Falla. The maestro wrote them for voice and piano in 1914 and soon they became very popular. In 1925 a version for violin and piano was made, and a year later, another for violoncello and piano.
"Falla works by elimination, by successive dispossession, up to bareness," said the great Spanish poet Gerardo Diego in 1938. And this is quite true in his Siete canciones. They are very short pieces – the famous and beautiful Nana (Lullaby) is barely 29 bars long – with a clear piano accompaniment that is highly effective as a support to the melody.
Díaz's knowledge of the bass clarinet is evident, giving us a totally idiomatic version for the instrument and at the same time being respectful of the original. The work is recommended for medium-advanced performers with a good command of the high notes. As recommended by Díaz in the preface, most of these notes can be played with open fingerings, thus taking advantage of the vocal quality of the bass clarinet sounds at the top of the second register.
The music has been published by Manuel de Falla Ediciones, a publishing firm linked to the Archivo Manuel de Falla, the place where the composer's legacy is preserved. That this version is endorsed by this important institution gives us an idea of the excellence of this work.
– Pedro Rubio
---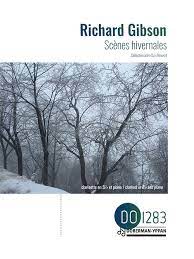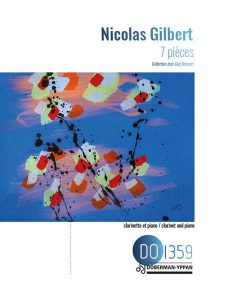 Collection Jean-Guy Boisvert: Four suites for clarinet and piano by Richard Gibson, Nicolas Gilbert, François-Hugues Leclair and Alain Perron in four volumes. Dobermann-Yppan publisher, 2019. Print edition: $15.00 to $20.00, digital: $13.50 to $18.00
If there is one initiative to be welcomed, it is that of Jean-Guy Boisvert, distinguished clarinetist and professor at the Université de Moncton in Canada. His Belle aventure is a commission of 150 works for clarinet by leading Canadian composers, dedicated to young clarinet players. The first compilation, consisting of three volumes, has already been praised by reviewer Gregory Barrett, who described them as "miniature works for great musicians in the making" (The Clarinet, September 2019).
The sequel comes in the form of four volumes comprising 25 pieces for clarinet and piano, composed respectively by Richard Gibson, Nicolas Gilbert, François-Hugues Leclair and Alain Perron.
Through his Scènes hivernales (DO 1283), Richard Gibson lets us travel through his music, informed by the Canadian cold, from the crystalline world of "Glaçons" to the groovy "La patinoire" in the form of a jazz waltz. These six pieces for the first four years give a lot of freedom to the young clarinetist who, with a supportive piano part, has solo or improvised passages that evoke resonances of Bartók, Berg and Bill Evans as well as the atmosphere of Edgar Allan Poe, without forgetting to remind us of intervals of the fourth, fifth or unison.
The six Visages de la paix by François-Hugues Leclair (DO1377), dedicated to the memory of Paul Éluard and Pablo Picasso, contrast the peaceful nature of the clarinet against the piano's rich harmonies, vivid chromaticism or friction against clusters of notes. A melodic clarinet escapes from his flamboyant writing; to which the composer gives great freedom, especially with the boxes of aleatoric note choices of the final piece. Technically the pieces are accessible in the first four years, although there are some flutter tongue passag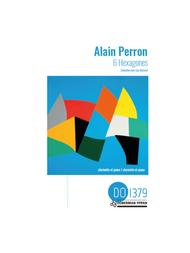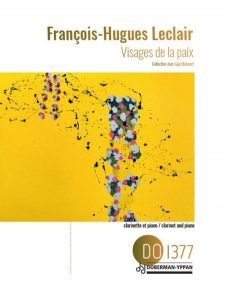 From Alain Perron's 6 Hexagones (DO1379), which explores the world of the whole tone scale in six miniatures, a great unity emerges, all in the shape of a great technical crescendo for the clarinetist from the first to the sixth year, accompanied by an increasingly mobile piano that ends each piece with the same pentatonic chord.
Nicolas Gilbert's Sept pièces (DO1359) is the most distilled volume in the series, which however, does not make the music less powerful and evocative. In particular, there are well-chosen titles such as "Manège ancient" which reminds us of Klosé's very profitable exercises embellished with a few bisbigliando notes. Gilbert includes a lot of the low chalumeau range, which is a good thing for the young clarinetist who needs to properly plug the holes of the right hand.
These four volumes target the technical skills a clarinetist needs to develop in their first six years. Though each has different aesthetics, they are similar in their careful workmanship which in turn is served by the high-quality print editions.
Any teacher keen to renew their pedagogical repertoire will benefit from the use of this anthology in progress, recordings of which are available on iTunes, Spotify, YouTube or SoundCloud as recorded by its initiator. Chapeau bas Monsieur Boisvert!
– Jean-Marc Fessard
---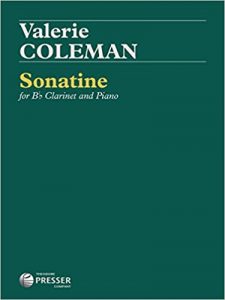 Valerie Coleman. Sonatine for B-flat clarinet and piano. Presser, 2014. $16.99
Valerie Coleman is one of the best American composers working today, and we clarinetists are blessed that she has written numerous chamber music pieces for us, both wind quintet and other. The founding flutist with Imani Winds, Coleman understands how the clarinet works, and it shows in her music.
This eight-minute duo is full of both energy and repose, and requires fast fingers for both instrumentalists. In the same tempo throughout, Coleman uses rhythmic values to alternate fast and slow passages, such as in the first four measures, where most of the piece's material is laid out. The fast passages usually involve challenging rhythms and syncopations that often don't align between the voices. The slower passages are where one can really hear the beautiful jazz-ish harmonies in the chords and melodies. In the first two minutes of the piece, there are many measures where only one instrument is active, but the interaction soon heats up, occasionally resulting in dance-like passages in octaves. The piece winds down near the end, but finishes with a restatement of the opening two measures' energy.
Sonatine is a great addition to the repertoire, and would work on any recital, particularly as an opener. It would be a great challenge for a college student, and any audience would find this music immediately accessible and engaging without being pandering or unsophisticated.
While the clarinet part is idiomatic, the piano part is less so, with many repeated staccato notes in a fast tempo, and quick leaps of over two octaves. This piece will challenge the best of pianists. The edition heard on recordings is different in several small ways from the 2014 published edition. The score's clarinet part is in C. The printing is clear, if a little wide at times – more compact measures would make reading easier, especially in fast passages. Highly recommended!
– Sean Osborn
---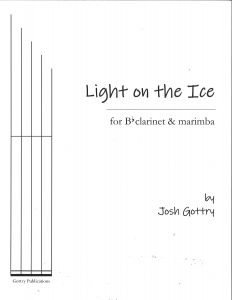 Josh Gottry. Light on the Ice for B-flat clarinet and marimba. Gottry Publications, 2021. $12.00 (score and parts).
Josh Gottry (b. 1974) is active as an educator, percussionist, and composer. He composed Light on the Ice in 2020 for the Unfiltered Duo (Paul Hayes, percussion and Amy Humberd, clarinet). Written for B-flat clarinet and 4.3-octave marimba, this duet is a conversation between the two instruments, with each part having the opportunity to play melodic and accompaniment roles.
"With a comfortable groove" is the indication given to the performers at the beginning of the piece, and it is this groove that makes the piece so enjoyable for the listener. The two outer sections generally have running 16th notes in one part with a syncopated melody fitting on top. The middle section is thinner in texture with syncopation in both parts, challenging the ensemble between performers. Even with this, the composer's classification of a medium difficulty rating is accurate, and a good undergraduate clarinetist could play this part.
Light on the Ice is just 4 minutes and 30 seconds in length and would be a tuneful and upbeat addition to any recital program. More information, including a video performance and purchase options (digital download or paper version) can be found at gottrypercussion.com.
– Robyn Jones
---
 Chamber Works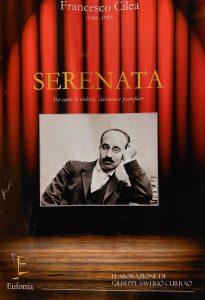 Francesco Cilea. Serenata. Arranged by Giuseppe Currao for soprano (violin/flute), clarinet and piano. Edizioni Eufonia, 2021. €14,00
Francesco Cilea (1866-1950) is well known above all for his operas Alresiana and Adriana Lecouvreu. His refined style is melodic, typical of the Neapolitan School, and it also reflects harmonic influences from France, such as in the works of Meyerbeer. Cilea's music expresses deep feelings and emotions. The Serenade, now published by Eufonia, was written around 1890 for voice and piano with the text by Giuseppe Pessina. It belongs to a light style of salon arias composed in the late 19th century. This style precedes the period of verismo (Mascagni, Puccini). Giuseppe Currao, Italian clarinetist and professor at the "F. Cilea" Conservatory of Reggio Calabria, has arranged this aria for voice (violin or flute as alternatives), clarinet and piano. It is a brief, simple, but delightful melody with the singer leading, and the clarinet playing its own theme intertwined with the voice.
– Luigi Magistrelli
---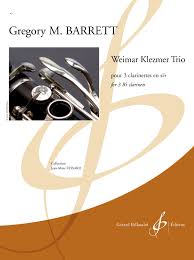 Gregory M. Barrett. Weimar Klezmer Trio. Gerard Billaudot Éditeur, 2020. €18,25
Since 1999, the city of Weimar in Germany has been home to the most important klezmer festival in Europe, Yiddish Summer Weimar. Gregory Barrett, the professor of clarinet at Northern Illinois University, was a participant at a workshop in the early years of the festival. Since then, Barrett has been an avid advocate of klezmer music, among his other activities. Barrett's Weimar Klezmer Trio is a nine-minute suite in four parts for three B-flat clarinets in which Barrett uses the melodies he learned in Weimar. Three klezmer dances (hora, nigun and bulgar) are preceded by an ornamented, improvisatory doina. Weimar Klezmer Trio is an idiomatically written, fun piece where the melodic material is skillfully divided with all three players. It is only moderately difficult but requires some basic knowledge of the klezmer style to be executed enjoyably. In his rigorously detailed score, Barrett encourages the players to "use ad libitum vibrato, trills, glisses, con voce etc. in klezmer style throughout."
– Mikko Raasakka
---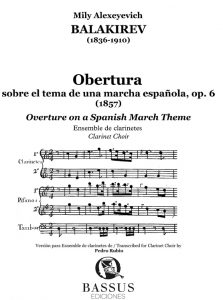 Mily Balakirev. Overture on a Spanish March Theme, Op. 6 (1857). Arranged for clarinet quartet by Pedro Rubio. Bassus Ediciones, Madrid, 2020. Free download.
The historic, 18th-century "Spanish Theme" of Balakirev's youthful work for orchestra – also called the Marcha Granaderos (March of the Grenadiers) or Marcha Real (Royal March) – is best known to contemporary listeners as the Spanish official anthem. This fine arrangement by Spanish clarinetist Pedro Rubio for a quartet of mixed clarinets (E-flat, B-flat, basset horn and bass) comes with alternate parts for B-flat clarinet on parts 1 and 3, plus an alternate part for alto clarinet. The Overture is in two sections: a brilliant Allegro introduction featuring 16th-note passages divided between alternating pairs of clarinets in parallel thirds or 10ths, and the March itself, where the stately theme is presented by each clarinet in turn, accompanied by varying styles of rhythmic figuration. A lively coda combines material from both sections. This short but showy piece would be an exciting opening to a full program of clarinet quartets, and with the E-flat on the top part, especially suitable for outdoor performance.
– Margaret Thornhill
---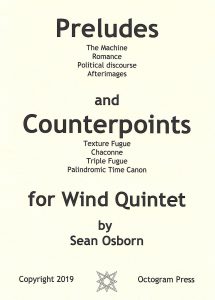 Sean Osborn. Preludes and Counterpoints. www.osbornmusic.com/PreludesAndCounterpoints.html, 2018 – 2019. Free download.
Sean Osborn needs little introduction to the ICA clarinet community as either clarinetist or composer. He did, after all, claim top prizes in the ICA's Young Artist Competition (1986) and Composition Competition (2017); he is the only person to win both. The former Metropolitan Opera clarinetist's Preludes and Counterpoints represents a substantial contribution to the woodwind quintet repertoire. This excellent collection of compositions tackles interesting formal and technical questions without sacrificing an ounce of expressive potential. Inspired by Bach's and Debussy's sets, the eight compositions total roughly 45 minutes of music, though the composer allows that "they may be performed in any set, in any order, or as stand-alone pieces." Osborn provides a C score, (transposed) parts, and a top-notch concert video recording of each on his website. Interested quintets should know that these pieces will require considerable work; none is easy. But the reward is worth the effort. Each of the eight compositions is outlined below (Osborn's comments in quotes):
Prelude 1 (The Machine): "This rickety machine sometimes needs a re-start in the middle of its task." Osborn creates a machine-like drive throughout, save for four moments of "breakdown." He deploys a colorfully dissonant harmonic palette with the occasional microtone. The piece is exhaustingly technical in the best way possible, the persistence of the "machine" contrasting with the relative rhythmic ambiguity of the bassoon and horn solos. ~4.5 minutes
Prelude 2 (Romance): "Why use only 12 pitches, when you could have 24?" Osborn makes liberal use of microtones, creating a melting quality to many of the opulent melodic gestures. Despite the prevalence of microtones, he achieves an impressionistic soundscape, recalling delicate woodwind writing in the works of Ravel and Debussy. ~6 minutes
Triple Fugue: "In three different meters." Osborn skillfully weaves together fugue subjects in 6/8, 12/16, and 3/4 time to create a dazzling contrapuntal texture. The harmony recalls neo-classical Hindemith or Stravinsky. ~7 minutes
Texture Fugue: "What if you had a fugue that wasn't pitch-dependent?" Osborn includes unpitched effects including timbre trills, key clicks, flutter tongue, quarter tones, air sounds, slap tongue, growls, multiphonics and horn mouthpiece hits. He provides a clear metric scheme and good rhythmic organization of the various effects; the counterpoint comes to the fore. Though Osborn states the fugue is not pitch-dependent, it does imitate contour throughout. ~3 minutes
Prelude 3 (Political Discourse): "Everyone talking, nobody listening." Osborn begins with a simple flute rendering of "We Shall Overcome," interrupted in its second verse by discordant outbursts inspired by political slogans in the oboe, horn, clarinet and bassoon. He carefully displaces the rhythms and harmonic centers to achieve a sense of obliviousness within the ensemble. ~4.5 minutes
Chaconne: "Mostly deconstructed, we hear the theme at the end." This chaconne begins with a pointillistic texture, fragmented and dissonant. It transforms over its next several iterations, eventually assuming a quasi-Romantic lyricism à la Samuel Barber. Osborn does not reveal the full progression of its theme until the final 11 bars of the piece. ~8 minutes
Prelude 4 (Afterimages): "The musical equivalent of the images on our retinas after we look at something bright." The most clarinet-centric of the Preludes and Counterpoints, Prelude 4 makes the clarinet its nexus, coloring the sound of
its initial attack and decay with the other instruments' timbral possibilities. The opening recalls the patient impressionism of Dukas, yet there are hints of klezmer figuration and vibrato included. ~6.5 minutes
Palindromic Time Canon: "Just what it says." Osborn creates lyrical soundscapes from extended rhythmic palindromes. The tight formal counterpoint and orchestration drive the tension throughout. The texture gradually thickens as the piece reaches its midpoint (a rare rhythmic unison), then works its way back toward calm but expressive lucidity. ~7 minutes.
– Matthew Nelson
---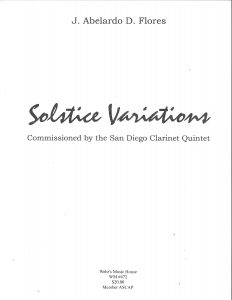 Ableardo D. Flores. Solstice Variations. Wehr's Music House, 2021. $20.00
Ableardo D. Flores has written numerous works for band, wind ensemble, brass choir, woodwind quintet and many other genres. His Solstice Variations was commissioned by the San Diego Clarinet Quintet. It is written for E-flat clarinet, two B-flat clarinets, alto clarinet and bass clarinet. This is a mixed meter work with frequent meter changes. It is extremely rhythmic with many accented notes highlighting the interesting rhythmic combinations. There are six variations which vary in texture and tempo for a nice well-rounded work. Each part is equally involved technically, requiring a proficient player on every part. The only instrument substitution offered is a second bass clarinet instead of the alto clarinet. Including a substitute part for the E-flat clarinet, which is not doubling the 1st B-flat clarinet, might have been helpful in securing performances from advanced high school ensembles which do not own an E-flat clarinet. This work is only available through Wehr's Music House.
– Lori Ardovino
---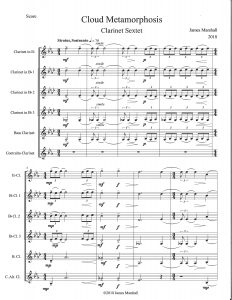 James Marshall. Cloud Metamorphosis for clarinet sextet. Subito Music, 2018. $65.00
James Marshall (b. 1949) is a clarinetist and composer who resides in northern Texas. An alumnus of the United States Air Force Band, Washington, D.C., Marshall is an active studio teacher in the Garland Independent School District and has published numerous pedagogical texts and compositions featuring clarinet. Additional information about the composer is available at his website: www.jamesmarshallmusic.org
Cloud Metamorphosis for clarinet sextet is scored for E-flat clarinet, three B-flat clarinets, bass clarinet and contra-alto clarinet. An alternate second bass clarinet part is included, should a contra-alto clarinet be unavailable. Marshall's nine-minute work creates a continuous sound picture of various cloud-types: stratus, cirrus, altostratus and cirrocumulus, each clearly noted in the musical score. Modulations and meter changes shift the music's journey between the clouds. This effectively represents the varied altitudes and "visible" textures. Scoring choices in register, sometimes with two or three soprano clarinets in the clarion and altissimo at soft dynamics, give life to ethereal, transparent sonorities. An abundant use of ties, especially in the slow, sustained sections, produces a floating quality to the music.
Pedagogically speaking, Cloud Metamorphosis offers fine material to develop fluency in modulations, meter changes and mastery of subdivision. Challenging key areas in concert D and G-flat comprise significant portions of this work, so this work is well-suited for advanced players. Additionally, the piece offers an opportunity to enhance a performance with photos or artwork of the represented cloud-types.
– Christopher Nichols
---
 Clarinet Choir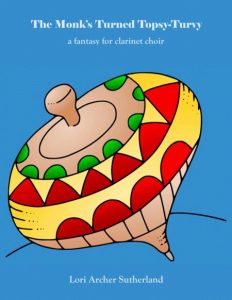 Lori Archer Sutherland. The Monks Turned Topsy-Turvy. Tonal Diversions Music, tonaldiversions.com, 2018 $25.00
Lori Archer Sutherland has delivered a fun and challenging clarinet choir work with The Monks Turned Topsy-Turvy. The inspiration for the composition is the French-Canadian children's song, "Ah! Si mon moine voulait danser!" ("Dance, my monk, dance!"), which, given the dual meaning of moine in French, can refer to either a monk, or a spinning top. This exciting, upbeat piece has a range that is ideal for advancing students. It includes parts for E-flat clarinet, four B-flat clarinets, alto, bass, contra-alto clarinet and contrabass clarinet. Sutherland has wisely included extra BÌ parts that can be used to replace the E-flat and alto clarinets, making it easy to adapt to your ensemble. There is also a basset horn part included that doubles the alto clarinet. The frequent meter changes and heavy use of mixed meter make this a unique way for students to develop their sense of pulse and rhythm. These dance rhythms and the engaging style of the work give it the potential to entertain both students and audiences.
– Madelyn Moore
---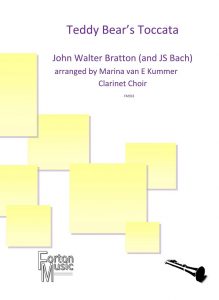 John Walter Bratton, arr. Marina van E Kummer. Teddy Bear's Toccata. Forton Music, 2020. Print £20.00, digital £15.00
For those seeking an amusing, light clarinet choir work for their students to perform, you may consider Teddy Bear's Toccata. In this arrangement, Marina van E Kummer has combined the introduction to J.S. Bach's Toccata and Fugue in D Minor with John Walter Bratton's The Teddy Bear's Picnic. The result is a somewhat silly arrangement that students are sure to enjoy. The instrumentation is for E-flat clarinet, three B-flat clarinets, alto clarinet, bass clarinet, contra-alto clarinet and contrabass clarinet. Much of the piece is in 6/8 and involves a fair amount of stylistic contrast, providing a nice learning opportunity for young students. The rhythmic challenges and humorous nature of this work could be ideal for keeping students engaged while developing their counting and performance skills.
– Madelyn Moore
---