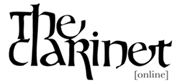 Originally published in The Clarinet 49/2 (March 2022). Printed copies of The Clarinet are available for ICA members.
---
ClarinetFest® 2022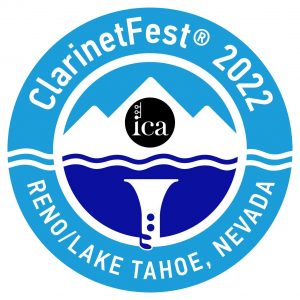 The 2022 ClarinetFest® Artistic Team eagerly anticipates welcoming the worldwide clarinet community to ClarinetFest® 2022 in Reno/Lake Tahoe, Nevada. It was truly our honor and privilege to review the large number of high quality and intriguing proposals we received. We hope you'll join us for five days of "Connecting People, Ideas, and Cultures" via fantastic performances of intriguing literature, informative and thought-provoking lectures and discussions, inspirational master classes, exciting competitions, reflective remembrance and exceptional exhibits.
ClarinetFest® 2022 will be held June 29-July 3, 2022, at the fabulous Peppermill Resort, one of the area's premier resort hotels. All conference events will be held on location at the Peppermill, which will allow for an easy transition between events and provide opportunities for us to connect with clarinet friends from around the globe.
The conference will begin on Wednesday afternoon with a gala honoring the ICA's newest honorary members, Paquito D'Rivera and Theodore Johnson.
Daytime events Wednesday through Sunday will include solo and chamber performances, lectures and demonstrations, master classes and competitions. Two clarinet innovators will be featured as afternoon headliners. Thursday, Evan Ziporyn will present works from his new recording project as well as a premiere of a work for three clarinetists by Phillip Glass, while Friday afternoon's headliner is bass clarinetist, composer and entrepreneur Michael Lowenstern. The centrally located exhibit hall will be open 9 a.m. to 5 p.m. Thursday through Saturday. To see the full schedule of daytime events, visit the ClarinetFest® 2022 website: clarinet.org/events/clarinetfest-2022.
An exciting roster of headlining artists will be featured in the evening concerts. Wednesday evening will showcase concertos with the United States Air Force Band of the Golden West Concert Band. In addition to featuring Henri Bok, Sauro Berti and Rocco Parisi as soloists, the night will include two double concertos: Robert Spring and Stefanie Gardner will present Theresa Martin's Double Take, while SrA Clarissa Osborn and SSgt Alaina Shaw will present Eric Mandat's Parallel Histories. Sabrina Moulai will also perform an exciting premiere of Daniel Dorff's Flash. Following the concert, all conference attendees are invited to the President's Reception at the Peppermill's Edge Nightclub.
The Parker String Quartet will perform on Thursday night, supporting soloists that include Philippe Cuper, Andrea Levine and Andrew Simon. Also featured that evening is Jonathan Russell performing the world premiere of his new work for bass clarinet and string quartet, On Sorrows.
Friday night jazz headliners include François Houle and his combo, Felix Peikli and Greg Tardy performing with members of the United States Air Force Band of the Golden West, and a ClarinetFest® debut performance by Doreen Ketchens and
her combo!
Saturday evening will showcase the Reno Philharmonic with concerto performances by Steve Williamson, Yuan Yuan, Seunghee Lee, Peter Cigleris and 2021 Young Artist Competition Winner António Lopes. Finally, YaoGuang Zhai will premiere Amanda Harberg's Clarinet Concerto, a reworking of her beloved sonata.
Our Pedagogical Pathways programming will include emphasis on teaching and learning, while our College/Opportunity Fair will facilitate conversations between students and universities, summer festivals, performance organizations and more. We are excited to continue to feature the next generation of clarinetists on our Rising Artist Pre-Professional Showcase series.
A number of master classes designed for a variety of performance levels are planned throughout the conference. Some master classes will especially be available for junior and senior high students. Master class teachers include Deborah Chodacki, Philippe Cuper, Caroline Hartig, Felix Peikli, Michael Lowenstern, Jerome Simas, Steve Williamson, YaoGuang Zhai and Evan Ziporyn.
The annual Guido Six International Clarinet Choir Festival will continue in 2022 with performances from 16 invited clarinet choirs. There will be several opportunities for attendees to participate in clarinet choirs during the conference. These include the Festival Choir, High School Choir, Junior High School Choir, College Student Choir, Professors Choir and the Enthusiast/New Horizons Clarinet Choir. We invite you to participate in these ensembles and connect with new friends and colleagues.
The city of Reno offers many dining options and outdoor activities, as well as world-class entertainment. Take a 30-minute drive to the beautiful Lake Tahoe resort area and enjoy the scenery, natural surroundings, beaches and water. The Reno-Tahoe International Airport (RNO) is served by multiple airlines and is only 10 minutes away from the Peppermill. The resort will provide a free shuttle to and from the airport running every 30 minutes. Free parking and free Wi-Fi are available for all Peppermill guests and exhibitors. The resort has over one dozen onsite restaurants and a smoke-free environment for the duration of our conference. (Spoiler alert: There is even a gelateria mere steps from the entrance of the exhibit hall and concert venues.) Onsite recreation includes a heated pool complex, an extensive arcade, a seemingly endless casino, boutique shopping and an impressive fitness center. The ICA has reserved a "ClarinetFest® 2022" room block with tiered room prices of $130/160 a night. Rooms at this special rate are limited. A link to the conference hotel and its reservation system is prominently featured on the ClarinetFest® 2022 website. The Peppermill will also offer a limited number of rooms at the conference rate to attendees the days immediately surrounding the conference for those who would like to arrive early or stay later to explore the Reno and Lake Tahoe regions.
Our sincere gratitude goes out to all our clarinet colleagues who submitted proposals for the conference. We look forward to connecting with everyone in Reno this summer!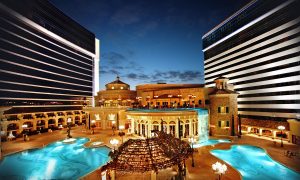 –
ClarinetFest® 2022 Artistic Director Christy Banks and the Artistic Leadership Team: Joshua Anderson, Soo Goh and Jessica Lindsey
Contact: [email protected]
ClarinetFest® 2022 Clarinetist Performers and Presenters (subject to change):
Mariam Adam
Amy Advocat
Anthony Aguayo
Francisco Javier de Alba
Jason Alder
Thiago Ancelmo
Jeff Anderle
Michelle Anderson
Deborah Andrus
Kirsten Ahnell
Lori Ardovino
Alyssa Arkin
Laura Armstrong
Marco Avendaño
Christopher Ayer
Trisha Bacalso
Kris Bachmann
Barcelona Clarinet Players: Marti Guastevi Olives, Manuel Martínez, Javier Vilaplana, and Alejandro Castillo
Erich Barganier
Diane Barger
Robert (Kyle) Beard
Caitlin Beare
Daniel Becker
Kensley Behel
Nathaniel Berman
Sauro Berti
Timothy Bonenfant
Henri Bok
Stephen Borodkin
Katherine Breeden
Jeffrey Brooks
Andrew Brown
Erin Cameron
Asher Carlson
Briley Casserilla
Alexandra Chea
Joaquín Chávez
Ixi Chen
Seungho Cho
Deborah Chodacki
Anastasia Christofakis
Peter Cigleris
David Ciucevich
Clarinet Fusion
Mariana Clavijo Ledesma
Katrina Clements
David Cook
Shawn Copeland
Luis Arturo Cornejo Perez
Anthony Costa
Season Cowley
Mark Cramer
Elizabeth Crawford
Cheyenne Cruz
Cruz Control Clarinet Quartet
Philippe Cuper
Karen Dannessa
Brandilyn Davidson
Trevor Davis
Vanessa Davis
Andrew DeBoer
Miles DeCastro
Lynda Dembowski
Kristen Denny-Chambers
Lara Diaz
Pamela Diaz
Anoushka Divekar
Margaret Donaghue
Michael Drapkin
Paquito D'Rivera
Mary Druhan
Arianna Edvenson
Jeremy Eig
Luke Ellard
Jhon Jairo Embus Rodríguez
Patrick Englert
Nikita Espinoza
Wesley Ferreira
Ford Fourqurean
Jennifer Fraley
Kip Franklin
Denise Gainey
Kelsey Gallagher
Joshua Gardner
Stefanie Gardner
Peter Geldrich
Michael Gersten
Christina Giacona
Lucas Gianini
Jackie Glazier
Brian Gnojek
Stanislav Golovin
Carlos Esteban González López
Zachary Good
Rachelle Goter
Laura Grantier
Maggie Greenwood
Natalie Groom
Jonathan Guist
Timothy Haas
John Harden
Caroline Hartig
Nicholas Hartline
Haley Harrison
Daniel Hayden
William Hayter
Barbara Heilmair
Julia Heinen
Cassandra Hibbard
Annaka Hogelin
Larry Honda
François Houle
Andy Hudson
Crysten Ivy
Lauren Jacobson
Sarah Jaegers
Csaba Jevtic-Somlai
Bernadette John
Theodore Johnson
Kathleen Jones
Lisa Kachouee
Gleb Kanasevich
Hyun Joo Kang
Doreen Ketchens
Michelle Kiec
Hana Kim
Janghyun Kim
Wonkak Kim
Julianne Kirk-Doyle
Christopher Kirkpatrick
Karl Kolbeck
Keith Koons
Jesse Krebs
John Kurokawa
Maryanne Lacaille
Eric Lapin
Seunghee Lee
Andrea Levine
Jack Liang
Liberty University Clarinet Ensemble
Sheng-Hsin Lin
Dawn Lindblade
Lee Livengood
James Logan
Wolfgang Lohff
António Lopes
Jesus Lopez
Los Angeles Clarinet Choir
Julia Lougheed
Michael Lowenstern
Hilary Lowery
Christine MacDonnell
Richard MacDowell
Corey Mackey
Jenny Maclay
Sebastián Malagón Morales
Sarah Manasreh
Sebastian Mancilla
Eric Mandat
George Maronidis
Sara May
Jenna McCall
Amy McCann
Dawn McConkie
Joanna McCoskey Wiltshire
Shannon McDonald
Jacqueline McIlwain
Olivia Meadows
Arnaldo Mendoza Trejo
Meghan Merciers
Mexican Clarinet Choir
Audrey Miller
Dahrè Miller
Millikin University Clarinet Choir
Janice L. Minor
Donald Mokrynski
Osiris Molina
Shiana Montanari
Sabrina Moulai
Madelyn Moore
Carmen Morales
Melissa Morales
Leslie Moreau
Amanda Morrison
Sandra Mosteller
Kathleen Mulcahy
Jared Mundell
Lynn Musco
Christopher Nichols
Alondra Esperanza Nina Meneces
Keith Northover
Sarah Nowlin
Anastasiya Nyzkodub
Jeffrey O'Flynn
Gregory Oakes
Lisa Oberlander
Lindsey O'Connor
David Odom
Dena Orkin
Orlando Youth Clarinet Choir
Gloria Ines Orozco Dorado
Clarissa Osborn
Kelsey Paquin
Rocco Parisi
Geon Park
Felix Peikli
Dmitry Perevertailenko
Lisa Perry
Timothy Perry
Thomas Piercy
Plano Clarinet Choir
Edward Alberto Porras Cárdenas
Spencer Prewitt
Puerto Rico Conservatory Clarinet Ensemble
Lisa Raschiatore
Carrie RavenStem
Aileen Razey
Jennifer Reeves
Jeremy Reynolds
Iura de Rezende
Kathryn Rice
Michael Robinson
The Rockies Clarinet Quartet
Sheri L. Rolf
Kyle Rowan
Jennifer Royals
Jonathan Russell
Russell Howland Clarinet Choir
Franck Russo
Jeremy Ruth
Thomas Sanders
San Francisco Conservatory of Music Clarinet Ensemble
Athzel Santos
Michael Scheuerman
Eric Schultz
Aubrey Shirts
Pamela Shuler
Carlos Antonio da Silva
Tiago Silva
Jerome Simas
Sunshine Simmons
Andrew Simon
Dana Sloter
Magie Smith
Stacy Smith
Jessica Speak
Robert Spring
Justin Stanley
Daryll Stevens
Taylor Stirm
Kylie Stultz-Dessent
Gi-Hyun Sunwoo
Adria Sutherland
TAMUC Clarinet Choir
Vanguel Tangarov
Greg Tardy
Edileusa Tavares
Roddy Terrell
Texas Christian University Clarinet Choir
Shannon Thompson
Margaret Thornhill
Suzanne Tirk
Kellan Toohey
Pei-Lun Tsai
Rebecca True
(Evelyn) Moria Tunison
Ian Tyson
University of North Florida Clarinet Ensemble
University of Texas Rio Grande Valley Clarinet Ensemble
University of Wisconsin – Eau Claire Clarinet Choir
USAF Band of the Golden West Clarinet Quartet
USAF Band of the Golden West Woodwind Quintet
US Army School of Music Woodwind Quintet
Garrett VanArsdale
Eddy Vanoosthuyse
Luis Enrique Vargas Guevara
Abymael Vásquez Toro
Jorge Andrés Vélez Ospina
Venner Clarinet Choir
Kathryn Vetter
Patrick Viglioni
Andrea Vos-Rochefort
Michael Walsh
Wes Warnhoff
John Warren
Tasha Warren
Sarah Watts
Karyn Weber
Lowell Weiner
Alessandra White
Nancy Williams
Steve Williamson
Lucas Willsie
Catherine Wood
Marilyn Woodruff
Danielle Woolery
Alan Woy
Shengwen Wu
Guy Yehuda
Yuan Yuan
Stephanie Zelnick
Zephyr Clarinet Choir
Evan Ziporyn
YaoGuang Zhai
Shuang Zhu