Originally published in The Clarinet 48/2 (March 2021). Printed copies of The Clarinet are available for ICA members.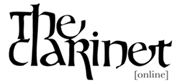 ---
News from Latin America: Encontro Feminino de Clarinetistas
by Ricardo Dourado Freire
In May 2019, a group of women clarinet players decided to organize, in Salvador, Brazil, a clarinet event centering the perspectives of women clarinetists. In October 2020, a group in Brasília took the idea and transformed the small local event into an international clarinet symposium that celebrated female clarinet playing.
The movement started with Patricia Perez, a Cuban clarinetist who studied in Venezuela and moved to Salvador to take a position in the professional orchestra at Universidade Federal da Bahia (UFBA). She organized the I Encontro Feminino de Clarinetistas (First Female Clarinet Meeting) in May of 2019. The event was a huge success as players from all over Brazil came together to play and share their ideas about improvisation, motherhood, popular music, teaching, sexuality, ethnicity, musicians' health, social projects, classical music and job opportunities for women. The proposal to organize a second event in 2020 came from a group from Brasília.
The II Encontro Feminino de Clarinetistas (Second Female Clarinet Meeting) was much more! It became FEMICLARI for short, a construct that represents different perspectives for the clarinet world. FEMICLARI shows how women approach their instrument and their lives. It looks at personal stories as important trajectories; it values how attitudes can build trust and how attentive support can change history.
In March, due to COVID-19, all plans for the second conference stopped. The organizers – Rosa Barros, Paula Pires, Eliana Costa, Renata Menezes, Ilka Nascimento and Elaine Rodrigues –
considered postponing the event, but some successful online events gave encouragement to go ahead and do it anyway. It was a challenging option that paid off!
It was the right moment to raise awareness about female clarinet playing and many people supported it. Someone had the idea to invite women from outside Central/South America, such as Sharon Kam, Doreen Ketchens, Sabine Meyer, Sarah Watts and Rachel Yoder, and everyone was eager to participate. It was a sorority chain that became stronger at each invitation. In the end, 82 people presented in a five-day event that brought women players to a deserved spotlight.
The FEMICLARI 2020 was organized and broadcasted from Brasília, the capital and federal district of Brazil. It went from October 9 to 13 and the complete event can be accessed on YouTube at the FEMICLARI – DF channel.
The opening day started with an online welcome reception. The organization committee received participants in a meeting platform and presented the main objectives for the event. The first concert was presented live at Casa Thomas Jefferson in Brasília, and streamed on YouTube. The organization committee played pieces by women composers and brought fresh repertoire by Suzy Magalhães, Thanise Silva, Francisca Aquino, Iara Gomes, Elenice Maranesi, Elisa Rangel Hill, Kilza Setti and Clara Schumann. There was a bass clarinet recital played by Lara Díaz and a contemporary recital with solo pieces played by Angélica Meza, Mauren Aguirre, Jessica Gubert, Sandra Sánchez, Rachel Yoder and María Juliana Sivila. Amalia del Giudice and Marina Lopez played music from Argentina in their recitals. Doreen Ketchens participated from New Orleans with a delightful video playing New Orleans jazz. The popular music recital featured Vaisy Alencar, Roberto Kaçulinha, Fernando Machado, Manoel de Carvalho, Laura Santos and André Gomes.
Interviews with international female players were primetime events; each session was recorded previously to allow the addition of subtitles in Portuguese. Sabine Meyer talked to Paula Pires, from Germany, and displayed her normal life as a clarinet player, schedule of concerts, teaching, family and grandchildren. It was an opportunity to see her in her studio and to listen to her view on clarinet playing. Sarah Watts from the U.K. presented her trajectory with the bass and contrabass clarinets; she talked to Elaine Rodrigues and showed how she decided to play low instruments and how she built her career. Diana Gallegos came from a family of male clarinet players and became an important artistic voice in Ecuador. She spoke to Elisa Rangel, who also studied in Venezuela. Rachel Yoder discussed "Clarinet Playing During Pregnancy and the Postpartum Period" with Ricardo Freire and presented some preliminary results from her survey on the topic. She looked at the time period before and after childbirth to address how women deal with the changes in their bodies and how they come back to their professional careers.
Workshops were opportunities to interact with guests about specific topics. Sharon Kam connected from Israel to share her vision of clarinet and singing, bringing back the importance of vocal models to expand the expressivity of clarinet playing. Maria Fernanda Rodríguez participated from Colombia and developed ideas on free improvisation with clarinet and bass clarinet players.
Health issues are also important for players around the world. Ana Maria Pérez, from Spain, showed herself in the parks of Gijón-Astúrias to display her experience with yoga and hypopressive breathing, a way to work and understand breathing muscles while holding air during long periods of time. Michelle Xavier, a speech therapist, presented her approach to clarinet embouchure, talking with Fabricia Medeiros about how facial muscles work and how to use enjoyable facial exercises to improve embouchure control. Jeane Dias, a physical trainer, was also invited to talk about general muscle readiness and how to prepare your body to endure hours of rehearsals and practice time.
The event promoted interactive sessions called Dialogues held on the Zoom platform. Each meeting had a moderator and many participants that shared their experiences. Dialogue 1 brought together "Women Clarinet Players in Orchestras;" it was a tribute to women that started in the orchestra market and climbed to be principal players in many orchestras in Brazil. It was a broad vision of orchestral playing stories with Camila Barrientos, Elaine Lopes, Isabel de Latorre, Isabel Santos, Lucia Morelenbaum, Luciana Silva, Juliana Correia, Lígia Campos, Marisa Takano, Marta Vidigal, Patrícia Perez, Solamy Oliveira and Thayná Ítaline.
Dialogue 2 focused on the bass clarinet and had Bruno Avoglia, Isabel de Latorre, Lara Díaz, Maria Fernanda Rodríguez, Marta Vidigal and Vaisy Alencar. Dialogue 3 discussed professional perspectives for the clarinet player with Vanessa Melo, Danelly Dantas, Jéssica Gubert, Ariane Rovesse, Fábia Fusco and Renata Garcia. Dialogue 4 brought Caetano Brasil (a Latin Grammy nominee), Bia Stutz, Joana Queiroz, Maria Beraldo, Carmen Pontes and Indira Dourado to talk about independent works and new artistic proposals.
Dialogue 6 talked about how to get into the university with Alba Valéria, Amanda Müller, Aynara Montenegro, Carina Bertunes and Vinícius Fraga. Diálogue 7 dealt with leadership roles of clarinet players as conductors with Elaine Rodrigues, Paula Araújo, Fabrícia Medeiros, Elisa Rangel Hill, Mônica Díaz and Luanda Ben. The final Dialogue was an evaluation of FEMICLARI and what to do for the FEMICLARI 2021 discussed with Bia Stutz, Cláudia Pinto, Emília Carneiro, Fábia Fusco, Patrícia Perez and Victoria Gautto.
There was an entire day dedicated to clarinet teaching and learning. Joel Barbosa presented historical clarinets to children, and invited the audience to look at the chalumeau family, from soprano to tenor, and also talked about baroque and classical clarinets with only a few keys. Eliana Costa showed her work with children in Brasília, starting at 4 years old and following them growing into teenagers and adults. Dialogue 5 focused on clarinet pedagogy and invited Claudia Pinto, Eliana Costa, Cristiane Fayão, Fernanda Santos, Kassia Oliveira and Mónica Díaz.
Children ages 4 to 9 played a special concert streamed on YouTube with participants from many states of Brazil. Young teenagers, ages 10 to 15, also had a concert to show their development in a national event. Older beginners and adults were not left out, and Luciana Silva showed her work with adults followed by a concert titled "It is Never Late to Begin."
After the five scheduled days, 105 clarinet players participated in the online clarinet choir, and 516 people enrolled at FEMICLARI. Participants were 60% female and 40% male from 60 different cities in Brazil. The local event became global and the female community could be truly represented both as women and as clarinet players.
---
About the Writer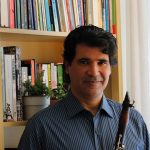 Ricardo Dourado Freire is professor of clarinet at Universidade de Brasília – UnB, in Brazil. He received an M.M and D.M.A from Michigan State University, under the guidance of Elsa Verdehr, and a bachelor's degree in clarinet from UnB, where he studied with Luiz Gonzaga Carneiro. Dr. Freire has written over 100 articles in the fields of clarinet performance, music cognition and music education. Over the last 25 years, he has taken part in major clarinet events in Latin America including Brazil, Colombia, Mexico, Paraguay, Peru and Venezuela.