---
Audio Reviews: April 2020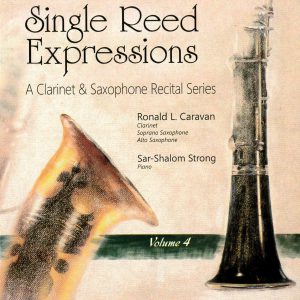 Single Reed Expressions: A Clarinet & Saxophone Recital Series Volume 4. Ronald L. Caravan, clarinet, soprano saxophone, alto saxophone; Sar-Shalom Strong, piano. Johannes Brahms: Sonata in Eb, Op. 120, No. 2 for clarinet and piano; James Corigliano: Clarinet Caprice for clarinet and piano; Serenade and Rondo for alto saxophone and piano; Ronald L. Caravan: Recitation for clarinet and piano; Fantasy Piece for soprano saxophone (or clarinet) solo; Jules Massenet: Meditation from "Thais" arr. for soprano saxophone and piano; Otmar Mácha: Pláč Saxofonu for alto saxophone and piano; Erland von Koch: Sonata for alto saxophone and piano. Mark Records, 51604-MCD. Total Time: 70:32.
The name Ronald L. Caravan will be familiar to those with even a modest amount of experience in extended techniques and non-traditional sounds on the clarinet. On his recording Single Reed Expressions: A Clarinet & Saxophone Recital Series Volume 4, Caravan plays both clarinet and saxophone in collaboration with pianist Sar-Shalom Strong, including two of Caravan's own compositions.
The recording begins with a refined and elegant rendition of Johannes Brahms's Sonata Op. 120 No. 2 in E-flat Major. Caravan's pure and crystalline tone are on full display in Brahms's wonderful sonata. Both Caravan and Strong take full advantage of the sublime qualities of Brahms's writing and effortlessly pass melodic lines from one to another, although they perform some passages in a slightly too reserved manner for my taste. Their rendition of James Corigliano's Clarinet Caprice is whimsical and energetic, featuring great charm and precise articulation from both the clarinet and piano. Caravan demonstrates absolute mastery over the numerous extended techniques featured in his own composition, Recitation, including microtones, flutter-tonguing, and multiphonics. Caravan demonstrates admirable flexibility in these three pieces, moving seamlessly between classical, contemporary, and jazz influences (not to mention the five pieces for saxophone that he also performs!).
The overall production of this recording is quite good—melodic lines are generally heard with ease, although the melody is occasionally lost in the thicker piano writing by Brahms. There are some instances where intonation is a bit troublesome, but they do not detract from the spirit and atmosphere of these performances. The well-written liner notes by professor and music critic David Abrams are a welcome addition to this recording. Caravan's recording with Strong provides a welcome mix of standard and less familiar repertoire for the clarinet and the saxophone alike, along with the special opportunity to hear the composer perform his own music.
-David Cook
---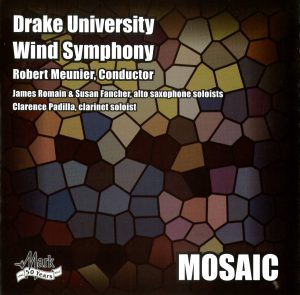 Mosaic. Drake University Wind Symphony: Robert Meunier, conductor; James Romain, alto saxophone; Susan Fancher, alto saxophone; Clarence Padilla, clarinet. Nancy Galbraith: Febris ver; Mark Engebretson/arr. Frederick Hemke: Duo Concertante; Yo Goto: Songs for Wind Ensemble; Frank Ticheli: Rest; Dana Wilson: Liquid Ebony. Mark Records, 50781-MCD. Total Time: 57:10.
The Drake University Wind Symphony, under the direction of Robert Meunier, brings us Mosaic, a diverse collection of American and Japanese music for wind ensemble. This recording consists exclusively of music composed during the 21st century, including a stunning recording of Dana Wilson's Liquid Ebony, featuring Clarence Padilla (professor of clarinet and music department chair, Drake University) as soloist.
Wilson originally composed Liquid Ebony in 2003 for clarinet and piano, later transcribing the piece for clarinet and wind ensemble in 2005. In the first movement, titled "Call," Padilla's agile technique is on display from the very outset of the movement and perfectly captures the "exuberant yet uncertain" atmosphere that Wilson prescribes in his program note. Similarly, Padilla's use of vibrato alludes to the same eastern European folk traditions that influenced Wilson's writing. The second movement, "Prayer," features elegant sustained and lyrical playing from Padilla, who weaves a compelling phrase out of rather disjunct melodic shapes that build toward a strikingly dissonant climax. In the third movement, "Dance of Not Pretending," Padilla seamlessly weaves in and out of the ensemble, sometimes sharing the melody with the ensemble while at other times providing an impassioned and compelling outburst above the accompanying rhythmic figures.
The Drake University Wind Ensemble is also to be commended for their performance on this recording. They give a spirited performance under Meunier's direction, albeit with some minor discrepancies in intonation. The balance between Padilla and the ensemble is quite good, although there are a few instances where virtuosic clarinet technique is covered by the ensemble's tutti passages. This recording will make a great addition to any clarinetist's or wind ensemble enthusiast's library.
-David Cook
---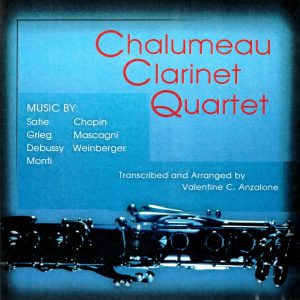 Chalumeau Clarinet Quartet. Valentine C. Anzalone, clarinet; Paul Drushler, clarinet; Charles Van Buren, clarinet; William Hullfish, bass clarinet. Claude Debussy/arr. Anzalone: The Girl With Flaxen Hair; Golliwog's Cakewalk; Erik Satie/ arr. Anzalone: Gymnopedie No. 1; Frédéric Chopin/ arr. Anzalone: Military Polonaise, Op. 40, No. 1; Pietro Mascagni/ arr. Anzalone: Intermezzo (Cavalleria Rusticana); Vittorio Monti/ arr. Anzalone: Czardas; Edvard Grieg/ arr. Anzalone: Anitra's Dance; Jaromír Weinberger/ arr. Anzalone: Polka (Schwanda the Bagpiper). Mark Records, 7483-MCD. Total Time: 23:00.
Chalumeau Clarinet Quartet features clarinetists, Valentine C. Anzalone, Paul Drushler, William Hullfish, Charles Van Buren, and music director, Thomas Ellison, in an album of popular works from the classical canon. All of the pieces on this album have been arranged and transcribed for clarinet quartet by Chalumeau Quartet member, Valentine Anzalone. They have been selected from three volumes of Anzalone's arrangements, published by Shall-u-mo Publications. This CD provides listeners with a nice sampling of standard classical pieces, especially if one is interested in purchasing these collections of scores.
Notable arrangements include Debussy's The Girl with the Flaxen Hair, Grieg's Anitra's Dance, Weinberger's Polka from Schwanda the Bagpiper, and Satie's Gymnopedie No. 1. From a pedagogical standpoint, these arrangements and transcriptions can serve as an exciting way to introduce and expose young clarinetists to classics in music literature. The selections on this album represent a range of styles and technical demands. For example, Weinberger's Polka begins with an animated fanfare presenting each member of the quartet with passages of rapid technique. Conversely, Satie's Gymnopedie No. 1 focuses more on creating a serene musical atmosphere, presenting the performers with differing challenges such as proper balance and blend. Anzalone is able to capture the spirit of these classic works and provides well-crafted arrangements that are accessible and enjoyable for listeners and players alike.
The commitment to these great works is evident in the Chalumeau Clarinet Quartet's steadfast musical interpretations. Minor technical flaws in the performing are outweighed by the obvious dedication to providing audiences with entertaining arrangements. Performing and playing in a clarinet quartet is an educational and rewarding experience and this album serves as an advocate for this activity. Anzalone and the Chalumeau Clarinet Quartet have created a helpful resource for clarinetists interested in accessing additional works and opportunities for studying chamber music.
-Kylie Stultz-Dessent
---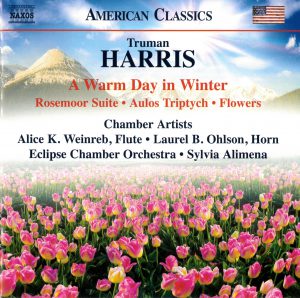 Truman Harris: A Warm Day in Winter. Alice Kogan Weinreb, flute; Aaron Goldman, flute; Carole Bean, flute; Leah Arsenault Barrick, flute; Nicholas Stovall, oboe; Paul Cigan, clarinet; Truman Harris, bassoon; Sue Heineman, bassoon; Steven Wilson, bassoon; Laurel Bennert Ohlson, horn; Audrey Andrist, piano; Eclipse Chamber Orchestra: Sylvia Alimena, conductor. Truman Harris: Rosemoor Suite for flute, oboe, clarinet, bassoon and horn; Aulos Triptych for four flutes and piano; Concertino for Horn and Chamber Orchestra; Flowers for flute, oboe, clarinet, bassoon and horn; Sonata for Two Bassoons and Piano; Concertino for Flute and Chamber Orchestra. Naxos Records, 8.559858. Total Time: 75:37.
Composer Truman Harris has assembled a sensational album entitled, A Warm Day in Winter, featuring original works composed primarily for members of the National Symphony Orchestra (NSO). Led by esteemed conductor, Sylvia Alimena, many works on this album are played by the Eclipse Chamber Orchestra, an ensemble featuring members of the NSO. Harris, an active performer, retired from his position as assistant principal bassoonist of the NSO and the Eclipse Chamber Orchestra in 2017. For many years, Harris was also the bassoonist in the renowned Capitol Woodwind Quintet. This album is a sophisticated and dazzling showcase of Harris's musical style. It predominantly features instruments of a standard woodwind quintet in various instrumentations and genres.
Harris's Rosemoore Suite for woodwind quintet creates picturesque scenes with movement titles such as "On the Trampoline," "Charleston" and "Silent Movie." The music is full of energy and character and evokes detailed images and scenes based on the titles of each movement. For example, "Charleston," inspired by the vintage dance, features angular and syncopated rhythms, urging the listener to tap a toe! Performed masterfully by members of the NSO, the musicians bring this work to life with their beautiful tones, light articulations, and superb balance and blend throughout.
 Aulos Triptych, written for four flutes and piano, provides the listener with a unique soundscape of timbres and colors as the full range of the flute is explored through chromatic lines and sweeping melodies. The third and final movement of this work is the title track of the album. Near the end of this movement, a striking musical moment occurs as the piano tacets and the four flute voices play together in a beautiful, chorale-like setting of the main melody. The movement concludes as the tempo gains momentum with the introduction of syncopated rhythms, hinting at the music of Latin America.
Other works on this album include Harris's, Concertino for Flute and Chamber Orchestra, Concertino for Horn and Chamber Orchestra, Sonata for Two Bassoons and Piano, and Flowers for wind quintet. Harris's compositions are effervescent and dramatic, often featuring the whole tone scale collection, sudden modal shifts, romantic lyricism, and playful virtuosity. Included within many of the works are popular musical idioms such as the Viennese Waltz, British Military March, and syncopated jazz rhythms of the Neoclassical style. Harris has a knack for threading these familiar styles with his own cheerful compositional language, creating a beautiful collection of music for wind instruments. The playing on each piece is nothing short of spectacular and contributes so much to the album's success. Flutist, Alice Kogan Weinreb, clarinetist, Paul Cigan, oboist, Nicholas Stovall, bassoonists, Sue Heinemann and Steve Wilson, and hornist, Laurel Bennert Ohlson, dazzle listeners with their musical artistry and fluid technical prowess. The strong connection between the performers and composer is clear from the committed musical interpretations and thorough preparation. I wholeheartedly recommend this album for its refreshing and lively compositions by Truman Harris as well as the magnificent performances of his colleagues and friends.
-Kylie Stultz-Dessent
---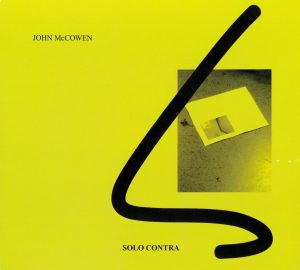 Solo Contra. John McCowen, contrabass clarinet. John McCowen: Fur Korv; Chopper HD; Berths 1-3. International Anthem Recording Company, 0015. Total Time: 27:05.
Brooklyn-based composer and performer John McCowen offers three atmospheric journeys in his 2016 album, Solo Contra. McCowen's self-described compositional process includes "treating the clarinet as an acoustic synthesizer," a concept which drives the three pieces written for and performed on contrabass clarinet. The album displays a complex mastery of the instrument and a variety of contemporary techniques, realized through a deeply thoughtful performance. McCowen's focus on drones and beating harmonics gives way to a meditative, improvisational listening experience. The opening track, Fur Korv, is full of low, constant, earthy rumblings in contrast to Chopper HD's more high-pitched, otherworldly overtones. The final track, Berths 1-3, sounds like a combination of the two previous, mixing low and high ideas as if teetering on an edge and ending as mysteriously as it began.
There are no liner notes or descriptions included in the album, but the artist's personal website (www.johnmccowen.com) provides more background, including a video performance of the first piece and a method for requesting the score.
-Emily Kerski
---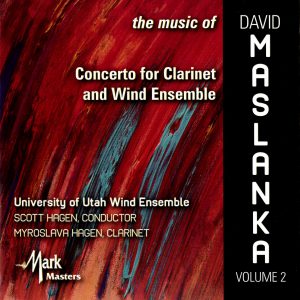 The Music of David Maslanka Volume 2. University of Utah Wind Ensemble: Scott Hagen, conductor; Myroslava Hagen, clarinet. David Maslanka: Concerto for Clarinet and Wind Ensemble; Morning Star; Liberation; On This Bright Morning. Mark Records, 51902-MCD. Total Time: 59:52.
David Maslanka's Concerto for Clarinet and Wind Ensemble has become known through several performances and recordings by members of the commissioning consortium since its publication in 2014. This disc represents the world premiere recording by the leading member of the consortium, Dr. Myroslava Hagen. The recording features the soloist alongside the agile University of Utah Wind Ensemble under the direction of Scott Hagen. Those familiar with Maslanka's oeuvre will recognize his signature sense of heroism and propensity for motives which insistently travel forward, hallmarks which permeate this concerto.
The two broadly constructed movements of the clarinet concerto are built upon traditional structures of thematic transformation with a revitalized, fast-paced energy. Maslanka's writing demands exceptionally smooth legato and clarity of technique from the clarinet soloist; both challenges are deftly accepted by Myroslava Hagen. Hagen's pure tone and effortless altissimo playing are well-suited to Maslanka's sweeping lyricism throughout the piece. The first movement, "Lamentation," ends with a pensive cadenza for the soloist, showcasing Hagen's range of expression and ability to shift easily from moments of grandeur to something more subtle and calm. The energetic second movement, "Dance," features bubbling woodwind lines and intense rhythmic drive from the full instrumentation, punctuated by another extended cadenza. A pause of softer reflection arrives in the form of a tranquil duet between piano and solo clarinet. The romanticism of this movement and the virtuosic, scalar writing of the second movement cadenza in particular reflect the clarinet writing of C.M. von Weber, whom Maslanka cited as an inspiration for the piece.
The University of Utah Wind Ensemble clarinetists are also praiseworthy for fearless execution of Maslanka's soloistic dialogue for the entire section, most notably in the bass clarinet. The band is well balanced throughout, allowing the soloist to achieve bold extremes of dynamic. While the work can be unforgiving in regard to intonation, the soloist and ensemble alike provide impressive moments of power and great softness, particularly in the peaceful conclusion. This recording is a strong interpretation of a creative contemporary concerto and an excellent resource for those interested in newer solo works for clarinet.
-Emily Kerski
---