---
Audio Reviews: May 2020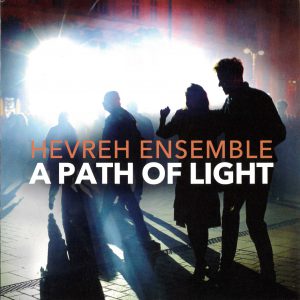 Hevreh Ensemble: A Path of Light. Hevreh Ensemble: Jeff Adler, bass clarinet, Native American flutes; Judith Dansker, oboe, Native American flute; Laurie Friedman, clarinet, Native American flute; Adam Morrison, piano, keyboards. Guest Artists: Shane Shanahan, percussion; George Rush, double bass; Naren Budhkar, tabla; Ethel: Ralph Farris, viola, vocals, minimoog; Kip Jones, violin; Dorothy Lawson, cello; Corin Lee, violin.  Jeff Adler: Sima de los Huesos; A Path of Light; A Thousand Questions; Hawk Sightings; Hacked; Sweetgrass, Cedar and Sage; Wudeligv; Amor Caritas; Speed of Dark; Epilogue. Ansonica Records, AR0013. Total Time: 49:10.
Hevreh Ensemble's album, A Path of Light, brings a citrine vitality to the incorporation of clarinet and bass clarinet into a Kronos Quartet world music-styled idiom. The single reed element is a central part of the intricately-woven textures Hevreh creates in the sonic story told by this album consisting of ten tracks. At varying times this texture includes clarinet, bass clarinet, oboe, English horn, a variety of world percussion that includes djembe, dumbek, ocean drum, balafon, kalimba, rain stick, tabla, log drum, keyboard, shofar, as well as Cherokee Native American flutes. Composer Jeff Adler was mentored by Hawk LittleJohn, a Cherokee Medicine Man as well as flute maker regarding the use of these culturally important instruments in his compositions.
The tracks on the album can be grouped by the styles they embrace such as quasi-minimalism, klezmer, jazz, and rāga music. This use of specific styles lends to a cohesiveness for an album that could easily have become overwhelming to those unfamiliar with the vast soundscape created by the variety of instruments. At some point, most tracks incorporate elements of faster, dance-like, or even ritual-tinged sounds, but Adler skillfully weaves clarinet and bass clarinet voices throughout.  For example, in the first track, we hear the clarinet as it adds to the reminiscently minimalist texture established by scalar passages and repeating additive and deductive melodic variation. This is followed up with a track that highlights the klezmer abilities of the instrument, beautifully laid with thoughtful melodic shaping and technical work by Laurie Friedman on clarinet and the composer, Adler, on bass clarinet. Additive techniques similar to Carnatic rāga music are cemented by the prevalent use of tabla backing the track.
The ability to effectively mix so many different elements of world music on a single album is a feat. If you haven't heard the Hevreh Ensemble, do yourself a favor and take a listen – you will hear woodwind playing equal to that of some of the most notable traditional chamber music groups, but with an entirely new light shed on the capabilities of the clarinet.
-Vanessa Davis
---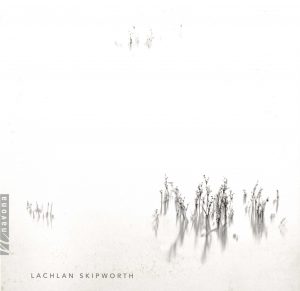 Lachlan Skipworth. Akiko Miyazawa, violin; Aleksandar Madžar, piano; Ashley William Smith, clarinet, bass clarinet; Anna Pokorny, cello; Bella Hristova, violin; Ben Caddy, viola; Emily Green-Armytage, piano; James Guan, piano; Jon Tooby, cello; Kate Sullivan, violin; Louise
Devenish, marimba, psalterphone; Umberto Clerici, cello. Lachlan Skipworth: Clarinet Quintet; Piano Trio; Intercurrent; Piano Quartet; The Night Sky Fall. Navona Records, NV6241. Total Time: 55:29.
Lachlan Skipworth includes three works which incorporate the clarinet: a Clarinet Quintet, Intercurrent and The Night Sky Fall all performed by Ashley William Smith. The Clarinet Quintet has a distinct punctualist modern style, especially in the accompaniment, while the clarinet soars above,
occasionally intertwining melodies with the violin in its highest register. This is not a lugubrious clarinet quintet with lush harmonies, but rather its beauty is expressed in the vast and lonely openness this work occupies. The clarinet is not an equal partner with the strings but rises above
and is supported by them in a clearly soloistic role. Extended violin glissandos combined with the rise and fall of clarinet dynamics create a special, yet unsettling sound that highlights this atypical quintet determined to carve its own unique space within the genre.
Intercurrent incorporates elements of electronic music, though it is not clear if this is done by a live performer or incorporated in the post-production process. Either way, it's interesting and embraces a Steve Reich style of minimalism. Smith plays the bass clarinet here with clean technique and
precision. His full and rich sound is best displayed in the middle of the piece around the three-and-a-half-minute mark where we hear well-crafted and contoured swells amid the piano solo. The Night Sky Fall is another very minimalist textured work with Smith's beautifully rounded swells on display juxtaposed against a repeating piano motive. Smith gets the opportunity to showcase his clear, crystalline clarion and altissimo registers here.
There is much to love about this album, but in terms of its inclusion of the clarinet there is unfortunately not as much as one might hope, especially considering the beauty and thought with
which Smith portrays the limited role he has in both Intercurrent and The Night Sky Fall.
-Vanessa Davis
---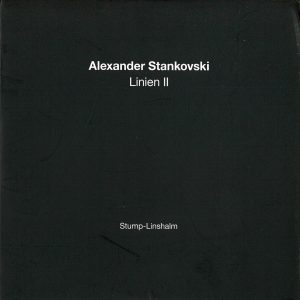 Alexander Stankovski: Linien II. Petra Stump-Linshalm, Bb clarinet, basset horn, bass clarinet, contrabass clarinet; Heinz-Peter Linshalm, Eb clarinet, Bb clarinet, bass clarinet, contrabass clarinet. Alexander Stankovski: Linien II. God Records, GOD 51. Total Time 28:00.
This disc is titled for the single work it contains, Linien II, by Austria-based composer Alexander Stankovski (b. 1968.) In his program notes from the premiere, Stankovski calls the work a "cycle of nine duos…expressive in different ways" and a "journey through all registers of the clarinet family." Stankovski's output spans small chamber works to orchestral pieces and often includes electronics and voices, spoken and sung. Linien II is the second of three sets of duos titled Linien, German for Lines.
The avant-garde miniatures comprising Linien II call for pairs of clarinets from contrabass to e-flat. The nine duos, firmly atonal, often have a spontaneous, improvisatory quality but are punctuated with passages of sinewy counterpoint. Stankovski masterfully explores the textural possibilities of two monophonic instruments. The duos are at times stark and desolate, at other times cacophonous and chaotic; silence is used to great effect. Each duo, bearing a characteristic title such as "stop and go" or "Déploration," is a concise evocation, delving into extremes of disquiet, angst, and playfulness.
Clarinetists Petra Stump-Linshalm and Heinz-Peter Linshalm handle the extreme demands of Stankovski's work with aplomb. Helming clarinets of all sizes with impressive agility, they traverse sweeping angular lines and seamlessly integrate extended techniques with ease. The pair prove an ideal match, both expressively and tonally. Their willingness to embrace intensity of expression in a compact format does justice to Stankovski's style, and their limpid, crystalline tones exploit the spectral effects of Linien II to great advantage.
-David Yandl
---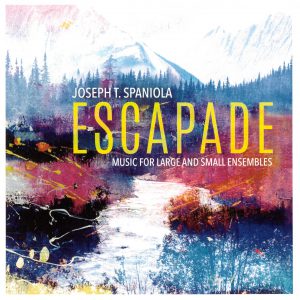 Joseph T. Spaniola – Escapade: Music for Large and Small Ensembles. The US Air Force Academy Band, Lt. Col. Philip C. Chevallard, conductor; Lt. Col. Steven Grimo, conductor; Solar Winds: Noelle Little, Eb clarinet, clarinet; George Roach, clarinet; Heike Gazetti, clarinet; Crystal Proper, clarinet; Scott Richardson, basset horn; Claudia Weir, bass clarinet; Kariann Voights, bass clarinet; The Eastern Wind Symphony, Todd Nichols, conductor; Danny Helseth, euphonium; Mark Dorosheff, violin; Nathan Wisniewski, violin; Stellar Brass: Steven Przyzycki, xylophone; Steven Kindermann, trumpet; Tim Allums, trumpet; John Gohl, trombone; Gary Poffenbarger, tuba; Gary Stephens, tambourine. Joseph T. Spaniola: Escapade; Klempirik Farms; Blow, Eastern Winds; Dream; The Winds of Quadrumvirate; Der Heyser Bulgar. Big Round Records, BR8957. Total Time: 55:00.
 Escapade showcases compositions by Joseph T. Spaniola recorded between 2000 and 2018 by various professional ensembles. Spaniola, a professor at the University of West Florida, has a prolific career spanning classical, jazz and commercial music. This disc features works for wind ensembles large and small along with Dream, a quartet for euphonium and strings.
Many aspects of the pieces on this recording—the rhythms, melodies, harmonies, and orchestrations—are strongly influenced by jazz, and some moments capture a driving, dance-like quality reminiscent of early Stravinsky ballets. The result is dynamic, energetic, and infectious.
In addition to effervescent works for full band, two others on this recording are of particular interest to clarinetists. Klempirik Farms is a clarinet quartet in three movements, and The Winds of the Quadrumvirate is a concerto grosso for clarinet quartet and wind band. Tuneful and decidedly more intimate in scope, Klempirik Farms draws upon the composer's memories from an idyllic family farm. The second movement, "Fertile Ground," is appealing and heartfelt without treading into melodrama. In The Winds of the Quadrumvirate, Spaniola explores the character of each quartet member (e-flat, b-flat, basset horn and bass clarinet) in an inventive way, drawing upon diverse styles including salsa and Austrian ländler. Both works are ably performed by the Solar Winds clarinet quartet.
-David Yandl
---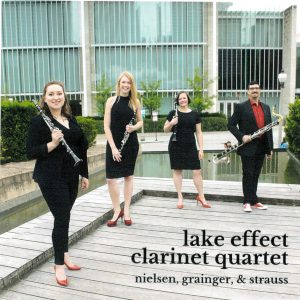 Lake Effect Clarinet Quartet – Nielsen, Grainger and Strauss. Lake Effect Clarinet Quartet: Nora Shaffer, Eb clarinet, Bb clarinet; Erin Miesner, Bb clarinet; Cally Laughlin, Bb clarinet; Joseph Sanchez, bass clarinet. Carl Nielsen/arr. Erin Miesner: String Quartet No. 4, Op. 44; Percy Grainger/arr. Erin Miesner: Molly on the Floor (Shore); "The Brisk Young Sailor" from Lincolnshire Posy; Shepherd's Hey!; Johann Strauss II/arr. Erin Miesner: Perpetuum Mobile, Op. 257; Tritsch-Tratsch-Polka, Op. 214. Independent Release. Total Time: 40:01.
On the Lake Effect Clarinet Quartet's self-titled debut album, they absolutely put their best foot forward! From the tone and articulation to the phrasing and dynamics, this collection of arrangements is a fantastic coming out fanfare.
The Lake Effect Clarinet Quartet possesses ensemble qualities that merge elements from both the Harvey Pittel Saxophone Quartet and the Emerson String Quartet. The group blends together so well that at times it begins to sound like a single clarinetist on a multi-track recording. Their individual tones and timbres remain even throughout the range of their respective instruments, and always sound effortless, sonorous and agile!
The album features works in the Romantic and early 20th century style by Carl Nielsen, Percy Grainger, and Johann Strauss II. Each work is masterfully arranged by the group's second clarinetist, Erin Miesner. The Brisk Young Sailor showcases her prowess as an orchestrator and the ensemble's virtuosity achieving Grainger's meticulous counterpoint and dense, rich harmonies with only four voices!
The absolute single-mindedness of the ensemble is evident in the clean, clear, fast and flawless articulation in Perpetuum Mobile. The group's intonation is fantastic throughout; from the very high notes on the tiny E-flat clarinet, down to the low range of Joseph Sanchez's brilliant bass playing.
In addition to being musically spot on, the engineering of the recording is also excellent. Each performer is individually audible without the sound being too-close. Each note is perfectly clear, whether a powerful fortissimo or a subtle pianissimo.
This album was rewarding, fulfilling and well-done. It will be very interesting to see in which direction the Lake Effect Clarinet Quartet goes next!
-Gary Fair
---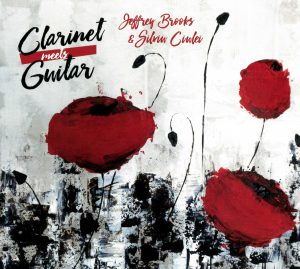 Clarinet Meets Guitar. Jeffrey Brooks, clarinet; Silviu Ciulei, guitar. Érik Satie/arr. Brooks and Ciulei: Gymnopedie No. 1; Darius Milhaud/arr. Brooks and Ciulei: Corcovado; Heitor Villa-Lobos/arr. Brooks and Ciulei: Bachianas Brasileiras No. 5; Franz Schubert/arr. Brooks, Ciulei and Kirkbride: Sonata "Arpeggione" in A Minor; Astor Piazzolla/arr. Brooks, Ciulei and Varelas: Histoire du Tango. Independent Release. Total Time: 50:00.
Clarinet and guitar combine musical forces on this CD, which is "dedicated to performing and expanding the repertoire for clarinet and guitar." Both musicians have performed in a variety of musical genres and styles – Brooks in classical and jazz and Ciulei in classical and flamenco. To explore the musical possibilities of this ensemble, the performers have arranged several well-known works to demonstrate the lyrical and technical capabilities of this instrumental combination. This CD includes a variety of composers and styles spanning nearly two centuries of compositions, and the performers reimagine many classics in a way that showcases the expressive possibilities of this duo.
The first work is Erik Satie's iconic Gymnopédie No. 1, which features Brooks's sparkling tone and elegant phrasing. Following this is Milhaud's Corcovado (from his Saudades do Brasil, Op. 67) and Villa-Lobos's famous Bachianas Brasileiras No. 5, where the listener can hear the beautiful sonoric soundscape created by these two instruments. The three opening incidental works capture Brooks's velvety tone and Ciulei's proficient technique and thoughtful phrasing.
The first of the two larger-scale works on this recording is Schubert's Sonata in A minor for Arpeggione and Piano, D. 821, written for the now-extinct arpeggione, a string instrument similar to a bass viola da gamba. Although this work has been arranged in a large variety of instrumentations, this unexpected arrangement (by Brooks, Ciulei, and Jerry Kirkbride) is definitely worth a listen. (It should be noted that Kirkbride has also arranged this piece for clarinet and piano.) Brooks soars in melodic passages to Ciulei's lush accompaniment, especially in the elegant middle movement. This recording ends with the upbeat Histoire du Tango by Astor Piazzolla. Brooks and Ciulei perform with an energy and excitement that make this famous work feel new.
Even though many listeners may be familiar with the works on this CD, Brooks and Ciulei have brought fresh life to these classics in the unexpectedly beautiful combination of clarinet and guitar. This CD will leave the listener wanting more from this duo.
– Jenny Maclay
---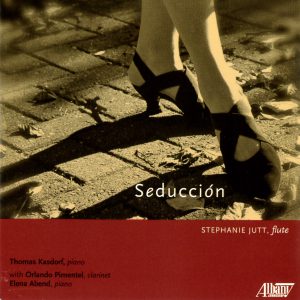 Seducción. Stephanie Jutt, flute; Thomas Kasdorf, piano; Orlando Pimentel, clarinet; Elena Abend, piano. Miguel del Águila: Seducción for flute, clarinet and piano; Alberto Ginastera/arr. Jutt: Zamba; Triste; Arrorró; La Mañana; Enrique Granados/arr. Jutt: Danzas Espaõlas; Canciones Amatorias; Carlos Guastavino/arr. Jutt: Siesta; Esta iglesia no tiene…; El Labrador y el pobre; En el pimpollo más alto…;  "Rosita Iglesia" from Las Presencias, No. 5; Joaquin Turina/arr. Jutt: Sonata Española. Albany Records, TROY1727. Total Time: 72:12.
This recording primarily features Spanish and Latin American works for flute and piano, combining original compositions with arrangements to demonstrate the vocal capabilities of the flute. Although predominately a recording of solo flute works, this CD begins with the title work Seducción (2014) for flute, clarinet, and piano, composed by Uruguayan-born American, Miguel del Águila. (It should also be noted that Águila lists this work for flute, cello, and piano as well as flute, alto saxophone, and piano on his website.) Seducción is nearly ten minutes in duration and features contrasting stylistic episodes. According to the composer, this piece "couples drama and driving rhythm with nostalgic nods to [my] South American roots." The musical seduction can be heard in the sultry lyricism played by all three instruments followed by driving rhythmic passages in 13/16 meter. Venezuelan-born clarinetist Orlando Pimentel plays with technical dexterity and a spritely sound in this work, easily switching between melodic and accompanimental passages. He uses his tone to change characters, especially in the singing altissimo passage toward the end of this piece. Pimentel's lyrical and technical proficiency definitely contribute to this musical seduction among the three instruments throughout this piece.
In addition to the variety of musical styles the listener can hear on this recording, the liner notes are also quite in-depth and offer an introduction to the different styles presented on this CD. Additionally, the notes appear in both English and Spanish, which is a fitting homage to the musical conception and heritage of the composers and performers on this recording. This recording is recommended for flutists, clarinetists, and any other musician wishing to explore this repertoire.
– Jenny Maclay
---