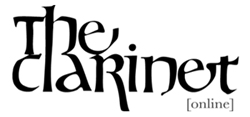 Originally published in The Clarinet 45/4 (September 2018). Printed copies of The Clarinet are available for ICA members.
---
Audio Notes
by Christopher Nichols
New Music for Clarinet Duo
Duets have been a significant aspect of pedagogy throughout the development of the clarinet, with notable contributions found in the methods of Jean-Xavier Lefèvre, Hyacinthe Klosé and Aurelio Magnani, to name only a few. However, in recent years the clarinet duo has found a place on the concert stage with an ever-expanding and diverse repertoire that exploits the capabilities of the instrument to extremes. Recent releases from three ensembles, AdZel Duo, Tosca Duo and Das Klarinettenduo, epitomize this trend with world-premiere recordings of a variety of commissioned works.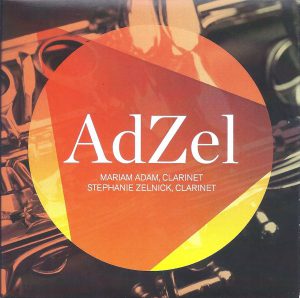 Adzel Duo is comprised of Mariam Adam, former clarinetist with Imani Winds, and Stephanie Zelnick, associate professor of clarinet at the University of Kansas School of Music. The duo has performed together since 2009 with appearances across the country and Europe at notable institutions and venues such as Yale School of Music, Eastman School of Music and Carnegie Hall. AdZel, the ensemble's debut release, includes commissioned works by Jason Barabba, Mohammed Fairouz and Anne Guzzo, as well as selections by Bernhard Henrik Crusell.
Catawampus by Jason Barabba opens this recording with an unpredictable journey featuring "dissonant tritone(s) and slightly offbeat rhythms," according to the program notes. Dialogue between contrasting personalities is evident throughout this work, but with a compelling unity of sound and excellent ensemble. Excerpts from Crusell's Clarinet Duos follow with an inspired and sensitive account of this charming core repertoire. Next, Mohammed Fairouz's AdZel, structured in four contrasting movements, explores the diverse backgrounds of Adam and Zelnick with inspirations from Middle Eastern cultures, including timbral trills, microtones and elements of klezmer technique. The recording closes with two works by Wyoming composer Anne Guzzo, Antelope Pavane and The Color of Honey. The former conveys the image of antelope on the high plains, either motionless or running, in slow and fast sections. The latter cites as inspiration the landscape of the Middle East and the challenging historical circumstances of the region.
Throughout this recording, AdZel delivers polished, committed performances of stunning new works that clearly demonstrate close collaborations between the artists and composers. Although this release is on the short side at 35 minutes, it left me desiring to hear more! Information about AdZel with links to purchase this new disc and detailed program notes are accessible at www.adzelduo.com.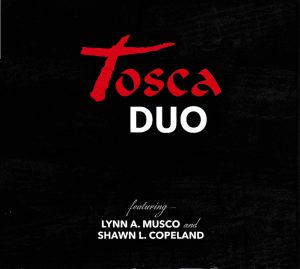 Founded in 2007, Tosca Duo's members are Lynn A. Musco, professor of clarinet at Stetson University, and Shawn L. Copeland, assistant professor of clarinet at the University of Idaho. The group maintains an active performance schedule at clarinet festivals and conferences throughout the country and is the ensemble-in-residence for the annual Stetson Clarinet Clinic held each summer in DeLand, Florida.
Tosca Duo, the group's self-titled debut release, includes premiere recordings of four substantial and contrasting works, two of which were commissioned and premiered by the group. One of these commissions, Marcus Karl Maroney's Paean, begins this recording. According to the liner notes, Maroney found inspiration for this work in the etymology of its title, both in antiquity (lyric poem expressing triumph or thanksgiving) and modern usage (praise or exultation). This composition explores the unique capabilities of the clarinet, such as ease of shifting at the interval of the 12th and wide-ranging dynamic palette, especially notable at soft dynamics.
Michael Kibbe's Serenade, Op. 131, follows – by no means new literature, but previously without a commercial recording. This charming suite of seven contrasting movements, "Prelude," "March," "Blues," "Tango," "Tarantella," "Elegy" and "Hora," is light, attractive and idiomatic. It is easy listening in comparison to the rest of the program, but truly enjoyable as the Tosca Duo effectively captures the requisite style for each of these movements.
Next, Akira Miyoshi's Rêve colorié evokes five distinct images with descriptive movement titles: "Crimson/Scarlet," "Young Monster," "Canal," "Red Cherry" and "Tumble through Space." This work synthesizes French impressionism with traditional Japanese music and intonation of the composer's native tongue. The disc closes with another commissioned work, Carlos Velez's Wood and Wind. Although I enjoyed the entire recording, this two-movement work is my favorite. The first movement, "Willow's Litany," fully exploits the unique blend and diverse palette of color available in this genre, while "Maelstrom" contrasts with energetic rhythms accents to bring this program to a lively finish.
As Tosca Duo, Musco and Copland share unified sonorities, excellent intonation and an instinctive sense of musical line as an ensemble. Their performances are exceptional throughout this disc of significant premiere recordings of diverse literature. For complete information about the ensemble, visit www.toscaduo.com.
Das Klarinettenduo, consisting of Beate Zelinsky and David Smeyers, has performed together since 1980 with a number of commissions, premieres and recordings. The ensemble's recent release by Neos Music contrasts with the previously discussed discs, as the group is featured in a chamber settings with strings, in addition to two solos and a duo. This recording features the works of acclaimed German composer Nikolaus Brass, with whom the duo has collaborated extensively.
Nikolaus Brass: Works for Clarinet and Strings, NEOS 11704, is a composer-centric disc recorded in collaboration with the Minguet Quartet. Despite its title, the first and last works are for unaccompanied clarinet, titled Salut and Adieu. These two works originated as pieces for solo flute and were later adapted for clarinet solo as the composer's first effort at creating a solo clarinet work. Brass and Das Klarinettenduo forged an ongoing relationship that resulted in the other
four works: SPUR for two clarinets and string trio, Dialoghi d'amore VI for two clarinets, Strophen for viola and two clarinets, and String Quartet No. 5 with Two Obbligato Clarinets.
It is unique that Smeyers performs on Boehm system and Zelinsky performs on German system. In the liner notes, Smeyers states that this is "generally considered an 'impossibility.'" However, due to the inherent acoustical differences, the multiphonic palette varies on these systems. After experimentation, Das Klarinettenduo provided Brass with a number of sonorities only possible with the pairing of different systems. Truly innovative discovery in clarinet performance has become increasingly challenging, with so many fantastic clarinetists around the world engaged in creative activity and research. However, this composer/performer relationship has resulted in something truly unique, however subtle it may seem.
As alluded to by Smeyers, the pairing of these systems typically presents challenges of intonation and blend – Smeyers and Zelinsky make it sound effortless, as they draw us into a sound world created in collaboration with Brass. For complete information about Das Klarinettenduo, visit www.das-klarinettenduo.de.
Each of these remarkable ensembles has contributed to the discography and repertoire of the clarinet duo in a special way through their activities. I hope you explore each disc and consider these new works for future programming!