Originally published in The Clarinet 50/1 (December 2022).
Printed copies of The Clarinet are available for ICA members.
---
ICA 100% ENROLLMENT CHALLENGE
This fall, the ICA continues its 100% enrollment challenge for clarinet studios. In honor of our 50th anniversary year, we aim to reach 100 clarinet studios at 100% enrollment by December 31st! Universities and colleges that reach full participation will be eligible to participate in a virtual career fair to be held in the spring of 2023.
Joining the ICA opens a world of clarinet information and scholarship, including access to 50 volumes of The Clarinet in the James Gillespie Library; discounts on instrument insurance through Anderson Insurance; access to NAXOS Music Library, FORZA Excerpts, and the ICA Resource Library; the ability to attend ClarinetFest® and other virtual and in-person ICA events; and entry to compete in annual ICA competitions.
The ICA is proud to feature four clarinet studios that have reached 100% enrollment for the 2022-2023 school year. For more information about how your school or studio can reach 100% enrollment and be featured in an upcoming issue of The Clarinet, contact [email protected].
---
 COASTAL CAROLINA UNIVERSITY CLARINET STUDIO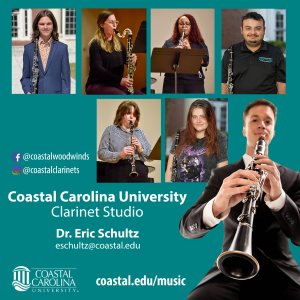 The Coastal Carolina University (CCU) Clarinet Studio is a family-like environment that prioritizes creating an inclusive, safe, and supportive space for students to grow as artists, creatives, and future music educators. Regardless of major, all students receive one-hour weekly lessons with the faculty. Dr. Eric Schultz is well-known as an artist-teacher for encouraging a project-based creative approach to music learning while advocating for living composers and expanding traditional repertoire lists for a more intentionally inclusive and relevant model. In addition to the premier Wind Ensemble, students have the option to join many chamber groups tailored to their interest, including woodwind quintet, clarinet choir/quartet, jazz combos, pop ensemble, R&B, and more. CCU is also recognized nationally for musical theater, with many former students now on Broadway. Each year a student has the chance to apprentice for Broadway shows with Dr. Schultz, who has played many Broadway shows himself. Music students at CCU have access to incredible resources, such as the Wheelwright Recording Studio, a state-of-the-art facility, and our brand-new Steinway Spirio pianos. We are one of the only universities in the country with access to this cutting-edge technology and have become a leader in broadcasting live, real-time Spirio piano recitals. Finally, we are just a few minutes from paradise—beautiful Myrtle Beach, South Carolina. Please contact Dr. Eric Schultz at [email protected], @ericschultzclarinet, or check out ericschultz.com/coastal for more information.
Coastal Carolina University Clarinet Studio Members: Cody Sachs, Clarinet Performance; Charlea Malin, Bass Clarinet Minor; Nadia Dixon, Clarinet Performance; Victor Sanchez, Music Education; Hailey Cornell, Music Education; Erin Collins, Clarinet Minor; Dr. Eric Schultz, Assistant Professor
---
 GLENDALE COMMUNITY COLLEGE CLARINET STUDIO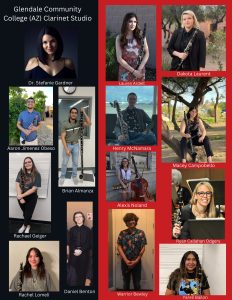 The clarinet studio at Glendale Community College (GCC) is dedicated to celebrating our community, the cohort we serve, and its diverse strengths while promoting social justice and lifelong learning. The GCC music faculty are committed to providing accessible innovative, quality musical curricula and peak aesthetic experiences to empower students to achieve their artistic, academic, and career goals. Earn an Associate of Arts, Fine Arts (AA, FA) degree with emphasis in music at GCC or a Bachelor of Arts with emphasis in music education with our partnership with Ottawa University.
Glendale Community College Clarinet Studio Members: Professor Stefanie Gardner, Brian Almanza, Lauren Ardelt, Yareli Bailon, Daniel Benton, Warrior Bewley, Macey Campobello, Ryan Callahan Odgers, Rachael Geiger, Aaron Jimenez Obeso, Dakota Laurent, Rachel Lomeli, Henry Mcnamara, Alexis Noland
---
 UNIVERSITY OF NEBRASKA-LINCOLN CLARINET STUDIO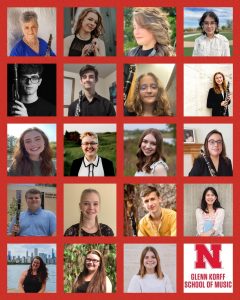 The UNL Clarinet Studio offers a rich, musical atmosphere in which to continue your studies at the undergraduate or graduate levels. We offer the following degrees in music that Diane Barger, Ron and Carol Cope professor of clarinet, tailors to your needs and educational/career goals: Music Minor, Bachelor of Music, Bachelor of Music Education, Bachelor of Arts, Master of Music, Doctor of Musical Arts, and the PhD in Music Education. The University of Nebraska-Lincoln is proud to be "pioneering new frontiers" inside the studio and classroom to prepare our students for their diverse careers in music.
University of Nebraska-Lincoln Clarinet Studio Members (from left to right by row): Top row: Dr. Diane Barger. 2nd row: Rachel Levison (DMA); Emily Rose (DMA); Jenna Hakenewerth (Senior BM); Dayton Linhardt (Senior BM). 3rd row: Melissa Graue (Senior BME); Caroline Mattern (Senior BME); Kayla Martin (Senior BME); Allison Linton (Senior BME). 4th row: Grant Westerman (Junior BA); Matthew Bean (Sophomore BA); Allison Neuman (Sophomore BME); Nate Meyer (Sophomore BME). 5th row: Emma Rae Barbee (Sophomore BA); Sara Vance (Sophomore BA); Dee Botdorf (Freshman BME); Yukina Higashi (Freshman BM). 6th row: Anna Leahy (Freshman BME); Willa Sharp (Freshman BME); Kaeleigh Cooper (Freshman BME)
---
 UNIVERSITY OF NORTH ALABAMA CLARINET STUDIO
The University of North Alabama Clarinet Studio is comprised of supportive and dedicated clarinetists studying music education, music performance, and a variety of outside fields. Activities in the studio include guest master classes, workshops, clarinet choir, clarinet chamber music, departmental recitals, community outreach, and Virtual Clarinet Day. The studio is taught by Dr. Kelsey Paquin, assistant professor of clarinet, and Dr. Meghan Merciers, executive director of the School of the Arts at the University of North Alabama and associate professor of music. Follow us on social media (@UNA Clarinet Studio) or visit www.una.edu/music for more information.
University of North Alabama Clarinet Studio Members: Taya Mitchell, Kaleb Williams, Conrad Burns, Joseph Pope, Heather Medlin, Natalie Spence, Danielle Pigg, Ariel White, Sabrina Gaines, Julie Dimitro, Anna Neal, Andrew Burbank, Mars Bivins, Jess Hernandez
---