Originally published in The Clarinet 47/3 (June 2020). Printed copies of The Clarinet are available for ICA members.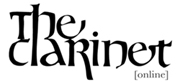 ---
Tribute to Guy Deplus
by Jean-Marie Paul
Guy Deplus passed away on January 14, 2020, at the age of 95. Through his teaching, playing and recordings, Deplus has served as an immense musical and pedagogical inspiration to clarinetists from around the world. In the book Conversations with Robert Craft (1963), Igor Stravinsky cited him as an example of "an exceptional instrumentalist who has reached new musical and instrumental faculties."
Guy Deplus was born on August 29, 1924, into a family of musicians in Vieux-Condé, in this Northern region which gave to France so many great clarinetists. The city of Vieux-Condé has given back by naming the music school after Deplus in 2013. As he explained to La Voix du Nord newspaper:
I was made to learn music theory in the Miners' Band. I was in a hurry to play an instrument, but my hands were too small. And when I started the clarinet, I was eight and a half years old; I was loaned a small one for a year. As soon as you were able to, you were put in the back of the band, you were learning to play in an ensemble, and you had to follow the conductor. As soon as they arrived in Paris, the people of the North were ready…
His mother wanted him to continue his general studies until he graduated as a schoolteacher. Then, at the Valenciennes Conservatory, where he won the First Prize for clarinet in the first year, his teacher recommended him in Paris to Pierre Lefebvre, who had been a soloist with the Garde Republicaine. Deplus would later become their soloist in the 1960s. He was less than 20 years old when he entered the Paris Conservatory. In 1945, he won the First Prize for clarinet (at the same time as composer Désiré Dondeyne) as well as the First Prize for chamber music.
Guy Deplus's career was characterized by great diversity. He performed with Garde Républicaine from 1947, Orchestre Colonne, Opera-Comique and finally as super-soloist of the Paris Opera until 1984. He collaborated with the Companie théâtrale Renaud-Barrault. In 1953, Pierre Boulez, music director of the company, proposed that Deplus join his newly created small ensemble, the famous Domaine musical. At the same time, Guy Deplus recorded alongside famous French singers Juliette Gréco, Tino Rossi, Brel and Bécaud. He also recorded music for movies for Maurice Jarre.
Many composers entrusted Deplus with the premiere of their works. Pieces such as the Concerto by Charles Chaynes, Flammes by Janos Komives, Les Trois S by Jean Rivier,[1] Ascèses by André Jolivet and For Clarinet by Marius Constant. In 1965, Deplus also performed in the premiere of Anaktoria by Iannis Xenakis with the Octuor de Paris.
As a member of the orchestra, Guy Deplus performed under the prestigious batons of Monteux, Munch, Boehm, Solti, Sawallisch, Boulez, Schuricht, Paray, Ozawa, Krips, Berio, Stockhausen and others. His rich discography of over 30 records reflects his attachment to the great repertoire: Stravinsky, Messiaen, Brahms, Debussy and Schubert, up to the solos of French competitions published in Sweden in 2003.
As a professor, Guy Deplus taught sight-reading (1972), chamber music (from 1974) and clarinet from 1978 to 1989 at the Paris Conservatory. Following his time there, he then worked at the École normale de musique of Paris until the extraordinary age of 91. Deplus also gave lessons at home where he had a soundproofed studio. His address in the 12th arrondissement was well-known to musicians as was his wife Yvette Deplus, who closely attended his artistic journey. Deplus also gave master classes all over the world and served on the juries for many international competitions.
Deplus also spent extensive time as a tester for two of the largest French woodwind companies: Buffet Crampon and Vandoren. His work with these companies led to countless advances for not only equipment but for the sound profile as well. In an interview in 1985, he remarked, "I worked to introduce in France a rounder sound, more mellow and darker."
Deplus served as the first ICA Country Chair for France from 1981 to 2012. He then proposed that I succeed him. In 1996, with the help of Michel Gizard from the former Quatuor de clarinettes de Paris, he assisted in the organization of the first ICA conference outside of North America. In 1999, Guy Deplus received the Honorary Membership Award from the ICA. In 2020, the Gran Canaria International Clarinet Festival in May gave his name to its first competition.
Like many French players, his teaching was mainly oral. Fortunately, aspects of his teaching have been preserved. Former Deplus student Bruno Martinez (bass clarinet soloist, Paris Opera) recorded long interviews with him. These interviews led to the book L'ascèse et la flame (Asceticism and the Flame) published by Editions MF in 2013.
Deplus also made several contributions to The Clarinet. He wrote an article about the Rabaud Solo de concours in Vol. 25, No. 4. He also contributed articles about the Poulenc Sonata (Vol. 37, No. 2) and Messager's Solo de concours (Vol. 38, No. 3). He was interviewed by Kimberly Cole Luevano in Vol. 26, No. 4. Finally, Deplus was featured on the cover of Vol. 7, No. 3. The issue featured a biography and a list of etude books that he used when teaching his students at the Paris Conservatory at that time.
In 2003, Vandoren released a DVD of master classes with Deplus (in French with English subtitles). The master classes total three hours in length and cover important works such as Mozart's Concerto, Debussy, Sancan, Poulenc and Stravinsky's Three Pieces.
The funeral of Guy Deplus occurred in a Parisian church on January 22, 2020. A clarinet choir was formed with some present and former players of the Garde Republicaine including Philippe Cuper.
[1] Jean Rivier, Les Trois S: Sillages, Soliloque, Serpentins (dedicated to J. Lancelot, G. Dangain, G. Deplus).
---
Memories From Bruno Martinez: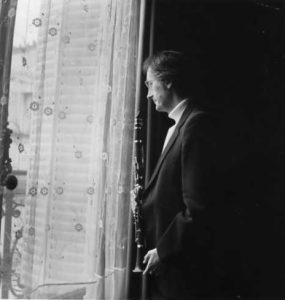 The scene takes place in Guy Deplus' year 2 class – the year of the graduation exam – at the Paris Conservatory.
My turn came (it was the Monday afternoon class), so I walked up to the music stand and opened my etude book. It was Rose's Thirty-two Etudes.
I started explaining to our Maestro that I had spent a particularly eventful weekend with my then-girlfriend, so I had only practiced the first etude and could not for the moment play anything else; A piece that any 14-year-old amateur can perform… In other words: I had done nothing and had nothing to present!
He let me play the whole etude – one page – asked for confirmation that I had nothing else to show for myself, and then I heard him say, "Even if you don't play much, if you work well, then you'll get better! Thank you, Bruno. Next…"
I was lucky enough, as I undertook the writing of his biography, to spend time with Guy Deplus, and to get to know him as a man in private. I won't go over his prodigious career, but I'm going to tell you about the man I knew.
We often do not get the opportunity to know our parents or teachers as much as we wish we could. That is why I'd like to share with you today a few thoughts and memories that have come to my mind.
To us, Guy Deplus has been a father, a master, a guide, a colleague, a friend, and for those who didn't get to know him personally, he is, fully and wholly, an example to follow. Guy Deplus was a rare soul; an exceptional individual who left his mark on anyone who met him. If I had to define him in a few words, I'd say he was:
Righteous,
Pure,
Humble,
Thorough,
Passionate,
Generous,
Kindly and extremely considerate.
As for each and every one of us, one could really know and understand him only by considering the events of his childhood, and the times he grew up in. Guy often spoke of the enormous sadness he endured as a teenager when his father died. He often spoke of it during our meetings for his biography, and every time, in spite of his age (he was then 85), it felt as if the event had just taken place. Then the exodus. He was from northern France and during the war, as the Germans came, he and his family had to abandon their home to take to the road, entering deserted houses, looking for food… When they came back, they discovered that their own home had been plundered as well. Such circumstances, which we're lucky not to have experienced, must be the kind that forges an individuality and a mentality for life.
Guy Deplus was RIGHTEOUS :
This word is one of the first that immediately comes to my mind when I think about him. Righteousness, as in: "what is right;" what has to be. Righteousness directed his life, his ideals, his interpretations, his ambitions, his relationships. He would rather renounce than transgress it.
I think he'd have hated to be found lacking on any ground whatsoever; he wanted to be, and he was RELIABLE, and his perfect righteousness allowed him to be just that.
He was PURE. He would revolt, be outraged, but he was absolutely incapable of malice or of genuine anger. I recall saying to myself oftentimes during our meetings that he was almost naive: he could not understand, regarding certain issues or situations, that people would act in ways which, manifestly, scandalized him. It was as if he were living an ideal, and the confrontation of this ideal with the reality of human life shocked him time and time again.
Few and far between are they, who their whole life long keep such greenness, such a frame of mind, such high ground, such an ideal, without getting tainted or giving up. He was of their number… And it was something to behold.
He was PASSIONATE.
I remember one day, some 6 years ago, Michel Raison and I had an appointment with him on a late afternoon. As we were about to ring at the door, we heard he was finishing a lesson on Nielsen's Concerto. We stayed a couple of minutes, listening behind the door to all these arduous passages, expertly played by a brilliant student. Eventually, we resolved to ring; we did have an appointment after all. And Guy Deplus it was who opened the door, content, fresh and hearty, clarinet in hand. In fact, he'd just finished his practice.
I asked him how he was feeling with the clarinet, and he made that characteristic answer: "Fine, but today it comes with a price!" It was the year of his retirement from the École Normale; he was 90 years old! Some people would say, "what's the point of practicing at his age, with no concert in sight?" But he was just going on with his journey and evolving in what was, for him, a whole and complete world; HIS WORLD.
He was KINDLY and excessively considerate. He was never intrusive. Here's an example of his benevolence:
While still at the Conservatory, on a day that almost everyone in the class was present, our friend Jean-Claude was at the stand, playing Schumann's Phantasiestücke, accompanied as always by Cécile Hugonnard-Roche. The Maestro interrupted, and explained once more to the class how to play legato, not only with the airstream but also with finger lightness. He really took his time, in order to stress for the whole class the importance of what he is saying.
Jean-Claude however, believing all of these remarks were only for him, decided that he had had enough. He left the stand and, angrily, and began taking his clarinet apart. But he was commanded by our teacher's authoritative voice to come back and play, which he did in front of the petrified class; such an incident had never occurred before! We know they had a discussion after the lesson. But in spite of the insolence, by the next class, everything between them had come back to normal, nothing had changed.
It would not be possible to talk about Guy Deplus without mentioning his wife Yvette, thanks to whom he was able to enjoy his extraordinary career. When they met they were only 14 or 15 years old, and their love had been profound ever since. She was his first fan, his pillar, his support, she was his defense line even. This is apparent in an anecdote that his son Alain let me share, and through which I can reveal another facet of Guy Deplus, one that few people are familiar with…
The day his wife died, after some time in the hospital, his family wasn't sure whether they should tell him immediately, as his health was very fragile. You can imagine their surprise, as they arrived by his side at this harrowing time when he told them he had been crying the whole afternoon because Yvette, his wife, had come to see him around 3 pm. She had sat down on his bed and announced that she had died that day, and had come to say "goodbye." 3 pm was indeed the time of her death. This extraordinary story illuminates for us his spirituality and the world in which he inhabited. Many times after that, as I visited him at the Maison des Artistes in Nogent near Paris, he would tell me he was having visions, seeing things. I asked him to explain to me what he saw; he answered that it was really hard to describe, and would say, filled with wonder, that it was "très, très beau…" There was in him a genuine spirituality; he rarely spoke of it, but it was very much present.
It guided him and, beyond life's daily episodes, constructed him, defined him, and made him who he was as a man, but also as a musician.
I could keep talking about him for hours…I'd like, however, to finish on a rather different note, to tell you that he was much less strict, much more relaxed than what he seemed. And yet his imposing eminence inspired in others a sense of respect, and sometimes even an obsequiousness which he did not ask for. It prevented too much lightness in his presence, even though he was quite fond of it!
Like him, I'm from northern France; how many times did he greet me in the Ch'ti (a common regional language of Northern France)! For instance, looking at my shirt: "You're wearing a nice kémiche!," which is Ch'ti for chemise (shirt)…If you could pass over his commanding aura, and still keep a kind of jovial respect, he was always ready for a much more breezy conversation than what most people thought!
One day, many years before the writing of his biography, I told him how glad I would be to play with him in a concert. Some time later, he called me with the proposition of interpreting together Mendelssohn's 2nd Konzertstück at the Stockholm I.C.A. ClarinetFest®. We made an appointment for the first rehearsal. I said I'd come to his place, but he wished to rehearse at my apartment instead. I lived on the fifth floor, with no lift… There he comes, 78 years old on a sweltering June day; I offered him a drink.
"What do you have?"
"Water, fruit juice, beer…"
"No thank you, I'm fine."
We start rehearsing, in good spirits and always agreeing on the interpretation; when we come to the finale, with its two concluding lines in semiquavers, I declare:
"I beg your pardon Maestro, but I must warn you, I'm going to step on it and I'll be seeing you tiny in my rear-view mirror, you'd better buckle up…"
He looks at me with a sly smile, eyes sparkling, and without a word he gestures me: "Let's go."
Indeed I played fast – as fast as I could – but I never outrun him… On the last note we were perfectly together, laughing! Before he left we made an appointment for the next rehearsal. And as he crossed the door, he told me: "Next time, Bruno, maybe you could get Coca-Cola!"
As you see, I loved this man very much; I think I might have understood him, and I feel extremely privileged that I got to know him so well. Now he has gone. He will be deeply missed! A great chapter closes. We had many conversations about death together. He was very curious about what would happen then. As a matter of fact, he was waiting for it serenely. During a discussion on that subject, I told him:
"By the way Maestro, even though you're a force of nature, there will come a time when you will "kick the bucket," like everybody else! There'll be many clarinetists at your funeral, who will want to play something. What would you like them to play, have you thought about it?"
"I have. What I'd like to be played is: Le Jardin Féerique de ma Mère l'Oye, by Ravel." (Mother Goose) For him… this is what we played at his funeral with some members or former members of the Garde Republicaine clarinet section.
---
Memories From Jean-Marie Paul:
Guy Deplus proposed my name in 2012 to the International Clarinet Association, to succeed him as National Chairperson for France, in order to continue to spread knowledge and passion for this beautiful instrument. He also organized with the Paris Clarinet Quartet the International Congresses of the ICA in 1981 and 1996.
He often said, "I enjoyed doing what I did," but also, very modestly: "I don't like to put myself forward." This is why I am happy to have taken the initiative, in addition to the interviews, to suggest to him that we work together on articles on Messager or Poulenc for The Clarinet, because I thought that his experiences should be shared by as many people as possible. (2). Likewise, Bruno Martinez has devoted a book to him, Asceticism and the Flame, and thanks to his numerous interviews, we got to know him better.
The thoroughness of Guy Deplus; his conscientiousness are an example for all of us. A great artist never dies. Because if this day is a day of sadness for his family and friends, fortunately, there are all these writings that remain, all these recordings, all this teaching now relayed by his former students.
---
Further reading from The Clarinet:
Lee Gibson and Guy Deplus, "Guy Deplus: A Profile," Vol. 7/3 (Spring 1980 cover story).
Guy Deplus, "Master Class: Rabaud's Solo de concours," Vol. 25/4 (July-Aug. 1998).
Kimberly Cole [Luevano], "An Interview with Guy Deplus," Vol. 26/4 (Sept. 1999).
Jean-Marie Paul and Guy Deplus, "The Poulenc Sonata for Clarinet and Piano: The French Tradition According to Guy Deplus," Vol. 37/2 (March 2010).
Jean-Marie Paul and Guy Deplus, "Messager's Solo de concours," Vol. 38/3 (June 2011).