---
 TCO Audio Reviews: February 2023
---
Origin Unknown: Original Compositions II, Chamber Guitar Vol. 1. Kevin Cope, guitar; Paula Campbell, flute; Christopher Nichols, clarinet; Brendan Evans, guitar; Benjamin Goldman, percussion; Rachael Lipson, soprano; Hanna Eagleson, poetry. K. Cope: Origin Unknown; Newton's Cradle; Penumbra; Hedera Helix; Three Sephardic Songs; A Universe from Nothing; In the Sky; Dis Sacrificium. Vidus Records. Total Time: 60:00.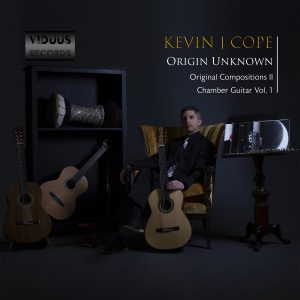 Origin Unknown, released in October of 2020, is an exciting collection of original chamber works for guitar and various ensembles by American guitarist and composer Kevin Cope. The title track, Origin Unknown: A Pole Was Journeying, features clarinetist Christopher Nichols with Cope on guitar.
Origin Unknown, is episodic in structure and form while reflecting the composer's yearning for a connection to Polish heritage. Two Polish folk melodies, "A Pole Was Journeying" and "Whirlwinds Raging in the Valley" are interspersed within the work. Solo guitar opens the piece with a contemplative introduction before the clarinet enters with a wandering melody in the lower register. The long melodic lines in the clarinet twist and turn before erupting into passages of graceful moving notes. Throughout the composition, the rhythmic activity ebbs and flows, taking the listener on a journey of their own.
Nichols's pure tone and introspective melodic phrasing effortlessly expresses the style and character of Cope's composition. The impeccable intonation and harmonious blend between these two instruments make this combination quite effective. Cope utilizes a limited range of the clarinet—never extending into the upper clarion or altissimo registers. The resulting mellow timbre exudes feelings of nostalgia and wistfulness.
Cope's other works on the album feature a wide assortment of instrumentalists including guitarist Brendan Evans, flautist Paula Campbell, soprano Rachael Lipson, and Benjamin Goldman on darbuka. Two of the tracks, A Universe from Nothing and Dis Sacrificium, are compositions for guitar ensemble. Cope's unique collection of chamber works, masterfully performed by the composer and their collaborators, creates an interesting and diverse sonic experience for the listener.
– Kylie Stultz-Dessent
---
Last Notes. David McGregor, clarinet; Alison Holden, piano; Kathy Irons, solo violin; Isaac Shatford, violin; Amandine Guerin, violin; Sharon Baylis, viola; Tomas Hurnik, cello; Ross Radford, double bass; Jenny Johnson, oboe; Ashleigh Mowbray, oboe; Carolyn Scholes, violin; Maurice Till, piano; Gregory McMillan-Perry, oboe; John Pattinson, piano; Julie Ann Link, bassoon; Laura Barton, violin; Paul Lee, cello. E. Biddington: A Little Dance; Four Preludes; Introit for Solo Violin and String Quartet; Trio No. 2 for Two Oboes and Piano; Two Romances for Oboe and Piano; Sentimental Piece; Canzonetta for Oboe and Piano; Scherzetto; Peace for Julie; Trio for Violin, Viola, Violincello; Two Pieces for Bassoon and Piano. Navona Records, NV6431. Total Time: 58:00.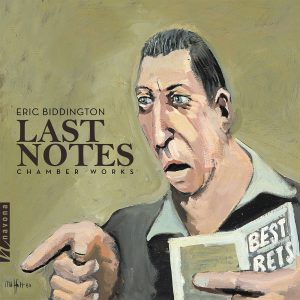 Last Notes, the latest album by New Zealand composer Eric Biddington, revisits a selection of compositions chosen by the composer. The selected works showcase the composer's range of instrumentation, musical influences and muses. The repertoire includes a single piece for clarinet and piano, which opens the album.
A Little Dance features a collaboration between New Zealand clarinetist David McGregor and pianist Alison Holden. Their interpretation truly reflects the composer's idea of a dance. From start to finish there is an enjoyable, lyrical, and lighthearted folk song essence. McGregor's energetic playing embodies a flawless vocal quality allowing his tone to speak clearly in every register of the instrument, demonstrating complete mastery of the clarinet. Holden's agility and mastery of playing light articulations on the piano greatly enhance the atmosphere of the performance and showcase her command of the instrument. The musicians create a consistent balance of ebbs and flows matching the demands of the composition while never muddling the elements of song and dance.
After opening with the energetic clarinet feature, the album immediately provides heavier reflective music in the second work composed for solo violin and string quintet. The album continues using various instruments and compositional techniques from a variety of traditional musical forms. Roughly two-thirds of the way through the album there is a sincere, unaccompanied oboe solo dedicated to Biddington's friend, Julie. The album concludes with a few lighter works.
Overall, the album had an intimate nature that was a pleasure to experience. One unique element is that each track is under five minutes, which helps expose the listener to more of the composer's catalog. In the end I was left wanting more of the experience the album provides, which may or may not have been intended.
If, like me, you enjoy an easy yet intimate listening experience with a warm beverage as the snow falls, then certainly add this album to your list.
– David Deiter
---
Artur Cieślak: Selected Works. Anna Lewicka-Capiga, piano; Natalia Wesołowska, cello; Milena Palkaj, piano; Bogusław Jakubowski, clarinet; Klara Świdrów, piano. A. Cieślak: Understatements for Cello and Piano; Grotesque for Piano Left Hand; Monologue for Clarinet; Piano Sonata No. 1, Post-Neo for the Left Hand; Cellophony for Cello; Trio for Clarinet, Cello, and Piano. Acte Préalable, APO 456. Total Time: 58:27.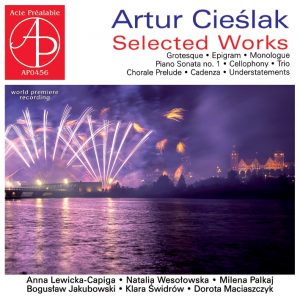 Artur Cieślak: Selected Works was released in 2019 on the Acte Préalable label and includes nine pieces by the Polish composer. There are two works that include clarinet featuring Bogusław Jakubowski. The first is Cieślak's Monologue for Clarinet, a charming work for solo clarinet that moves fluidly through the registers with contrasting tempos, note lengths and styles in a way that may mimic one's inner thoughts. In the liner notes the composer discusses what he calls "alternative form," in which he alternates the significance of three different melodic-rhythmic structures, bringing different ideas to the forefront throughout various sections of the piece. Cieślak states that his Trio for Clarinet, Cello, and Piano also uses the same musical form. This formal structure allows the listener to hear connecting material and mood, while anything that resembles a true melody is notably absent.
The Trio begins with a very sparse line featuring staccato notes in all three instruments which then develops into vastly expansive dense and dark textures. The piece moves rapidly from pensive, emotional lines, to frantic chaos and back before returning to its sparse beginnings. The clarinet parts are performed expertly by Jakubowski, whose tone stays pure and clear throughout all registers, while fluidly moving through difficult technical passages. Jakubowski also displays impressive flexibility in articulation and style in both works. The other pieces on this album include three for cello and three for piano, two of which are specifically for piano left hand. This makes for an interesting and varied introduction to Cieślak's music.
– Madelyn Moore
---
Feathers & Fables. Christopher Mothersole, clarinet and electronics. J. Brandon: Cacophony for Clarinet and Delay; Chansons de la Nature, for Clarinet and Delay. Digital Release. Total Time: 21:00.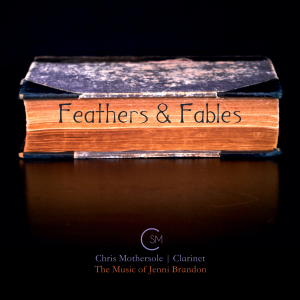 Feathers & Fables features two of Jenni Brandon's works for clarinet and delay born from EFX Clarinet Artist Christopher Mothersole's commission of Cacophony, for Clarinet and Delay and Chansons de la Nature, for Clarinet and Delay. An independent digital release, the album can be found on Spotify, YouTube Music, Apple Music, Amazon Music, and Pandora.
The first track, Cacophony, for Clarinet and Delay, explores the variety of textures created by birds gathering at a large canopy tree on Brandon's street. The work begins unaccompanied and soon distinct sections emerge as Brandon leads the clarinet through a variety of textures by using the delay in different ways. Bird chirps and flourishes can be heard throughout, alternating with blurrier textures and dissonances. The use of extended techniques, such as growling and glissando, in combination with the delay effect is quite striking.
The second half of the album features Chansons de la Nature, for Clarinet and Delay, which consists of six short character movements based on Aesop's Fables: Les Oiseaux, Le Poisson, Le Lièvre et La Tortue, L'Étoile, Dansez!, and Le Serpent. Brandon masterfully creates distinct soundscapes in each movement using contrasting thematic material and variation in delay pedal usage. These short contrasting movements alternate between free and rhythmically-driven styles, creating an engaging listening experience.
Mothersole's performance of these works demonstrate a true mastery of both the clarinet and electroacoustic techniques. His performance is vibrant and confident—a true treat for the listener.
Feather & Fables features Brandon's imaginative and colorful compositions performed expertly and effectively by Mothersole. This album is a must-listen for any clarinetist who is interested in introducing electroacoustic music into their repertoire.
– Kelsey Paquin
---
Pieśni. Małgorzata Walewska, mezzo-soprano; Szczecin Philharmonic Symphony Orchestra, Rune Bergman, conductor. M. Karłowicz: Pamiętam ciche, jasne, złote dnie, op. 1/5; Zasmuconej op. 1/1; Skąd pierwsze gwiazdy, op. 1/2; Na śniegu, op 1/3; Zawód, op. 1/4; Smutną jest dusza moja, op. 1/6; Mów do mnie jeszcze, op. 1/3; Idzie na pola, op. 3/3; Śpi w blaskach nocy, op. 3/5; W wieczorną ciszę, op. 3/8; Z erotykòw, op. 3/2; Na spokojnem, ciemnem morzu, op. 3/4; Przed nocą, wieczną, op. 3/6; Po szerokiem, po szerokiem morzu, op. 3/4; Zaczarowana królewna, op 3/10; Nie płacz nade mną, op. 3/7; Z nową wiosną. Universal Music Polska. Total Time: 32:35.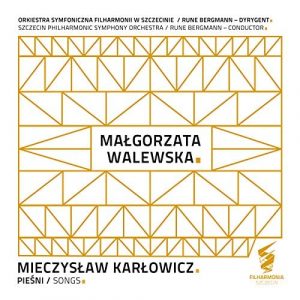 Polish mezzo-soprano, Małgorzata Walewska, pairs with the Szczecin Philharmonic Symphony Orchestra to present the songs of Szczecin patron and resident composer Mieczysław Karłowicz. The album includes 17 short songs and instrumental interludes that highlight the depth and grandeur of Karłowicz' vocal compositions while featuring new arrangements using orchestral accompaniment. Conductor Rune Bergmann leads the ensemble through flawless renditions guaranteed to tug the heart strings. The ravishing and award-winning voice of Walewska is sure to win over many new fans with this recording. The only thing missing from the liner notes was the text and translations to the Polish poems. Much of the text used was emotionally moving poetry, sure to get one thinking if time is taken to find and read the poems. It would also bring attention to the poets and their original writings.
This album was submitted by ICA member and clarinetist of the Szczecin Philharmonic Symphony Orchestra, Bogusław Jakubowski. He can be heard throughout the album playing principal clarinet. Under Bergmann's baton the symphony plays with the ultimate delicacy needed to flourish in creating a stunning and picturesque atmosphere highlighting the text being sung by Walewska.
Three of the best songs to hear Jakubowski's skills and the other clarinets is in "Z erotykōw," "Przed nocą,  wieczną, op. 3/4," and "Zaczarowana królewna, op 3/10." "Z erotyków" translates to "from erotica," and while only a minute and a half long, it includes a deeply personal melody pursued by multiple instruments which are adjoined together through the clarinet part. Jakubowski blends and projects at just the right moments helping to make this exposed melody as passionate as possible. "Przed nocą, wieczną,," translates to "I would like to see an angel." Towards the last part of the work the clarinet and oboe share a soul shaking dark melody offering the ultimate closure to the text. The orchestral excellence of Jakubowski can be heard throughout "Zaczarowana królewna, op 3/10," known in English as the "enchanted princess." This song emphasizes Jakubowski's ability to be an accompanimental player and lead his section to success through the wonders of an enchanted princess wonderland.
This album offers an enjoyable contrast of songs representing the works of Karłowicz sung by the stunningly talented mezzo-soprano, Walewska. It comes highly recommended to vocal music lovers.
– Natalie Szabo
---
Way to Blue. Gina Schwarz, bass; Daniel Manrique-Smith, flute/alto flute/bass flute; Annette Maye, B♭ clarinet; Mona Matbou-Riahi, B♭ clarinet; Steffen Schorn, contra-alto clarinet/saxophone, Thomas Savy, bass clarinet; Lucas Leidinger, piano; Mahan Mirarab, guitar; Dirk-Peter Kölsch, drums. G. Schwarz: Lose Time; Red Grapevine; Caveman; Chat One; Black Days; Chat Two; Rabbit Trap; Chat Three; Sandy Tracks; Chat Four; Choral; Chat Five; Blue Sunbeam; Chat Six; Long Ago; Chat Seven; Behind; Looking for John. Cracked an Egg Records, CRACK 0082; Total Time: 51:00.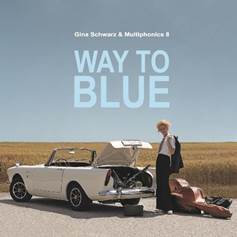 Combining inspiration from British singer-songwriter Nick Drake and childhood stories from her father, composer Gina Schwarz has created a singular, engaging, and completely unique album in Way to Blue. This collaboration began with Schwarz's residency at the Multiphonics Festival Cologne and the resulting album deftly mixes jazz composition with improvisations spanning from tonal to fully avant-garde. In Schwarz's words, the album can be thought of as an "independent cycle." Poetic, composed works like Red Grapevine and Rabbit Trap contrast with improvised chats between pairs of instruments.
In addition to composing and arranging the album, Schwarz also performs as the bassist. An ensemble featuring Schwarz along with upper clarinets, low clarinets, and low flutes gives the music a mysterious, shadowy quality. The reverberant texture adds to the darkness of the sound. Schwarz's original approach to orchestration results in unexpected combinations of instruments. In Caveman, the clarinet ensemble joins forces with slap tongue in the flute to produce an asymmetrical ballet of sorts, unconventional yet danceable. An echo-filled clarinet solo with klezmer-like orchestrations lies over the top.
The four clarinetists featured on the album, Annette Maye and Mona Matbou-Riahi (B♭ clarinet), Steffen Schorn (contra-alto clarinet) and Thomas Savy (bass clarinet) perform both as soloists and as a clarinet ensemble in tracks like Black Days and Choral. There are many moments in this album of particular to interest to clarinetists. In Rabbit Trap, Eastern European influences color the ornamentation on an extended clarinet solo over an asymmetrical groove. In Blue Sunbeam, a woodwind texture gives way to a chromatic bass clarinet solo. A particular favorite is Chat Six, a single contra-alto clarinet melody (and the only Chat work featuring a single instrument).
Way to Blue is distinctive in its arrangements, its combination of diverse styles, and its remarkable solo and duo improvisations. It is a highly rewarding listen!
– Erin Cameron
---
Rendezvous. Carlos Casanova, clarinet; Stefanos Spanopoulos, piano. E. Bozza: Aria pour Clarinette; F. Poulenc: Sonata for Clarinet and Piano; M. Yuste: Ingenuidad; C. Della Giacoma: Cavalleria Rusticana Fantasie, op. 83. IMM Klassik. Total Time: 38:32.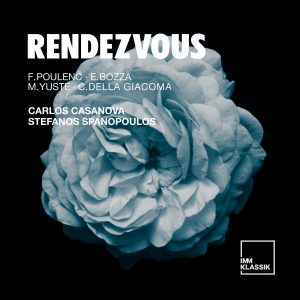 Released by IMM Klassik, Rendezvous features clarinetist Carlos Casanova and pianist Stefanos Spanopoulos performing primarily standard repertoire for the clarinet. What makes this album so exciting is the interpretive spin on familiar repertoire from an entirely new point of view.
The album opens with Bozza's Aria pour Clarinette. Originally composed for the celebrated French saxophonist, Marcel Mule, the work was transcribed by the composer for the clarinet. A composer known for his elegant melodic writing, it is no surprise that the first and most striking aspect of this performance is Casanova's beautiful and rich tone quality. Casanova uses his color and vibrance to manipulate the extraordinary expression from each note and line of music, creating an impressive emotional performance of this wonderful work.
Casanova and Spanopoulos follow up the Bozza with Poulenc's Sonata for Clarinet and Piano. The energy and style of their interpretation in the first movement make it feel like the most exciting performance we could hope to hear of this staple of the repertoire. Casanova's tone quality, especially in the altissimo register, genuinely shines and shimmers like the horizon on a hot day. In a complete turn, we hear a more reflective and somber side of Casanova's tone and interpretation in the second movement. He draws us close with the intimacy of his soft dynamics and lilting style that creates an environment emulating the never-ending rain we feel when a friend passes away. To close this excellent performance, the pair choose a comparatively conservative tempo for the final movement. What at first seems like a strange choice, is explained by the attention to each articulation and phrase ending Casanova and Spanopoulos play together; they work as if they were one player.
After two wonderfully beautiful French works, Casanova and Spanopoulos present us with Miguel Yuste's Ingenuidad. While a comparatively new composer to the clarinet community his works are well known in Spain. This piece is a great juxtaposition to the two other works on the album and bridges the gap to the final Italian work. This piece treats us to a showcase of Casanova's technical and interpretive virtuosity. Though he showcases his technical skills throughout, it is here that we get the clearest picture of his clarinet playing and have the opportunity to hear a master of style and phrasing at work. Every line is clearly directed and crafted to express exactly what he wants, making listening to this portion of the recording the most satisfying.
To close, Casanova and Spanopoulos perform Giacoma's Cavalleria Rusticana Fantasie. Reflecting its opera-fantasy roots, we hear the most dramatic playing here with Spanopoulos acting as an entire orchestra. Previously we have heard him acting as pure accompanist in the Yuste, and a duo partner in the other recordings included on the album. Casanova plays the melodies here with such intense passion it is hard to believe the clarinet isn't a physical part of his body. Casanova exceeds all expectations with his emotional playing as well as technical prowess throughout.
Though this album contains recordings we surely all already possess, this would make a more than worthy addition to any clarinetist's library for its use of technical precision, thoughtful interpretation, and virtuosic performance.
– Vanessa Davis
---