Originally published in The Clarinet 50/2 (March 2023).
Printed copies of The Clarinet are available for ICA members.
---
ICA 100% ENROLLMENT CHALLENGE
In honor of our 50th anniversary year, we aim to reach 100 clarinet studios at 100% enrollment!
Joining the ICA opens a world of clarinet information and scholarship, including access to 50 volumes of The Clarinet in the James Gillespie Library; discounts on instrument insurance through Anderson Insurance; access to NAXOS Music Library, FORZA Excerpts, and the ICA Resource Library; the ability to attend ClarinetFest® and other virtual and in-person ICA events; and entry to compete in annual ICA competitions.
The ICA is proud to feature one clarinet studio that recently reached 100% enrollment. For more information about how your school or studio can reach 100% enrollment and be featured in an upcoming issue of The Clarinet, contact [email protected].
---
CHICAGO STATE UNIVERSITY CLARINET STUDIO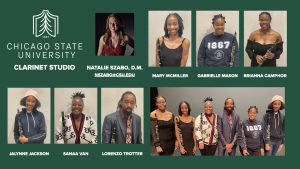 The Chicago State University Music Department is a predominantly black program located on the far south side of Chicago. CSU offers a variety of options for music majors wishing to pursue a BA, including music, music education (PreK-12), music production, and gospel music. The clarinet studio, led by Natalie Szabo, features some of the most talented and active students from across campus. Most are members of CSU's Marching Soul of Chicago, a new marching band formed in 2019. Our studio provides great mentorship and support through lessons, master classes, ensembles, sectionals, and chamber ensembles. Special emphasis is placed on embracing diversity and creating a safe and inclusive learning experience for students. For more information, please contact Assistant Professor of Music Dr. Natalie Szabo at [email protected].