Originally published in The Clarinet 50/1 (December 2022).
Printed copies of The Clarinet are available for ICA members.
---
Audio Reviews: December 2022
From Jewish Life. Yevgeny Dokshansky, clarinet; Richard Masters, piano. E. Bloch: From Jewish Life, B. 54; Two Pieces, B. 82; Suite Hébraïque, B. 83; Suite, B. 41. Heritage Records, HTGCD 158. Total Time: 55:53.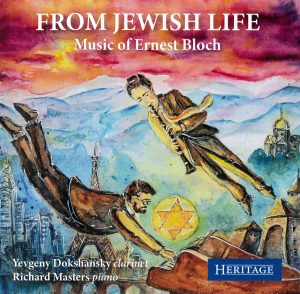 From Jewish Life is a recording of works by Swiss-American composer Ernest Bloch performed by Belarus-born American clarinetist Yevgeny Dokshansky and pianist Richard Masters, both on faculty at Virginia Tech's School of Performing Arts. Bloch's works, originally scored for solo viola or cello and piano, have been transcribed for this recording by Dokshansky. Dokshansky's impressive background is eclectic and diverse, as he has performed as a clarinetist, saxophonist, and conductor. He studied at State University of New York at Buffalo, Indiana University, and DePaul University, and his principal teachers include Edward Yadzinski, Eli Eban, Howard Klug, Eric Hoeprich, Larry Combs, Magnus Martensson, and Cliff Colnot. His background supports this project to reimagine these string works for the clarinet's voice.
The album is named after the title of the first work and is the overarching theme for the recording. Bloch originally composed From Jewish Life, B. 54, for cello and piano in 1924. The melody features liturgical-sounding modes reflecting the background of the work, as relayed in the liner notes written by Richard Masters. Masters provides a short composer biography and information for each piece and asserts Jewish influences throughout. In comparing Dokshansky's transcription with the original cello part, octave displacement occurs where needed and effects common in the klezmer tradition, such as smears, are modestly employed and tastefully done. These pitch bends emulate the string techniques of glissandi and portamenti. The piece is effective for clarinet, but I prefer the original cello version as it has a more soulful quality.
The remaining works on the recording were originally scored to feature viola and piano. We next hear Bloch's five-movement work from 1951 inspired by a festival devoted to his music produced by the Chicago Symphony Orchestra the previous year. This piece, a gift to the CSO principal violist Milton Preves and the association who sponsored the festival, was later separated by the composer into the two works Two Pieces, B. 82, and Suite Hébraïque, B. 83. It is interesting that Dokshansky does not employ the earlier klezmer effects here. Dokshansky and Masters are unified in their approach to these listenable works with memorable melodies.
The recording concludes with Bloch's award-winning, critically-acclaimed 1919 Suite, B. 41. This monumental four-movement, 30-minute work originally for viola and piano or orchestra outshines the latter 1951 work in depth of complexity and evocative melodic writing. Here, the Jewish influences are more subdued. The performers dig in to this weighty material with committed, expressive, impassioned playing. Rubato is well-executed and synchronized and there is a good flow. Dokshansky's tone is even, resonant, clear, and colorful. Historically, clarinetists and violists have borrowed from each other as in the most notable instance of the two Brahms sonatas, Op. 120. Here is another such success story. Dokshansky's transcription is successful here, the clarinet is an effective vehicle for Bloch's work even though some innately string-specific techniques are uncharacteristic of the clarinet.
Thanks to Dokshansky's transcriptions and performances with Masters, From Jewish Life provides exposure to Ernest Bloch's unique voice with which clarinetists may have limited familiarity. The recording includes an added bonus—the cover art is a watercolor: Transcending Through Music by Tatiana Vintu, Virginia Tech professor of scenography/scenic design. Images from Bloch's lifetime are woven together with the Blue Ridge Mountains of Virginia and the recording's musicians are depicted floating at the center of the image along with the Star of David, a terrific representation that perfectly captures this undertaking.
– Gail Lehto Zugger
---
Stanley Drucker Heritage Collection: Hidden Gems 8-9. Stanley Drucker, clarinet; Naomi Drucker, clarinet; Harriet Wingreen, piano; Leonid Hambro, piano; Kerry McDermott, violin; Lisa Kems, violin; Rebecca Young, viola; Gerald Appleman, cello; Carter Brey, cello; Gerald Robbins, piano; Kazuko Hayami, piano; Ma Si-Hon, violin; Tung Kwong-Kwong, piano; The Whitman Quartet: Michael Shih, violin; Patricia Sunwoo, violin; Daniel Panner, viola; Kristina Reiko Cooper, cello; Czech National Symphony Orchestra, Paul Freeman, conductor; University of Florida Wind Symphony, David A. Waybright, conductor. M. Whalen: Trampoline Harmonics; C. Schwartz: Five "Love" Arias for Clarinet with Piano; J. Brahms: Sonata in F Minor for Clarinet and Piano, Op. 120, No. 1; Trio in A Minor for Clarinet, Cello, and Piano, Op. 114; J. Corigliano: Soliloquy for clarinet and string quartet; M. Kupferman: Double Concerto for Two Clarinets and Orchestra; C. Debussy: Première Rhapsodie for clarinet and piano; A. Berg: Adagio for clarinet, violin, and piano; N. Roussakis: Two Dances for Solo Clarinet; S. McAllister: Black Dog for clarinet and wind ensemble. Clover Field Recordings, CFR 9292. Total Time: 67:24 [Disc 8] 62:58 [Disc 9].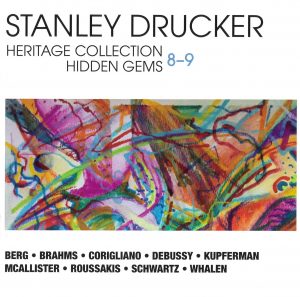 Clarinet legend Stanley Drucker performed as an esteemed member of the New York Philharmonic for over 60 years. In 2009, he was heralded by the Guinness World Records as having the "longest career as a clarinetist." As Stanley Drucker: Heritage Collection producer Jerome Bunke points out, "just prior to the COVID lockdown, Stanley performed with the New York Philharmonic in their Project 19 Series. This marked the eighth decade of his association with the New York Philharmonic which had begun on October 7, 1948." Drucker is truly a cultural icon and a tremendous influence on the shape of American classical music.
The Stanley Drucker: Heritage Collection is an important part of our collective clarinet history, while also being an enjoyable and effortless listening experience. It's thrilling to hear Drucker's consistency and artistry over all those years. So ingrained is his playing in our collective consciousness that his interpretations sound fresh yet familiar. This collection stands as a testament to the vitality and integrity of Drucker's iconic performing.
Some of the pieces on the Heritage Collection Discs 8 and 9 are standard works; others were pieces in their nascency when he recorded them, finding life in Drucker's hands. Clarinetist and producer Jerome Bunke shows his skills in this compilation, presenting the perfect mix of repertoire and commentary. The album includes well-written liner notes by Joshua Mietz and photos of composers, collaborators, and the Druckers. Bunke's own artistry is reflected in the pacing and design of this excellent compilation.
The collection begins with Michael Whalen's Trampoline Harmonics. Based on children playing on a trampoline, Drucker and the ensemble make the piece sound truly buoyant and organic. The phrasing bounces along and we forget how difficult it is to make a clarinet sound so easy. That is the true magic of this album; that Drucker consistently transcends the instrument and takes us to a place of pure musical enjoyment.
Charles Schwartz's Five "Love" Arias for Clarinet with Piano, here played with Harriet Wingreen in 1997, is winsome and lovely. Drucker's lyricism is sweet and plaintive, a great contrast with many of the more technical works on the album.
Drucker's interpretation of Johannes Brahms's Sonata in F Minor for Clarinet and Piano, Op. 120, No. 1, is lush and lovely, staying true to the writing with humor and warmth. He makes us feel like we are in on the joke and listening to a conversation between two old friends.
Drucker's control of the instrument and subtle nuance are in full display in John Corigliano's Soliloquy for clarinet and string quartet. The interplay of strings and the clarinet make this direct adaptation of the second movement of Corigliano's Concerto heartrending and exquisite. Drucker builds his phrases around the strings like the master craftsman that he is, sensitive and nuanced in every detail. He makes the clarinet sound transcendent; singing haunting and touching lines with his string colleagues. His tone is exquisite on this track and the intonation is so incredible that it's hard to hear where his playing begins and that of the ensemble ends.
Meyer Kupferman's Double Concerto for Two Clarinets and Orchestra is delightful and irreverent in the hands of Stanley and Naomi Drucker. They nail the interpretation here, sounding virtuosic, jazzy, and on-point.
The Brahms Trio was recorded in 2000 with cellist Carter Brey and pianist Gerald Robbins. This recording has so much vitality and energy that the notes almost seem to leap off the pages. The performers play with such finesse and excitement that it's easy to imagine Brahms coming out of retirement eager to write this piece for clarinetist Richard Mühlfeld.
Brahms's Trio is followed by Claude Debussy's Première Rhapsodie for clarinet and piano. Drucker, here paired with pianist Kazuko Hayami, captures Debussy's poignant writing, alternating immaculate phrasing with crisp articulation. Again, Drucker reveals his full range of color and mastery of the clarinet, swooping through the registers of the instrument with ease.
Alban Berg's Adagio for clarinet, violin, and piano was recorded with Ma Si-Hon and Tung Kwong-Kwong. Following Berg into the depths of despair, the trio makes every phrase and gesture stunning without breaking the overall arch of the piece. The ensemble work on this track is nothing short of sublime.
Drucker is again stellar on Nicolas Roussakis's Two Dances for Solo Clarinet. He doesn't shy away from the technical challenges of Roussakis's writing, hitting every mark with ease and beauty. As with his long tenure in the orchestra and all the other pieces on this album, Drucker makes this piece sound effortlessly precise.
Scott McAllister's Black Dog for clarinet and wind ensemble sings and growls in Drucker's hands. Drucker's interpretation is crisp, clear, and with more than a little bit of New York swagger. His playing gets the essence of McAllister's rendition of Robert Plant's "Hey hey mama, said the way you move, gonna make you sweat, gonna make you groove."
It's tremendous to hear Drucker's incredible style and inspired musicianship on both standard repertoire and more contemporary works. His sparkling sound and technique and his impeccable phrasing remind us of why he is one of the greatest living legends of our instrument. The Heritage Collectionwill soon become an essential part of any clarinetist's music collection.
– Stephanie Zelnick
---
Affinità Elettive. Nicolai Pfeffer, clarinet; Orchestra della Toscana, Markus Stenz, conductor. W.A. Mozart: Concerto for Clarinet and Orchestra, K. 622; Rondo, K. 373 (arranged for clarinet and orchestra); Aria "Sperai vicino il lido," K. 368 (arranged for clarinet and orchestra); Symphony No. 29 in A Major, K. 201. NovAntiqua Records, NA55. Total Time: 71:36.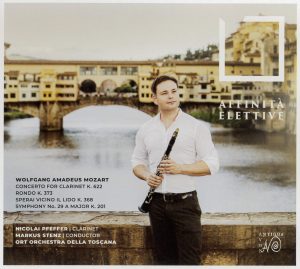 Affinità Elettive (Elective Affinities) features German clarinetist Nicolai Pfeffer performing an all-Mozart album with the Orchestra della Toscana conducted by Markus Stenz. Pfeffer's luminous playing is featured in Mozart's Concerto, K. 622, and in arrangements of solo concert pieces including the Rondo, K. 373 (originally for violin), and the concert aria "Sperai vicino il lido," K. 368. The prominent Italian ensemble—the Orchestra of Tuscany, based in Florence—rounds out the album with a spritely performance of Mozart's early Symphony No. 29, K. 201. The album was recorded in 2020 after restrictions for the pandemic were lifted. The project was able to take shape from the mutual joy felt by the musicians in being able to collaborate, perform, and record beautiful, heartfelt music again.
Rather than offering a solo album, Pfeffer and the Orchestra della Toscana pair the concerto with the symphony (both in the key of A major), bookending the attractive arrangements in an unusual, but pleasing presentation of Mozart works. This works especially well since there are so many first-rate recordings of the Mozart clarinet concerto available today. Plus, the blend and finesse of the Orchestra della Toscana throughout the album is exceptional and the recorded quality is also quite good. The attractive tri-fold has excellent program notes provided in German, English, and Italian. The cover photo features Pfeffer in front of the Ponte Vecchio (the famous medieval "old bridge") in Florence near the Teatro Verdi where the album was recorded.
Nicolai Pfeffer is a sought-after performer and educator in Europe. His discography includes another recording of his arrangements with the Orchestra della Toscana and an album of the Brahms sonatas, Op. 120. His musicological research has resulted in editions of clarinet repertoire published by Henlag and Trio Musik (https://triomusic.de). He teaches at a variety of German universities and has assisted in the design and improvement of clarinets made by F. Arthur Uebel.
Pfeffer's overall performance is fresh and imaginative, with an effortless singing quality, colorful tone, excellent intonation, and focused control throughout. His performance of Mozart's Concerto is especially captivating, with an overtly expressive individuality. The lovely, extended eingängewritten by Andreas Tarkmann, combined with the note changes, ornaments, and octave displacements based on current musicological research, all unite to make this a Mozart clarinet concerto recording truly worth owning. Pfeffer's performance of the concerto is just beautiful.
Pfeffer's arrangement of the Rondo, K. 373, is well done, works nicely for clarinet, and is played with charm and panache. The virtuosic concert aria, "Sperai vicino il lido," K. 368, arranged by Andreas Tarkmann, is a showstopper for clarinet and features a variety of difficult passages which Pfeffer handles with aplomb. While most of Pfeffer's arrangements of Mozart concert arias are written for Sabine Meyer (available at www.josefweinberger.de), the Rondo, K. 373, will be available soon from Trio Musik with both orchestra parts and piano reduction. Both arrangements would be welcome repertoire in recital or with orchestra. The Orchestra della Toscana brings the album to a rousing end with the cheerful Symphony No. 29 in A Major, K. 201, considered to be an early highlight of Mozart's symphonic output.
– Karen Dannessa
---
The Solomon Diaries Volume I, II, III. Sam Sadigursky, clarinet; Nathan Koci, accordion, piano, banjo; Katrina Lenk, vocals. S. Sadigursky: Flight of the Commodore; Hi-Li; Three Arrows; Revolution Room; 87 North; Postcard; Nevele; Glass Houses; Little Narrow Circles; Kudman Chant; Grossinger's Bride; Callicoon; Pines Hora; Rosemond Tango; Neversink; Season's Kaddish; Rose's Hard Candies; Family Matters; Concord Winter; Abel's Doina; Minette 7; Greenfield Walk; What You Learn Here; Wiltz Waltz; Fallsburg Steps; Kuchalein: 1945; Goodbye, Sullivan; Fannie's Waltz. Adhyâropa Records. Total Time: 35:50 [Vol. I] 37:23 [Vol. II] 31:20 [Vol. III].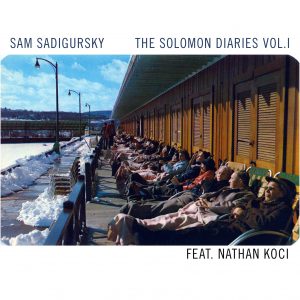 The Solomon Diaries makes a series of bold artistic choices that create a unique listening experience connecting audiences to the fading memory of the Borscht Belt, an area in the Catskill Mountains of New York state frequented by vacationing Jewish families in the 20th century. Composed by Sam Sadigursky, the group's self-titled album features performances by Sadigursky on clarinet and multi-instrumentalist Nathan Koci on accordion, piano, and banjo. Sadigursky's name might sound familiar as a member of the Philip Glass Ensemble, jazz groups across New York City, and on Broadway as the onstage clarinetist in The Band's Visit. Nathan Koci served as music director and vocal arranger of the Broadway revival of Oklahoma! and has gigged with ensembles across a wide variety of genres from musical theater to contemporary classical. They are joined on some of the tracks by guest vocalist Katrina Lenk who worked with Sadigursky in The Band's Visit.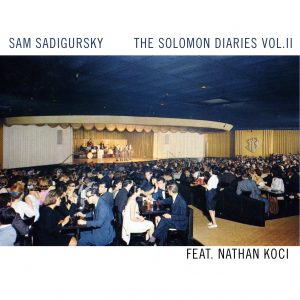 The Solomon Diaries album was released on January 7, 2022, in a three-volume collection on Adhyâropa Records. Taken at face value, a three-volume album with total runtime of around 104 minutes seems like a large undertaking for listeners. With many songs written in 2019 and 2020 to be originally performed as a quartet, the album was further developed throughout the pandemic as a duo. The album explores the last remnants of the Borscht Belt as captured by photographer Marisa Scheinfeld. In the album release notes, Sadigursky describes it as "musical documentation of a pivotal era in American Jewish history, one that tells a much bigger story than just a bunch of hotels and resorts in the mountains … but a story of refugees facing exclusion and rebelling by creating their own oasis and then eventually assimilating." The musicians meld jazz, world music, and post-minimal genres to create compelling vignettes of these relics. Each track on its own is a charming polaroid setting a scene, a mood that holds its own. This brings up the question of how to listen to this album.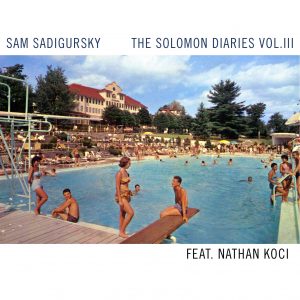 On first listen, I dived into all three volumes at once. The album flows, passing seamlessly between these different scenes, from the moodiness of the opening Flight of the Commodore track to the expressive, energetic clarinet solos in tracks like Revolution Room to rich accordion solos in Glass Houses that make it hard to distinguish fixed media, low bass note pedals, and eloquent solo lines floating across this gorgeous texture. Peppered across volume one, elements like crinkly vinyl distortion, field recordings, and Katrina Lenk's narration in Little Narrow Circles create an engaging atmosphere. The second volume makes use of even more archival recordings. Pines Hora features a 1978 recorded excerpt of a Yiddish song performed by Ruth Rubin that sprawls into a meandering, circular dialogue between clarinet and accordion layered over strummed banjo. A quick search online found Rubin's original recording which is touching to listen to. Sadigursky's playing shines in the slower, expressive sections of this volume. While his technical playing is on display throughout the album, he and Koci know how to bring out the tender moments. Sadigursky's bass clarinet playing on tracks like Kudman Chant and Goodbye, Sullivan in volume three blends well with accordion.
This album works as whole thanks also to Andrew McKenna Lee's mixing and Ryan Kelly's mastering work. The album's seamless transitions and balance capture this feeling of flipping through a musical photo book. Developed during the pandemic, this album benefits from the large amount of musical space that it traverses. While each track is enjoyable on its own, I would encourage listeners to carve out the time to experience it in one sitting. The Solomon Diaries captures a unique era and brings listeners into these musical stories through some incredibly well-crafted performances that will be enjoyed by clarinetists and non-clarinetists alike.
– Ford Fourqurean
---
Sounds of America. Jon Manasse, clarinet; Park Avenue Chamber Symphony, David Bernard, conductor. S. Barber: Adagio for Strings, Op. 11; A. Copland: Appalachian Spring; Clarinet Concerto; L. Bernstein: Symphonic Dances from "West Side Story." Recursive Classics, RC3139941. Total Time: 74:00.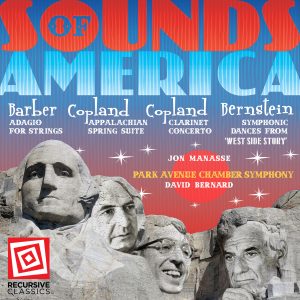 As expected, clarinetist Jon Manasse graces us with a sublime introduction in the Copland Clarinet Concerto with the Park Avenue Chamber Symphony. Manasse's intonation is perfectly integrated with the orchestral underpinning which is not an easy task in this work. Legato and control of tone are expertly handled in the adagio section.
In the cadenza, Manasse offers a reading with ease and simplicity but with just the right amount of ornamentation. His phrasing within the cadenza is clear and thoughtful, and keeps the listener engaged.
In the "rather fast" section, Manasse gives us yet again playful, ornamental gestures in the right amount. Interpretation of this work is tricky in terms of tasteful ornamentation. The Copland, after all, is a slice of Americana and not "bebop" in style; less is more when it comes to digressions from the score. Manasse's cleanliness and thoughtful playing combined with his choice of ornamentation make this a very compelling performance.
This recording of the Copland Clarinet Concerto is highly recommended and will undoubtedly become recognized as an important interpretation of this classic work in the clarinet canon.
– Kenneth Long
---
On The Third-Stream-Path. Lajos Dudas, clarinet; Theo Jörgensmann, clarinet; Diether Kühr, clarinet; Eckard Koltermann, clarinet; Hubert Bergmann, piano; Elmar Guantes, bass; Yildiz Ibrahimova, voice; Sebastian Buchholz, alto saxophone; Philipp van Endert, guitar; Reinhard Knoll, piano; WDR Radio Orchestra/Köln, David de Villers, conductor. L. Dudas: Minimal Musical; Recital/Four Pieces for Solo Clarinet; There is no doubt; Bulgarian Dance; Wiegenlied; Pregoers Memory; Valse pour Clarinette Solo; Balletmusic for Clarinet and Piano in four sets; Concertino für Klarinette und Orchester; Cauda – Miniature for Solo Clarinet. JazzSick Records, 5147 JS. Total Time: 51:15.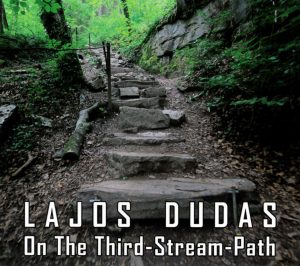 The term Third Stream was coined by American composer Gunther Schuller to propose the idea of a fusion of Western classical music with other musical styles to create a stronger third strain of new music. This term is most closely associated with a combination of jazz and classical music. Many composers and performers experimented with this synthesis, and Lajos Dudas is one of Europe's most creative exponents of this idiom. He is a German-Hungarian clarinetist and composer who specializes in jazz performance. Dudas was one of the leading European jazz clarinetists for most of his career, and his discography and compositions reflect the deep interest he has in the Third Stream perspective.
On The Third-Stream-Path is a compilation of performances of his works spanning 1986 to 2013. They range from unaccompanied works; chamber works with guitar, piano, voice, and clarinets; and a clarinet concerto. I was particularly taken with the unaccompanied works on this album. Recital/Four Pieces for Solo Clarinet, in memory of Stravinsky, takes the master's affinity for short pieces and fuses them with a modern jazz language. Waltz starts out innocently, but veers into a highly chromatic trip. The Cauda-Miniature is a terrific, short 40-second recital encore that highlights the staccato, reminiscent of the last movement of Edison Denisov's solo sonata. All of the unaccompanied works are played beautifully, with an ease of tone production and crisp articulation. Dudas's fluidity in the high register is very impressive.
The Minimal Musical for three B-flat clarinets and bass clarinet is a grooving three-and-a-half minute harmonic exploration. Just when you think the quartet will jam its way through the whole piece, the lower B-flat clarinets drop out, leaving an extended improvised section between Dudas and the bass clarinetist. I can only assume, as with many instances on this album, that these moments are fully improvised. They have that sense of freedom that most musicians strive for.
There Is No Doubt and Pregoers Memory are completely improvised works with Dudas's jazz combo. It is another fascinating side of Dudas's overall skill set. The live recording of Bulgarian Dance is a tour de force that highlights some exciting unison rhythmic coupling with the vocalist Yildiz Ibrahimova. Wiegenlied is an evocative duet with electric guitar that sounds like something from a David Lynch movie soundtrack. Balletmusicdemands excellent intonation and rhythmic accuracy, with homorhythmic sections sprinkled throughout. A fine pianist is required.
Dudas's Concertino—dedicated to Artie Shaw—is a work that the jazz master would have enjoyed. This piece straddles the concerto form with some stunning solo passages that show the great versatility and creativity of this performer.
It is said that composer/performers are rarely the greatest interpreters of music they themselves have written. This album makes the case that Lajos Dudas is a keen interpreter of his own works. His breathy vibrato creates that sound that compliments these Third Stream works perfectly. If you enjoy the spontaneity and creative fusion of Paquito D'Rivera, Javier Zalba, William O. Smith, and Philip Parker, then you will thoroughly enjoy the works on this album.
– Osiris Molina
---
Instant Winners Vol. II. Elizabeth Crawford, E-flat clarinet; Cara Chowing, piano; Lori Rhoden, piano. A. Carvajal-Gómez: Suite Caribeana for E-flat Clarinet and Piano; S. Berg: Rituals of Antiquity; A. Kaplan: Stutter; E. Wasserman-Margolis: Children of the Tribes; A. Prinz: Sonata No. 1 for E-flat Clarinet and Piano; E. Trawick: Circling Back; C. Hobbs: Swiftly to Virginia; A. Fabra: Fantasia; V. Dinescu: Ages-Old Sound of a Flute; A. Mazzoleni: Il Carnevale di Venezia Fantasia. CD Baby. Total Time: 73:50.
A longtime proponent of music for the smallest members of the clarinet family, Elizabeth Crawford has once again managed to display the incredible soloistic capabilities of the E-flat clarinet in this recent release. Instant Winners Vol. II is the quintessential sequel to her debut album of E-flat clarinet music and includes 10 works by a diverse group of composers.
Crawford's interest in the E-flat clarinet began during study as a graduate student and continued through her time as a member of the Jacksonville Symphony Orchestra and tenure at Ball State University. In addition to her enthusiasm for discovering lesser-known works, she has also helped to expand the repertoire for the instrument through a series of commissions. The five commissioned works on this album feature music from Europe, Cuba, the United States, the UK, and Israel.
Suite Caribeana for EÌ Clarinet and Piano by Ailem Carvajal-Gómez opens the album with a series of five short dance arrangements based on the music of two popular Cuban composers. Pianist Cara Chowing joins Crawford on this charming and rather lighthearted work. The joy experienced by both performers is palpable as they expertly navigate syncopations and rhythmic grooves inherent to the dance styles.
Several of the works on the album feature the E-flat clarinet in an unaccompanied setting, yet are very approachable for most audiences. The next three works, all commissions, fit into this category.
According to the liner notes, Stephanie Berg's Rituals of Antiquity "… depicts the haunting tones of a lone instrument singing praises for the earth, living beings, air and sky …" Utilizing the lowest register, the work gives Crawford ample opportunity to explore the richness of this underappreciated range of the instrument. Subtle extended techniques are executed in a tasteful manner and Crawford maintains tonal clarity and focus even as the work progresses into the upper registers in the final movement.
Large, irregular leaps and repeated pitches are characteristics of Stutter by Amy Kaplan. Crawford navigates the technical demands of the work with ease—register extremes, timbre trills, flutter-tongue, and pitch bends are all carried out in a straightforward manner. The consistency and quality of articulation is also very noteworthy, especially as it applies to the incredibly disjunct intervals in this work. In contrast, Children of the Tribes by Eva Wasserman-Margolis requires a completely different approach. Exquisite phrasing and sensitivity to the musical line are the defining characteristics of Crawford's performance which breathe life into the motives inspired by the composer's granddaughters.
Chowing joins Crawford once again for a rousing performance of Alfred Prinz's Sonata for E-flat Clarinet and Piano. The synergy between players results in fluent execution of complex figures in the outer movements and contributes to the somber mood in the contrasting second movement. In a similar manner, Eleanor Trawick's Circling Back exploits extremes of both dynamic and range in this commission for solo E-flat clarinet. Crawford does a commendable job of exploring various tonal colors in both of these demanding works.
Crawford's virtuosic technique is revealed once again in Swiftly to Virginia by Christopher Hobbs and Fantasia by Alessio Fabra. Crawford and pianist Lori Rhoden bring a sense of energy and excitement to the outer sections of Hobbs's work, and perform with great finesse and exceptional musicality in the contrasting slow section. The central portion of Fabra's unaccompanied work presents many formidable challenges aptly met by Crawford's adept technical ability.
Ages-Old Sound of a Flute by Violeta Dinescu is another of the commissioned works included on this album. The five short movements composed for solo E-flat clarinet make considerable use of extended techniques which are performed masterfully by Crawford. Effects such as timbre trills, growls, multiphonics, and glissandi seem like a natural extension of the instrument in her capable hands, resulting in a compelling performance.
To close out the album, Crawford and Chowing perform one of the few 19th-century works for E-flat clarinet and piano, Antonio Mazzoleni's Il Carnevale di Venezia Fantasia. As one might expect from the multitude of settings of this famous folk tune, this is the perfect vehicle to showcase the soloist's ability. Throughout the series of complex variations, Crawford's polished technique is steadfast and sure. Chowing is a sensitive partner, providing thoughtful interjections and skillfully played interludes. Together, Crawford and Chowing's exhilarating performance is an ideal grand finale to the entire album.
Instant Winners Vol. II is the perfect album for anyone curious about E-flat clarinet solo repertoire. The variety of works is sure to appeal to a broad audience, and the musicianship of Elizabeth Crawford and her collaborators is inspirational. The album also serves as a testament to Crawford's legacy and her work to expand the existing repertoire through commissions. Liner notes contain brief program notes from the composers, performer bios, and publisher information, which will be especially useful for anyone who might be interested in programming these works. This album itself is well-produced and the recording quality notable. For anyone who has never taken the time to listen to an entire album of E-flat clarinet music, here is a great opportunity to do so!
– Karl Kolbeck
---
 NEW RELEASES