Originally published in The Clarinet 50/3 (June 2023).
Printed copies of The Clarinet are available for ICA members.
---
STANLEY DRUCKER (1929-2022)
by Mitchell Estrin, with François Kloc
Clarinet virtuoso and New York Philharmonic legend Stanley Drucker passed away at the age of 93 on December 19, 2022. He left the world peacefully surrounded by his family.
Stanley Walter Drucker was born on February 4, 1929, in the Brownsville section of Brooklyn, New York. His father had his own business as a custom pants maker. Stanley was a lifelong New Yorker and lived for most of his adult life in Massapequa on Long Island.
In 1948 at the age of 19, he auditioned for Bruno Walter and became the youngest member of the New York Philharmonic, serving as assistant principal and E♭ clarinetist for 12 years. During those early Philharmonic years, he was affectionately called "Junior" by his older colleagues. In 1960, he was invited by Music Director Leonard Bernstein to become the principal clarinet of the New York Philharmonic, a position he would hold until his retirement in 2009. His 60-year tenure in the New York Philharmonic (48 years as principal) was unprecedented and his career longevity is recorded in the Guinness Book of Records as the longest career as a clarinetist.
His critical acclaim was ubiquitous, including these tribute statements from renowned conductors:
"He's a legend. The history of the orchestra is in him." – Gustavo Dudamel
"He stands alone in the world of clarinetists. His contribution to the orchestra and its fame is immeasurable."  – Lorin Maazel
"The sensibility of his music making and the reaction for the conductor was really breathtaking." – Kurt Masur
"His undying enthusiasm for every note he ever played was an inspiration to all his colleagues and myself." – Zubin Mehta
"To look in the eyes so full of enthusiasm—he gave me the energy. So I want to thank him for all these beautiful years of music making." – Riccardo Muti
Harriett Johnson once wrote in the New York Post, "The audience acclaimed him as if he were the wonder of the age."
Stanley received his first clarinet at the age of 10 and his prodigious musical talent showed early. He attended the High School of Music and Art in New York City before being accepted to the Curtis Institute of Music in Philadelphia at age 15. He attended Curtis for one year and was appointed principal clarinet of the Indianapolis Symphony by Maestro Fabien Sevitsky at age 16. Subsequent appointments as principal clarinet of the Busch Little Symphony and Buffalo Philharmonic soon followed.
He served at the New York Philharmonic under nine music directors, music advisors, and principal conductors—Bruno Walter, Leopold Stokowski, Dimitri Mitropoulos, Leonard Bernstein, George Szell, Pierre Boulez, Zubin Mehta, Kurt Masur, and Lorin Maazel. He performed in 10,200 New York Philharmonic concerts, toured 60 countries, and performed as a soloist with the Philharmonic almost 200 times, performing the Concerto for Clarinet by Aaron Copland in 64 performances. The Copland concerto was one of his signature works and notable performances included a live televised New York Philharmonic Young People's Concert conducted by Leonard Bernstein in 1970. He later performed and recorded the concerto as the last Philharmonic soloist to perform with Bernstein in 1989. The recording was nominated for a Grammy Award for Best Classical Performance by an Instrumental Soloist with Orchestra.
Other career monuments included his groundbreaking performances of the clarinet concertos by Carl Nielsen and John Corigliano. His dazzling recording of the Nielsen concerto (1967) with Leonard Bernstein quickly became the gold standard for performing this extraordinarily difficult work and remains so today. It is noted for history that Drucker performed his solo part in one take with the only retake being required for an orchestral tutti section. In 1976, the New York Philharmonic commissioned Corigliano to write a concerto for Drucker. Corigliano's father was the concertmaster of the New York Philharmonic for a generation and John had grown up listening to Stanley Drucker on the principal clarinet chair. The concerto was premiered in 1977 under the baton of Leonard Bernstein, with Drucker receiving the final movement just three weeks before the premiere. There were five initial performances, and each received a rousing standing ovation and widespread critical acclaim. The live performance on the first night was recorded and released on the boxed CD set produced by the New York Philharmonic called The Historic Broadcasts. In 1980, Drucker made a studio recording of the concerto with Zubin Mehta conducting the New York Philharmonic. Drucker received his first Grammy nomination for Best Classical Performance by an Instrumental Soloist with Orchestra for this recording. Drucker would play the concerto dozens of more times in New York, on tour with the New York Philharmonic, and as a guest soloist with other orchestras. Drucker also recorded the Debussy Première rhapsodie under Bernstein's baton in 1961 and performed and recorded the Concerto for Clarinet by William Bolcom with the New York Philharmonic in 1992 under the direction of Leonard Slatkin. The Bolcom concerto was commissioned for the New York Philharmonic's 150th Anniversary.
Drucker received many honors and awards during his storied career. This list includes Musical America Instrumentalist of the Year (1998), an Honorary Doctorate from the University of Florida (2010), and Honorary Membership in the International Clarinet Association—the highest career honor for a clarinetist—and Honorary Membership in the Philharmonic Symphony Society of New York, which Drucker considered the highest honor he ever received. Drucker has a biographical listing in the New Grove Dictionary of Music and Musicians.
Drucker kept a busy performing schedule outside of the New York Philharmonic as a recording artist, guest soloist, and chamber musician. Milestone recordings include the Bartók Contrasts with Robert Mann and Leonid Hambro, and produced by Peter Bartók (1954), Music for Clarinet and Piano (1962), New York Legends (1998), Stanley Drucker Plays Brahms (2001), and Rock Stars (2010). A comprehensive multiple CD set of over four decades of Drucker's live performances called the Stanley Drucker Heritage Collection has been released by Clover Field Recordings. He appeared as a guest soloist with the San Antonio Symphony, Denver Symphony, Toronto Symphony, Columbus Symphony, Kansas City Philharmonic, and Louisiana Philharmonic, as well as orchestras in Japan, Sweden, and Russia. He performed with the Juilliard and Guarneri String Quartets, including performances at the Library of Congress and Alice Tully Hall.
Drucker's discography is one of the largest in recorded history. With a career that spanned seven decades, he recorded hundreds of orchestral works with the New York Philharmonic, most of the standard repertoire for solo clarinet, a plethora of chamber music, and dozens of world premieres. He performed hundreds of radio and television broadcasts, including for the New York Philharmonic Young People's Concerts and Live from Lincoln Center. Drucker was the subject of a 2018 biography, Stanley Drucker: Clarinet Master, by Mitchell Estrin and published by Carl Fischer, LLC.
His many performances with his beloved wife of 67 years, clarinetist Naomi Drucker, are especially noteworthy. The Drucker Trio (with pianist Blanche Abram) performed dozens of concerts in the New York area, featuring both standard repertoire for two clarinets and piano, as well as dozens of contemporary works, many being composed for the ensemble. Stanley was also a regular guest artist with the celebrated American Chamber Ensemble, the Long Island-based chamber music ensemble co-founded and directed by Naomi Drucker and Blanche Abram.
Stanley Drucker was chair of the clarinet department at The Juilliard School for 30 years. His students include a number of today's leading clarinet performers and teachers. This list includes Franklin Cohen, Mitchell Estrin, Kazuo Fujii, Anita Garriott, David Gould, Ted Lane, Esther Lamneck, and William Powell. His publications for International Music and Carl Fischer include several volumes of orchestral excerpts, standard solo repertoire, and foundational pedagogical studies.
Drucker received his musical education from such renowned artist/teachers as Leon Russianoff (his principal teacher), clarinetist Bernard Portnoy, and oboist Marcel Tabuteau at Curtis, and cited his New York Philharmonic colleagues—principal oboe Harold Gomberg, principal horn James Chambers, principal trumpet William Vacchiano, principal trombone Gordon Pulis, principal cello Leonard Rose, and concertmaster John Corigliano, Sr.—as his musical mentors.
Stanley Drucker was a musician for the ages. His artistry was often noted for its supreme technical command of the clarinet in ways that defied all previous notions about the limitations of the instrument. But it was his indomitable spirit, creativity, spontaneity, and musical imagination that thrilled conductors, colleagues, and audiences for over 75 years. In the words of Leon Russianoff in a 1981 WQXR radio interview, "Stanley Drucker is certainly the greatest clarinet player of our generation, and I think of all times, perhaps."
Anyone wishing to honor his memory can make a charitable contribution in the name of Stanley Drucker to the Philharmonic Symphony Society of New York.
---
The following tributes to Stanley Drucker were compiled by François Kloc of Buffet Crampon.
I remember listening to and meeting him for the first time in my hometown, Halmstad, Sweden, when he performed the Copland Concerto and Weber Concertino with the Helsingborg Symphony for a sold out auditorium in the Halmstad Theatre. I think it was in 1977-78 but at the age of 14 I was already a very serious listener and clarinetist, and not easy to please. The performance was brilliant of both works even though that theater had notoriously dry acoustics.
He was a gentleman and had integrity.
– Håkan Rosengren, Professor of Music, Cal State Fullerton
---
Stanley was a one of a kind legend with a joyful soul and amazing spirit! He will be greatly missed!
– Caroline Hartig, Professor of Clarinet, Ohio State University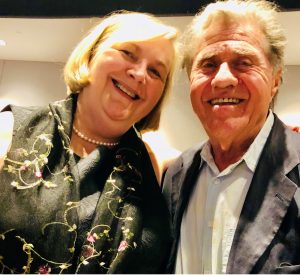 ---
Stanley Drucker was an icon! What an incredible career he had and a great example to us all.
– Seunghee Lee, New York City clarinetist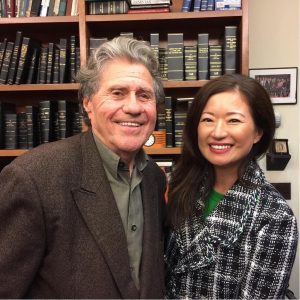 ---
One of the most important experiences during my formative years studying the clarinet was playing Copland's clarinet concerto for Stanley in a master class. His commitment to producing the most expressive performance possible and investment in musical integrity left a powerful impression on me. I was fortunate enough to see Stanley several times since then, and each conversation we had was an absolute gem. His legacy in the musical world is immeasurable and his death is a huge loss to all of us.
– David Cook, Millikin University
---
I met Stanley Drucker when I was 13 years old and performed for him in a master class. I could have never imagined then that 30 years later we would be performing and working together as colleagues; and in North Korea of all places! What a supportive and kind person. His love for music was undeniable and he will be dearly missed.
This is the photo from our New York Philharmonic Asia Tour airport landing in Pyongyang Airport, North Korea 2008. We were all very excited and nervous about the visit at such a crucial time in history.
– Robert DiLutis, Professor of Clarinet, University of Maryland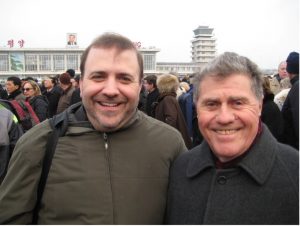 ---
As a young clarinetist growing up in New Jersey, I heard Stanley perform in the orchestra back in the 1980s. He was such a pivotal reason for my wanting to be a clarinetist. So I was thrilled when the clarinet magazine asked me to write a review of Jerome Bunke's collection of his beautiful work. I was so happy to be able to listen and write about a great figure in the clarinet world for us all. I know that he inspired so many of our careers and playing.
– Stephanie Zelnick, Professor of Clarinet, University of Kansas
---
I first got the chance to hear Mr. Drucker play at ICA when it was hosted at CSUN. Both him and his wife played the Ponchielli Il Covegno together and it was so nice to see a husband and wife duo playing so many years later. Years later we shared a ride together at ICA in Tennessee and he was so friendly and kind and overall just a cool person on and off the stage. He will really be missed in our community and by so many others. "Heroes get remembered but legends never die."
– Shaniee Kennedy, Four Play Clarinet
---
He would say to me,
"Mok, you got any good reeds? You know you only need one!"
Or he would say….
"You sound great, kid" (When I got the job, I was 36 and he said it until I left at 53 years old. I guess all things were relative.)
Or,
"You know Mok, my favorite mouthpiece is that Vandoren…you know, the B fawty-five wit da big numba's!"
I will miss Stanley as a friend, a mentor who took risks, a colleague who helped me gain the confidence to be his replacement for four years when he retired and then go off to principal in the Houston Symphony, and as a family man. He was a very proud man that bled Blue and Purple (Buffet Clarinets and Vandoren Reeds) and was as loyal as they come. Most importantly, Stanley was so proud of his lovely wife, Naomi, as well as his two very successful and beautiful children. I learned what to do and what NOT to do from Stanley and now I wish I would have been able to thank him more recently. May Stanley Drucker Rest In Peace!
– Mark Nuccio, Principal Clarinet, Houston Symphony Orchestra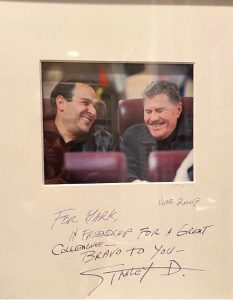 ---
The most inspirational thing I ever got from Stanley, along with a lifetime of inspirational performance I had the privilege to hear, was the quote "every note matters." It changed my life.
– Stacey McColley, Principal Clarinet, Punta Gorda Symphony
---
Unforgettable moments with Stanley Drucker at the Buffet Crampon Summer Clarinet Academy. (2010) An extraordinary career of an artist greater than nature.
For me Stanley is an example of passion, perseverance and dedication doubled by a true "gentilhomme" personality.
He was always ready for any situation; To play as a soloist, teach long days at the Buffet Crampon Summer Clarinet Academy, play with us in chamber music or jump in a pool to play like a kid, Stanley was always ready and willing for new adventures!
A young spirited man all his life. Thank you Stanley for having shared your passion and energy with us!
– André Moisan, Bass Clarinet, Montreal Symphony Orchestra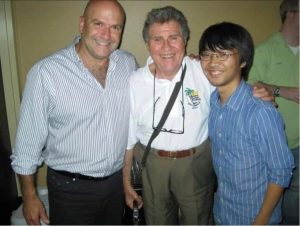 ---
Stanley Drucker was always a musical inspiration. I studied with Stanley Drucker's teacher, Leon Russianoff, during my undergraduate (studies). It was quite an education to work with Leon and then go to hear his star student with the NY Phil. His musical gifts he shared with the world will long be remembered.
– Tad Calcara, Principal Clarinet, Utah Symphony
---
I will never forget that Stanley was always very friendly with me and taught me excellent advice. Mitchell Estrin wrote a wonderful book about his mentor and friend. Sincere condolences to Stanley's wife Naomi, to his family and to his friends.
– Philippe Cuper, Principal Clarinet, Paris National Opera Orchestra
---
Very saddened to hear that we lost the legend of our clarinet world today. [Pictured are] Mr. and Mrs. Drucker with our daughter five years ago. How lucky for her this picture was taken!
– Wonkak Kim, Professor of Clarinet, University of Oregon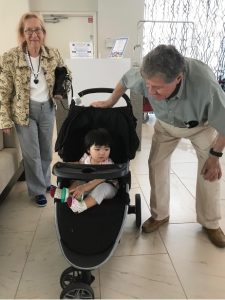 ---
RIP to the one and only Stanley Drucker… a legend.
– Gregory Raden, Principal Clarinet, Dallas Symphony Orchestra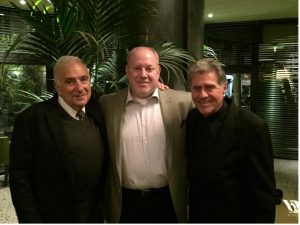 ---
I bought my first Stanley Drucker CD when I was 16 years old. Listening to him play the Nielsen Concerto forever changed how I saw the clarinet and its potential.
It was an annual tradition for me as a student to watch the New York Philharmonic's first concert of the season on PBS. I was always listening and looking for Mr. Drucker. And eventually I got to hear him play live with the orchestra. I felt so lucky when I finally got to hear him play live.
Years later, he was my guest on my 100th episode of Clarinet Corner, my show on Troy Public Radio. And thanks to his CDs from the "Heritage Collection," I was able to have him on a few more times over the years. He was a great guest. He had crystal clear memories of certain pivotal concerts, working with great conductors such as Bernstein and Mehta, and even of working with his most important teacher, Leon Russianoff. I will never forget all the times I was able to chat with Stanley. It always felt surreal.
To me, Stanley Drucker embodied so much about the New York Philharmonic, the spirit of that great city, and American clarinet history. There will never be another Stanley Drucker, and I'm grateful I got to be an observer of his incredible life.
– Timothy Phillips, Professor of Clarinet, Troy University
---
I can't express my feelings right now, still in shock, but I can say that I feel lucky, honored and proud that I spend the last 8 years of his New York Philharmonic career sitting next to him. I will miss his energy, passion, incredible technique and artistry, his sense of humor but the most, his love for music and for the clarinet. A true legend and total inspiration. RIP dear Stanley.
– Pascual Martinez-Forteza, Acting Associate Principal Clarinet, New York Philharmonic
---