Performances Are Postcards
by Andy Hudson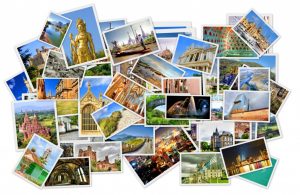 My first trip overseas was to Paris, France. I remember how shocking it was for me, a young undergrad who'd spent my entire life in suburban Atlanta, GA, to take in an entirely new city on an unfamiliar continent. Everywhere I looked, the architecture, culture, food, people, and artwork took my breath away. I fell for Paris immediately, and each time I return to "The City of Lights" I find more to love.
I wanted so badly to share my experience with those I loved who had stayed stateside. And in the days before international data plans and social media, there was only one way to do that: I sent them a postcard.
To accomplish this, I would choose a random street vendor and just spin the wheel, perusing hundreds of options until I found just the right postcard. I wanted a photograph that related to me, of a specific place I'd been. I didn't want it to be cheap and touristy – that wouldn't feel authentic to me. But I didn't want it to be generic either: I wanted each person to receive a thoughtfully curated postcard that showed I'd specifically thought of them. The process of choosing each postcard, writing my special message, and dropping it in the mail was incredibly satisfying.
I was sharing a piece of my travels – a piece of myself – with those I love.
Recently, I stumbled across a number of old postcards in a desk drawer at work. They read like a highlight reel of my favorite memories. Paris, San Diego, Brugges, New York, Reykjavík, Washington D.C., Lucerne. Each place a moment in time, each postcard a snapshot of the human experience. Of my human experience.
Each one authentic to the moment.
Sometimes, performing music can get me down. After all, if Martin Frost and Mariam Adam and John Bruce Yeh have already played the Mozart, why should the rest of us even bother? What can we offer? If I know I'll never perfectly nail every note in Donatoni's "Clair" or Bartok's "Contrasts," what's the point?
If we know perfection isn't attainable, why even walk out on stage? After all, it's a lot less stressful to skip straight to the post-show nachos.
But then, I start to think about those postcards. A moment in time, shared with a loved one. A letter from a place I know, a place I am, sent to someone I care about. A place I am enjoying, that has changed me. A place I want you to enjoy too, that might change you.
Performances are like postcards: a love letter from the present, an artifact of this moment in time. An authentic expression of where we are today, of how it's going today. Listen, you've done the work, you've already made the journey. Think about it: you spent hours, days, weeks of your life preparing this music. You've taken an epic pilgrimage through time and space to prepare this music, with these people, for this recital. Like Odysseus, you're not the same as you were when you set out. And your performance is really just a tiny little time capsule, a "message in a bottle" from the here and now.
I tell my students often that perfection is kind of a lazy goal. You want to do something hard, something truly dangerous? Aim for connection. Aim for emotional expression. Aim to share. Be vulnerable, and open yourself up to that shared experience. Have the guts to walk on stage and tell the truth.
In each performance, write your audience a postcard. Share your journey with them. Show them how it's going today. Reveal your preparation and your priorities. Get them excited about where you are, and invite them into that faraway land.
And then next time, send another one, from another place.
And then another.
I think performances make outstanding postcards.
---
About the Author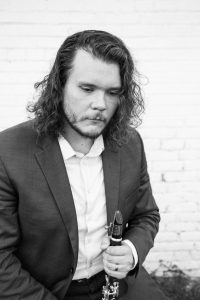 Andy Hudson is currently Assistant Professor of Clarinet at UNC Greensboro and the North Carolina State Chair for the ICA. In addition to all things clarinet, he loves running, reading, eating nachos, acquiring obscure instruments, and empowering the next generation of clarinetists toward authentic, fearless performance. Let's connect online: www.theandyhudson.com