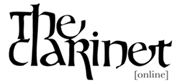 Originally published in The Clarinet 49/4 (September 2022).
Printed copies of The Clarinet are available for ICA members.
---
Audio Reviews
September 2022
---
Neoteric. Andreas Hermanski, clarinet; Valère Burnon, piano. F. Poulenc: Sonata; C. Debussy: Première Rhapsodie; E. Chausson: Andante et Allegro; M. Lindberg: Acequia Madre; A. Pärt: Spiegel im Spiegel; R. Martinsson: Suite Fantastique. Musicaphon, M56987. Total Time: 65:35.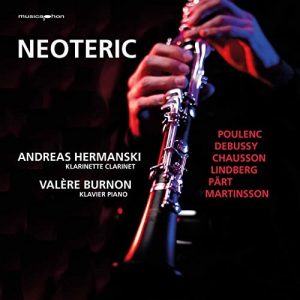 Clarinetist Andreas Hermanski is joined by pianist Valère Burnon on their new album, Neoteric. The title suggests a modern focus even as the album brings together works of particular interest to Hermanski from two separate musical realms: French pieces from the late 1800s to mid-1900s and recent Nordic-Scandinavian works. The program notes describe similarities between these works in their distinctive tonal styles and internal references such as structure and compositional inspiration. Hermanski is a soloist, chamber musician and professor at schools in Germany's North-Rhine Westphalia region. Burnon is a first-prize winner at the International Piano Competition in Ėpinal.
The album opens with an energetic performance of Poulenc's Sonata. The duo allows the lines to flow naturally with expressive rubato, and they hand off phrases with great care. Pitch is generally good except for a few instances when it is slightly high in the upper register. Hermanski goes to great lengths to make the soft moments special. He is largely successful in this, although a few passages, including the first movement's 64th-note figures, can use more clarity.
An artful performance of Debussy's Première Rhapsodie follows. The sensitive collaboration between Hermanski and Burnon is remarkable. As in Poulenc's Sonata, the two effortlessly trade lines and explore lovely tonal colors in the hushed moments. The final page is lively and well-executed. The performance showcases Hermanski's great virtuosity and control.
The duo's musical approach is what stands out in Chausson's Andante et Allegro. They craft long and elegantly directed phrases with nice tempo elasticity. This flexibility allows the trading of triplets to be playful. Listeners will also appreciate the varied colors the performers explore – especially in the louder sections. More crispness to the articulation in a few places could enhance the textural clarity.
Magnus Lindberg's Acequia Madre from 2012 is bold and powerful. The opening motive, characterized by dramatic intervals with accents, returns in varied ranges including the extreme upper register. Hermanski adeptly navigates the technical demands. His rapid articulation and control in the altissimo register is impressive as is the blend he achieves with piano. Interestingly, Lindberg admits, "I love the idea of performers meeting their instruments with virtuosity … doing something that seems to transcend physical limitations." Hermanski and Burnon are successful in doing just that.
Arvo Pärt's popular Spiegel im Spiegel (Mirror in the Mirror) is perfectly positioned to provide a moment of repose from the intensity of Acequia Madre. Hermanski's pure tone blends perfectly with the piano. His seamless lines are stunning as they float over the piano's reflective accompaniment.
The highlight of the album is Swedish composer Rolf Martinsson's Suite Fantastique, an adaptation of his Concert Fantastique, a clarinet concerto written for Martin Fröst. This vibrant showstopper, written in three main sections connected with solo cadenzas, is brilliantly performed. The flashy passagework in the opening between the clarinet and piano is striking. Hermanski plays with incredible agility and establishes an engaging dialogue with piano. The lyrical middle section requires the clarinetist to play and sing a second part simultaneously, creating an interesting effect. Martinsson describes this section as his "out of the blue moment" developed in his collaboration with Fröst. The piece concludes with what Martinsson identifies as a new "fantastical character." This section has a jazzy touch in the piano chords and glissandi and pitch bending in the clarinet.
All in all, this is a highly enjoyable collection of performances. The album succeeds in uniting these works in an effective way and drawing attention to similarities that connect the works. Bravo to the performers for presenting such a compelling listening experience!
– Justin Stanley
---
ghosts of motion. Richard Haynes, clarinet d'amore. C. Dench: ghosts of motion; J. Gardner: Carica d'amore; M. Renaud: Schattenlinie; W. Feldmann: … süsses Unheil … ; S. Andreyev: A Line Alone; J. Haven: huso huso; S. Quinn: incubation. Cubus Records, CR 374. Total Time: 55:10.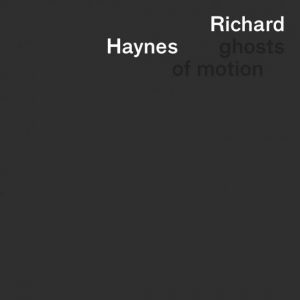 Once the darling of the salon era, the decidedly quiet, covered tone and beauty of the clarinet d'amore was scarcely a match for the domination of the basset horn of the classical period and the powerful sound inherent in Romantic-era compositions. Henceforth, the clarinet d'amore seemed destined to live in relative oblivion. The album ghosts of motion returns the clarinet d'amore to its former position of prominence. Featuring seven works written or adapted specifically for the clarinet d'amore alone, Richard Haynes has masterfully curated a collection of pieces to delight every clarinet aficionado.
Performing on an instrument commissioned from clarinet makers Schwenk & Seggelke, Haynes's clarity of tone and navigation of extended techniques is impressive. Care is infused into every phrase, seamless melodies connected through technical passages. His style is warm, rich and inviting, speaking in lyrical tones from the highest to the lowest tessitura. The extensive liner notes are provided in German and English, and the emphasis on presenting music by living composers is commendable. This album is a delight.
The title work, ghosts of motion by Chris Dench, pays homage to clarinetist Robert Schuck. Striking register and dynamic contrasts engage the listener, while perfectly executed slap-tongue and pitch bends connect musical thoughts. Impeccable intonation is present throughout.
The immaculate presentation of the opening work continues in James Gardner's Carica d'amore, an adaptation of the clarinet version. Jumping from initial melodic conception to intricate passagework, the warmth of expression is maintained while pointed articulations and pitch manipulations hold to the performer's technical ability. This contrasts nicely with the exceptional fluency in microtones that brings the mystical qualities of Schattenlinie to the forefront, with Haynes deftly navigating every passage of Matthias Renaud's composition.
Hold onto your seats for … süsses Unheil …, which was written for Haynes. Composer Walter Feldmann asked Haynes to supply six pitches and six words, resulting in "soft, sweet tones that betoken calamity." Upon this framework, Feldmann exposed the inner workings of the clarinet d'amore to fashion a buzzing connection of exceptional interplay between technical prowess and lyrical sweetness.
A Line Alone highlights the quiet intensity of the tone of the clarinet d'amore. Centered around a singular figure, the work weaves delicate finger work with pointed articulations and aggressive passages, highlighting Haynes's skill across all registers. His ability to connect the seemingly disconnected is even more present in huso huso, as Haynes pushes the registral boundaries of the instrument to significant effect, reeling in the listener to total engagement.
Finally, incubation is a collaborative effort between Sean Quinn and Haynes to explore the sensibilities of the clarinet d'amore. Boundaries of timbral expression were pursued to their limits, with no sound effect left unturned. Indeed a treat, the work is an excellent closer for the album.
Haynes's flawless technique and lyrical tone, combined with his skills for selecting collaborative composition partners, provide a platform for the nearly extinct clarinet d'amore to resonate in today's musical landscape. This disc represents the beginning of a new era for the instrument, providing a springboard for creativity and exploration. Bravo to all collaborative partners in this venture, and strong encouragement for Richard Haynes to champion a further expansion of the clarinet d'amore repertoire.
– Michelle Kiec
---
Feed the Hound. Sarah Watts, basset horn; Jon Iles, narrator. F. A. Maunders: Your Dog; L. Redhead: Þe Cane; D. Clements: Alfie's Ear; D. Di Maggio: An Elegy on the Death of a Mad Dog; S. Watts: B is for …; N. Bonet: Ode To The Sausage (Dog); B. Whittington: A Dog Waits For Her Human; S. Quinn: Droop; E. Thomson: The Puppy; D. Kelly: Ms Justine; C. Johnson: UNIVERSE TO UNIVERSE REPORT #74; M. Brown: A Basset's Bad Day; J. Oates: Can't Live With Cats; L. Sharma: Hounds; M. Radeschi: Árgos; N. Redfern: Autumn Encounter; D. Ward: Bob; J. J. de Azevedo Souza: The Basset Hound; G. Caffrey: Three Sonnets for Wes. Cuillin Sound Music, CUILL1007. Total Time: 66:00.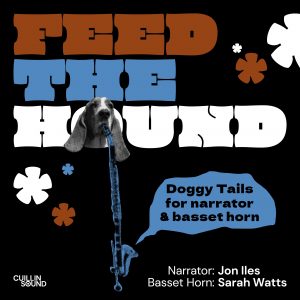 Sarah Watts is a British low clarinet specialist and has gained an international reputation as an artist, teacher and researcher. She has taught at the Royal Northern College of Music and is Director Performance at The University of Sheffield. Jon Iles is a British voiceover artist with an acting background. Iles has voiced many regional, national and international advertising campaigns, and has also appeared in dozens of TV commercials.
When COVID-19 hit the U.K. in March of 2020, much of the music had stopped, with the future of live performance unclear. At that point, Sarah Watts teamed up with Jon Iles for a project to call for scores for basset horn and narrator. This recording is the result of the project. A portion of the proceeds of this album will be donated to the Kit Wilson Trust (Animal Rescue Center).
This album is a compilation of works by 19 composers, Watts being one among those. The pieces are unique and utilize the entire range of the basset horn. Each composer has done an extraordinary job creating a picturesque tableau of these fun and thought-provoking texts. It would be difficult to put these pieces in any kind of pecking order, as they are all noteworthy and quite virtuosic. Several of the works, such as B is for…, Droop, A Basset's Bad Day, Autumn and Bob use multiphonics, growls, slap tongue, timbral trills and flutter tongue to interpret each composer's chosen text, while others like Your Dog, Þe Cane (The Dog), The Puppy, Alfie's Ear and Ms Justine present beautiful but demanding basset horn lines. Other works, such as Hounds, combine a melancholy tune with a jaunty and somewhat turbulent melody, while in A Basset's Bad Day, the narrator did a wonderful job characterizing the basset hound. Also intriguing was UNIVERSE TO UNIVERSE REPORT #74, which upon hearing – before I read the program notes on this work – I immediately thought of a Morse code gesture, heard in the basset horn part. Watts does a marvelous job interpreting the composer's intent in every work. Her obvious command and expertise of the basset horn is evident in the virtuosic passages and the implementation of the extended techniques. All of the pieces are under four minutes, which is just long enough for a piece of this type.
I commend Watts and Iles for taking on this project. Music for basset horn is underrepresented and these are delightful works that can easily be added to a recital or used for a children's program. Iles is an amazing narrator, and pairing his accurate interpretation of the text along with the virtuosity of Watts makes this album a fun, worthwhile addition to the clarinet family repertoire. It would be wonderful to see a version of these pieces for bass clarinet and narrator, or dare I say, the alto clarinet? I think that they would see more performances.
– Lori Ardovino
---
Mozart and Romantic Encores. Russell Harlow, clarinet; Monte Belknap, violin; Alexander Woods, violin; Leslie Harlow, viola; Julie Bevan, cello; Ben Henderson, bass. H. Baermann: Adagio for Clarinet and String Quartet; R. Schumann/arr. F. Busoni: Abendlied, Op. 85, No. 12 for clarinet and string quartet; P. Tchaikovsky/arr. T. Takemitsu: "Herbslied" (Autumn Song) from The Seasons, Op. 37a, for clarinet and string quartet; A. Glazunov: Oriental Reverie for Clarinet and String Quartet; S. Taneyev: Canzone (1883) for Clarinet, Two Violins, Viola, Cello and Bass. W. A. Mozart: Quintet for Clarinet and String Quartet in A, K. 581. IsoMike 7010. Total Time: 57:32.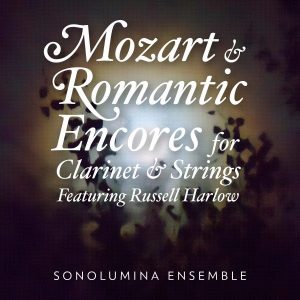 Clarinetist Russell Harlow is joined by the Sonolumina Ensemble in a lovely collection of gems for clarinet and strings on Mozart & Romantic Encores. While the main feature of the recording is the iconic K. 581 Quintet by Mozart, this collection of lesser-known works and arrangements provides clarinetists additional repertoire options for clarinet and string ensemble. The members of the Sonolumina Ensemble are outstanding chamber music partners and collaborators throughout the recording.
Harlow's sound is quite lovely – rich and dark with excellent color shifts in all the right places. Standout moments occur in Tchaikovsky's "Herbslied" and Glaznov's Oriental Reverie. In particular, Harlow's throat-tone areas have a depth and weight that is remarkable and provides a consistency in tone throughout all registers. Ben Henderson on bass in Taneyev's Canzone is a wonderful addition to the ensemble, providing a roundness and depth that begs the question as to why there are not more standard repertoire works of this type. About halfway through this work, you hear Harlow execute outstanding connections between registers in fast-moving passages, as well as wonderful control and ease in the altissimo later in the work.
As the familiar introductory strain of Mozart's Quintet for Clarinet and String Quartet, K. 581 wafts over the listener, one cannot help but smile and feel a sense of comfort in the well-traveled journey that lay before them. Harlow's approach to this monumental work is markedly different in mood and aesthetic compared to the other tracks on this recording. Harlow's role shifts slightly, understandably, to one of a bold leadership voice within the quintet – with his interpretive and stylistic expertise on full display as the ensemble takes their cues from him. This is a masterful example of just the right amount of push and pull, color shifting and foundational Classical-era performance style that the Mozart begs to demonstrate.
– John Masserini
---
Blow. The City of Tomorrow: Elise Blatchford, flute and piccolo; Stuart Breczinski, oboe and English horn; Rane Moore, clarinet and E-flat clarinet; Nanci Belmont, bassoon and contrabassoon; Leander Star, horn. F. Donatoni: Blow; H. Lash: Leander and Hero; E-P. Salonen: Memoria. New Focus Recordings, FCR294. Total Time: 64:24.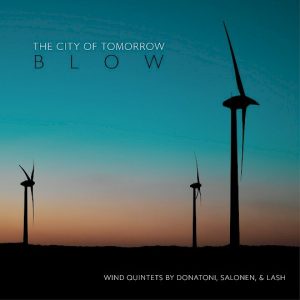 The City of Tomorrow wind quintet has been performing together since 2012. They have a focus on music of the 21st-century, as evidenced by their new album Blow which features the music of Esa-Pekka Salonen, Franco Donatoni, and a premiere recording of a work by Hannah Lash commissioned by the quintet.
Clarinetists may recognize Italian composer Franco Donatoni from his unaccompanied clarinet works Clair and Clair II. Donatoni's music is highly virtuosic, and Blow is no different. His only work for wind quintet, Blow shifts through episodes which contrast in affect, texture, range and dynamic. Throughout the performance, The City of Tomorrow performs with tight articulation, impeccable intonation and uncanny precision. Complex tutti sections contrast with striking solo sections in which the ensemble's transparency gives room for each virtuosic soloist to shine. The performance is an edge-of-your-seat thrill.
The nine-movement Leander and Hero by Hannah Lash is the heart of the album. The work was commissioned by The City of Tomorrow and is based on the Greek myth of Leander and Hero. The movements follow the tale in which Leander swims across the Hellespont every night to be with his love Hero, until one night he is taken by Poseidon in a storm. Making use of the piccolo, E-flat clarinet and English horn in addition to the typical wind quintet instrumentation creates a wider palette of contrast, timbre, color and dynamic. The City of Tomorrow's performance is nuanced and delicate as they effectively contrast the passion of young love over an underlying sense of foreboding and woe. The third movement, "Flocking," is particularly impactful due to the impressive timbral match amongst the capricious flourishes of the flute, oboe and clarinet atop the rock-solid harmonies of the bassoon and horn. The pacing of the movement is perfect and the arrivals so satisfying due to the shape and tension built by Nanci Belmont and Leander Star on bassoon and horn, respectively. Taken as a whole, the work is just striking as The City of Tomorrow's polished and engaging performance clearly depicts the unfolding Greek epic.
Like the work preceding it, Memoria uses extended instrumentation to good effect by featuring the alto flute, English horn and contrabassoon. The performers nimbly navigate through the shifting moods, timbres and textures of this work with superb blend, timing and precision. Their performance is a fitting exclamation mark to close this fearless, sensitive and captivating album.
– Zachary Dierickx
---
Raretés Romantiques. Anne A. Watson, clarinet; Gail Novak, piano. A. Holmès: Fantasie for B-flat Clarinet and Piano; A. M. Smith: Sonata for Clarinet and Piano; E. Adaïewsky: Griechische Sonate; C. S. Krähmer: Sonatine pour Piano avec Clarinette ou Violon oblige; M. Grandval: Deux Pièces. Potenza Music, PM1031. Total Time: 76:10.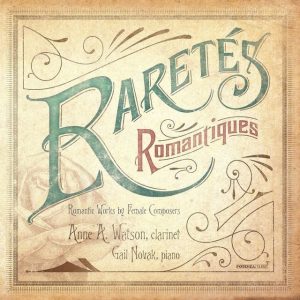 Anne A. Watson, professor of clarinet at Northeastern State University in Tahlequah, Oklahoma, recorded this CD in 2014. Although not the first recording of most of this repertoire – Luigi Magistrelli's 2012 CD of clarinet music by women composers includes four of the five pieces – this disc nevertheless presents attractive performances of these works.
The Fantaisie (to use the French spelling of the work's first edition) by Augusta Holmès is a very nice concours piece written for the Paris Conservatory in 1900. Consisting of a series of contrasting sections, its technical demands are moderate compared to other pieces of this type, and it could be played, for example, by a talented undergraduate clarinetist as an opening piece on a senior recital. The three-movement Sonata (1870) by Alice Mary Smith is likewise more lyrical than technical, and while it contains much beauty, it might benefit from judicious cuts in its outer movements to eliminate some tedium. Caroline Schleicher Krähmer's Sonatine (1825) is a trivial work, far outshadowed by the others on this recording; but the second movement, a brief waltz, is probably worth playing. The Deux Pièces (1885) by Marie Grandval, arguably the best work on the disc, is most certainly worthy of performance, showing her as a very creative composer.
As far as I can determine, this disc presents the first recording of Ella Adaïewsky's Griechische Sonate (Greek Sonata). "Sonata" is probably not the best description of the piece; it is really two lengthy character pieces, in which the piano has as much soloistic material as the clarinet. One might argue that the work has too much repetition and goes on longer than it should, but its basic ideas are striking and dramatic. Like the Smith, perhaps this worthwhile work could be trimmed in beneficial ways.
Throughout this CD Watson plays with musicality, sure technique and excellent intonation. Her sound is dark but sometimes loses resonance or "ring," especially in the higher clarion and altissimo registers, despite the recording's generous reverb. The ever-reliable Gail Novak is a sensitive partner on piano, and in the Adaïewsky she has a chance to demonstrate her fine pianistic skills and musicianship. The CD includes a booklet of program notes by Cynthia C. Beard which, while informative, contains a couple of factual errors, most notably the assertion that Caroline Schleicher Krähmer was "the only documented female clarinetist of the 19th century." This ignores Margaret Knittel (b. 1788), who has been written about on several occasions in The Clarinet.
Interest in women composers is high right now – let's hope this time it becomes the norm rather than a fad. Anne Watson's CD serves to remind us that the clarinet repertoire includes good works by women that we can all be playing on our recitals and assigning to our students. Music for all of the pieces on this CD is available either in recently published editions, or in original editions through IMSLP. If music by women has not been in your performing and teaching repertoire before now, this album may be the motivation you need to make a commitment to include it henceforth.
– Jane Ellsworth
---
Flying Alone. Antonio Fraioli, clarinet. A. Fraioli: Rhythm Changes for Clarinet; R. Coco: Blue in reed; G. Miluccio: Rhapsodie; S. Brusca: Koron-Kype; G. Mattaliano: Pessoa; A. Kubizek: Missa Choralis, Op. 44/3; F. Belli: Capriccio No. 7; J. Cage: Sonata; G. Cappetti: Iris; B. Kovács: Hommage à Béla Bartók; P. Jeanjean: Studio moderno No. 5; A. Lauro: Carora; F. Migliaccci/D. Modugno: Nel blu dipinto di blu (Volare). GDE Edizioni Musicali. Total Time: 50:11.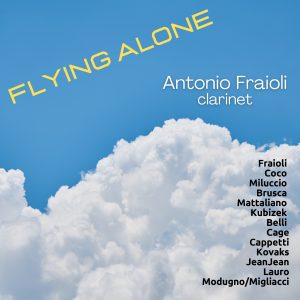 Antonio Fraioli (Italy) performed and recorded regularly in Italy and abroad as a soloist and as a member of various ensembles until 2017 when retinal problems limited his activity as a clarinetist. He has written compositions that have been performed and recorded in 30 countries. Fraioli is professor of music for wind ensembles at the Salerno Conservatoire and has presented master classes and lectures in Italy, Germany, Austria, Belgium, Holland, Slovakia, Poland, Portugal, Estonia, Belgium and Spain.
Flying Alone is an album recorded during the long days spent in solitude, due to the restrictions for COVID-19 in 2020-21. Fraioli recorded in his home studio, playing one composition a day. The album was an attempt by Fraioli to keep the relationship with the clarinet active, to try to continue "flying" despite personal problems and those related to the pandemic.
The album includes works by Antonio Fraioli, Remigio Coco, Giacomo Miluccio, Sergio Brusca, Giovanni Mattaliano, Augustin Kubizek, Francesco Belli, John Cage, Guglielmo Cappetti, Béla Kovács, Paul Jeanjean, Antonio Lauro, Franco Migliacci/Domenico Modugno. Many of the works on this album are short pieces between 2 to 5 minutes and a wonderful introduction to a wide array of unaccompanied clarinet works for programming consideration.
Rhythm Changes for Clarinet by Antonio Fraioli is an energetic and exciting composition that tasks the player with, as the title states, rhythm changes and athletic jumps and leaps around the instrument. A wonderful addition to our repertoire! Blue in reed by Remigio Coco is a brief, slow and lyrical work similar to a short tune. Rhapsodie by Miluccio is an impressive, melodious work often performed in recitals. Fraioli takes the listener on an exciting journey with his performance.
Koron-Kype by Sergio Brusca is a fun and energetic work with an element of playfulness. Pessoa by Giovanni Mattaliano explores a wide array of colors and characters. Mattaliano himself is a classical and jazz clarinetist who blends the two styles beautifully in this composition.
A longer work at just under 13 minutes, Missa Choralis, Op. 44/3 by Augustin Kubizek is a collection of short character pieces. Capriccio No. 7 by Francesco Belli is a short and delightfully performed vignette of just over a minute.
The Sonata by John Cage has three short movements and explores the athleticism and lyricism of the clarinet. A charming piece, Iris by Guglielmo Cappetti is in a waltz-like style. Well known to many, the Hommage à Béla Bartók by Béla Kovács is an exciting nod to Bartók's compositions.
It is nice to hear Studio moderno No. 5 by Paul Jeanjean performed in this collection and Fraioli's performance illustrates the beauty of these compositions, which are much more than etudes.
Carora by Antonio Lauro is a Venezuelan waltz originally for guitar. The final work on the album is a famous Italian hit, Nel blu dipinto di blu (Volare) by Franco Migliacci/Domenico Modugno translated as flying.
As so many of us were isolated during the COVID-19 lockdown and unable to make music with others, many turned to solo playing and exploration of new mediums to continue our relationship with music. Antonio Fraioli's journey through this collection of solo clarinet music is a satisfying listen. The music is performed with great artistry and finesse and presents pieces that should be added to our live performance repertoire.
– Julianne Kirk Doyle
---