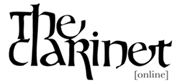 Originally published in The Clarinet 49/4 (September 2022).
Printed copies of The Clarinet are available for ICA members.
---
Letter from the UK
Victoria Samek: A Musical Polymath for Our Time
by Paul Harris
I can't quite remember the first time I met Victoria, but our first major project together was a terrific CD she made of a number of my compositions featuring the clarinet. I realized right away that her dedication to the clarinet world is very deep and very significant – a true force for good.
Victoria began her musical journey at the age of 4 playing the piano before continuing her formal musical training at the Purcell School in London where she took up the clarinet as, at the time, there were, in fact, no clarinets in their school orchestra! Inspired by the playing of Jack Brymer and under the tutelage of Roger Fallows – a former principal with the BBC Symphony Orchestra and a very highly respected player who had a particular interest in contemporary music, recording much of Stockhausen's clarinet music for example – her playing quickly developed along with her passion for the instrument. Victoria recalls, "Our lessons often lasted several hours with my voracious hunger for learning, always asking endless questions which he was so willing to answer." Winning a Foundation Scholarship to the Royal College of Music where she was a student of the legendary Colin Bradbury, and later, Tony Pay, she won the prestigious Frederick Thurston Memorial Prize. Colin recalls, "Not only was Victoria a pleasure to teach, she clearly had a mind of her own, and it is no surprise to me that, as well as developing her excellent performance skills, she has flourished in so many other related fields."
Her early career saw many broadcast performances and recordings for Naxos and Hyperion, but it was 1992 that saw the birth of a very important contribution to the clarinet world – Victoria launched a new recording label devoted exclusively to the clarinet repertoire: Clarinet Classics. "The popular works were there," explains Victoria, "but the wealth of other equally interesting repertoire was tucked away, waiting to be revealed."
Since then, and with a change of name to Clarinet & Saxophone Classics, the label has clocked up over 80 albums, over 20 of them recorded by Victoria herself. Each album explores some highway or byway of the clarinet repertoire, often for the first time in recorded format. The very first CD for example, included all the clarinet works written by the composers collectively known as Les Six, along with the premiere recording of the Copland Clarinet Sonata. In addition to Victoria, other great clarinet players who have recorded for Clarinet & Saxophone Classics include Colin Lawson, Philippe Cuper, Colin Bradbury, Henri Bok, Jorge Montilla, and most recently Anthony Pike and Emilio Merola. There are quite a number of important historic recordings too that the label has made available in very scholarly editions (with the help of such luminaries as Pamela Weston and historical specialist Malcolm McMillan) by the likes of Jack Thurston, Louis Cahuzac, Charles Draper, Reginald Kell and Aage Oxenvad. "Clarinet & Saxophone Classics was never intended to be a vanity label!" says Victoria.
Victoria's commitment to contemporary music reflects the creative relationships she has had with composers throughout her life, the first being little pieces written for her as a very young piano student: "The joy and excitement I felt in being given a handwritten manuscript of a piece specially written for me as a very young student still remains. For me it is the greatest gift for a musician."
Over the years, her collaborations with composers have produced over 50 commissions and dedications. One of Victoria's first was to be the last work of English composer, Phyllis Tate, the Prelude – Aria – Interlude – Finale for clarinet and piano which was published in 1983 by OUP. A rarely played work but well worth investigating, lasting about 15 minutes, it has a rather haunting flavor and one movement is unaccompanied. Also, around this time, Victoria commissioned the first of a sequence of works by Thea Musgrave. The Threnody for clarinet and piano was dedicated to Victoria's teacher and mentor, Roger Fallows, who had recently died. "Threnody encapsulated everything I felt on hearing the sudden loss of Roger; Shock, Anger and reflective grief. Thea so understood this."
Another of the Thea Musgrave commissions is the very interesting Bass Clarinet Concerto (subtitled Autumn Sonata), which was given its world premiere at the Cheltenham Festival in July 1994 with the City of London Symphony Orchestra and the composer conducting. The work is in five connected movements, lasts around 20 minutes and, in the composer's words, was inspired by the poetry of Georg Trakl and Beethoven's Moonlight Sonata – which is quoted towards the end of the work. Victoria has recorded the work with the BBC Symphony Orchestra under the direction of the composer on an album which also includes Musgrave's Clarinet Concerto.
The many works dedicated to Victoria or inspired by her include a number of pieces by Rob Keeley, formerly head of composition at King's College London and a pupil of Oliver Knussen. Among these are a Clarinet Sonata (written in 2016 and, in the words of the composer, "somewhat classical and cheerful"), and, continuing the bass clarinet theme, an intriguing Sonata Macabre for bass clarinet and string quartet that includes a scherzo section based on the "Dies Irae."
Her first really serious commission was the Trio, Op. 135, for clarinet, cello and piano (which represented Victoria's Mühlfeld Trio) by Elizabeth Lutyens, written in 1979 with a duration of about 15 minutes and available on Clarinet & Saxophone Classics.
Playing the trio to Elisabeth Lutyens with my colleagues, I can still remember how incredibly nervous we all felt. While I had, by this time, many works written for me by composer friends, as a second-year student at the RCM this was my first formal commission. When Elisabeth opened a bottle of champagne this was the most affirming response which I will never forget.
In 1953 Lutyens had written her serial Valediction for clarinet and piano – this trio represents the only other important work she completed for the clarinet. It is a rather demanding work in four movements though, for the right audience, it would make a fascinating companion to the Beethoven or Brahms trio.
Victoria herself has given and recorded many world-premiere performances. Among these are yet another work by Thea Musgrave for the trio, Canta Canta!, as well as works by Nicola LeFanu, Diana Burrell, Graham Williams, Roger Marsh and Anthony Powers – all recorded on the Clarinet & Saxophone Classics label. To mark the 30th anniversary of the label, she will be recording an album of solo works to celebrate her lifelong collaboration with composers. This will include works by three emerging composers George Shrapnell, Benjamin Fingerhut and Chris Jolly as well as a new solo work for E-flat clarinet by Rob Keeley, and indeed three sonatinas for E-flat, B-flat and bass clarinet which Victoria asked me to write for her. The album will also include a multitracked work, New-Cross Counterpoint by Rob Howat, written in 2020. Victoria explains, "While clear parallels will be found with New York Counterpoint, Rob has created a totally new minimalist sound world."
All these pieces will be receiving their world premieres along with Orfeo IV again by the composer, Thea Musgrave. This fascinating work, originally composed for flute, was especially arranged for E-flat clarinet for Victoria. It is scored for solo instrument and a digital delay system. Lasting about 14 minutes, it requires a very nimble technique and an understanding of avant-garde styles. It tells the well-known story of Narcissus and makes for a very engaging concert item in the right context.
Today Victoria is still very much in the thick of things, performing, teaching and running teaching courses… still very much a force for good: "To me my love of music is the driving force behind all I strive to do."
Learn more about Victoria at https://samekmusic.com.
---
About the Writer
Paul Harris is one of the U.K.'s most influential music educators. He studied the clarinet at the Royal Academy of Music, where he won the August Manns Prize for outstanding performance and where he now teaches. He is in great demand as a teacher, composer and writer (he has written over 600 music books and compositions), and his master classes and workshops continue to inspire thousands of young musicians and teachers all over the world in both the principles and practice of musical performance and education.