Originally published in The Clarinet 47/4 (September 2020). Printed copies of The Clarinet are available for ICA members.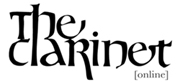 ---
Reviews 
MUSIC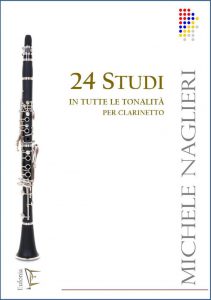 Michele Naglieri. 24 Studi in tutte le tonalità for clarinet. Edizioni Eufonia, 2020. €18.00
Michele Naglieri is the principal clarinet of the Petruzzelli Theatre Orchestra in Bari, Italy, with which he has performed the Debussy Rhapsody and Mozart Clarinet Concerto. He is active in chamber music and orchestral performance beyond the Theatre Orchestra – including as an extra player in Rome's Santa Cecilia Orchestra. He studied clarinet and composition at the Milan Conservatory. His 24 Studi in tutte le tonalità (24 Etudes in all Keys) was composed over a three-year span. As Naglieri told me, he was inspired by two great Baroque composers, J.S. Bach and Antonio Vivaldi. In particular Nos. 1, 4, 8 (Fugue) and 22 (Sarabanda) have connections to J.S. Bach, especially the harmonic elements. Etudes 2, 3, 5, 16 and 17 are merely technical exercises for the fingers. In other numbers there are links to orchestral excerpts and concertos, including Götterdämmerung of Wagner, Mozartiana of Tchaikovsky and Peter and the Wolf by Prokofiev. Studies 2 and 24 are chromatic and were inspired by Puccini's Turandot. In general though, the language of these etudes is tonal and they could be accompanied by a second instrument. These medium-hard studies are very well conceived and tailored to the clarinet. Highly recommended!
– Luigi Magistrelli
---
Lauren Bernofsky. Solitude for B-flat (or A) clarinet and piano. Theodore Presser Company, 2019. $8.99
Lauren Bernofsky is an award-winning composer whose music has been performed around the world. Having studied at the Hartt School of Music, New England Conservatory and Boston University, Bernofsky has taught at the Peabody Institute, Boston University and Interlochen Center for the Arts.
The publisher describes Solitude as "ethereal and meditative." Although the 5-minute piece was originally written with B-flat clarinet in mind, a transposed part for A clarinet is included, allowing the performer to choose which clarinet they would like to use. Holding true to Bernofsky's description, the "fastest" tempo within the piece is quarter = 52. Additionally, the range is extremely reasonable, staying within two octaves (low G to clarion G in the B-flat part; low G-sharp to clarion G-sharp in the A clarinet part). Although there are a couple of sections that feature hemiola between the clarinet and piano parts, the greatest technical difficulty found within this piece is the key signature. No matter which part the performer chooses, five sharps will occur for the clarinetist. Based on the above, I believe this piece would be great for a developing intermediate player to explore expression in playing and to develop the ability to perform within a difficult key signature. This would also be a beautiful selection for a clarinetist just beginning to explore the A clarinet.
– Lee Seidner
---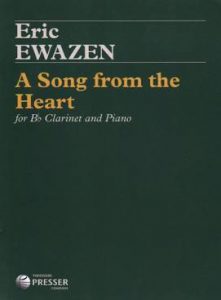 Eric Ewazen. A Song from the Heart for B-flat clarinet and piano. Theodore Presser, 2018. $11.99
Eric Ewazen, professor of composition at Juilliard and one of the most often-performed composers today, has contributed a great deal to the clarinet repertoire, including his clarinet concerto Ballade and his wind quintet Roaring Fork among many other works. His approachable tonal structures and his gift for the soaring melodic line make his music appealing to audiences and performers. A Song from the Heart, a languid 6-minute work for clarinet and piano, is a fine representation of his expressive aesthetic.
Originally written in 2011 for trumpet and piano, A Song from the Heart is a slow movement in A-B-A form. The relaxed piano accompaniment at the opening lays the groundwork for a tonal, mid-clarion range clarinet line. The middle section is quicker, with a high clarion and altissimo line soaring over cascading piano figures. The A section returns, and comes to rest with a solemn conclusion. The compositional differences between the two versions are primarily in the orchestration, with the clarinet line, compared to the trumpet, raised an octave about half the time. Ewazen never takes advantage of the clarinet's rich chalumeau's range; he is content on maximizing the altissimo register's possibilities.
Ewazen's A Song from the Heart is like one of those pieces omnipresent in the violin repertoire: a 4-to-7-minute stand-alone work tells its story succinctly and beautifully. The clarinet repertoire has only a small number of these single-movement works, such as the Cahuzac Cantilene and Bliss Pastorale. A Song from the Heart's harmonic accessibility, plaintive melody, and length should make this a lovely choice for recitals and a useful teaching piece. Ewazen's piece fills an important nook in our literature written by one of our most respected living composers.
– Osiris Molina
---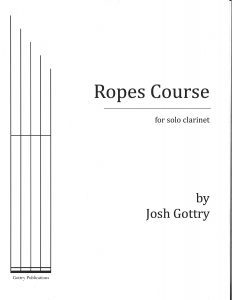 Josh Gottry. Ropes Course for solo clarinet. Gottry Publications, 2019. $7.00
Josh Gottry is an ASCAP award-winning composer who completed his undergraduate percussion performance degree at Northern Arizona University and his masters in composition at Arizona State University. He has been on music faculties throughout the Phoenix region and has performed with professional orchestras, in musical theater and with chamber ensembles.
Ropes Course was commissioned by Olivia Meadows as part of a doctoral thesis project of unaccompanied clarinet solos that aid students in developing skills necessary to perform advanced clarinet works. This 7-minute work was composed in 2018-2019 and focuses on the altissimo register. Ropes Course provides quite the challenge for the performer. Gottry certainly hits the mark in exploring the altissimo register of the clarinet as it soars up to altissimo A. This piece provides numerous technical challenges in other registers as well. As the title implies, this piece takes the performer through a challenging obstacle course, but in a way with more gratification than from the typical etude. The performer can follow the narrative within the piece to paint a picture for the audience. Ropes Course is recommended for an advanced player looking to expand their range and potentially shine in an unaccompanied moment.
– Lee Seidner
---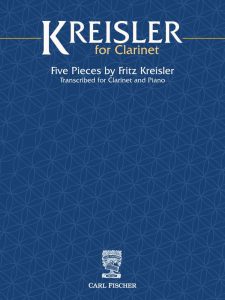 Fritz Kreisler. Kreisler for Clarinet: Five pieces by Fritz Kreisler arranged for clarinet and piano by Gustave Langenus and Erik Leidzén. Carl Fischer, 2019. $18.99
Violinist, composer and pianist Fritz Kreisler (1875-1962) was born in Vienna and as a 10-year-old prodigy won first prize for violinists at the Vienna Conservatory. During his long career he was a singular violin recitalist and soloist. In 1975, famed violinist and teacher Joseph Gingold stated, "Kreisler's legacy is not the technical wizardry of Heifetz or the sumptuous tone of Elman, but the embodiment of all that was attractive, humane and endearing among the musicians of his time."
That description of Kreisler's playing can be equally applied to the many short recital pieces he penned throughout his life, many offered under false attribution to composers such as Francoeur (Sicilienne & Rigaudon), Pergolesi, Tartini and Vivaldi. Kreisler was certainly familiar with composers of renown; he spent several years in his early 20s rubbing shoulders with Brahms and Hugo Wolf, and had even earlier been a theory and composition student of Bruckner and Leo Delibes respectively.
In addition to Vienna, Kreisler spent considerable periods of his life in Paris and Berlin before finally settling in New York, home to his American spouse Harriet Lies. Two of the works in this collection, Caprice Viennois and Schön Rosmarin, date from 1910, 10 years after his marriage to Lies and the first year clarinetist Gustave Langenus played in the New York Symphony. Langenus's arrangements for clarinet of these two works, and The Old Refrain are completely idiomatic for clarinet and are of medium difficulty. Rounding out this collection are two arrangements made by Erik Leidzén (1894-1962), the prolific composer and arranger for organizations in the U.S. such as the Salvation Army and the Goldman Band. Miniature Viennese March is a delight to play, with its very proper rhythm married to yearning melodic ideas. Longer, and more challenging than the other works, is Tambourin Chinois. The fast tempo, extended articulated sections and a few demanding back-and-forth crossings between clarion and altissimo registers will let you test your mettle to Kreisler's.
– Gregory Barrett
---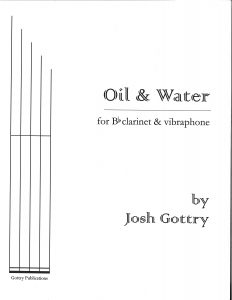 Josh Gottry. Oil & Water for B-flat clarinet and vibraphone. Gottry Publications, 2018. $12.00
Oil & Water was written for the Duo Rodina Songbook project which seeks to commission accessible works for percussion and clarinet duo. The title is intended to play on the contrasting materials of the instruments, the wood of the clarinet and metal of the vibraphone, as well as the independent lines written within the piece for the two instruments. The work provides beautiful moments for the clarinet and vibraphone to blend. Although this is not a showstopper, the beauty of this piece is gratifying for the performers and very enjoyable for the audience, and can be utilized as a short palate cleanser during a recital. This piece is a wonderful addition to a hopefully growing repertoire of clarinet and percussion music.
– Lee Seidner
---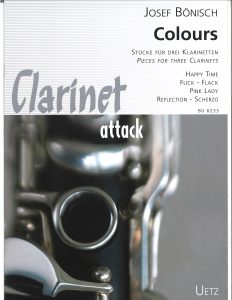 Josef Bönisch. Colours – Pieces for three clarinets. Musikverlag Bruno Uetz, 2018. €13.00
Josef Bönisch is a German composer and flutist who studied at the Weimar Conservatory and the Leipzig University of Music. Colours is a fairly simple and straightforward work consisting of five short movements: "Happy Time," "Flick-Flack," "Pink Lady," "Reflection" and "Scherzo." The first four movements are in common time with all naturals in the key signatures and accidentals written in. The final movement includes 6/8, 5/8, 3/4 and 3/8 time signatures but remains with naturals in the key signature. This work is a wonderful piece to have younger students learn how to play together within short movements that have contrasting styles but not demanding technique or range.
– Lee Seidner
---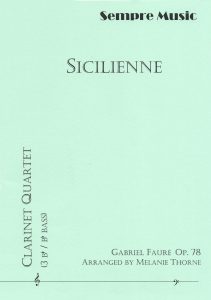 Gabriel Fauré. Sicilienne, Op. 78, arranged for clarinet quartet by Melanie Thorne. Sempre Music, 2019. £10.95
Fauré, the greatest French composer of art songs, dear friend of Saint-Saëns and inspiration to members of Les Six lived a life marked by grit and eventual fame. Born in 1845, church music and ancient modes were lifelong influences, yet until the ascendency of Debussy he was the most modern composer in France. He made innovative use of whole-tone scales in the 1870s and wrote in a flexible harmonic style that did not regard sevenths and ninths as dissonant. He made modulations to remote keys followed by abrupt returns and had no qualms with rapid alteration, by half step, of the third scale degree.
His famous Sicilienne, intended for a theatrical production, was written in 1898 after his reputation was secure and showcases his melodic style, interesting harmonic inflections and proof in his own underwhelming belief that his abilities were best suited only for incidental music. Melanie Thorne's arrangement, with bass clarinet to low E-flat, captures the ebb and flow of his score with thoughtful sharing of the melodic line among the instruments.
– Gregory Barrett
---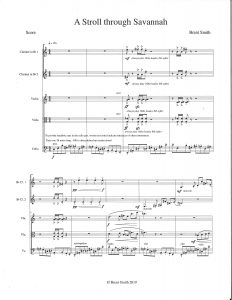 Brent Smith. A Stroll through Savannah for two clarinets in B-flat, violin, viola and cello. Score Vivo, 2019. $19.00 by electronic download.
Composer and clarinetist Brent Smith is a retired researcher and professor in the fields of chemistry and environmental protection. He is active in the North Carolina triangle region with the ensemble CarolinaClarinet. His work, A Stroll through Savannah, is multi-sectional, of medium difficulty, mostly in an Allegro tempo and is nearly 7 minutes in duration. A slower cello cadenza bisects the piece and chorale and waltz sections contribute to the evocations of, in Smith's words: "strolling around town, horse-drawn carriages, the hectic city market … and a generally ghostly, spiritual feeling throughout the town." To clarinetists the overwhelming associations brought to mind may instead be with the Allegro precipitato movement from Prokofiev's Quintet in G minor, Op. 39, for oboe, clarinet, violin, viola and double bass, due to the quote of melodic material and strikingly similar instrumentation, and with a quotation of the poco rubato theme from Sutermeister's Capriccio for unaccompanied clarinet. I would embrace these connections and program all three works on the same program! I may be missing other references, so happy sleuthing.
– Gregory Barrett
---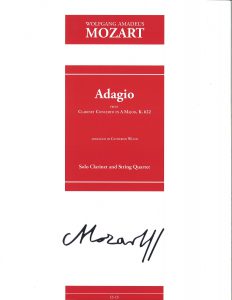 Wolfgang Amadeus Mozart. Adagio from Clarinet Concerto, K. 622, arranged by Catherine Wood for clarinet and string quartet. Alry Publications, 2018. $20.00
Catherine Wood is the ICA continent chair for North America, professor of clarinet at Brandon University (Canada) and a member of the Manitoba Chamber Orchestra. She is a noted performer on piccolo clarinets, performing recitals all over the world, including several ClarinetFest® conferences. Her present contribution to the literature seems so obvious and practical; it is a wonder it is not in every clarinetist's library.
Wood's arrangement of the slow movement of the Mozart Concerto is a sensible adaptation of one of our most glorious pieces. It is in the original key and utilizes the A clarinet. The string parts are faithful to the original orchestral parts, and the clarinet part is logical, with a few measures brought down the octave to be more in line with current basset clarinet performance practice. There are two cadenza options written at the bottom of the second page comparable with other editions. One observation is that the clarinet part is devoid of all dynamic indications, while the string parts contain a representative, but not excessive, amount of markings.
Alry does a wonderful job with the engraving, laser-printed on clean white paper with a large, comfortable font. All the parts are two pages long, presented so no one has to turn pages during performance. This arrangement is perfect for chamber recitals, weddings and any number of occasions. Wood's arrangement is an essential part of every music library.
– Osiris Molina
---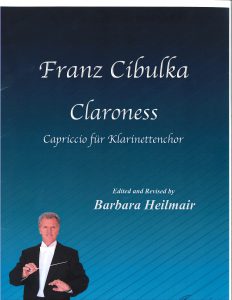 Franz Cibulka. Claroness – Capriccio for Clarinet Choir, edited and revised by Barbara Heilmair. Jeanné Music Publications, 2019. $35.00
Franz Cibulka (1946-2016) was an Austrian composer, clarinetist and conductor primarily known for his works for symphonic band. His prolific output of over 600 works includes many chamber works for all combinations. His contribution to clarinet choir, Claroness, was first performed in its revised version at the 2015 ClarinetFest® with the editorial assistance of Dr. Barbara Heilmair, associate professor of clarinet and music history at Portland State University. She has devoted a portion of her research profile to curating and promoting the work of Cibulka, and the publication of Claroness is a strong step in promoting his work to American clarinet choirs.
Claroness, (a play on words combining "clarinet" and "baroness," an Austrian noblewoman) is an 8-minute piece scored for E-flat, B-flat clarinets 1-4, alto, bass, contra-alto and contrabass, with an optional double bass/bassoon part. It is in one movement delineated in four sections: Allegro-Moderato-Allegro-Presto. In the first section, the low clarinets establish a syncopated, chugging ostinato that contrasts with the legato melody. The second section is a placid conversation between E-flat and first B-flat clarinet that leads to a return of the original Allegro material and culminates with a faster 7/8 section with a florid high clarinet push to the end.
This piece is idiomatic for all instruments, scoring the instruments in comfortable ranges that project well. Low clarinets seldom go over the break, and with the exception of E-flat clarinet, high clarinets do not go over altissimo D.
The E-flat has the most delicate part in the work. The player needs sensitivity and fine intonation.
Claroness is a wonderful contribution for clarinet choir, suitable for university and community groups looking for a substantive piece with rhythmic vitality and contrasting lyricism.
– Osiris Molina
---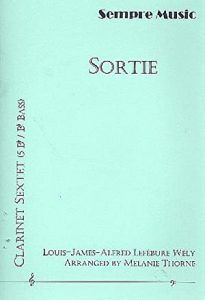 Louis James Alfred Lefébure-Wely. Sortie in E-flat arranged by Melanie Thorne for clarinet choir.
Sempre Music, 2008. $29.30
The sound of the clarinet choir is often compared to that of the organ, a quality that Melanie Thorne achieves in her arrangement of Sortie in E-flat by French organist and composer Louis James Alfred Lefébure-Wély. Although Lefébure-Wély (1817-1869) was a prolific composer, with over 200 works for piano, chamber ensemble, orchestra and the theater, today his compositions are largely underperformed. Sortie in E-flat is a joyful and approachable 5-minute work that makes good use of the sonorous sound of the clarinet choir. In her arrangement, Thorne includes parts for E-flat sopranino, four B-flat sopranos, alto and bass (without extended range). The distinctive tone colors of the E-flat sopranino, alto and bass clarinets give clarity to the closely interwoven independent lines. Sortie in E-flat is of medium difficulty and would be an energetic concert opener.
– Zachary Dierickx
---